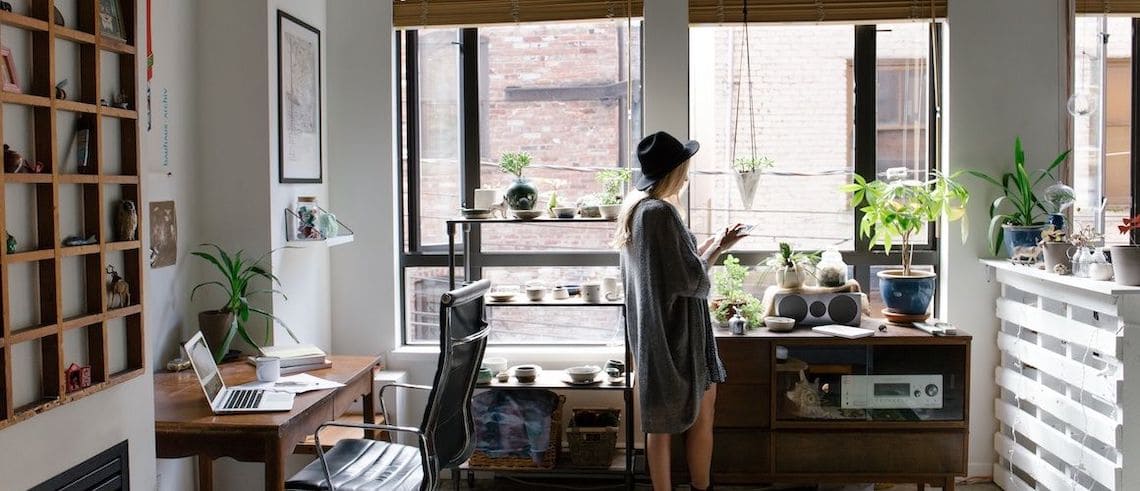 What's The Best Loan For Buying A House?
Victoria Araj7-minute read
August 02, 2023
Share:
*As of July 6, 2020, Rocket Mortgage is no longer accepting USDA loan applications.
You're ready to buy a home. You knew you'd have to choose a type of home, but did you know you'd also face myriad choices to find the best loan to buy the house of your dreams?
There are many different types of mortgage loans, each one with a unique set of advantages and disadvantages. Let's take a look at the types of loans that may be available to you and when each might be your best option.
Fixed-Rate Home Loans
Fixed-rate mortgages are the most common type of home loan. They keep the same interest rate throughout the entirety of the loan. Once you lock in your interest rate, it won't change, even if market rates go up or down. This also means that your monthly payment will stay the same each month.
How Do Fixed-Rate Mortgages Work?
Fixed-rate mortgages are offered in a variety of terms, though 15- and 30-year are the most popular Your interest rate will never change, which means the amount of your monthly payment will remain the same. That said, your property taxes and home insurance premiums may change and could raise your escrow payment.
However, if you have less than 20% down when you close on your loan, your lender requires you to pay private mortgage insurance (PMI). PMI is a type of insurance that protects your lender if you default on your loan – but it offers you no protection. The good news is that you can cancel PMI once you reach 20% equity in your home.
Who Should Choose A Fixed-Rate Loan?
Home buyers who want a consistent and predictable monthly payment and plan to stay in their forever home should consider this type of loan.
See What You Qualify For
Congratulations! Based on the information you have provided, you are eligible to continue your home loan process online with Rocket Mortgage.
If a sign-in page does not automatically pop up in a new tab, click here
Adjustable Rate Mortgages
Buyers who purchase a starter home that they plan to move out of within a few years or who plan to pay off their loan early can save money by choosing an adjustable-rate mortgage (ARM). Borrowers need to meet the same credit and income standards as a fixed-rate conventional loan to qualify for an ARM.
How Do Adjustable-Rate Mortgages Work?
To understand how adjustable-rate mortgages work, you'll need to first know that this type of home loan is broken down into two periods: introductory and adjustment.
The Introductory Period
ARMs begin with an initial fixed-interest period. The fixed-rate period might be as short as 5 years or as long as 10 years, depending on your lender.
During this period, you'll have access to a fixed rate that's lower than current market rates. After the initial period ends, your interest rate will rise or fall, depending on how current market interest rates move.
The Adjustment Period
Home buyers with an ARM take the risk that interest rates will rise over time after the introductory period. Although, these types of loans include rate caps that limit how much your interest can rise (or fall) over the course of your loan.
Your loan will include a rate cap for each year and a rate cap during the lifetime of the loan. Rate caps protect you from interest rates that rise year after year.
For example, let's say your loan has a rate cap of 7% and your interest rate has already risen to 7%. It won't rise any further, even if market rates continue to rise. However, the interest rate floor will also prevent your interest rate from falling too low.
Who Should Choose An Adjustable-Rate Loan?
In general, the home buyers who save the most by choosing an ARM are those who plan to either move or refinance by the end of their introductory period. An ARM can also be a good choice if market interest rates are particularly high when you want to buy.
Conventional Loans
A conventional loan is simply a mortgage loan offered by a private lender, without the incentive of government backing. These types of home loans generally have stricter requirements for borrowers than government-backed mortgages.
How Do Conventional Mortgages Work?
Many home shoppers believe that they need at least a 20% down payment to buy a home with a conventional loan. This isn't true. It's possible to get a conventional mortgage with as little as 3% down. People sometimes confuse the idea that 20% is the optimal down payment with the 20%-down-to-avoid-PMI requirement.
As mentioned, conventional loans tend to have stricter credit score and debt-to-income ratio (DTI) qualifications. You need a credit score of at least 620 points and your DTI ratio should be less than or equal to 50% to qualify for a loan with most mortgage lenders.
Who Should Choose A Conventional Loan?
Conventional loans can be a good option for home buyers who meet the stricter financial requirements. Conventional loans tend to have lower interest rates than FHA loans, so it can be a good way to save money on interest if you qualify.
FHA Loan
Buyers who want to buy a home with a low credit score should consider an FHA loan backed by the Federal Housing Administration (FHA).
The most widely available government-backed loans are FHA loans. There's a common misconception that FHA loans come directly from the government, but they don't. Like conventional loans, FHA loans are offered through private lenders incentivized by government-backed home loan insurance.
How Do FHA Mortgages Work?
If you're concerned that your previous bad credit history might keep you from buying a house, an FHA mortgage might be the answer. An FHA mortgage can help you buy a home when you have a lower credit score.
That's because government-backed home loans offer lenders government insurance against a borrower's default, so lenders will offer loans they would otherwise find too risky. You can get an FHA loan with a credit score as low as 580, with at least a 3.5% down payment.
FHA Mortgage Insurance Premium
With an FHA loan, you need to pay an upfront mortgage insurance premium as well as a monthly mortgage insurance premium (MIP) payment. Unlike PMI, you can't cancel your MIP payments – they stick with you until you make the last payment on your loan.
If you make a down payment of at least 10%, MIP will be on your loan for 11 years. For this reason, many homeowners refinance their FHA loans into conventional mortgages once they reach 20% equity in their property.
The Potential Downside To FHA Loans
If this all sounds really exciting, be forewarned: FHA mortgages can be unattractive to many sellers, and in a hot seller's market they can be the difference between winning and losing a bidding war.
One reason is the FHA appraisal process considers the livability of the home as well as its value on the market. This can delay the mortgage approval process and push out the closing date.
Who Should Choose An FHA Loan?
FHA loans can help borrowers with lower credit scores achieve their dreams of homeownership. If you're looking to buy a home but don't meet the requirements of a conventional loan, an FHA loan could be a good choice for you.
Apply for a conventional mortgage now.
Rocket Mortgage® lets you do it all online and provides expert recommendations.
VA Loan
VA loans are a government-backed loan provided by the Department of Veterans Affairs (VA) exclusively for our nation's veterans, active members of the armed forces and select surviving spouses. To be considered, you must be able to produce a certificate of eligibility. A VA loan can allow you to buy a home with no money down and you can also avoid PMI payments.
How Do VA Mortgages Work?
You'll need to pay a small VA funding fee when you get your loan but select veterans may be able to get a waiver to remove the fee. VA loans also have lower interest rates than comparable government-backed loans, which can make them even more affordable.
VA Loan Qualifications
To qualify for a VA loan, you must meet service requirements. Any one of the following statements must be true before you can get a VA loan:
You've served 90 consecutive days of active military duty during wartime.
You've served 181 consecutive days of active military duty during peacetime.
You've been an active member of the National Guard or Reserves for at least 6 years, or you served 90 days under Title 32, at least 30 of which were consecutive.
You're the surviving spouse of a service member who lost their life in the line of duty or because of a service-related injury.
You or your spouse must move into your new property within 60 days of closing to use a VA loan to buy a home. There are exceptions to this. For example, you may be deployed and unable to move in during that time.
You must also buy a primary residence with your loan. You can't use a VA loan to buy a second home or investment property.
Who Should Choose A VA Loan?
Any qualified military member, veteran or surviving spouse who qualifies for a VA loan should consider this type of mortgage. VA loans offer tremendous benefits, making them a great option for those who qualify.
USDA Loan
Home buyers interested in buying a property in rural – and even some suburban – areas may qualify for USDA loans courtesy of the U.S. Department of Agriculture (USDA). For those that do, it's a very low-cost mortgage with no down payment required.
How Do USDA Loans Work?
You need to buy a house in an approved rural area to qualify for a USDA loan. You can use the USDA's property eligibility page to see if the home you want to purchase qualifies.
Your property must also meet the USDA's livability appraisal standards – which are very similar to the FHA's appraisal standards – to qualify. For example, you can't buy a home with a nonfunctional water system using a USDA loan. Your home must be your primary residence – you can't buy an investment property or vacation home with a USDA loan.
You must also meet the USDA's income limits for your area. To see if your income qualifies you for a USDA loan, use the USDA's income eligibility calculator.
Who Should Choose A USDA Loan?
USDA mortgages are a great choice for all those who meet the qualifications. Thanks to their zero down payment requirement, USDA loans make it more affordable to buy a house.
Nonconforming Loans
There are also non-conforming loans that can benefit home buyers in certain situations. Let's take a look at the difference between conforming and nonconforming loans, as well as when home buyers should consider using one to purchase their home.
Conforming Vs. Non-conforming Loans
You might think your loan starts when you buy your house and ends when you pay it off, but that's not the case at all. Your mortgage has a very active life after it's originated for your closing.
If it's a conforming loan, it almost immediately gets purchased by Fannie Mae or Freddie Mac, the government-sponsored enterprises (GSEs) that keep our mortgage markets liquid. Most mortgages are conforming loans. That means the loan meets the minimum standards for purchase set by the GSEs.
Most lenders sell their mortgage loans to Fannie or Freddie shortly after closing. This frees up cash flow and allows lenders to continue issuing loans.
A loan must be at or below a certain dollar amount to conform. In most of the continental U.S., the conforming limit for 2023 is set at $726,200. For high-cost areas, like Alaska and Hawaii, the conforming loan limit is $1,089,300 as of 2023. To buy a home more expensive than that, you'll need a jumbo loan.
Jumbo Loans
A jumbo loan is a high-value loan that exceeds the Federal Housing Finance Agency's (FHFA) conforming loan limits, which are typically lower than non-conforming loan rates. This is the most common type of non-conforming loan.
But jumbo loans – commonplace in the more expensive metropolitan areas of the country – increasingly have interest rates comparable to conforming loans. Limits on jumbo loans vary by lender.
How Do Jumbo Loans Work?
Jumbo loan down payments required will vary depending on loan amount and credit score. You may need 10.01% down to qualify.
Lenders will carefully look at your finances and cash reserves before they give you a loan. Your lender may require you to have 12 months or more of mortgage payments in your bank account before you can get a loan. You'll also need a higher credit score compared to other loan types.
Who Should Choose A Jumbo Loan?
Jumbo loans are often used by home buyers who are purchasing a home that exceeds the conforming loan limit. If the home you're looking to purchase exceeds the limit, a jumbo loan is likely your best option for a mortgage.
Which Home Loan Is Best For You?
The best type of mortgage for each individual home buyer will vary depending on their financial situation. That's why it's so important to carefully research all your options before jumping into the home buying process. It may also be helpful to speak with different lenders to find the one that will offer you the most favorable terms on your home loan.
The Bottom Line
There are many home loan options available for those looking to purchase a home. Choosing the right loan for your situation can be confusing, especially if it's your first time buying a home. That's where the Home Loan Experts at Rocket Mortgage can help. Start your mortgage application online today to explore your options.
Get approved to buy a home.
Rocket Mortgage® lets you get to house hunting sooner.
Related Resources
Viewing 1 - 3 of 3