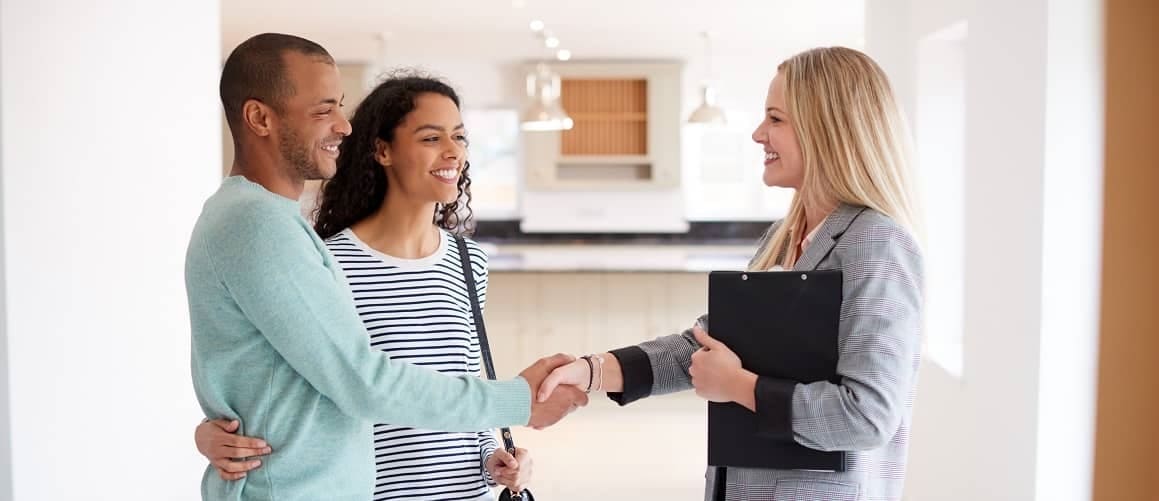 Are Closing Costs Negotiable?
Jamie Johnson7-minute read
January 12, 2023
Share:
If you're considering buying your first home, you may have been surprised to discover the costs of buying a house are more than just the house itself. You'll also have to make a down payment and pay to get the home inspected and appraised.
And once you've taken care of those upfront costs and are ready to close on the sale of your home, you have to account for closing costs. But at this point, you may be wondering, are closing costs negotiable?
The short answer is yes – when you're buying a home, you may be able to negotiate closing costs with the seller and have them cover a portion of these fees. This article will explain which mortgage closing costs are negotiable and the steps new home buyers can take to get started.
Can You Negotiate Closing Costs?
Closing costs are the fees you pay your lender to process the real estate transaction. These costs include origination fees, appraisal fees, title searches, taxes and any other costs incurred during the home buying process.
You'll pay your closing costs when the seller transfers the property title to you. The total amount you owe will depend on a variety of factors, including the sale price of your home.
But in general, closing costs typically come to between 3%-6% of the total loan amount. This means that if you take out a mortgage worth $100,000, you can expect closing costs to be between $3,000-$6,000.
Sometimes, these closing costs are negotiable. You can ask the seller to cover some of it – but it's still usually a pretty big chunk of change.
If you're presented with a number that's higher than you expected, you don't need to settle for paying that amount right away. You can work with your lender, real estate agent and seller to bring your closing costs down by comparing fees and other charges.
See What You Qualify For
Congratulations! Based on the information you have provided, you are eligible to continue your home loan process online with Rocket Mortgage.
If a sign-in page does not automatically pop up in a new tab, click here
What Mortgage Closing Costs Are Negotiable?
Negotiating your closing costs could save you a lot of money, but not every cost is negotiable. So before approaching your lender, it's a good idea to understand which fees are negotiable and which ones aren't.
For instance, borrowers have a lot of room to negotiate the terms of the mortgage and any fees charged by a lender. In comparison, any fees charged by the government or another third-party provider are harder to negotiate.
And if there's a lot of competition for your home, you may want to hold off on negotiating closing costs. Let's look at when it's a good idea to negotiate and when you may want to hold off.
Negotiable Fees
Here are some negotiable fees that your lender and the seller may be willing to compromise on:
Homeowners insurance:

When you buy a home, you're required to purchase homeowners insurance. Your lender wants to be sure that their financial investment is protected if it's damaged or destroyed in a fire or natural disaster. However, you have the option to shop around and compare rates from different providers to ensure you're getting the best deal possible.
Discount points:

Discount points are an upfront fee you pay in exchange for a lower interest rate on your mortgage. This usually comes to about 1% of the total loan amount, and since 1 point equals 1%, you'll pay $1,000 for a $100,000 home. If you want to save money upfront, you can apply for a lender credit where you'll pay less upfront in exchange for a higher interest rate.
Origination fees:

An origination fee covers the costs of underwriting the loan. This fee usually costs about 1% of the total loan amount, though the exact amount will vary by lender. You can always ask your lender to lower or remove these fees altogether.
Underwriting fees:

Lenders will sometimes charge an underwriting fee for the service of evaluating your loan. This fee can be charged instead of an origination fee or in addition to it. However, it's another fee your lender may be willing to negotiate.
Loan application fees:

The loan application fee is a one-time fee your lender charges for processing and underwriting the loan. You can and should negotiate this fee, especially if your lender has charged you several other fees.
Real estate commissions:

The closing costs will also include the commissions of the real estate agents of both the buyer and the seller. Fortunately, the seller typically pays both the seller and the buyer's agent from the sale proceeds.
Title insurance:

A title search is necessary to ensure that you're receiving a clean title when you buy a home; therefore, you'll need to pay for title insurance, which protects your lender if someone tries to claim they have a right to the property.

And you'll need to pay for title insurance, which protects your lender if someone tries to claim they have a right to the property. You can work with your lender and ask that they choose a more affordable title company, though they aren't required to heed your request.
Non-Negotiable Fees
Though you have some room to negotiate your closing costs, certain fees are non-negotiable. Here's an overview of those fees.
Appraisal fee:

An appraisal fee covers the cost of having an appraiser evaluate your home and determine the fair market value. The appraisal fee is a necessary cost, and in most cases, one that the buyer is required to pay for it.
Credit check fees:

Before you can buy a home, your lender will run a credit check to determine your creditworthiness. This information helps your lender determine the rate and repayment terms you'll receive on your mortgage. This is a non-negotiable service, but occasionally the lender will cover this fee themselves.
Government fees:

During the home buying process, you may have to pay certain government fees. This could include things like a title transfer fee or a recording fee. There is no room to negotiate these types of expenses.
Courier fees:

Courier fees cover the cost of transferring your loan documents to different parties. These fees are non-negotiable, but fortunately, they are relatively inexpensive.
Property taxes:

At the time of closing, you'll pay some money up front for property taxes. The exact amount you pay will vary depending on where you live, but you can expect to pay something.
How To Negotiate Closing Costs
Anytime you're making a large purchase, it's your responsibility to negotiate for the best deal possible. Your lender will not offer to charge you fewer fees, and the seller will not offer to step in and help pay for the closing costs – you have to make the request.
Let's look at the steps you can take to negotiate your closing costs and hopefully save yourself some money.
Be Prepared
It's important to walk into the negotiation process prepared. Otherwise, you're giving away your leverage, and you may overlook certain items your lender was willing to negotiate.
Start by figuring out exactly what your proposed closing costs will be and which fees could be negotiable. From there, you can approach your lender with your proposed changes.
Work With Your Lender
After you complete a mortgage application, your lender is required to give you a loan estimate document. This form breaks down exactly what you're paying to take out the mortgage. Go through this form line by line so you understand what fees you'll have to pay.
Once you understand the fees your lender is charging you, you can begin the negotiation process. If your lender is charging you multiple fees, ask that some of those fees are knocked off the final price tag.
Compare your current rates and fees with offers you received from other lenders and make apples to apples comparisons (meaning, 30-year fixed v. 30-year fixed, etc.). Ask your lender what options are available to you – they may not get rid of all the fees but will likely be willing to compromise on some of them.
Ask The Seller
Another option is to work with the seller and ask them to contribute more to the closing costs. For instance, you could ask the seller to pay for the title transfer fee or other fees. These are called seller concessions, and they can be a powerful way to save on your closing costs that are negotiable.
However, if you decide to utilize this tactic, it's best to tread lightly. In a competitive housing market, it can be more challenging to convince the seller to contribute to closing costs. And you don't want to do anything to jeopardize the purchase of your new home.
Roll Your Closing Costs Into Your Mortgage
If you're trying to get rid of your closing costs, another option is to choose a no-closing-cost mortgage. In this scenario, your lender pays for many of the closing cost fees and, in exchange, charges you a higher interest rate.
It can be useful because you don't have to come up with the money up front. But you're not getting out of paying your closing costs ­– these costs are just rolled into larger monthly payments throughout the duration of your loan.
In fact, you could end up paying more money over time because the interest usually adds up to more than the initial savings.
Try To Close At The End Of The Month
Another way to lower your closing costs is by closing on your home at the end of the month. When you do this, you'll pay less money in prepaid interest, which effectively lowers your closing costs.
When Is The Right Time To Negotiate Closing Costs?
Timing is one of the most important aspects of any negotiation tactic. You need to know when it's the right time to ask for what you want and when you're better off waiting.
In some cases, you can take advantage of seller concessions and have the seller agree to cover some of the negotiable closing costs. But it can be difficult for buyers to negotiate closing costs in a competitive market. And if you're in a seller's market, the seller likely has no incentive to contribute to your closing costs.
And if the seller is unwilling to budge, you have to consider whether it's worth it to you to risk the sale of the home altogether. If not, you may need to settle for paying more money in closing costs.
The Bottom Line: Some Closing Costs Are Negotiable
By now, you understand that it's entirely possible to negotiate your closing costs and save money on the price of your home. But your ability to negotiate will depend on the market and how much leverage you have.
It's best to make sure you're financially prepared to pay the closing costs before buying a home. You'll have peace of mind knowing that you can cover the costs if necessary, and any money you save will be icing on the cake.
If you're interested in learning more about the closing process, be sure to check out the resource center at Rocket Mortgage®. Our loan experts can help you learn more about the home buying process and answer all of your questions.
Get approved to refinance.
See expert-recommended refinance options and customize them to fit your budget.
Related Resources
Viewing 1 - 3 of 3