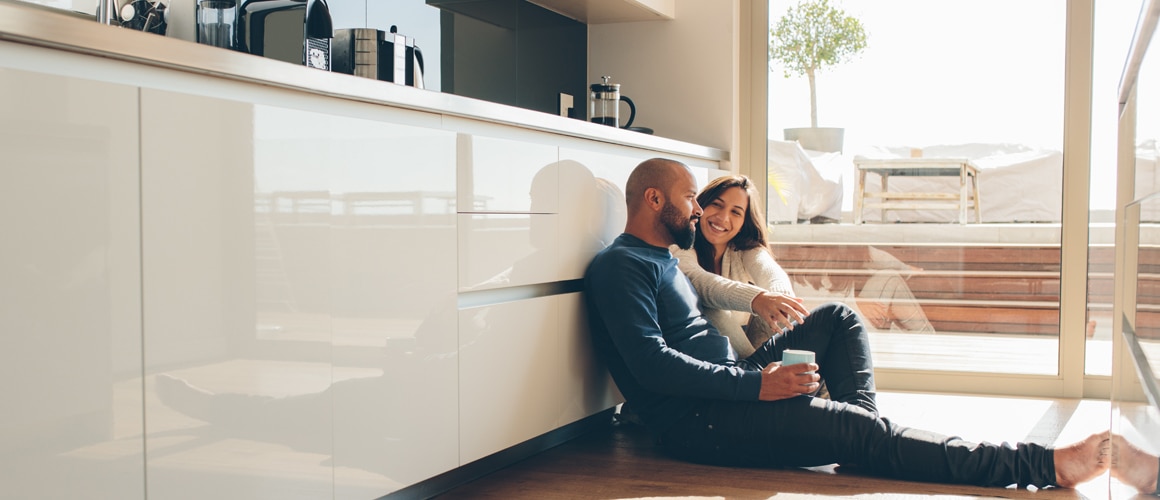 Today's 30-Year Mortgage Rates
Ashley Kilroy7-minute read
August 06, 2021
Share:
*As of July 6, 2020, Rocket Mortgage® is no longer accepting USDA loan applications.
When you purchase a home or decide to refinance, you'll learn that there are several options available, especially when it comes to getting a mortgage. These options can affect how much borrowers pay on their mortgage each month and over the term of the loan.
If you're getting a long-term mortgage, one of the most important financial factors that will affect your payments is the 30-year mortgage rate. Therefore, it's important to understand current rates and to take the time to weigh the pros and cons.
What Is A 30-Year Fixed Mortgage?
A 30-year fixed-rate mortgage is a loan with a 30-year term and a fixed interest rate. A term is how long it takes to pay back a loan, so a 30-year term means that you'll pay back the mortgage over 30 years. The fixed rate means that the interest rate doesn't change for the life of the loan.
The phrase "30-year fixed" usually refers to a conventional loan, which is a loan that's not guaranteed or insured by the government. You can also get a 30-year fixed FHA, VA or USDA loan, which are backed by the government. Rocket Mortgage® doesn't offer USDA loans at this time.
Current 30-Year Mortgage Rates
Today's Purchase Rates
*
Pricing is currently not available for the selected value.
You may be wondering, how are mortgage rates determined? Your mortgage rate will change depending on your location, your credit and other factors. If you're a veteran or need to get a loan for more than 80% of your home's value, you might be eligible for different interest rates.
If you decide to refinance your home, you'll generally find the same rates. Since there are no specific purchase or refinance rates, you'll be quoted at the mortgage rates available.
While the above is generally true for refinances, the Federal Housing Finance Agency (FHFA) is currently charging an adverse market fee on all refinances with loan amounts above $125,000 for conventional loans backed by Fannie Mae and Freddie Mac to make up for increasing costs due to COVID-19. Additionally, there is sometimes at a higher charge for cash-out refinances due to the risk associated with taking a higher balance.
When assessing current rates, make sure you understand the difference between interest rate and APR. This will ensure that you're making the right comparisons, which is crucial to finding the best mortgage for your borrowing needs.
Mortgage rates change daily based on the market. To get the latest updates on current mortgage rates, visit our Mortgage Rates page. You can also use this resource to get rate trends for the last year.
Historical 30-Year Mortgage Rates
Mortgage rates have fluctuated significantly in the past several decades. Throughout the 1970s, the average rate of inflation rose consistently. By 1981, interest rates for 30-year mortgages were at 9.5%.
As a reaction, the Federal Reserve increased the federal funds rate. This happened several times, ultimately pushing the 30-year interest rate to 18.63%.
Although this was an all-time high, the Federal Reserve funds rate increases did what they were supposed to do: they curbed inflation. Inflation returned to normal levels by late 1982, and mortgage rates remained below 10% for the next 20 years.
They continued to decline through the housing crisis of 2008 until November 2012. At this time, they reached an all-time low of 3.31%.
And 2020 saw rates decline even further. With the COVID-19 pandemic, the Federal Reserve lowered the federal funds rate to 0%. Additionally, 30-year fixed-rate mortgages dipped below 3%, with Freddie Mac reporting an average of 2.72% as of late November 2020, a record low for the industry.
Pros Of A 30-Year Mortgage
There are several pros to 30-year mortgages, which is what makes them so popular with borrowers. Here are a few things you should know before choosing one.
Lower Monthly Payments
If you choose a 30-year mortgage over another mortgage term, your payments will be lower. The 30-year term is typically the longest home loan term you can get. Extending the life of your loan gives you more time to pay it back, which results in lower mortgage expenses per month.
Flexibility
Some lenders let you make extra payments on your mortgage principal each month. This is a great way to save on interest without committing to a shorter term and a higher required payment.
In months when you have extra money to put toward your mortgage, you could make a higher payment. In months when you can't afford extra, you can just pay the minimum.
Rocket Mortgage® doesn't charge prepayment penalties, so you can take advantage and pay off your mortgage as fast as possible if you have some extra money.
Ability To Afford A More Expensive Home
You may be able to afford a more expensive home if you opt for a 30-year term. When your lender evaluates your loan, they'll consider how your new mortgage payment fits in with your debt-to-income ratio (DTI).
If you can afford a $150,000 mortgage on a 15-year term, you might be able to get a larger mortgage – such as a $200,000 loan – with a 30-year term.
Cons Of A 30-Year Mortgage
While there are many advantages to a 30-year mortgage, there are a few drawbacks as well. Therefore, you may want to keep these factors in mind before jumping into a 30-year term.
Higher Interest Rate
Your lender will consider you a higher risk when you take longer to pay back your loan. This is because it takes longer for the lender to get the money back from you.
Therefore, you'll be charged a higher interest rate. The lender must ensure that they'll lose as little as possible if you default on your loan.
Another reason for the higher interest rate involves inflation. The longer your loan term, the more an investor has to account for future inflation potentially eating into the return on their investment.
Takes Longer To Build Equity
Every dollar you pay on the principal of your mortgage is one more dollar of your house that you own. Your ownership in the home is known as your equity. If you stretch your payments out over 30 years, it will take longer for you to build equity than if you were to opt for a shorter term.
More Interest Payments
The longer you pay on a home loan, the more you'll pay in interest. The longer term and higher interest rates of a 30-year loan mean that you'll spend more money on interest compared to other loans.
How Often Do 30-Year Mortgage Rates Change?
Interest rates for 30-year fixed-rate mortgages change all the time – just like other mortgage interest rates. There are a couple factors that determine changes in interest rates:
Mortgage interest rates are influenced by the federal funds rate, which is the rate banks and other financial institutions pay to borrow money. The federal funds rate is controlled by the Federal Reserve.

The strength of the housing market plays a role in interest rate changes. When there's a large demand for homes, lenders charge higher interest rates. When the demand for houses is low, lower interest rates entice potential home buyers.
While getting a low interest rate is important, you should also keep in mind that a slightly higher interest rate might not mean much of a change in your monthly payment. For example, on a $200,000 loan with a 30-year term, increasing the rate from 3.325% – 3.375% means that your monthly payment would increase only about $6 per month.
The difference in payment isn't the only thing to consider when shopping for rates. Think about what a lender can offer. You might save a bit of money by going with the cheapest rate, but the tradeoff in the level of service you're going to get might not be worth it.
Refinancing A 30-Year Mortgage
If you have an existing 30-year mortgage, you might want to refinance it into a new loan. There are a few instances in which this might be a good idea.
The first is if your payments are currently too high. If you have a 30-year mortgage and are struggling to make the payments, you may be able to refinance into another 30-year mortgage. This would allow you to extend how long you'll be paying on your loan, but you'll be able to spread the remainder of the equity you owe on your home over the next 30 years.
Additionally, you might want to refinance if interest rates are much lower now than when you originally purchased your home. You might be able to save quite a bit of money each month by refinancing at a lower rate.
If you have significant equity – usually 20% or more is required, with the exception of VA loans – you may be able to take cash out of your home for investment purposes or to make home renovations. This is another reason to refinance.
How Is Your Mortgage Rate Determined?
The rate you see advertised won't necessarily be the rate you get for your mortgage. Here are some of the factors that go into determining the actual rate you'll get on your loan.
Credit Score
Your lender will look at your credit score to evaluate how likely you are to pay back the loan. Credit scores range from 300 – 850. Shoot for at least 620 to qualify for a conventional home loan. The higher your credit score, the lower your interest rate will be on your 30-year fixed mortgage. The credit score that counts is the lowest median score of all clients on the loan.
Location
Interest rates can also vary depending on the location of your home. Lenders may offer lower interest rates in some states than others depending on laws and regulations.
Home Price And Down Payment
Lenders will typically offer lower interest rates to buyers who put more money down. The lower your loan-to-value ratio (LTV), the better your interest rate will typically be. The lower the loan itself, the lower the risk assumed by a lender.
Loan Type
Lenders offer different interest rates for different types of loans. Adjustable rate mortgages typically have lower rates than fixed-rate mortgages, for example. However, it's important to note that at the end of the fixed period at the beginning of the loan, that rate can adjust up or down with the market.
You may find better rates for VA loans than conventional loans. It all depends on your lender and what's going on in the market. The only real disadvantage of VA loans is that you have to be a qualified active-duty servicemember, reservist, veteran or eligible surviving spouse.
The Recap
Whether you're looking to purchase a home or refinance a home, the interest rate you receive on your mortgage can make a huge difference in how much you pay for your home. Mortgage rates are constantly changing, which makes it even more important to shop around for one that works for you.
As you do so, you have the option to talk to a Home Loan Expert. They'll be able to help you navigate the home buying process and purchase or refinance your home at the best possible rate.
Is your mortgage rate still over 3%?
Refinancing now could save you thousands over the life of your loan. Get started below to see how Rocket Mortgage can help.