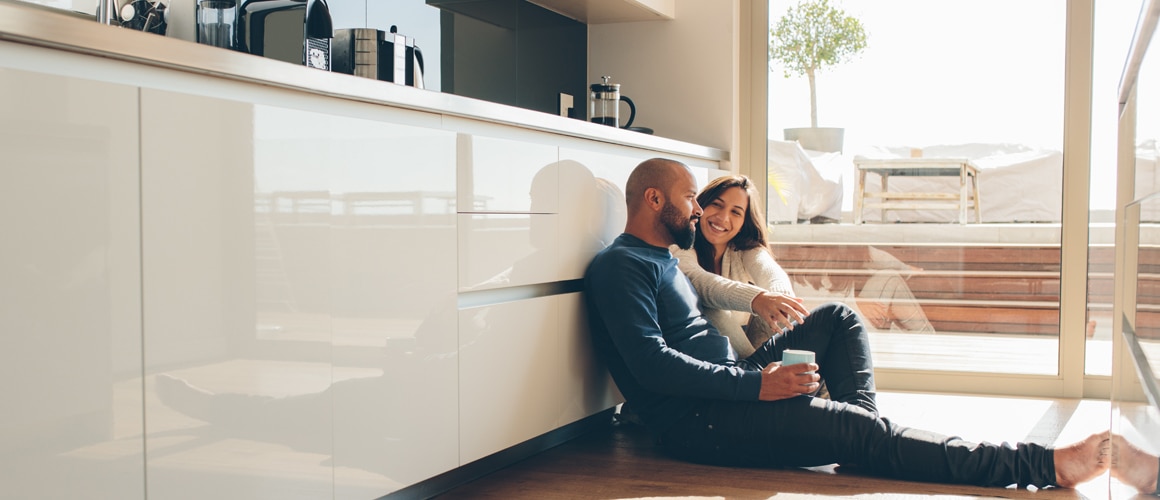 What Is A 30-Year Fixed-Rate Mortgage? Understanding 30-Year Rates, Loan Options And More
Ashley Kilroy7-minute read
January 12, 2023
Share:
Purchasing a home comes with several decisions. One of the most important to make is the type of mortgage you use to buy your dream property.
Researching your options may lead you to 30-year fixed-rate mortgages, a popular form of financing. But what is a 30-year mortgage? Here is an overview of this loan type you can use to inform the next time you borrow money.
30-Year Fixed Mortgage Explained
A 30-year fixed-rate home loan is a mortgage that will be completely paid off in 30 years if all the payments are made as scheduled. With a fixed-rate loan, the interest rate remains the same for the entire span of the mortgage.
When talking about a 30-year fixed-rate mortgage, it typically refers to conventional loans. Conventional loans do not receive backing from the government; however, it is possible to get a 30-year fixed FHA, USDA, VA loan, which the government insures. Rocket Mortgage® does not offer USDA loans at this time.
See What You Qualify For
Congratulations! Based on the information you have provided, you are eligible to continue your home loan process online with Rocket Mortgage.
If a sign-in page does not automatically pop up in a new tab, click here
Parts Of A 30-Year Fixed Mortgage
Your 30-year fixed mortgage includes several components. Understanding each part will help you understand the total cost of your potential monthly payments.
Principal: The principal is the original amount you borrow from a lender to purchase your home. So, if you buy a $300,000 home, cover the 20% down payment of $60,000, and borrow the remaining amount, your principal would be $240,000.
Interest: Interest essentially acts as a fee the lender charges for letting you borrow money. Lenders calculate mortgage interest as a percentage of your principal. This rate may be variable or fixed, and most of your loan payment goes toward it early on in the loan term.
Escrow: Escrow is money put aside that a third party uses to pay costs on your behalf. That may include expenses like property taxes or homeowners' insurance premiums.
Mortgage insurance: Mortgage insurance costs depend on your loan type and down payment. Usually, you can avoid it by putting 20% down
30-Year Fixed Mortgage Rates
You might see lenders advertise attractive low rates. But several factors determine your mortgage rate, impacting the amount you'll pay. They include:
Credit score: Lenders use your credit score to estimate the risk of whether a borrower will pay the loan back or default
Home price and down payment: Lenders offer lower rates to buyers with bigger down payments, resulting in lower loan-to-value ratios
Location: Interest rates depending on your home's location based on state laws and regulations
Loan type: Certain loans come with more competitive rates than others. For example, VA loan rates may be lower than conventional loan rates
Mortgage rates fluctuate all the time based on market activity. If you want to stay informed, consider reading up on today's mortgage rates.
Today's Purchase Rates
30-Year Fixed *
5.99 Rate / 6.281 APR
Legal Disclosures
30-year Fixed-Rate Loan:

An interest rate of 5.99% (6.281% APR) is for the cost of 1.875 point(s) ($3,750.00) paid at closing. On a $200,000 mortgage, you would make monthly payments of $1,197.82. Monthly payment does not include taxes and insurance premiums. The actual payment amount will be greater. Payment assumes a loan-to-value (LTV) of 74.91%.
Assumptions
Listed rates are offered exclusively through Rocket Mortgage.
Mortgage rates could change daily.
Actual payments will vary based on your individual situation and current rates.
Some products may not be available in all states.
Some jumbo products may not be available to first time home buyers.
Lending services may not be available in all areas.
Some restrictions may apply.
Based on the purchase/refinance of a primary residence with no cash out at closing.
We assumed (unless otherwise noted) that: closing costs are paid out of pocket; this is your primary residence and is a single family home; debt-to-income ratio is less than 30%; and credit score is over 720; or in the case of certain Jumbo products we assume a credit score over 740; and an escrow account for the payment of taxes and insurance.
The lock period for your rate is 45 days.
If LTV > 80%, PMI will be added to your monthy mortgage payment, with the exception of Military/VA loans. Military/VA loans do not require PMI.
Please remember that we don't have all your information. Therefore, the rate and payment results you see from this calculator may not reflect your actual situation. Rocket Mortgage offers a wide variety of loan options. You may still qualify for a loan even in your situation doesn't match our assumptions. To get more accurate and personalized results, please call to talk to one of our mortgage experts.
View Rates
Types Of 30-Year Fixed-Rate Mortgages
Your search may yield several types of mortgages, and each one comes with its own pros and cons. Searching for the right type of financing will help you lockdown on the home you want.
Conventional 30-Year Fixed-Rate Mortgage
Conventional loans split into two categories. Some are conforming loans, meaning they meet the regulations to be sold to Freddie Mac or Fannie Mae. Others are nonconforming, meaning they don't meet those guidelines.
Because of the diversity of rules, conventional loans don't follow a set list of borrowing requirements. However, they usually have stricter rules than government-backed loans, like FHA loans. Typically, you need a minimum credit score of 620 and debt-to-income (DTI) ratio below 50%.
Conventional loan interest rates vary daily, but they can be lower than FHA loan rates. They are usually higher compared to VA loan rates.
FHA 30-Year Fixed-Rate Mortgage
The Federal Housing Administration, which works under the Department of Housing and Urban Development (HUD) backs FHA loans. So, the FHA protects your lender in the case you default on the loan.
With some lenders, you can qualify for an FHA loan with a down payment as small as 3.5% and a credit score of 580. Your lender may also want evidence of steady employment and a debt-to-income ratio below 50%. While that makes FHA loans accessible, you also have to pay mortgage insurance if you apply.
VA 30-Year Fixed-Rate Mortgage
A VA loan is backed by the Department of Veterans Affairs (VA), so it poses less risk to lenders. You need a certificate of eligibility (COE) proving you qualify, though. Mostly, active-duty military members, veterans and surviving spouses are eligible.
VA loans fit into the category of nonconforming loans due to easier credit requirements. They also have generally lenient borrowing terms, low-interest rates and no down payment minimum. Borrowers also don't have to pay mortgage insurance. However, keep in mind that terms and rates vary among lenders.
Pros Of A 30-Year Fixed-Rate Mortgage
30-year fixed-rate mortgages are a popular option with many home buyers. Here are some of the advantages they provide.
Lower Monthly Payments
A 30-year mortgage spreads out the cost of your home over the 30-year term. That gives you more time to pay it off. Because of this, you pay a lower monthly payment than you would for the same property with a 15-year or 20-year mortgage.
Flexibility
Some lenders allow you to make additional payments toward your mortgage principal every month. This can help you save money in the long run by reducing your interest. However, you don't have to agree to a shorter term and higher mandatory installments.
You can spend extra at your discretion. Months where you have a little extra cash, you can put more down and work toward paying off your mortgage faster.
But this option depends on your lender. Rocket Mortgage, for example, doesn't charge you any penalties for prepayment. Look for similar opportunities with your loan.
Ability To Afford A More Expensive Home
When you choose a 30-year term loan, you may be able to purchase a more expensive home. That's because spreading your mortgage payments out over many years affects your debt-to-income ratio.
When applying for a loan, your lender considers how your mortgage repayments will impact this ratio. For example, they may allow someone with a 15-year term to borrow $140,000. But someone borrowing a 30-year term may be able to borrow more, such as $300,000.
Cons Of A 30-Year Fixed-Rate Mortgage
A 30-year fixed-rate mortgage promises some advantages that certain homeowners may like. But this loan may not work for everyone. As a result, you might want to think about these drawbacks before you pursue one.
Pay More In Interest
Compared to shorter loans, a 30-year mortgage will likely come with higher interest rates. That's because it takes longer for lenders to receive the money they lent out. They charge a higher interest rate to help minimize their potential loss if you default on the loan.
In addition, 30-year fixed-rate loans feature higher interest rates due to inflation. A long loan term requires investors to plan ahead. They need to factor in future inflation and how it may impact their investment's return.
Takes Longer To Pay Off The Loan
A 30-year mortgage is the longest mortgage length you can get when buying a home. That draws out your repayment period, resulting in higher interest rates. So, someone with a 30-year mortgage spends more compared to other loan borrowers.
Takes Longer To Build Equity
As you pay the principal part of your mortgage, you slowly gain ownership of your home. This ownership is known as equity. However, it takes a longer time to build equity with a 30-year fixed-rate mortgage. This is because a small amount initially goes to your principal. So, it's slower compared to building equity with a short-term loan.
Historical 30-Year Mortgage Rates
Mortgage rates have changed significantly over the previous decades. The 1970s, to start, saw consistent inflation increases. These rises ultimately led to a 30-year mortgage interest rate of 9.5% by 1981.
In response, the Federal Reserve raised the federal funds rate. This process repeated until it resulted in a 30-year interest rate of 18.63%. While that sounds high – and it was – it was for a purpose. By increasing the funds rate, the Federal Reserve curbed inflation. Because of this, inflation levels remained normal for the following 20 years. During which, mortgage rates stayed below 10%.
Eventually, the housing crisis struck in 2008, lasting until November 2012. Mortgage rates declined throughout this period until they hit an all-time low of 3.31%.
We saw a resurgence of dropping rates in 2020 when the COVID-19 pandemic hit. At the time, the Federal Reserve cut the federal funds rate down to 0%. Meanwhile, according to Freddie Mac 30-year fixed-rate mortgages fell below 3%, for an average of 2.67% in December 2020. This marked another record low for the mortgage industry.
As of the latter half of 2021, mortgage rates are beginning to slowly increase. Freddie Mac reported an average interest rate of 3.05% for 30-year fixed-rate mortgages in December 2021.
How Often Do 30-Year Mortgage Rates Change?
The interest rates of 30-year fixed-rate mortgages change frequently. There are a few factors that influence those changes, such as:
The housing market: When demand rises, lenders increase their interest rates. Likewise, when demand is low, they drop interest rates.
The federal funds rate: The Federal Reserve decides the federal funds rate, which is the rate financial institutions pay to borrow money.
But don't panic if interest rates increase between the time you start looking for a house and contact a lender. A slightly raised rate may not significantly impact your monthly payments.
In addition, you also want to consider the other terms or service a lender offers. You might find a low rate, but the lender may not provide support or other favorable terms.
Refinancing A 30-Year Fixed-Rate Mortgage
If you already have a 30-year fixed-rate mortgage, you may want to refinance it at some point. This may work best for homeowners in certain situations.
For instance, you may feel your mortgage payments are too high. If you currently struggle with repayment, you could refinance the loan into another 30-year mortgage. This would spread out your loan, lower your monthly minimum and provide you with more flexibility. Although, you will likely have a higher interest rate.
Or, you might want to refinance if current interest rates are lower than when you purchased your home. Thus, saving you money each month.
Some homeowners with significant equity, typically 20% or more (outside VA loans), can also consider a cash-out refinance. This provides you with a sum of money you can use for home renovations, investing, or other costs.
FAQs
You may still have a few questions about 30-year mortgages. Here are some answers to common concerns prospective borrowers have.
Is a 30-year fixed mortgage really paid off in 30 years?
If you follow your repayment schedule, you will pay off your 30-year fixed-rate mortgage in 30 years. However, many homeowners have the option to pay it off early.
What happens if I pay off a 30-year fixed mortgage early?
Paying off your mortgage early can help you save money in the long term, even thousands of dollars in interest. However, it may not work for you if you have other high-interest debt to pay or your lender charges prepayment penalties.
How does interest work on a 30-year mortgage?
The interest you pay on a 30-year mortgage will depend on the type of loan you take out. A fixed-rate loan will apply the same rate throughout the loan term, whereas the rate of an adjustable-rate loan will change periodically.
Is a 30-year mortgage better than a 15-year mortgage?
Both 30-year mortgages and 15-year mortgages function similarly, but the "better" choice depends on your finances. A 15-year loan will cost more each month, but it comes with a lower interest rate – saving you more over the life of the loan.
The Bottom Line
A 30-year fixed-rate mortgage comes with its pros and cons. While you have lower monthly payments and repayment flexibility, you also face larger overall costs.
As a result, a 30-year fixed-rate loan doesn't work for every homeowner. It's vital that you learn your different mortgage options before committing to
Get approved to refinance.
See expert-recommended refinance options and customize them to fit your budget.
Related Resources
Viewing 1 - 3 of 3