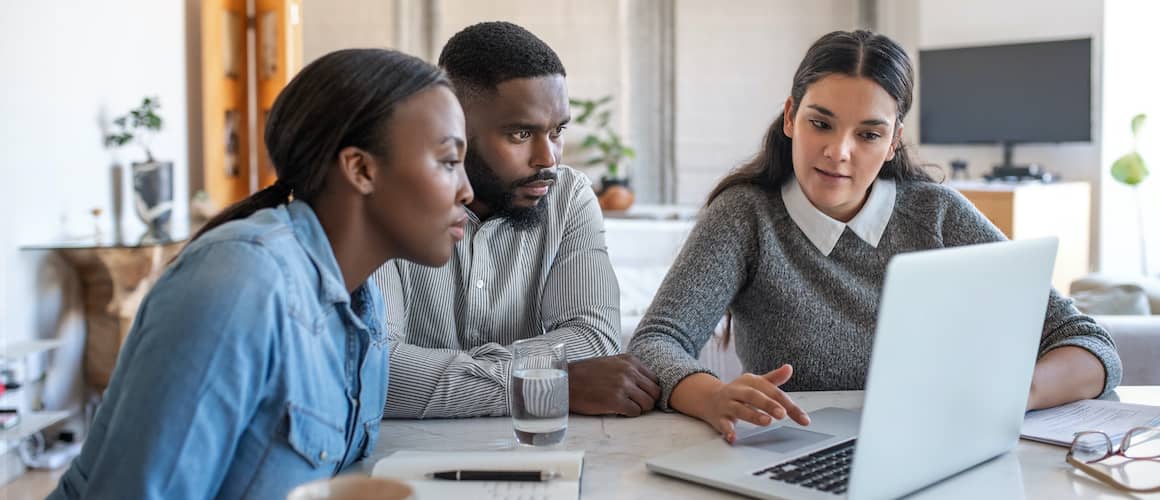 11 Important Legal Considerations When Buying A Home
Andrew Dehan7-minute read
February 27, 2023
Share:
Real estate purchases are the most expensive transactions most people are involved with. From before you find your desired house to the day you're handed the keys, it's important to know the legal requirements involved with real estate, as well as your rights when buying a house.
Follow these 11 steps to simplify the home buying process. Completing each will allow you to move from home buyer to homeowner with less stress and more excitement.
Get approved to buy a home.
Rocket Mortgage® lets you get to house hunting sooner.
1. Mortgage Preapproval
Before you start looking for a home, you need to get preapproved for a mortgage. This will make it much easier for a seller to accept your offer, since they'll know you have been approved for the financing you need.
The preapproval process is not very complex. The lender will take your personal information and proof of income and assets and will run a credit report. You'll need to know how much money you're willing to use toward a cash down payment. The lender will provide you with a letter stating you're preapproved for a specific time period and a specific amount.
To be clear, preapproval does not mean you're guaranteed a loan; it just means that you initially qualify for one. The lender will need more documentation to formally approve your loan. How much more depends on what's collected up front.
2. Purchase Offer
The next step is to find the house of your dreams and put in a home purchase offer. Your real estate agent can help you complete this document, which is an offer to buy the home.
Carefully consider how much you want to offer. You may want to offer less than what the seller is asking, but in some hot markets you might have to offer more. The purchase offer is really a contract waiting for the seller's signature, so it's a complex document.
You may want to have a lawyer who specializes in real estate law to review the purchase offer and give legal advice. In most instances, your agent will have used a standard form approved in your county, but you want your attorney to make sure it includes everything necessary
3. Negotiating The Offer And Signing The Purchase Agreement
After you've submitted an offer, the seller may counter it, reject it or accept it. If the seller counters and changes any of the conditions of the contract, your agent or attorney should review the revisions.
The first part of every home sale is the purchase agreement. This is the purchase contract that both parties sign once an offer has been accepted. Along with the purchase price, a purchase agreement also defines the following:
Earnest money: This is how much cash buyers commit to completing the sale. An earnest money deposit is typically 1 – 2% of the purchase price. More earnest money can make your offer more appealing to a seller in a competitive market. In the event that your loan closes, this money is used toward your down payment.
Contingencies: These protect the buyer and the seller, allowing them to back out of the deal if something goes wrong. For the buyer, contingencies usually let them cancel the contract and retain the earnest money deposit.
Settlement date: This is the date of closing the sale. Appraisals and inspections must be completed in advance of this date. The new mortgage must be secured and the home insurance put in place. All moving parts line up on this day.
Date of possession: Different from closing, this is when you get to move into your new home. The date of possession allows you to purchase the home and gives the seller time to move out. If a different date from the closing date is requested, the typical time window for the seller to move out is 30 – 45 days after closing, though it can be longer or shorter depending on the contract. It's worth noting that if you're buying a primary residence, most mortgage investors require you to occupy the property within 60 days of close.
4. Mortgage Approval
Once your offer is accepted, you'll need to contact your mortgage lender with the details so that the mortgage approval process can begin. The lender will likely ask you for additional documentation and information than what you provided for preapproval.
Getting a mortgage approval can be intimidating, especially if it's your first time. Work closely with your mortgage lender, along with completing and returning all paperwork in a timely manner so you don't hold up your mortgage loan.
Take the first step toward the right mortgage.
Apply online for expert recommendations with real interest rates and payments.
5. Home Inspection
Nearly every contract for the sale of a home includes a provision for a home inspection before the contract is considered binding. Make sure your agent or attorney inserts a clause about this in your contract. This allows you, the buyer, the right to hire a home inspector to view and inspect the home (inside and out) to look for potential problems.
If your inspector finds problems, your attorney can then ask the sellers to make the needed repairs for the sale to go forward. There may need to be further negotiation at this point. If the seller does not want to make repairs, you could counter with a lower purchase price.
In extremely hot housing markets, some buyers have been known to waive the inspection to try and outflank competitors. While this might better position you with the seller, it's an exceedingly risky strategy, particularly when purchasing an older home. Tread carefully.
6. Meeting Contingencies
Once the home inspection is over and the contract is final, you'll need to meet other contingencies listed in the contract. The biggest one often is the sale of your current home. If you're already a homeowner, you'll probably want to sell your current home to be able to afford the second one, so the contract will state that the purchase is contingent on that sale.
Again, when dealing with a competitive home buying market, a contingent offer, as it's called, can be a strike against you, as the seller may have other buyers who don't have to sell an existing home before buying a new one. Of course, the alternative isn't terribly appealing: You can sell your home in advance, but you'd have to find somewhere to live in the meantime or make two mortgage payments, but not everyone can afford to do this. Balance priorities accordingly.
7. Title Insurance
Next, you'll need to purchase title insurance for the property, as required by the mortgage company. A title search will need to be done to assess any outstanding mortgages, unpaid liens, unpaid homeowners association (HOA) dues easements and leases. Title insurance ensures that the title (ownership rights) you receive is valid and free of any claims. It protects the lender from issues that could occur down the line that could lead to a property dispute.
In order to protect your own rights to property and have money to purchase another property if someone comes along with another valid claim to your property in the future, you'll need to purchase a separate owner's title policy.
8. Mortgage Closing
Once all the contingencies have been met and you've provided your mortgage lender with the appropriate documentation, your closing (also known as a settlement) will take place. During this meeting, you'll close on the home and the mortgage.
Your lawyer or real estate agent will accompany you to the closing. At the closing you'll sign the legal documents and review all financials in detail.
See What You Qualify For
Congratulations! Based on the information you have provided, you are eligible to continue your home loan process online with Rocket Mortgage.
If a sign-in page does not automatically pop up in a new tab, click here
9. Deed
As part of the closing, you'll receive the deed to the home, which is your legal ownership. This deed will contain a description of the property, including property lines or deed restrictions.
You'll want to consult with your attorney about how to take ownership if you're married or buying the home with someone else (some options include joint tenants, joint tenants by the entirety, joint tenants with right of survivorship).
10. Filing
Once all the paperwork is done, your purchase is still not complete until the documents have been filed with the county. Coordinate with your agent or real estate lawyer to determine how the paperwork will be filed.
11. Other Legal Issues
You may have noticed throughout the article, we have said "agent or real estate attorney." This is because, in several states, real estate attorneys are required by law to be present at closings. These states are:
Connecticut
Delaware
Georgia
Massachusetts
New York
South Carolina
West Virginia
With any other states, the only other person required at a closing is a notary. Whether you need a real estate attorney in any other state is up to you and your situation.
At or after closing, you'll also need to work with your lender to establish an escrow account in many cases. Your mortgage lender will set a portion of your mortgage payment aside to pay for property taxes and homeowners insurance. This goes into the escrow account.
What Are Your Rights As A Home Buyer?
Aside from understanding the steps to buying a house, it's important to have a firm grasp of your legal rights as the buyer in the exchange.
These rights may vary depending on the state or region you live, but typically include:
The right to choose your own mortgage lender, broker, appraiser and/or home inspector
The right to receive copies of any legal documents associated with the purchase, and have them assessed and explained by a legal professional
The right to be informed of any liens or other encumbrances on the title
The right to do a final walkthrough of the home before closing
The right to obtain property tax information about the property from previous years
The right to be free of discriminatory practices, as outlined in the Fair Housing Act
Again, this list of buyer's rights is by no means exhaustive and rights may vary by region. Consulting a real estate lawyer can help ensure you fully understand your rights as a buyer.
The Bottom Line
Follow these 11 legal considerations step-by-step and you'll be on your way to completing your real estate transaction and becoming a responsible homeowner.
Want to read more about home buying, loan types and mortgage basics? Visit the Rocket Mortgage® Learning Center.
Get approved to buy a home.
Rocket Mortgage® lets you get to house hunting sooner.
Related Resources
Viewing 1 - 3 of 3