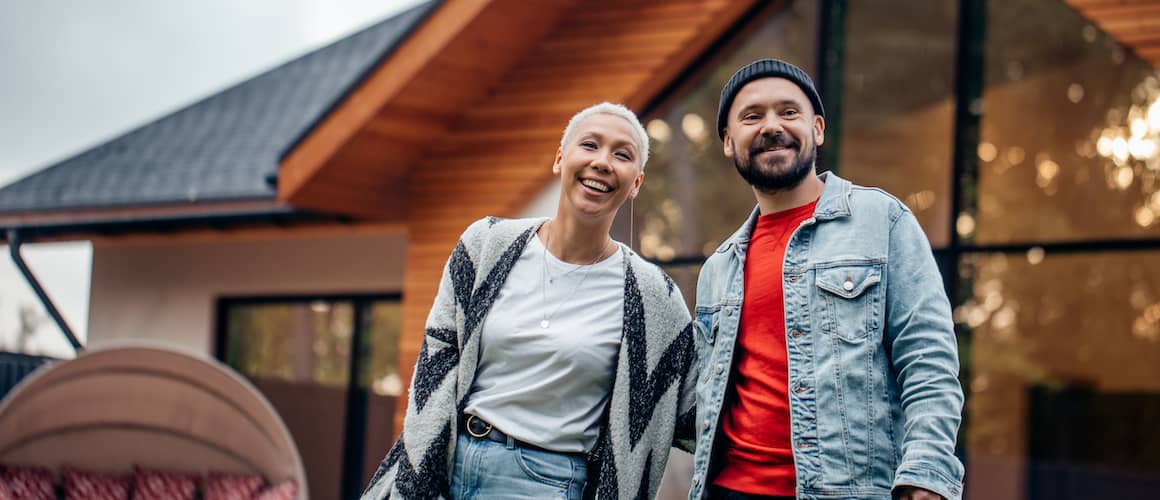 Protect Your Rate With RateShield® And Rate Drop Advantage
Kevin Graham5-minute read
September 16, 2022
Share:
Interest rates have gone up. It's no secret.
You know this whether you're in the market to buy or refinance a home. Yet you might need a house. It would be nice to know if you can get the lowest rate possible either now or in the future. We'll talk about two products that give you the Rocket Advantage if you buy a home with Rocket Mortgage®.1
Buy Your Home With RateShield
Locking your interest rate can provide you with certainty. Once locked, your rate isn't going to go up if you close within a reasonable timeframe. However, you can also feel remorse if mortgage rates drop after you lock. There's also the problem that traditionally, you can't lock before finding a house. Enter RateShield.2
RateShield is an option to lock your rate while at the same time having the option to lower your interest rate one time should rates fall before you close on your home. Additionally, you can lock this rate for up to 90 days while you're in the process of shopping for a home.
RateShield also comes with the certainty of our Verified Approval.3 In a Verified Approval, we pull your credit to see what mortgage programs you might qualify for. Additionally, we ask for documentation around your income and assets. This gives you a strong preapproval that sellers and their real estate agents can trust because you put in the work upfront to qualify.
RateShield gives you the additional rate certainty that you won't end up having a higher mortgage rate because you locked early.
That's great. But if rates fall soon after you close, there are costs associated with refinancing. Wouldn't it be nice to get a break?
Lock in today's rates before they go up.
Defend against rising rates with RateShield®.1
Refinance With Lower Closing Costs Using Rate Drop Advantage
Interest rates have gone up awfully quickly. If we look at the course of history, mortgage rates tend to go in cycles. When they go up, they eventually come down. But closing costs can be a barrier to refinancing.
With Rate Drop Advantage, those who purchase with us have the option to refinance at any time between 4 months after you close and 3 years after your closing date with reduced closing costs.4 We'll cover your first appraisal costs, the credit report, tax certification, and mortgage recording fee among others, through a lender paid credit at closing.
To be eligible to take advantage of this, you need to lock your initial rate when buying a home in today's market. The great thing about this deal is that you may be able to refinance later with lower costs if you qualify financially. If you're ready to make a move, lock in your future savings.
This is significant because closing costs are typically anywhere from 2% – 6% of your overall loan amount. On a $300,000 loan, that's $6,000 – $18,000. If you can save a chunk of that, it makes the decision to refinance and take advantage of lower rates that much easier.
Buying a home is a big financial transaction that can be stressful. Knowing that there's less pressure to get the timing just right because you can refinance later with reduced costs could be a huge weight off your shoulders.
The Bottom Line
When you're looking to purchase a home or refinance a home, how much interest you're paying is a huge concern. RateShield and Rate Drop Advantage give you the Rocket Advantage of rate certainty so that you can move forward with confidence.
Do you want to get started? Get approved online or give us a call at (833) 326-6018.
1 Rocket Mortgage, LLC; NMLS #3030; www.NMLSConsumerAccess.org. Equal Housing Lender. Licensed in 50 states. AL License No. MC 20979, Control No. 100152352. AR, TX: 1050 Woodward Ave., Detroit, MI 48226-1906, (888) 474-0404; AZ: 1 N. Central Ave., Ste. 2000, Phoenix, AZ 85004, Mortgage Banker License #BK-0902939; CA: Licensed by the Department of Financial Protection and Innovation under the California Residential Mortgage Lending Act; CO: Regulated by the Division of Real Estate; GA: Residential Mortgage Licensee #11704; IL: Residential Mortgage Licensee #4127 – Dept. of Financial and Professional Regulation; KS: Licensed Mortgage Company MC.0025309; MA: Mortgage Lender License #ML 3030; ME: Supervised Lender License; MN: Not an offer for a rate lock agreement; MS: Licensed by the MS Dept. of Banking and Consumer Finance; NH: Licensed by the NH Banking Dept., #6743MB; NV: License #626; NJ: New Jersey – Rocket Mortgage, LLC, 1050 Woodward Ave., Detroit, MI 48226, (888) 474-0404, Licensed by the N.J. Department of Banking and Insurance.; NY: Rocket Mortgage, LLC, 1050 Woodward Ave., Detroit, MI 48226 Licensed Mortgage Banker-NYS Department of Financial Services; OH: MB 850076; OR: License #ML-1387; PA: Licensed by the Dept. of Banking –​ License #21430; RI: Licensed Lender; WA: Consumer Loan Company License CL-3030. ​Conditions may apply.
2 RateShield Approval is a Verified Approval with an interest rate lock for up to 90 days. If rates increase, your rate will stay the same for 90 days. If rates decrease, you will be able to lower your rate one time within 90 days. Please contact your Home Loan Expert for additional information. This offer is only valid on 30-year FHA, VA and conventional purchase loan products. RateShield Approval not eligible for clients with a signed purchase agreement, on Charles Schwab loans, or new construction loans. Additional conditions and exclusions may apply.
3 Participation in the Verified Approval program is based on an underwriter's comprehensive analysis of your credit, income, employment status, assets and debt. If new information materially changes the underwriting decision resulting in a denial of your credit request, if the loan fails to close for a reason outside of Rocket Mortgage's control, including, but not limited to satisfactory insurance, appraisal and title report/search, or if you no longer want to proceed with the loan, your participation in the program will be discontinued. If your eligibility in the program does not change and your mortgage loan does not close due to a Rocket Mortgage error, you will receive the $1,000. This offer does not apply to new purchase loans submitted to Rocket Mortgage through a mortgage broker. This offer is not valid for self-employed clients. Rocket Mortgage reserves the right to cancel this offer at any time. Acceptance of this offer constitutes the acceptance of these terms and conditions, which are subject to change at the sole discretion of Rocket Mortgage. Additional conditions or exclusions may apply.
4 If client locks their initial rate on a purchase loan between 7/19/22 and 12/31/22 and that loan closes, client is eligible for Rate Drop Advantage. Refinance offer must be claimed by locking initial rate between 120 days and 36 months from purchase closing date. Refinance loan must be on the same subject property as the original purchase loan. Rocket Mortgage will cover the following fees as a lender paid credit: first appraisal fees, credit report, tax certification, mortgage recording fee, flood certification and life of loan, notary fees in Pennsylvania and New York, and if a conventional loan, processing and underwriting fees. Rate Drop Advantage is only valid on conventional conforming and government loans in our retail channels. Offer may not be redeemed for cash or credit and is nontransferable. Offer cannot be retroactively applied to any loans. Offer may not be used with any other discounts, promotions or interest-only/buy-down and second lien products. This offer is subject to changes or cancellation at any time at the sole discretion of Rocket Mortgage. Additional restrictions/conditions may apply. This is not a commitment to lend and is contingent on qualification per full underwriting guidelines.
Refinancing may cause finance charges to be higher over the life of the loan.
Lock in today's rates before they go up.
Defend against rising rates with RateShield®.1
Related Resources
Viewing 1 - 3 of 3