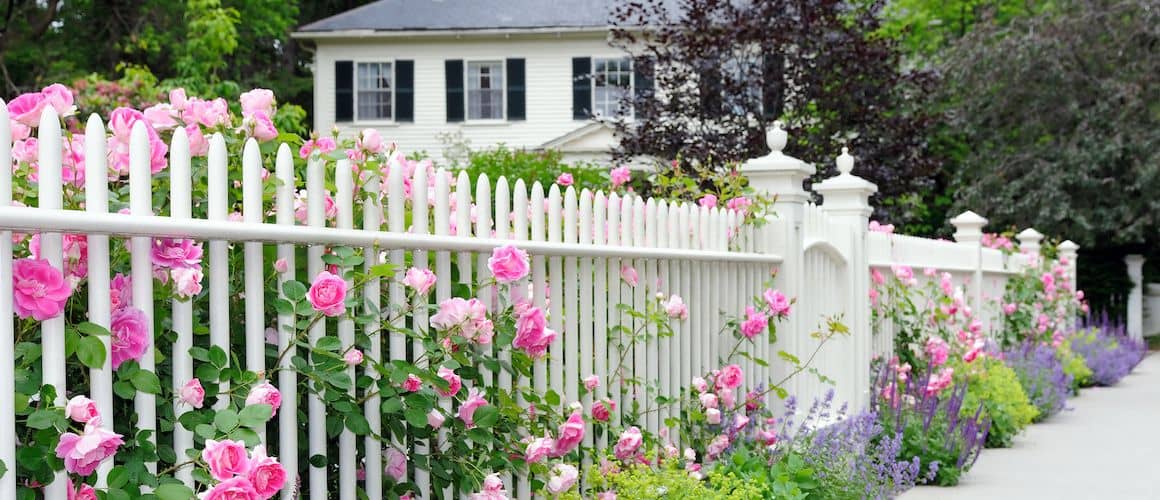 Property Lines: Everything You Need To Know
Emma Tomsich3-minute read
October 26, 2021
Share:
Disclosure: This post contains affiliate links, which means we receive a commission if you click a link and purchase something that we have recommended. Please check out our disclosure policy for more details.
You might often see a fence built between houses and properties, and wonder how the placement of that fence was decided. In most cases, it's dependent on property lines. Where these fences, or other property features are placed is determined by where the defined property lines lie. Therefore, it's of the utmost important to know where the lines begin and end on your property, as well as property you may be looking to buy.
What Are Property Lines?
Property lines, or boundary lines, define the points where properties begin and end. These boundaries are used when installing features such as fences, pools and home additions.
Having a good understanding of your home's property lines is a very important part of being a homeowner. Knowing where your property begins and ends can prevent potential unpleasantries or legal disputes with your neighbors. It can also ensure that you're respecting your neighbor's privacy and space. It's important to note that an unknown property line encroachment could result in a title company refusing insurance.
How To Find Property Lines
While locating property lines might seem like an overwhelming task, there are many easy ways a property owner can find or evaluate theirs. Consider the following:
Read The Property Line Map, Or 'Plat'
A property line map, or a "plat," is a drawing that maps out your property's boundary lines, and includes details like elevations, bodies of water and structures. You might even be able to find maps of neighboring properties if you have shared property lines. A plat is typically included with your property's paperwork, available at your local assessor's office, or accessible online.
Check The Deed To The Property
One way to check your property lines is to look at the deed of the property. As a legal document about your property, the deed should have a worded description of your land's boundaries. If for some reason the current deed does not describe the property lines, it will refer you to an older one that does. But know that if you use an older deed, it may include landmarks or other features that no longer exist.
Acquire A Property Line Survey
A property line survey is a precise measurement of a land's legal boundaries. If a property line survey is not already included with the plat and the property deed, you can hire a professional surveyor to measure out where your property ends and your neighbor's begins. Land surveyors will also research the property's history regarding things like subdivisions, easements, and ecological restrictions. Your mortgage lender will usually require a new survey be done for the property upon purchase.
Look For Property Line Markers
Some newer properties might include property line markers, such as stakes, from when the properties were first divided. If you have a more recent property, you can likely still find these markers if you walk your property lines and look closely for stakes that are either sticking up or are flush with the ground.
Can My Neighbor Build A Fence On The Property Line?
If your neighbor is thinking about building a fence on the property line between your two homes, it's important that they are aware of all necessary laws and regulations. Where a neighbor can build a fence on the property is dependent on jurisdiction laws, as well as any deed restrictions on either of your homes. As a general rule, laws typically state that a fence must be built at least 2 – 8 inches from a neighbor's property line. A fence built directly on a property line may result in a joint responsibility of the fence between the neighbors, including maintenance and costs. Just as a precaution, if you or a neighbor are thinking of building a fence on or near one of your home's property lines, make sure to consult your real estate agent on any rules and regulations.
Can I Find My Property Line Online?
Yes, you can find your property lines online. Your county may have online maps for all of the real estate in your area, accessible through the official county or assessor's website. Property lines can also be found through any online search engine on Geographical Information System (GIS) maps. Another way to view property lines online is on interactive online maps.
Conclusion
As a homeowner, it's crucial that you're aware of property lines so that you can respect your neighbor's property and avoid any legal disputes. If you're struggling to find your home's property lines, utilize one of the aforementioned strategies, or go online to check. Remember that before you or your neighbor build a fence on the property line, make sure to consult with each other and a real estate agent about your property's rules and regulations. For more information about buying real estate, check out our other resources for further reading on properties and mortgages.