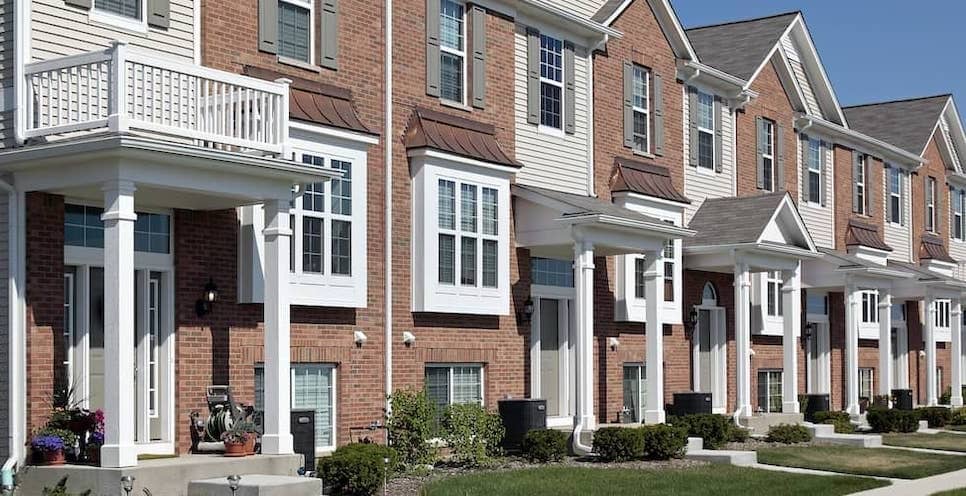 What Are Non-Owner-Occupied Mortgages And What Interest Rates Do They Charge?
Scott Steinberg5-minute read
January 11, 2023
Share:
Mortgages and loans for investment properties, also known as non-occupied-owner mortgages, work a little differently from those designed for use when purchasing personal homes.
On the one hand, getting a mortgage for a rental property, also called a non-occupied-owner loan, isn't much different from getting a mortgage for a primary residence in theory. But on the other, non-occupied-owner mortgage rates can also be higher, loan terms shorter, and down payments larger, even as application requirements can vary somewhat.
Here, we take a closer look at how non-occupied-owner mortgage loans work, what non-occupied-owner mortgage rates look like, and what real estate investors need to know about these borrowing programs.
What Is A Non-Owner-Occupied Mortgage?
A non-owner-occupied mortgage, also known as an investment property mortgage or rental mortgage, is a form of mortgage that's meant for residential properties with 1 – 4 units. However, it's specifically designed for borrowers who do not intend to live in the property.
In effect, real estate investors who do not plan to use a property as their primary residence will want to obtain a non-owner-occupied mortgage. Be advised though that those looking to purchase larger holdings – like an apartment or condo building with numerous units – won't find this form of mortgage to be a good fit.
Also be aware: Because these loans are meant for properties that are owned purely for investment purposes, there are higher-interest non-owner-occupied mortgage rates as a result. That's because non-owner-occupied properties present higher risk of default in the eyes of financial lenders. In addition, lenders may also require borrowers to put down a larger down payment as a safeguard against the increased risks that non-occupied-owner properties present as well.
See What You Qualify For
Congratulations! Based on the information you have provided, you are eligible to continue your home loan process online with Rocket Mortgage.
If a sign-in page does not automatically pop up in a new tab, click here
What's The Difference: Residential Vs. Commercial Loans?
An owner who lives in a multifamily home can qualify for a residential mortgage, because lenders know they'll do whatever it takes to stay in a primary residence in times of economic distress. At the same time, the residential mortgage market is also heavily regulated to protect both home buyers and the U.S. economy by the American government, while the investment property mortgage market is not.
What To Expect If You're Applying For A Rental Property Mortgage
Looking to apply for a rental property mortgage on an investment property? It's important to keep several things in mind.
Higher Interest Rates
Lenders consider mortgages along a spectrum of risk. Higher risks are associated with the higher interest rates charged on non-owner-occupied mortgage rate programs.
A borrower's credit score and credit history may also impact interest rates. Generally, the better your credit score, the better the interest rate that you'll receive. The type of property and number of residences may impact your interest rate as well.
Shorter Terms
While a home buyer can extend repayment over 30 years, non-owner-occupied mortgage lenders tend to offer much shorter terms.
Higher Down Payments
Because they're taking a bigger risk on borrowers, financial lenders will generally require a larger down payment (20% – 30%) from investment property borrowers wishing to apply for a non-owner-occupied mortgage loan.
Adjustable Interest Rates
Most non-owner-occupied mortgage loans are adjustable-rate mortgages (ARMs), which can cost investors much more should interest rates rise significantly.
More Stringent Credit Requirements
Lenders require higher credit scores, typically at least a 620 FICO® Score, from non-owner-occupied mortgage applicants. Additionally, lenders will want to see a manageable debt-to-income ratio (DTI) and large cash reserves to cover unforeseen costs or vacancy rates.
Are There Alternatives To Non-Owner-Occupied Mortgages?
You can also access alternative financing options beyond non-owner-occupied mortgages if you wish to expand the scope of your real estate investments.
If it's a plausible option, you should consider simply living in a unit on the property. Not only can greater proximity to your real estate investments make them easier and less convenient to maintain and upkeep, you can also pay off the mortgage faster on your personal residence using this strategy.
Note that there are FHA loans available for real estate investors who are considering purchasing owner-occupied multifamily homes with up to 4 units. Moreover, once you've satisfied the 1-year owner-occupancy requirement, FHA borrowers like yourself are free to rent out your unit and move into a new property. Be advised as well: You could also lease your current primary home or make it your second home to satisfy FHA occupancy rules.
If You're Ready To Take the Next Step In Real Estate Investing
On the other hand, if you already have a demonstrated business record in real estate investing, there are also Small Business Administration (SBA) loans available for landlords who are ready to graduate from real estate side hustle to career real estate investors.
It's also worth keeping in mind that the SBA loan application process focuses more on applicants' business plans and track record than their personal credit score and debt-to-income ratio, though these factors are considered as well.
Can I Take A Home Equity Loan On My Rental Investment Property?
Get approved to refinance.
See expert-recommended refinance options and customize them to fit your budget.
Non-Owner-Occupied Mortgage Rates And Requirements FAQs
Curious about how non-owner-occupied mortgage rates and loans work – and what borrower requirements may be associated with them? We've provided answers to several of the most frequently asked questions (FAQs) surrounding these loan programs here.
If I purchased my home and wanted to rent it out, would I have to get a non-occupied-owner mortgage?
Most financial lenders expect – and the FHA requires – home buyers to remain in the home for at least one year. Those considering this real estate strategy are advised to check their mortgage documents carefully to see what their lender requires.
I'd like to refinance my FHA mortgage, but I rent that property out now. What options do I have?
In this circumstance, you'll qualify for an FHA Streamline loan even if you no longer reside in the property.
Can I keep refinancing my investment properties with FHA loans?
The short answer is no. In fact, the FHA will cut applicants from its loan program if it detects a pattern of investment activity, even if there are no FHA loans currently involved.
What's the difference between rental, investment, and non-owner-occupied mortgages?
Not much. The terms are used interchangeably, but the only real difference here relates to the owner-occupancy requirements and expectations of your mortgage. Note that FHA loans are limited to owner-occupied properties with no more than 4 units, and those owners are certainly investors.
The Bottom Line: Mortgages Will Cost A Little Bit More As You Expand Beyond Your Residence
Non-owner-occupied mortgage rates are often higher, just as loan down payments are typically larger and application requirements somewhat more demanding. But they can also be a helpful tool for real estate investors wishing to acquire rental properties.
That said, especially for new real estate investors interested in expanding their portfolio of holdings, there are myriad strategies that may help you obtain financing through low-interest, low-down payment loans like those available through the FHA.
You can learn more about how to buy multifamily homes here.
Get approved to buy a home.
Rocket Mortgage® lets you get to house hunting sooner.