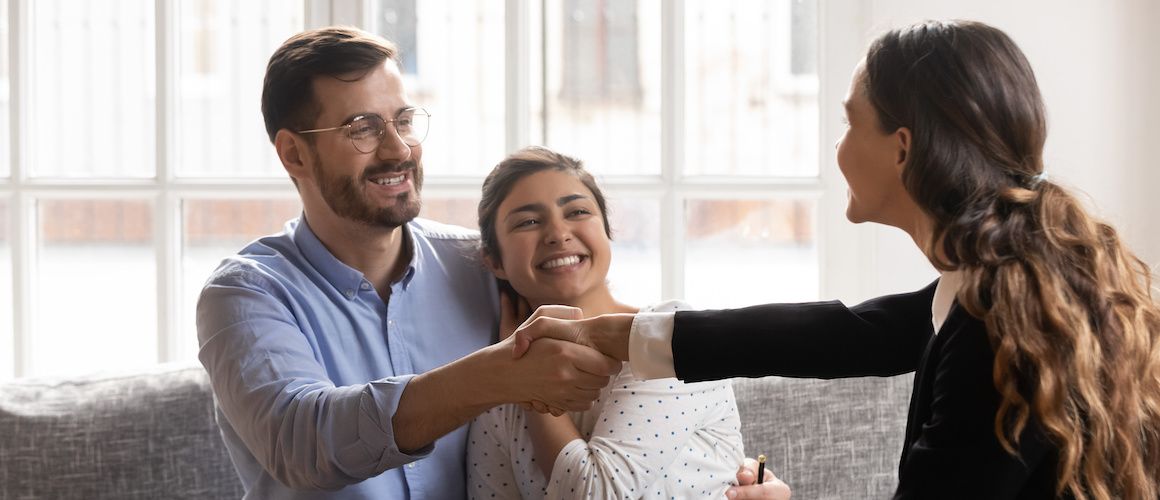 Mortgagor: A Definition
Victoria Araj4-minute read
March 31, 2023
Share:
If you're buying a house, you'll likely have to take out a mortgage. A mortgage is a loan that covers the cost of a home you don't have the cash for and is typically paid back over 15 – 30 years. If you plan to take out a mortgage, you're known as the mortgagor in the home buying transaction.
Let's walk through everything you'll need to know when you become a mortgagor.
What Is A Mortgagor?
A mortgagor is a person or organization that borrows money to purchase a home or piece of real estate. When most people want to buy a home, they must go to a bank or financial institution to apply for a mortgage loan.
See What You Qualify For
Congratulations! Based on the information you have provided, you are eligible to continue your home loan process online with Rocket Mortgage.
If a sign-in page does not automatically pop up in a new tab, click here
Mortgagor Vs. Mortgagee
In a real estate agreement, the mortgagor is the borrower of a mortgage loan, and the mortgagee is the lender. The mortgagor makes regular payments on the loan and agrees to a lien on the mortgaged property as collateral for the mortgagee. By contrast, the mortgagee sets the loan terms, oversees its payment and maintains the right to seize the property if the mortgagor falls behind on their payments.
Until the mortgage is repaid in full, the mortgagee will technically maintain a lien on the property. Essentially, if the mortgagor fails to repay the entire loan, the mortgagee can decide to seize or sell the property.
How Mortgage Loans Work
A mortgage is a loan that helps someone buy a property. Typically, the mortgagor has put down money worth at least 3% of the property's value to show that they'll be able to pay back the rest to the lender, or mortgagee.
In exchange for a loan, the borrower gives the mortgagee the right to place a lien on the title to their home as collateral to ensure they'll pay off the house over time. Typically for anywhere from 15 – 30 years, the mortgagor pays back the loan in monthly installments, plus interest. Since the mortgagor is securing the loan with collateral, it's known as a secured loan.
How A Mortgagor Gets A Mortgage Loan
The process by which a mortgagor applies for and receives a mortgage loan is relatively simple. The first item a lender typically reviews is a borrower's credit score and credit history. The lender will also look at the borrower's debt-to-income ratio, which compares an applicant's monthly income and their debt payments. This assessment will help the lender determine if the borrower can afford the monthly mortgage payment for the desired loan amount.
If the borrower's credit score and personal finances are strong enough to qualify for a home loan, the borrower will undergo an underwriting process where the lender verifies the borrower's income, assets, debt and property details before issuing final loan approval.
Different Types Of Mortgages
Mortgagors might consider several types of loans in addition to a conventional mortgage. For example, a government-backed loan such as an FHA loan only requires a borrower to put 3.5% down, as long as they have a median credit score of 580 or better.
Another government-backed loan that some home buyers may consider is a VA loan, insured by the Department of Veterans Affairs. A VA loan can allow qualifying veterans, reservists, National Guard personnel and active-duty service members, as well as surviving spouses who meet certain requirements, to buy a home – typically with $0 down and a lower interest rate than most other types of loans.
One option you may consider if you decide to go with a conventional mortgage is an adjustable-rate mortgage (ARM). An ARM is a 30-year loan with interest rates that change after a fixed time period expires, depending on how market rates move.
Each lender will have particular underwriting requirements, terms and interest rates. That's why it's important to research different types of loans and decide which interest rate, down payment, mortgage insurance (if required) and loan term is right for you.
Take the first step toward the right mortgage.
Apply online for expert recommendations with real interest rates and payments.
Mortgagor Responsibilities
Once a mortgagor has taken on a mortgage, they'll have some mortgage-related responsibilities until the loan is paid in full. First, they must make consistent mortgage payments and abide by the contract terms and provisions.
The terms of the mortgage agreement can vary depending on your lender and loan type. However, most mortgage lenders will require a protective provision called a mortgagee clause, which is added to your property insurance policy and helps protect your lender if your home is damaged. For instance, if your home was destroyed by a fire, your mortgage lender would receive a payment from your insurance company to help recoup their loss.
Equity Of Redemption
The Equity of Redemption is the right of a homeowner to buy their property even after it has gone into foreclosure. When a mortgagee chooses to "accelerate" a mortgage, it means a borrower is behind on their payments and must catch up on the payments to the extent that they've paid the balance in full. Equity of Redemption is important because it allows borrowers to recover from financial troubles.
Laws on redemption rights can vary from state to state, so be sure to check with an attorney if you find yourself in this situation.
The Bottom Line
A mortgagor is the borrower in the home buying process. A mortgagee approves the mortgagor for a loan, and the mortgagor is expected to pay back the amount they borrowed, plus interest, in installments over as long as 30 years. If you're ready to start the home buying process, you can apply for an initial mortgage approval to see the rates and terms you qualify for with Rocket Mortgage® . Feel free to give one of our Home Loan Experts a call at (833) 326-6018.
Get approved to buy a home.
Rocket Mortgage® lets you get to house hunting sooner.
Related Resources
Viewing 1 - 3 of 3