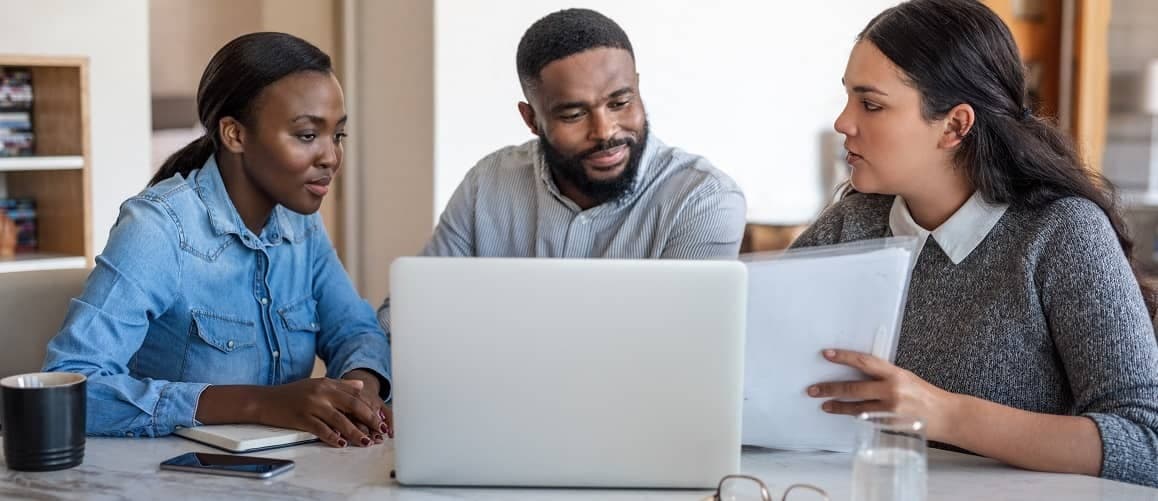 How Long Does Underwriting Take? A Timeline
Hanna Kielar10-minute read
February 19, 2023
Share:
When you get a mortgage, whether you're purchasing a new home or refinancing, your loan will go through a procedure called "underwriting."
When you're excited to close on your loan, each new step in the process can be anxiety-inducing. What if this creates a hurdle that delays my closing, or prevents it from happening at all? This can be especially true during underwriting, where an underwriter will go through your financial life with a fine-toothed comb.
Understanding how underwriting works and the average timeline of the process can help ease your anxieties and make you more prepared to handle issues that may arise while your loan is being underwritten.
So, how long does underwriting take when you're getting a mortgage? Let's take a look.
What Is Underwriting?
Underwriting is the part of the mortgage process when your lender verifies your financial information to confirm that you qualify for a loan. The person who completes this process is called an underwriter.
The Buyer's Financial Circumstances
This includes looking at your income, savings and other assets, debt and credit history, as well as verifying information about the property and whether you're eligible for the specific type of home loan you're applying for – for example, confirming that you meet the minimum service requirements for a VA loan.
Here at Rocket Mortgage®1, we offer Verified Approval℠. Our approval process involves verification of the information provided, and we offer a $1,000 guarantee to back up our approval promise. That means that if you are approved through our process, and your financial circumstances don't change after Prequalified Approval but your mortgage application is ultimately rejected, we'll send you a check.
The Property's Value
The preapproval process is all about you and your creditworthiness. The full approval process checks to make sure nothing has changed in that regard, but it mostly takes a deep dive into the value of the home you'd like to purchase.
When you get a mortgage loan, it's secured by the property you're buying. If the property is worth less than the loan, the lender is at risk of loss. That's why the appraisal value is important and why getting a low appraisal can cause underwriting delays.
See What You Qualify For
Congratulations! Based on the information you have provided, you are eligible to continue your home loan process online with Rocket Mortgage.
If a sign-in page does not automatically pop up in a new tab, click here
How Long Does Underwriting Take, On Average?
Overall, the average time to close on a mortgage – the amount of time from when the lender receives your application to the time the loan is disbursed – is 52 days, according to Ellie Mae.
Conventional loans had the shortest turnaround times at 51 days, followed by FHA loans at 55 days and VA loans at 57 days.
This is how long the overall process takes, but what does this tell us about underwriting?
The bulk of the closing process is made up of the various steps your lender will take to ensure that you're creditworthy and that they aren't taking on an unreasonable amount of risk with your loan. Much of this work happens during underwriting. If the underwriter encounters issues, this can delay your closing.
How long does this process typically take? Underwriting can take a few days to a few weeks before you'll be cleared to close.
How long it will take for you depends on a lot of different factors, including the number of applications your lender is currently processing, the lender's policies and procedures for underwriting and the complexity of your own financial situation. For those with more complicated financial histories, such as self-employed borrowers, the process may take a little more time than someone with a relatively clear-cut application.
The Three C's Of Underwriting
These are the three C's of underwriting: credit, capacity and collateral.
To help them understand your three C's, the underwriter will go through all the documentation you provided. This will include tax returns, W-2s, bank statements, retirement savings, pay stubs and investment account statements and any other relevant documents.
During this process, the underwriter may need to request additional information from you. They might need more recent documents, or an explanation letter for any questions they have, such as where a large deposit in your savings account came from.
This is often where the process can get held up, delaying your closing. Be sure to stay on top of communication from your lender and provide them the information they're requesting as soon as possible to keep everything moving along.
Most mortgage lenders use software that runs all this information and determines whether you qualify for a loan. This is called automated underwriting. Automated underwriting helps streamline and standardize the underwriting and approval processes.
If you have unique circumstances, such as a limited credit history, the lender may need to manually underwrite your loan, which just means that a person completes the entire process of underwriting, rather than inputting information into a computer program.
The Underwriting Approval Process Broken Down
Let's cover what the overall mortgage process looks like, from application to closing, and see how long each step typically takes and how underwriting fits into that process.
Loan Application And Preapproval: A Few Days
When you first apply for a mortgage, you'll typically provide a whole bunch of information about your current financial situation. You may be asked to provide documentation showing your income, your savings, your debts and any other information that may pertain to your finances. You'll also give the lender permission to look at your credit history and score.
The lender will look at all this information and determine whether, based on the information you provided, you meet their qualifications for getting a loan. This will typically take less than a week to complete.
At this point, you may get a preapproval letter from the lender stating how much they're willing to lend you based on your financial profile. This will help you understand your price range when you're shopping for a home. Going through the preapproval process before you begin your search will help you make offers with confidence, and will help you work out any kinks in your application before you go through the underwriting process, which can help save time once you've found your future home.
Once you've found the home you want, you'll make an offer and negotiate it with the seller. If it all works out, you'll both sign the purchase agreement and you'll be under contract to buy that home.
Next, you'll work with your lender to get full approval and be cleared for closing.
Appraisal And Valuation: A Week Or Less
Whether you're purchasing or refinancing, you'll most likely need to get an appraisal.
Your lender will order the appraisal. A licensed, third-party appraiser will create an appraisal report based on a physical examination of the interior and exterior of the subject property as well as the sales prices of recently sold properties that are similar to the property they're appraising.
This report will include the appraiser's opinion of the home's fair market value. This whole process generally takes a week or less.
The appraisal is vital to the underwriting process. Knowing the home's actual value, compared to the sale price, helps the underwriter calculate the loan-to-value ratio (LTV) and ensure that the borrower has enough money in their savings to cover a sufficient down payment.
Collecting Documentation And Underwriting: A Few Days To A Few Weeks
Once the details of your loan and application have been prepared, an underwriter will look over every aspect of your file and verify that you qualify for the loan and that the lender isn't taking on too much risk by lending to you.
Underwriters will try to find the answer to these three basic questions.
How Risky Are You As A Borrower?
Have you defaulted on mortgage loans in the past? Do you have a strong history of making on-time debt payments? What is your credit score? These are the types of questions they'll be looking to answer.
Can You Repay This Loan?
Underwriters want to know that your debt-to-income (DTI) ratio isn't so high that you'll have trouble affording your monthly payments. They'll also ensure that you have some extra money available, known as reserves, that you could use to cover your mortgage payments if you were to suddenly lose your source of income.
Does The Home's Value Cover The Loan Amount?
Lenders don't want to lend more than what the home is worth, because the property acts as collateral in case you default on the loan. They'll look at things like the loan-to-value (LTV), how much equity the borrower has in the home and the size of their down payment.
Conditional Approval And Additional Documentation: A Week Or So
If everything looks good, your lender may approve your loan, or they might give you conditional approval. As long as you can meet the conditions of the conditional approval, you'll be cleared to close. This might mean that your loan otherwise looks good, but you need to provide additional documentation.
How long this stage lasts depends on how long it takes you to get the necessary information to your lender, and how long it takes them to process it.
Final Underwriting And
Clear To Close: At Least 3 Days
Once the underwriter has determined that your loan is fit for approval, you'll be cleared to close. At this point, you'll receive a Closing Disclosure. This document goes over the final details of your loan, including the loan amount, your interest rate, estimated monthly payment, closing costs and the total amount of cash you'll need to bring to closing.
You'll receive your Closing Disclosure at least 3 days before your closing date. Assuming everything is in order, you'll have only a final walkthrough standing between you and closing day.
How To Speed Up The Underwriting Process
Though the underwriting of your loan is mostly out of your hands, there are some things you can do as the borrower to ensure a smoother process.
Provide Accurate Information Upfront
When you apply for preapproval, make sure everything you're providing is accurate, up-to-date and exactly what your lender asked for. Delays can happen if, for example, you aren't submitting your most recent paystubs or bank statements, or if you provide the lender with documentation they didn't ask for.
Be upfront about your financial situation. An underwriter will look very closely at all the information available to them regarding your credit, income and debts. Letting them know about issues upfront – such as extenuating circumstances that led to a derogatory mark on your credit report – will help them know what additional documentation they'll need from you ahead of time.
Don't Apply For New Credit
Don't apply for any new credit while you're going through the mortgage application process. Taking out a loan or getting a credit card changes your financial situation and can interrupt the underwriter's work, causing the process to take longer.
Stay In Touch
Finally, make sure you're responding to requests from your loan officer as soon as you can. As you wait for final approval to complete the real estate transaction, be prepared for them to ask for more documentation, and move quickly in getting it over to them. The faster you move, the sooner they can finalize your loan details.
Loan Underwriting FAQs
Let's go over some frequently asked questions about the mortgage underwriting process.
How long does underwriting take for a conventional loan?
A conventional loan is a mortgage that isn't backed by a government agency. When you apply for a conventional loan, the underwriter will ensure that the loan meets the lender's standards for their loans as well as the standards of the investors they sell their mortgages to, such as Fannie Mae or Freddie Mac.
According to Ellie Mae's most recent data, conventional loans take an average of 51 days to close – 49 days on average for a purchase transaction and 51 days for a refinance. As we've mentioned, the underwriting part of this could take anywhere from a few days to a few weeks.
How long does underwriting take for an FHA loan?
An FHA loan is a mortgage that's backed by the Federal Housing Administration (FHA), a government agency that's a part of the U.S. Department of Housing and Urban Development.
When you apply for this type of mortgage, the underwriter will make sure that your application meets both the lender's standards as well as the standards set forth by the FHA.
FHA loans take an average of 55 days to close. For home purchases, the average is 54 days. For refinances, it's 59 days.
How long does underwriting take for a VA loan?
VA loans are mortgages that are insured by the U.S. Department of Veterans Affairs (VA). They're offered to veterans, active-duty service members and qualifying surviving spouses.
When you apply for this type of mortgage, the underwriter will make sure that your application meets both the lender's standards as well as the requirements created by the VA. Part of this will include verifying that you meet the service requirements for VA loan eligibility.
On average, VA loans take 57 days to close. Purchase transactions take 56 days to close, while refinance transactions take an average of 60 days to close.
How long does underwriting take for a refinance?
Across all loan types, refinances took an average of 52 days to close in March 2021.
What should I do if my loan application is denied?
There are times when you've done everything right and your loan is denied anyway. Maybe the house doesn't pass inspection, or the appraisal comes in too low. Or maybe your financial situation changed unexpectedly. Here's more information on why an underwriter may deny a loan, and our advice on what to do if your loan application is denied.
The Bottom Line: When It Comes To Mortgage Underwriting, No News Is Good News
Once you've submitted your mortgage application, your part isn't finished. Although it's the underwriter's job to look at all the documentation you've provided and come to a decision about your loan eligibility, you can help ensure the process moves along as quickly as possible by being prepared to answer questions and provide additional information as soon as your lender asks for it.
Buying a house – and the process of underwriting – take time. The best way to get to the closing table sooner is to get preapproved before you start the home buying journey.
Ready to take the first step? Apply online today and start looking for your next home.
1 Participation in the Verified Approval program is based on an underwriter's comprehensive analysis of your credit, income, employment status, debt, property, insurance and appraisal as well as a satisfactory title report/search. If new information materially changes the underwriting decision resulting in a denial of your credit request, if the loan fails to close for a reason outside of Rocket Mortgage's control, or if you no longer want to proceed with the loan, your participation in the program will be discontinued. If your eligibility in the program does not change and your mortgage loan does not close, you will receive $1,000. This offer does not apply to new purchase loans submitted to Rocket Mortgage through a mortgage broker. This offer is not valid for self-employed clients. Rocket Mortgage reserves the right to cancel this offer at any time. Acceptance of this offer constitutes the acceptance of these terms and conditions, which are subject to change at the sole discretion of Rocket Mortgage. Additional conditions or exclusions may apply.
Related Resources
Viewing 1 - 3 of 3