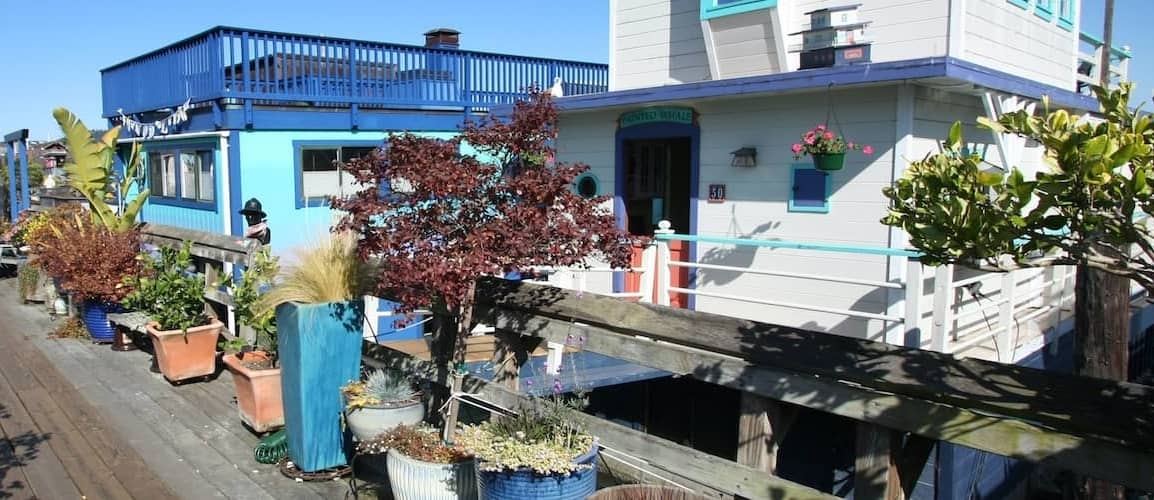 Houseboat Loans: A Complete Financing Guide
Katie Ziraldo6-minute read
June 25, 2021
Share:
Imagine: You're sitting on the top deck of a boat at sunset, overlooking the water with a drink in hand. For some people, this is a Sunday afternoon. For others, it's a lifestyle.
Houseboats have risen in popularity for several reasons, from the ability to live more affordably near a big city to the strong sense of community they provide. If you've considered the appeal of the marine lifestyle, you may have noticed that financing such a move is a very different process than traditional home buying.
Although Rocket Mortgage® doesn't offer houseboat financing, we're committed to helping you achieve your financial goals – including those that float. In this article, we'll explore the basics of houseboats, the types of financing available and what you should know before setting sail.
Houseboat Loans Overview
Although they sound the same, floating homes and houseboats are actually very different. While floating homes are full homes placed on a floating foundation, houseboats are mobile. Because of this, floating homes are typically more spacious and expensive, while houseboats are smaller and more affordable. This often means the upfront costs of a houseboat are much cheaper than floating homes, but there are additional expenses houseboat owners must consider – from moorage fees, to fuel costs and sewage pumping.
Houseboats also cost more for insurance and taxes, with owners often paying up to three times as much for insurance when compared with traditional homeowners and close to 10% sales tax on the vessel, depending on local tax laws.
Due to their permanence, floating homes sometimes qualify for more traditional types of mortgages – but the process of financing a houseboat is often more complicated.
Get approved to buy a home.
Rocket Mortgage® lets you get to house hunting sooner.
Houseboat Loans Vs. Floating Home Loans Vs. Traditional Mortgages
So, can you get a mortgage for a houseboat? The answer is often no. Floating homes can be considered permanent residences and therefore qualify for certain types of mortgages – such as a floating home loan – which often come with similar terms as traditional home loans.
But houseboats don't qualify for this form of financing, and when compared to traditional mortgages, houseboat loans can be tricky to find and often come with higher down payment and stricter approval requirements.
Houseboat Financing Options
Specific houseboat loans can be hard to come by – but don't fret! The good news is there are several other forms of financing that can be used toward marine living, and many are both accessible and affordable.
Which form of financing is right for you will ultimately depend on your individual goals, financial background and the amount of financing you need, but we suggest considering the following options.
Traditional Lenders
Although Rocket Mortgage does not offer boat loans, certain banks, credit unions and other online lenders will, especially if you already have an account with them. Whether you qualify for these loans will depend on your location on top of your financial background. For example, U.S. Bank offers boat loans, but only to those who live in the 25 states where they have branches.
Qualification for boat loans will depend on the individual bank or lender, although most require a minimum credit score of 690 or higher, depending on the size of the vessel.
Home Equity Line Of Credit
Current homeowners have the option of taking out a home equity line of credit (HELOC) to purchase their houseboat. HELOCs are a type of second mortgage that allow homeowners to access the equity they have built in their home. Once approved, the equity is received as a line of credit, which the borrower can continuously borrow against up to a certain limit and within a certain time frame.
Although this is an appealing option for many reasons, it's important to note that second mortgages generally come with higher rates than your primary mortgage. Most HELOCs also have variable rates, which means the interest rate you pay will fluctuate as the market does.
Qualifying for a HELOC can also prove challenging for borrowers with anything less than excellent credit, as most lenders require strong credit profiles for approval. Unlike a first mortgage, when most lenders are targeting credit scores of 620 or higher, HELOCs typically require a credit score above 700. Rocket Mortgage does not offer HELOCs.
Personal Loans
Personal loans can be a particularly helpful form of financing as they can be used for whatever the borrower wants, but it's important to remember that flexibility comes at a price, as most personal loans are unsecured and therefore come with higher interest rates. Unsecured loans also require borrowers to have excellent credit scores to qualify. Those with poor credit would be more likely to be approved for secured personal loans, which come with lower interest rates but require some type of collateral to back the loan, such as real estate, cars or savings accounts.
Marine Loan Brokers
Marine loan brokers work for financial service companies and function very similarly to real estate agents. With this option, your buyer's broker works with a seller's broker to help you negotiate and organize financing. This is certainly an appealing choice for first-time buyers, as having an expert at your disposal often eases anxiety and simplifies the process overall. But of course, you'll pay for this expertise – typically 10% or more of the purchase price – and these loans also require a significant down payment of 10% to 20%.
How To Get A Loan For A Houseboat
Now that you understand the types of houseboat financing on the market, it's time to begin your search. Apart from finding your dream houseboat, you should also plan to get your ducks in a row before applying for a loan.
Being prepared with the necessary information will not only improve your chances of loan approval, but it will also lessen the chance of any unpleasant surprises down the road. We recommend using the following steps as a guide when deciding which loan type is right for you!
Check Your Credit Score
As mentioned previously, the exact credit score needed for loan approval will depend on individual lender and the type of financing you're pursuing, but many lenders require good to excellent credit. To prepare for the approval process, we recommend checking your credit score before taking any other steps toward financing.
Save For Your Down Payment
The exact amount needed for your down payment will depend on the size of the houseboat, your financial history and the type of loan. However, most forms of financing will require a significant down payment, averaging around 20% of the purchase price.
Gather Asset Information
Most houseboat loans are considered portfolio loans, which often come with stricter requirements. This means that although your credit score is important for loan approval, your assets are also crucial, as most lenders will pay particularly close attention to the liquidity and history of your other financial assets to gain an understanding of your overall financial situation. When applying for a houseboat loan, you should be prepared with asset information, including the total amount you have in savings and investment accounts.
Determine Loan Limits
Loan limits vary widely between lenders, and of course the specific type of loan will also play a significant role in this piece of the puzzle. For example, personal loans often come with a maximum of $100,000, which is extremely unlikely to cover a houseboat purchase. Boat loan limits vary even more significantly, with some lenders capping out at $35,000 and others offering financing up to $5 million for the right borrower.
Consider Houseboat Loan Rates
Most houseboat loans come with fixed rates, meaning the payments will remain the same throughout the duration of the life of the loan. Traditional boat loans can offer APRs as low as 4.29%, although this number is likely to be higher based on the loan amount and repayment term.
If you're considering financing with adjustable rates, the exact payment you'll make monthly will fluctuate with the market – so although your payments could decrease with time, they could also increase. To avoid surprises and protect your financial future, be sure to consider all the pros and cons of your loan rates before making commitments.
Get approved to refinance.
See expert-recommended refinance options and customize them to fit your budget.
The Bottom Line: Houseboats Are As Unique As Their Financing
Whether due to financial restrictions or simply a longing to live a more unique lifestyle, more and more first-time home buyers are opting for non-traditional types of housing – from tiny homes to renovated trailers. If you're looking for a way to combine your wanderlust with a love of the water, living on a houseboat could be the perfect option.
Houseboats have evolved in recent years, far past worn tin roofs and wood panel walls. These marine homes can be very luxurious and often come with all of the comforts of traditional homes at less than half the cost.
But with these advantages come some significant challenges, as getting financing for non-traditional homes is never simple. As always, there are many approaches to homeownership. We recommend considering buying a lake house if you're looking for a simpler path to owning waterfront property.