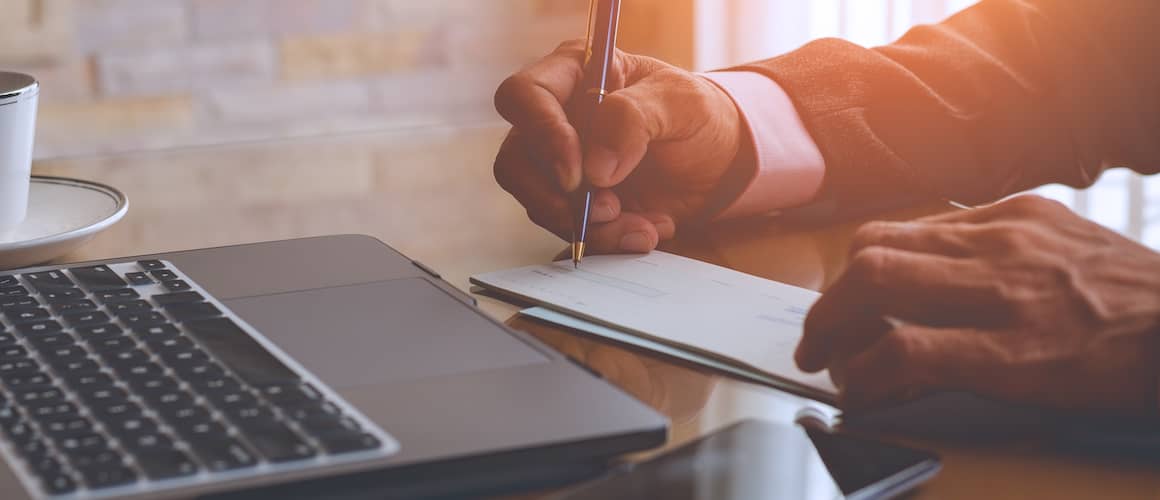 The Cons Of Paying With A Check
Andrew Dehan3-minute read
February 27, 2023
Share:
I was 14 when I got my first checkbook and had my first paycheck deposited into my account. This was long before debit cards were a thing, and I remember the guy at the bank sitting down and talking with me about how to balance my account in the little ledger they provided.
I was terrible at it.
I'd write checks for things and forget to write the transaction down, or I'd just wait until I got my statement to figure out how much money I had. More often than not, checks would take too long to clear and I would overdraft my bank account.
When I got my first debit card, I was so glad to not have to pay by check for most things. That's been the easiest transition for me to make. If you're still paying your mortgage by check, you may want to check out these reasons why it no longer makes sense and why making the switch to an alternative method like automated mortgage payments could be a good move for you.
Cons Of Using Checks
Of all the payment options, checks are the most likely to be used for fraud or identity theft. Checks contain all of the information a nefarious person needs to commit these crimes: your name, address, and account and routing numbers.
Another problem with sending a check through the mail is that it isn't as reliable as an automatic online payment. During high-volume seasons, such as around the holidays, your mail can be delayed for an indeterminate amount of time. Or sometimes areas of bad weather can cause the mail to run slower than normal. There have been a couple of occasions during my tenure as a homeowner when my mortgage payment has been late because the mail took longer to arrive than I expected. (Don't tell my parents!) Since I switched over to paperless statements and recurring payments through my mortgage servicer, I haven't missed another payment.
Your bank may return a check can be returned if a signature doesn't match what's on file. If you were in a hurry and had to sign something quickly, your signature may be sloppy, and if the bank decides the signature doesn't match what's on file, it can reject the payment. You could then be charged late fees. Sometimes, people will postdate checks to save themselves the trouble of writing multiple checks over time. But that doesn't prevent the checks from being cashed early, which could cause big financial problems if you're not expecting an early withdrawal from your account.
See What You Qualify For
Congratulations! Based on the information you have provided, you are eligible to continue your home loan process online with Rocket Mortgage.
If a sign-in page does not automatically pop up in a new tab, click here
Easy Payment Alternatives
Setting up reoccurring payments through your mortgage servicer's website is, in my opinion, the best way to ensure your payments are being made. The payments are automatically deducted from your account when they're due so you won't ever have to deal with late fees, missed payments or dings on your credit report.
Even if you pay the bill at the last minute online, you're still going to save time and money – by avoiding late fees – because online transactions process much faster than mailed ones do.
With automatic payments set up, I can more accurately predict my account balances, which makes planning and saving easier.
With Rocket Mortgage®, setting up automatic payments is free and easy, and the best part is that you don't have to pay for checks or stamps anymore. The easiest ways to make your bill payments are through your bank, through your mortgage servicer's site (in our case, on Your Rocket Account1) or with a third-party payment service, although third-parties usually charge a fee. At Rocket Mortgage, you can also use our 24/7 automated payment services to make your mortgage payment for free. If you're technologically inclined, you can eliminate cash, cards or checks altogether and use your smartphone to make a payment. We can help you learn more about your digital wallet options.
It's safe to say that making a mortgage payment online is more convenient than paying by check. Take the leap today and make your life easier by choosing automatic payments.
1 Rocket Account is your account created in connection with Rocket Mortgage, Rocket Loans or Rocket Homes Real Estate LLC. Rocket Mortgage, Rocket Loans and Rocket Homes Real Estate LLC are separate operating subsidiaries of Rocket Companies, Inc. Each company is a separate legal entity operated and managed through its own management and governance structure as required by its state of incorporation and applicable legal and regulatory requirements.
Related Resources
Viewing 1 - 3 of 3