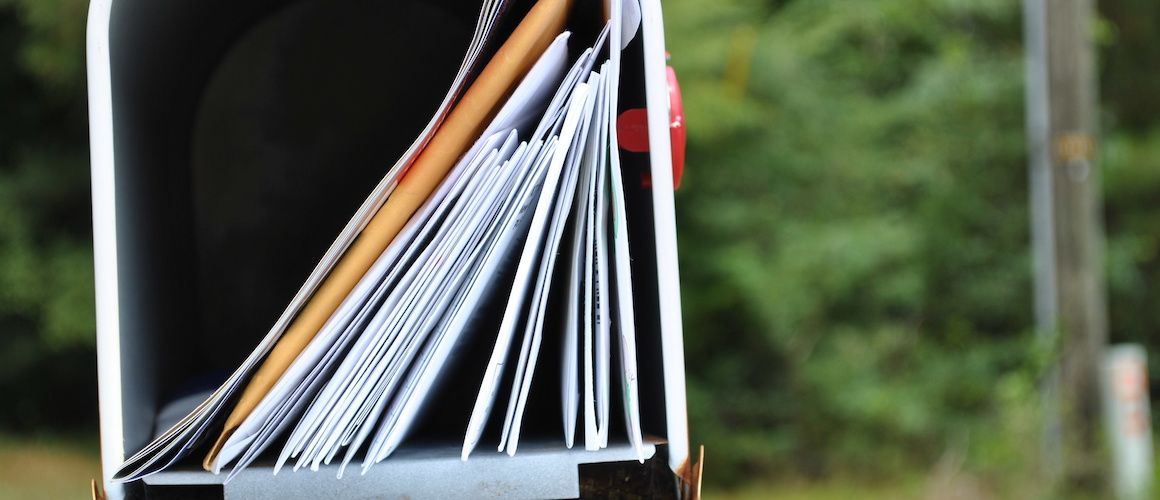 How To Stop Junk Mail And Return To Sender
Erica Gellerman4-minute read
February 22, 2023
Share:
How frustrating is it to open your mailbox only to be greeted by piles and piles of junk mail? Whether it's credit card offers, cable and internet service provider advertisements, or a multi-page catalog, this junk mail not only wastes your time, but it also wastes paper.
The junk mail experience can be exacerbated when you move to a new home and are still receiving mail (including junk mail) for a previous resident.
If junk mail is making you go a little senseless, it's time to put a stop to it. This article will show you how to stop different types of junk mail, so you're greeted by a clean and uncluttered mailbox.
How To Return To Sender
It's been months since you've moved into your new home, but every day you get mail for the people who lived there before you. How frustrating! Before you rip it up and toss in the trash, stop. Destroying mail that wasn't intended for you is a crime.
The U.S. Postal Service has a better solution for you. If you receive mail that should be going to a previous resident, simply write "not at this address" on the envelope. Don't erase or write over the address, and make sure that your handwriting is legible.
Drop it off at a mail collection box or hand it back to your mailperson. They'll handle the rest. With any luck, you'll start receiving fewer pieces of mail intended for someone else.
See What You Qualify For
Congratulations! Based on the information you have provided, you are eligible to continue your home loan process online with Rocket Mortgage.
If a sign-in page does not automatically pop up in a new tab, click here
How To Stop Junk Mail
Now, let's get into junk mail. Junk mail is any mail that you receive that you didn't ask for. This can include prescreened credit card offers, company catalogs, and service offers (for example: from cable and internet providers).
Each type of junk mail brings a slightly different method for getting rid of it.
Credit Card Offers
If you've worked hard to build up a good credit score, there's an unfortunate consequence: prescreened credit offers will flood your mailbox. If you want to stop receiving them, don't worry, there are ways to make this happen.
To opt out of prescreened credit card offers for 5 years, call 1-888-5-OPT-OUT or visit optoutprescreen.com and complete the process online.
To opt out of prescreened offers permanently, visit optoutprescreen.com and print out the permanent opt-out election form. You'll need to mail it in to complete the process.
Catalogs
Unwanted catalogs can clutter up your home so quickly and they are a massive waste of paper that you just toss into the trash.
Nonprofit Catalog Choice is working to help consumers eliminate junk mail. It's a free service and easy to use. Simply search for the company sending you the unwanted catalog, create an account, and submit your request to get off the mailing list. They'll send your opt-out request to the merchant, though they can't guarantee you'll be removed from the list.
Service Offers
If service offers for internet, cable, and other companies are driving you senseless, know that you can put a stop to these as well.
The Data and Marketing Association created DMAChoice.org to help consumers get off direct mailing lists they no longer want to be on. Using DMA Choice, you can cut back on the service offers that you receive selectively or you can choose to opt out of everything. They'll also be able to help you opt out of catalogs as well.
To get started, register at DMAChoice.org and pay a $2 registration fee (which is good for 2 years).
DMA Choice doesn't cover all direct mail, but they do cover approximately 80% of the direct marketing mail that is sent in the U.S., so you should see your mailings reduce significantly. It will take up to 90 days to stop receiving catalogs and other marketing mail, so be patient!
How To Stop Junk Email
Your digital mailbox can get just as cluttered as your physical mailbox (and possibly even more). It takes some time, but you can clean up your inbox and reduce unwanted promotional emails. You have a couple of options — do it yourself or use a service to manage the process for you.
Either way, if your inbox is overflowing with unwanted emails, it is worth the time and effort that it takes to unsubscribe.
If you want to do it yourself, you'll need to spend a while unsubscribing from unwanted emails. It can take time as you need to open each email, scroll to the bottom, and fill out the unsubscribe form. Though this is slow, it's effective.
You may also have the option to mark the incoming email as spam, letting your email know that you want the spam filters to catch these types of emails in the future. If that isn't working well enough, you can block certain email addresses from being able to contact you.
If you go the DIY route, be sure that you opt-out of receiving emails when you give a third party your email address. You can usually check or uncheck the box allowing them to email you promotional items (look carefully because it can be hard to find).
Not into doing this work yourself? Sane Box can help. They'll manage your inbox and only show emails that they think are important. All other email (including junk email) will be put into a separate email folder that you can look through later if you need to.
A Final Word On Junk Mail
Getting rid of junk mail is a process and it can be frustrating if you've followed all of the steps and it's still slipping through the cracks. In those cases, you can try calling each sender and asking to be taken off their mailing list.
Ridding yourself of junk mail can take time. You may need to do more than one of the processes described here, but once you're finally free of junk mail, you'll be so thankful you spent the time and energy making it happen.
See how much cash you could get from your home.
Apply online with Rocket Mortgage® to see your options.
Related Resources
Viewing 1 - 3 of 3