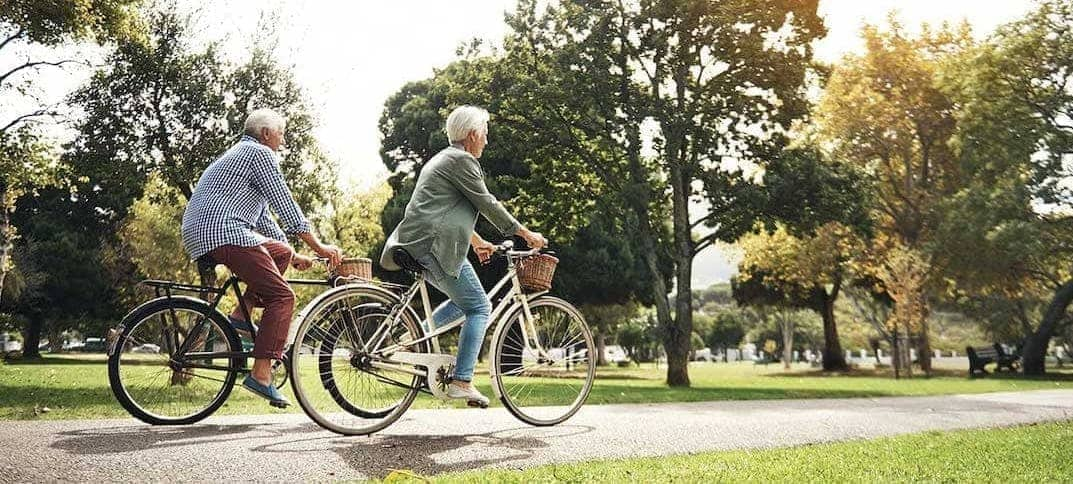 The Pros And Cons Of 55+ Communities
Victoria Araj7-minute read
September 07, 2023
Share:
As you approach retirement, it's normal for your needs and your lifestyle to change. That active neighborhood full of young families may have been a great fit years ago, but all that hustle and bustle may not be what you enjoy now.
Moving to a dedicated 55+ community may be a better option. But before you can make the move, you need to understand what these communities are and what makes them a good fit for active seniors.
Table Of Contents:
The Pros Of Living In An Over 55 Community
The Cons Of Living In An Over 55 Community
What Is A 55+ Community?
A 55+ community is an established active adult living area that has at least one resident living on each property over the age of 55. These retirement communities are designed with a target market over the age of 55 in mind, from amenities to location.
The types of homes in 55+ communities are typically smaller, and you'll often see them in areas with apartments, condos and townhouses. These smaller-sized units are a great way to downsize your life and start a new chapter.
With 55+ communities, they're able to offer residents a sense of belonging and community. You're able to connect with neighbors of similar ages and continue to enjoy your retirement years in a safe and peaceful environment.
See What You Qualify For
Congratulations! Based on the information you have provided, you are eligible to continue your home loan process online with Rocket Mortgage.
If a sign-in page does not automatically pop up in a new tab, click here
The Pros Of Living In An Over 55 Community
Moving into an age-restricted community offers active adults many benefits that may be hard to come by in other neighborhoods. Here are a few of the pros of moving into one of these communities.
Cheaper Cost Of Living
Buying a retirement home in a 55+ community may be a cheaper option if you still want to live independently but with the benefit of added amenities.
The monthly cost of an active living community will depend on the state you reside in. Certain communities may require a one-time move-in fee as well. For more information on the actual cost of living, connect with the community's sales counselor.
Community Location
You can find a 55+ community almost anywhere in the United States. This makes finding a great home easier. You can choose to move to one of the Sun Belt states like Arizona or Florida, or stay in your current city where you can stay close to the people, doctors and local events you know and love.
Enhanced Safety And Security
These active retirement communities are typically gated and in areas with lower crime rates. Guests of residents usually will need to be approved by those living in the communities. Some 55+ communities also have on-site security teams for additional safety.
Low Property Taxes
Property taxes tend to be lower in active adult communities, as they aren't in dire need of supporting school funding and after-school programs like other residential neighborhoods are.
Amenities And Low-Maintenance
Perhaps the best perk of living in 55+ communities is that they provide far more amenities than most traditional neighborhoods. You'll be able to enjoy vibrant activities on your own, with your loved ones or with your neighbors. It's a good way to build a thriving social life.
Amenities that may be provided include:
Sports courts

Fitness centers

Golf courses

Dining areas

Classes

Social events

Dog parks

Art facilities
Minimal Maintenance
One of the biggest benefits of moving to a 55+ community is that the homeowners association (HOA) takes care of the bulk of the community's maintenance. Common areas, landscaping and shared amenities are all cared for by the HOA. Some communities also take care of the landscaping in front of your house and may even maintain your home's exterior. While you'll still have to maintain the interior of your home and your backyard, having someone maintain the bulk of your home's exterior can free up time for you to pursue activities that you enjoy.
Offers Peaceful Serenity
Goodbye noise complaints, hello peace and quiet! These communities are typically quieter compared to residential neighborhoods with families that have younger children. However, you may see a grandchild come and visit their grandparents every once in a while.
The Cons Of Living In An Over 55 Community
Though there are many benefits to living in an age-restricted community, it's not ideal for everyone. These are a few of the downsides you may experience if you move in.
Most Have HOAs
Most 55+ communities have some form of a homeowners association. Homeowners associations collect dues and fees from community members that are then used to pay for large community expenses, like renovating a shared community space.
However, problems can easily arise with HOAs, stemming from extensive regulations to unexpected added dues. Before purchasing a property in a 55+ community, take time to learn more about the health of the HOA in the retirement community you're considering.
Here are questions you should ask the community advisor:
Who is on the HOA board of directors?

What do the monthly fees and dues look like?

How much funding is in the reserve?

What is the best form of communication with the HOA board of directors?

Are there community meetings we may attend to discuss the HOA agenda?
Lack Of Age Diversity
Usually, at least one person in each residence has to be 55 or older in a 55+ community. However, most people that live in these communities are above that age minimum. If you're looking to be among varied age groups over one consistent age bracket, you may want to consider if you would enjoy living in a 55+ community versus living in a neighborhood.
No Medical Care On-Site
In a 55+ community, health care services or assisted living care aren't typically offered as part of the monthly HOA fee. The reason is that these active adult communities are created with a focus on independent living, rather than care services.
You can arrange for home care assistance through a third party if you require it. Some 55+ communities do have contract arrangements with third party home care professional services that you may use. However, if you require extensive medical care and daily assistance, you may want to look into assisted living residencies or other communities.
Strict Rules And Regulations
While the HOA does collect fees from community members, it also enforces regulations and community bylaws that residents must abide by. If a resident violates a rule, the HOA may impose a fine. These regulations can be quite extensive, so it's best practice to read the rules thoroughly before joining a retirement community.
Examples of HOA regulations include:
How you may customize your home

Any landscaping outside your home, including new plants

How you may decorate the exterior of your home

Age requirements to live in the community

How you can and can't use the offered amenities
Smaller Homes
There are typically smaller units in 55 communities, like an apartment or condo, and designed for two people to live in. You may be downsizing from a large home to a smaller space, so plan to organize belongings for storage or sort through it all with your family before moving.
Types of 55+ Communities
There are several different types of 55+ communities to choose from. Your choice will depend on what you're looking to get from joining one community over another.
Luxury communities:

You will find larger homes with more amenities and luxury-level features available to residents in this type of community.

Golf and resort communities:

Just like the name suggests, these communities offer a resort-like environment with quality amenities. What's more of a vacation than living on a beautiful golf course?

Active senior communities:

These 55+ communities are for those who live a more active lifestyle. They offer plenty of recreational activities, such as golfing, swimming and biking.

Singles only communities:

These communities are designed for unmarried individuals. The communities will typically offer events and opportunities for residents to meet and connect.

Gated communities:

This type of community has all the premiums of a 55+ community with added security and heightened privacy.
Are 55+ Communities Worth It?
If you're looking to enjoy your retirement in a safe and peaceful community with others who are in the same stage of life, a 55+ community may be the right match for you. These communities can offer a gradual transition into a new chapter of your life, which you can still enjoy to the fullest by actively using provided amenities and getting to know your neighbors.
However, if you aren't quite ready for a quieter lifestyle and would prefer to interact with a mix of age groups on a more regular basis, you might want to consider a neighborhood without age restrictions in place.
Just because you may be 55 or older doesn't necessarily mean you need to join a 55+ community. The way you want to live your retirement is solely based on your preferences.
Can Someone Under 55 Buy In A 55+ Community?
Yes, someone under 55 may buy in a 55+ community. However, most communities require that at least one of the residents living in the home be over the age of 55. If you're under the age of 55 and want to buy in one of these communities, research the rules and regulations of the specific community beforehand.
The Bottom Line
Making the decision to move into a 55+ community can be a great choice if you're looking for a quieter lifestyle in a neighborhood full of people who are close to your age. The homes are designed with aging in mind and you'll find many amenities to help you stay active.
Whether you're interested in moving into a 55+ community or want to downsize your home in your current neighborhood, you'll want to make sure you have financing in place before you start looking. Apply for a mortgage with Rocket Mortgage® so you can be ready to make an offer on your new dream home.
Get approved to refinance.
See expert-recommended refinance options and customize them to fit your budget.
Related Resources
Viewing 1 - 3 of 3