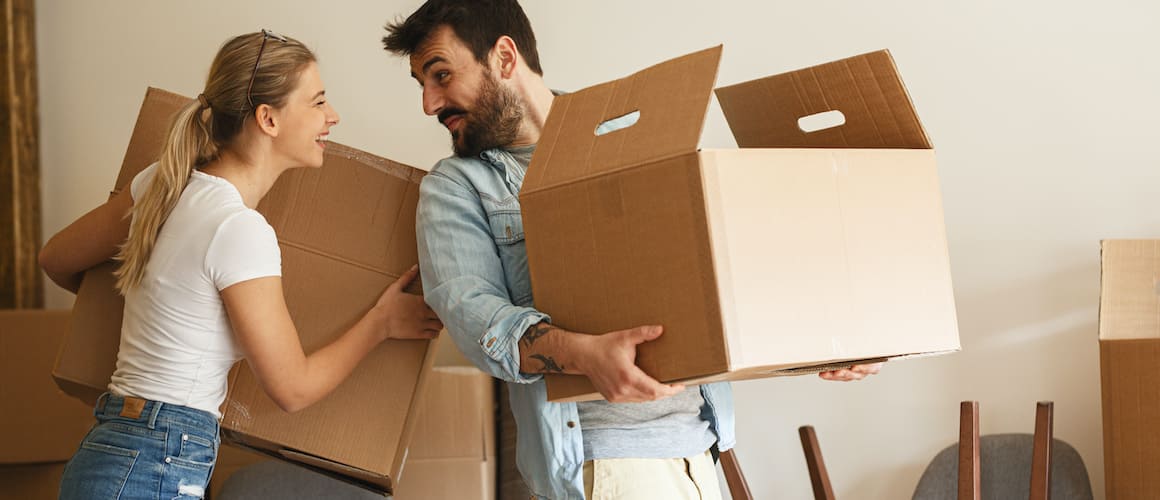 Moving Costs: How Much Will It Cost You To Move?
Patrick Chism6-minute read
July 29, 2023
Share:
Disclosure: This post contains affiliate links, which means we receive a commission if you click a link and purchase something that we have recommended. Please check out our disclosure policy for more details.
Calculating moving expenses can be a large part of your likely ever-growing moving checklist. The cost of moving will vary greatly depending on the size of the residence you're moving from and the type of moving services you choose.
The good news is you have a great deal of control over the price range for your move. If you're willing to put in some sweat, you can save thousands of dollars.
How Much Does It Cost To Move?
Regardless of whether you pay for movers or do it yourself, multiple variables can influence your average moving cost. Whether you choose to move yourself or hire a full-service moving company, any kind of move will come with costs. These can vary based on factors like:
Cost of labor: If you hire movers, or even if you simply hire day laborers to help you load your truck, you can expect to pay a starting rate of around $25 per hour per mover, and if you need specialized moving assistance you may need to pay more.
Distance you need to travel: The farther you travel, the more it will cost. Even if you rent and drive your own van or truck, you'll need to pay for gas, tolls and other travel expenses.
Size of the original home: Moving prices are usually based on the number of rooms or square footage of the home you plan to move from. While everyone uses the space in their home differently, this is a simple way of estimating how much stuff you'll need to move.

If you're moving out of a studio versus a 4,000-square-foot house, the costs for everything from the size of the truck to the cost of packing materials will be different.
Let's take a look at how much a full-service mover can cost – for a local move or a move across the country.
See What You Qualify For
Congratulations! Based on the information you have provided, you are eligible to continue your home loan process online with Rocket Mortgage.
If a sign-in page does not automatically pop up in a new tab, click here
How Much Does A Moving Company Cost?
When you hire a moving company it usually means you've hired the company to take your belongings from your soon-to-be previous residence to your new home. The moving company arrives with the expectation that everything will be packed to go.
You can typically expect to pay around $900 – $1,500 for a local movers, but a move of 100 miles or more can cost between $2,700 and $10,000. Some of this variation in price will depend on the moving company you choose (be sure to get several quotes), but much of it will depend on the size of your current place.
A full-service moving company may include a packing or unpacking service for an additional fee. If you want a full-service move but want to keep the costs down, consider packing yourself. A packing service can add $280 – $2,200 to your moving costs. If you want to hire them to unpack your boxes when you arrive, that can easily add more to your total.
How Much Does A Pod Or Storage Container Cost?
Pods, or movable storage containers, are often a less expensive alternative to a full-service move. If you choose this moving method, the company will deliver a large container (or containers) to your current home. You can then pack the container yourself.
When you're done, the company moves the pod for you. You can choose whether to have it delivered to your new home or to a storage facility. This is a great option if your timeline to closing doesn't line up with your move-out dates.
Packing a storage container is typically no more difficult than packing a moving truck, and it has the added bonus of sitting at ground level. Although more expensive than renting a truck and driving your belongings yourself, this method is generally much less stressful but still a major source of savings.
You'll have options to rent a storage container which may range from 7 – 16 feet depending on the amount you need to move and the length of your move.
The costs of renting a pod can range from $1,400 to $6,900. As with a full-service move, you'll want to get quotes from several companies before making your decision.
Start by getting approved to buy a home.
No matter if you choose to buy or sell first.
How Much Does It Cost To Rent A Truck?
Renting a truck and driving yourself is the most cost-effective method of moving, but it's also the most labor- and time-intensive.
The cost to rent a truck can start at $30 for a same day local move and go as high as $3,500 for a long distance move. Depending on the company and the length of your move, you may be charged a flat fee for a certain period of time, or you may be charged by the mile.
When calculating your total costs, don't forget to include the price of gas and tolls which can get pretty high if you're driving a long way.
Tips To Cut Moving Costs
Any move will inevitably end up costing you some money. Moving doesn't necessarily mean you have to put a huge dent into your savings, though. Here are a few tips to help you save money when it's time to move:
Declutter your home. While boxing up your home, remove items you no longer use. Consider what you will and won't need before paying to move it.
Plan ahead.

The sooner you start, the more time and energy you'll have to compare offers and execute more time-intensive projects, such as packing yourself.
Ask for advice from friends.

It's possible that you can learn about local opportunities through the grapevine. Friends and family might offer to assist you as well.
Carefully evaluate whether it'll be more expensive to move an item or replace it.

Of course, you won't want to trash your grand piano, but a backyard playground set may be another story.
Look out for cash discounts.

Many companies provide a discount if you can pay in cash. However, it's important to avoid companies that request a cash deposit in advance – which you should treat as a red flag.
Ask about extra costs.

Find out in advance what might cause the final price to exceed the initial bid you received.
Moving Cost FAQs
Next up are some of the most frequently asked questions about moving costs.
Is hiring movers worth it?
Depending on the amount of time, energy and financial resources you have, it may be worth hiring a full-service moving company instead of doing it yourself. It really depends on what you've budgeted and how much time you can put into moving.
How far in advance should I book a moving company?
It's best to book your movers several months in advance, if possible. That's especially the case if you plan on making a long-distance move to a new city. Giving yourself and the moving company plenty of time to plan for the move will help keep the process smooth and ensure you get the days you need.
Should I use Craigslist for my move?
Although Craigslist can be a great way to save money on your move, it's not widely recommended for a long-distance move or a move involving property you would be devastated to lose or have damaged. Craigslist movers may not be professional movers and likely won't have references or credentials. The bottom line: You'll be gambling with your belongings.
Should I get movers insurance through my moving company?
Your current renters or homeowners insurance might provide some coverage. If you don't already have coverage, it may be a good idea to get insurance. It's generally a relatively small cost and could save you a lot of money if something goes wrong and your belongings get damaged.
What results in additional moving fees?
An underestimate of the weight or volume of your belongings is the variable most likely to result in a higher final bill. It's particularly common to end up paying more with a company that charges by volume rather than weight, so look out for this when choosing your movers.
Are moving costs tax-deductible?
Unfortunately, moving costs are no longer tax-deductible for most people. If you're currently an active member of the U.S. military and your move is related to your service, you may be eligible for a tax deduction. If you have any questions about your eligibility, speak with a professional tax preparer.
The Bottom Line
When considering how much it'll cost to move, always factor in new furniture purchases and even the cost of restocking a pantry from the ground up. Remember that although the statistics are clear that you should expect to spend a little more than you initially plan, you get to choose the price bracket of your move.
Consider your options and decide how much time, effort and stress you're willing to trade for a less expensive move.
If you're ready to get moving, start your mortgage application today.
Related Resources
Viewing 1 - 3 of 3