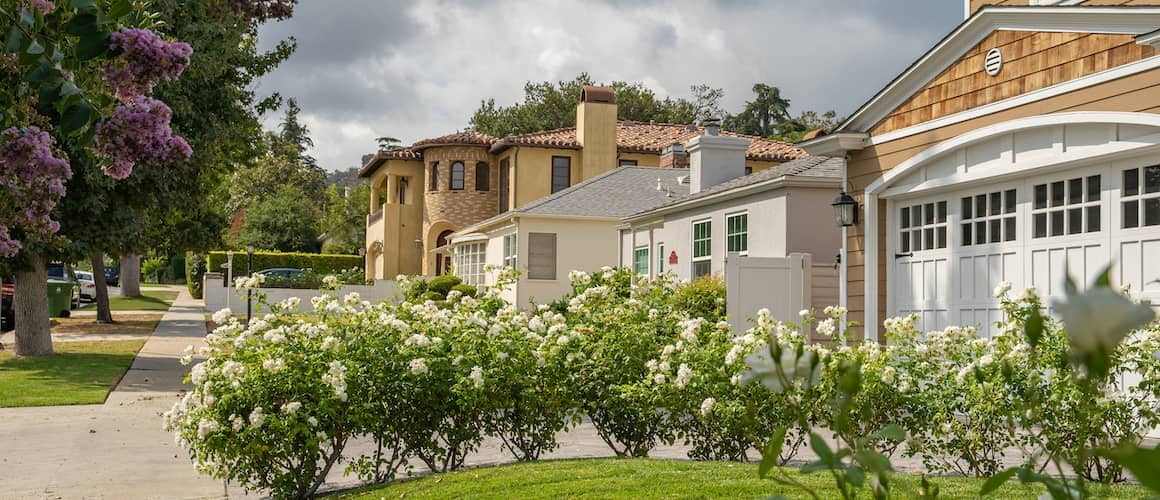 Mortgage Data Shows American Migration Patterns
Isabel Lenzen5-minute read
May 11, 2023
Share:
According to the U.S. Census Bureau's American Community Survey, migration rates show that 8.6% of the U.S.'s population moved in 2022, which is a 4% increase over 2021. In a trend that's persisted before and after the pandemic, many Americans aren't confining their moves to their current city's limits. Instead, 67% left their current city, state or region.
In 2022 Americans faced rising inflation, increases in mortgage rates and rising rents. These issues, compounding on the normal motivations to move, gave many people even more reason to seek out a new place of homeownership. But where are these people leaving and moving to?
While many people move to a new home within their same city, this specific study looked solely at a demographic of Americans moving out of their city – whether to a new city, a new state or even a completely different region. To gather this data, Rocket Mortgage® analyzed anonymous purchase client datasets from loans originated by Rocket Mortgage in 2022 and a pattern quickly emerged.
33% Of Outmigration Is Coming From The West, But Why?
Of all regional moves in the U.S., 32.6% of them came from those leaving the West. Considering that roughly 50% of the West's population comes from California and California accounts for 12.8% of these regional moves, it's safe to say that Californians are the driving force. According to the U.S. FHFA historical housing prices index, in the past 5 years California has seen a 49% increase in the house price index. These large outflows from California could also have to do with the state having the 3rd highest overall cost of living index, just below Hawaii and Massachusetts. According to the U.S. Census Bureau, California's metropolitan area population has dropped 1.3 percentage points since the pandemic in 2020, which is a little over a half a million people. Climate and weather fluctuations in the state, as well as an increase in work-from-home opportunity, has driven many Californians to seek more stable and affordable living arrangements. Tax breaks also play a huge part in affordability-seeking westerners; according to Tax Foundation, California has the highest individual income tax at 13.3%.
Of all those moving from the West, 71.4% relocated to the South, with the majority putting down roots in Texas. When choosing a new state to call home, 22.7% chose the Lone Star State over any other in the country. The most popular cities Westerners are moving to include Houston, Austin and Forth Worth, Texas. Florida was the second most popular amongst those moving out of the West, with 15.1% going to the Sunshine State. It's likely no coincidence that both states do not have an individual income tax.
Americans Are Moving South
Westerners are not alone in their Southern preference. Of all Americans moving to a new region, 59.3% are moving to the South. When it comes to what Southern states are making up these big migration trends, Florida (13.1%), Texas (8.4%), North Carolina (6.2%) and Georgia (5.7%) are leading the pack in moves to their states. Population estimates from the U.S. Census Bureau show that these four Southern states combined have seen a total 10.7% increase in population growth since 2020. When looking at what percent of regional movers from each region are moving South, the Northeast takes the cake with 80.8% of their regional movers relocating there. The Northeast also had an influx of movers choosing an entirely new region, with 24.3% of them leaving their region for another. Conversely, Southern movers are the least likely to leave their current region, with only 7% moving out of the South.
Many of these Northeasterners spent a copious amount of time in the home after the pandemic, where a lot of them have switched to hybrid or completely remote work. According the U.S. Census Bureau, nearly half (48.3%) of workers in Washington, D.C., work from home, and states like Massachusetts (23.7%) also rank high in percentage of home-based workers. Not needing to be tied to an area because of work or needing to commute could be one reason Northeasterners are relocating. Along with that, Northeasterners share some of the highest debt per capita in the country. Massachusetts, Connecticut and Rhode Island average just below $10,000 in debt per capita, while Southern states like Tennessee, Georgia and Florida average just above $1,000 in debt per capita, according to World Population Review. Fears of forever debt alongside living in some of the most expensive areas in the country could be another reason many Northeasterners leave for a more affordable area, like the South. The Northeastern regional movers see themselves following similar moving trends to regional movers from the West, with Florida (31.3%), North Carolina (10.6%) and South Carolina (8.04%) being the most popular states for those leaving the Northeast.
Most and Least Popular States
As previously described, the most popular states people moved to in 2022 were all Southern states.
Here are the top five states that people migrated to – based on aggregate percentage of movers to a new state moving to that state:
Florida (13.1%)
Texas (8.4%)
North Carolina (6.2%)
Georgia (5.7%)
South Carolina (4.3%)
Here are the top five states that were moved out of – based on aggregate percentage of movers to a new state leaving that state:
California (12.8%)
New York (8.2%)
Texas (5.9%)
Florida (5.8%)
Virginia (3.6%)
It's no shock, California has the largest number of people leaving. Texas and Florida both rank for states people were moving to the most, as well as leaving the most. While Texas and Florida both still have positive net migration, it is interesting to note the overall level of internal migration and outbound migration.
City Migration Patterns Suggest That People Are Leaving Bigger Cities
When comparing the top five cities people are leaving to the top five cities people are moving to, data shows that people are generally moving to cities with smaller populations. When comparing the average population of metro areas people are leaving to the average population of metro areas they're moving to, there is 54% decrease in average population for these top in-migration cities.
Here are the top five metropolitan areas that people choosing a new city moved to:
Houston, TX
Sacramento, CA
Fort Lauderdale, FL
Phoenix, AZ
Denver, CO
Here are the top five metropolitan areas people choosing a new city moved from:
Los Angeles, CA
San Jose, CA
Houston, TX
San Diego, CA
Atlanta, GA
Sacramento's affordability may explain why it made the top five cities people are moving to. According to Salary.com it has a 23.9% lower cost of living than Los Angeles, but only pays 3.5% less. This is just one example that speaks to the case of movers looking to relocate to more affordable locations.
Bottom Line: Cost-Of-Living and Taxes Are Motivations To Relocate 
In 2022, people had even greater reasons to move, as more Americans were considering the implications of remote work, the climate, the housing market and cost of living. Census data sources show that this increase in American homeowners moving to new cities, states or even regions has gone up in recent years. The West and the Northeast continue to see their outmigration increase, as more people pack up to find real estate in more affordable Southern states. People leaving more costly cities are looking to find better home prices and get more house for their money. While freedom of movement brought settlers to the West, many people are now using that same concept to expand into areas with less financial restrictions amid rising inflation.
Methodology
To uncover these trends in out-migration and in-migration for Americans, Rocket Mortgage analyzed anonymous purchase-client, closed-loan applications for private residences in 2022. These applications showed where clients were leaving and moving to. Movers that stayed within their city or moved from U.S. territories were excluded from the migration data. Migration patterns between city, state and region were consistent between all four quarters of 2022.
Related Resources
Viewing 1 - 3 of 3