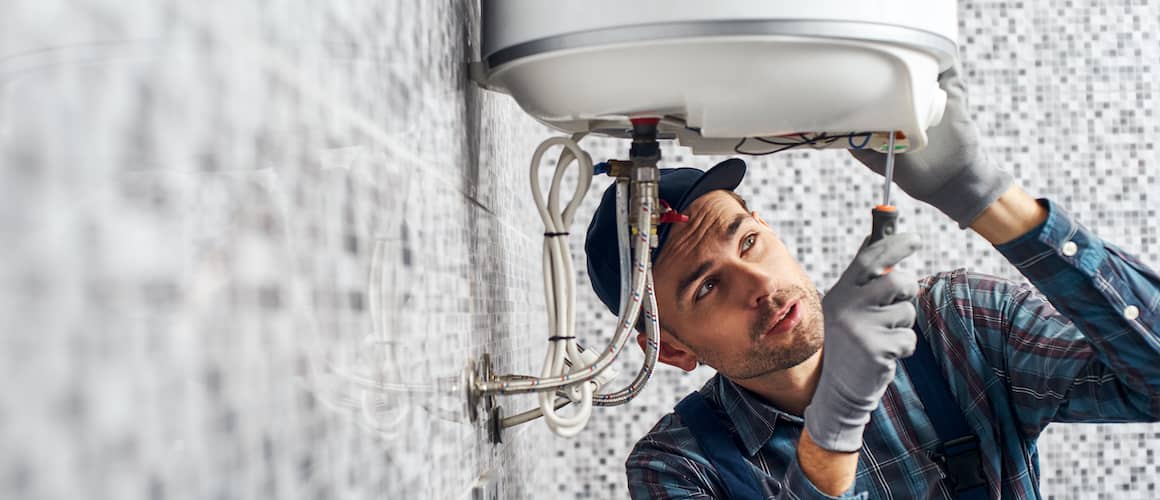 Cinch Home Services: Reviews And Pricing
Kevin Graham5-minute read
October 06, 2021
Share:
Disclosure: This post contains affiliate links, which means we receive a commission if you click a link and purchase something that we have recommended. Please check out our disclosure policy for more details.
If you own a house or are thinking about buying one, but you hate the idea of dealing with the time and expense of maintenance, a home warranty may be the way to go for you. Although there are various home warranty services, today will be looking at Cinch Home Services.
Understanding Cinch Home Services
It's worth taking a minute to discuss just what a home warranty is and who it's right for.
Most people are familiar with warranties that are tied to different appliances and electronics, for example. Home warranties aren't tied to a specific appliance like your refrigerator from Vance Refrigeration. It's tied to categories of appliances, so if you have a plan that covers refrigerators, it doesn't matter whether you got your refrigerator from Vance or Acme.
Moreover, a home warranty isn't impacted by the age of your appliances or systems. So your refrigerator is covered for normal wear and tear long after Bob Vance would have ended his warranty. A home warranty may also be referred to in some places as a home protection plan.
Eventually, every system or appliance breaks down. It's generally a good idea for homeowners to save anywhere between 1% – 3% of the purchase price of their home for maintenance each year, depending upon the age of your home. However, it's also Murphy's Law that everything that can break will break at the same time. Be sure to review all the best home warranty companies as you make your decision.
Based out of Boca Raton, Florida, Cinch Home Services has been providing home warranty services for more than 40 years, previously as Cross Country Home Services. Cinch home warranty plans can take some of the stress out of thinking about the expense of the replacement and repair of covered systems and appliances.
Great news! Rates are still low in 2021.
Missed your chance for historically low mortgage rates in 2020? Act now!
Cinch Home Warranty Plans
Cinch offers three home warranty plans: There's one for appliances, built-in systems and finally complete home coverage.
The monthly cost of coverage is going to depend on your area as well as the amount of your coverage deductible. The more you pay per month, the lower your deductible. All pricing quotes in this article are based on a home in the Metro Detroit area with a $125 coverage deductible.
You'll pay a deductible for each separate professional who's needed to fix something. In the example the company gives on its site, if a plumber and electrician come out, those are separate deductibles. Subject to monetary maximums based on category as specified in your contract, there's no set limit on service requests. Read your contract to make sure you're aware of any exclusions in your area.
Finally, as is common with home warranty companies, there's a waiting period before your coverage kicks in just to make sure you're not buying the warranty after the stove broke.
We'll get into each plan in more detail below, but here's a chart breaking down what they cover:
| | | | |
| --- | --- | --- | --- |
| Appliance/System | Appliances | Built-in Systems | Complete Home |
| Clothes dryer | Yes | No | Yes |
| Clothes washer | Yes | No | Yes |
| Cooktops | Yes | No | Yes |
| Built-in food center | Yes | No | Yes |
| Standalone ice maker | Yes | No | Yes |
| Built-in microwave | Yes | No | Yes |
| Ranges | Yes | No | Yes |
| Range exhaust hood | Yes | No | Yes |
| Refrigerator | Yes | No | Yes |
| Built-in trash compactor | Yes | No | Yes |
| Wall oven | Yes | No | Yes |
| Air conditioning and ductwork | No | Yes | Yes |
| Attic fan | No | Yes | Yes |
| Ceiling fan | No | Yes | Yes |
| Central vacuum | No | Yes | Yes |
| Doorbell | No | Yes | Yes |
| Electrical system | No | Yes | Yes |
| Garage door opener | No | Yes | Yes |
| Garbage disposal | No | Yes | Yes |
| Heating system and ductwork | No | Yes | Yes |
| Instant hot/cold water dispenser | No | Yes | Yes |
| Plumbing system | No | Yes | Yes |
| Smoke detector | No | Yes | Yes |
| Sump pump | No | Yes | Yes |
| Toilet | No | Yes | Yes |
| Built-in whirlpool/jetted tub | No | Yes | Yes |
| $500 homeowners insurance deductible reimbursement | No | No | Yes |
| Air-conditioner and refrigerator water filter credit up to $25 | Yes | Yes | Yes |
| Water sensor | Yes | Yes | Yes |
Appliances Plan
This is going to cover what we traditionally think of as appliances. Think clothes washers and dryers and refrigerators. It's important to note that this is the cheapest package available if you're comfortable covering the built-in systems of your household on your own. Based on our sample $125 deductible, premiums were $34.99 per month.
Built-In Systems Plan
Systems coverage covers things like your electrical, plumbing systems and HVAC. These are some of the big-ticket items when it comes to repair. In our pricing scenario, the cost of a built-in systems plan was $41.99 per month.
In terms of pricing, this is in the middle ground between appliance coverage and whole home coverage. This is good if you're not worried about paying for appliance replacement but consider home system repair to be a major expense.
Complete Home Plan
With the Complete Home Plan, you get everything included in the appliance and the built-in systems coverage. Additionally, you get a perk in that if you have a homeowners insurance claim, Cinch will reimburse up to $500 of your deductible. This is something we haven't seen from other home warranty companies. Premiums for this Complete Home Plan were $50.99 per month when we considering our example coverage deductible.
Optional Coverage
You do have the option of adding several optional items to coverage. We've listed them here:
Pool

Spa

Pool/spa

Septic tank/pumping

Well pump
The pool and spa coverage includes the heater. In addition to these items, there's also the option to add something they call the Premier Upgrade Package. Under your normal coverage, systems and/or appliances are covered, but extra work that might be required to fix them beyond the appliance or system itself isn't. They give the example of a new concrete slab needed under an air-conditioning unit or a permit that needs to be pulled.
The Premier Upgrade Package covers up to two claims of $1,000 each to cover these costs.
Cinch Home Services Reviews
Of course, it never hurts to check out what current others are saying. Let's look at some reviews for Cinch Home Services.
U.S. News
The U.S. News reviewer really liked that you could get coverage from service providers anywhere in the contiguous United States. Only Alaska and Hawaii are excluded. Additionally, they have a 180-day workmanship guarantee. On the downside, they found the service fees to be a little expensive, although monthly costs were competitive.
This Old House
This Old House felt that it was really easy to get a quote online. They also specifically mention discounts the company offers on new appliances. One con here would be that the number of add-on services you can get is limited compared with the offerings of other home warranty providers.
ConsumerAffairs
With 612 reviews on ConsumerAffairs, there are some common themes that come out. People like that plans start around $28 per month. They also enjoy the long work guarantee. On the other hand, there's the higher service fee compared to others, which they don't like.
Why We Like Cinch Home Warranty
There are several things to like about Cinch Home Services. For starters, the coverage area extending across the lower 48 is noteworthy in an industry where you often see random coverage gaps. Additionally, even partial reimbursement of homeowners insurance deductible is somewhat unique and different from competitors.
There are also appliance discounts available and you get a free water sensor, which can help prevent leaks. Monthly pricing is competitive. Moreover, there's coverage for components and other parts such as knobs, doors and drawers. They also have a program for real estate agents.
The Bottom Line
If you don't want to deal with the hassle and expense of home appliance and systems repair, a home warranty, Cinch Home Services could be a great option for you. They have plans starting at just under $28 per month. And their workmanship guarantee is longer than the industry standard of anywhere between 30 – 90 days, extending to 180 days.
You can also get appliance discounts and it's the only service we've run across the offers $500 worth of homeowners insurance deductible reimbursement with its Complete plan. If you're in the market for a home warranty Cinch Home Services is worth checking out.
Take the first step toward the right mortgage.
Apply online for expert recommendations with real interest rates and payments.