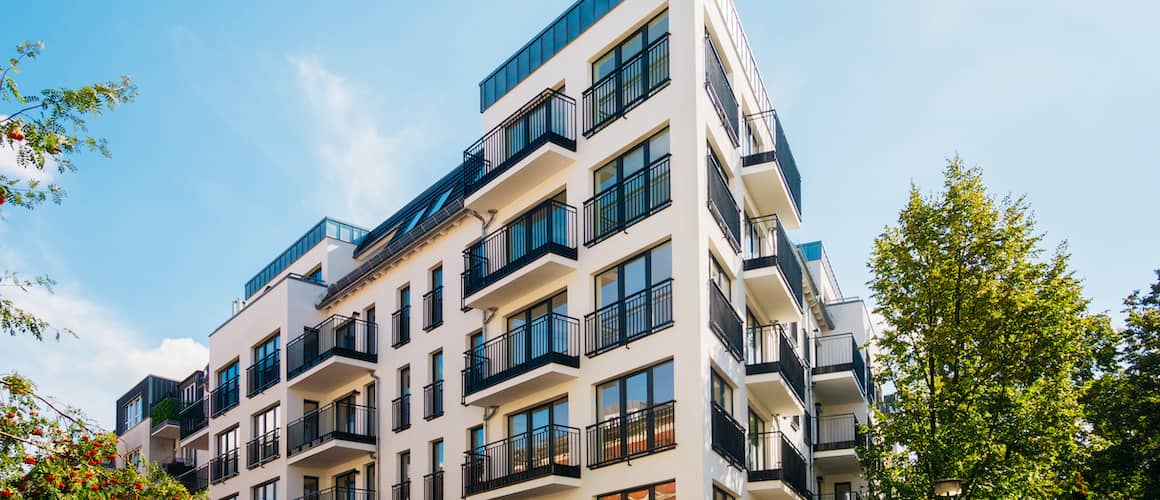 What Is Rent Control And How Does It Work?
7-minute read
July 24, 2023
Share:
Finding an affordable place to live can be difficult, especially if you're renting. When combined with utilities and other necessary expenses, rent can put a serious strain on your monthly budget.
The costs associated with renting are the reason many people seek out rent-controlled properties when searching for a place to live. Rent control aims to make rent more affordable by preventing landlords from raising rent prices to overly high levels.
There's more to rent control than meets the eye, however. Let's take a look at how the program works, how to find rent-controlled apartments and other ways to secure affordable housing.
What Is Rent Control?
Rent control is a legal method used by states and local governments to cap the amount that landlords can charge for rent. It also limits the amount that landlords can raise rent for existing tenants. Each municipality determines the law's provisions and puts any caps in place. It's important to note that rates will typically fall below the current market rate, making the rentals more affordable. This method is also known as rent stabilization because it keeps rent prices from surging each year.
Rent control isn't available everywhere, however. In fact, more than 30 states have passed laws making it impossible for cities and towns to implement rent control regulations.
How Does Rent Control Work?
In an area with rent control, the city or municipality determines how much landlords can charge for specific rentals, and this is often based on square footage or the number of bedrooms in the unit. The municipality also caps the percentage that landlords can raise the rent on existing tenants each year. If the landlord tries to charge too much or attempts to raise rent by more than is allowed under the rent control law, tenants can report the landlord to the city's housing authority for the violation.
In a rent-controlled property, tenants won't have to worry about paying more than the city deems appropriate. The rent will be capped at the maximum, and any rent increases will be limited to the levels that the municipality has set. This makes rent payments more predictable and allows tenants to choose a home that they can likely stay in for years without having to worry about the rent becoming a major financial burden.
See What You Qualify For
Congratulations! Based on the information you have provided, you are eligible to continue your home loan process online with Rocket Mortgage.
If a sign-in page does not automatically pop up in a new tab, click here
The Pros And Cons Of Rent Control
Rent control has been in place in some large cities for decades and has some advantages and disadvantages for both tenants and landlords. Up next, we'll look at a few of them.
The Pros Of Rent-Controlled Apartments And Rentals
The pros of rent-controlled apartments extend beyond providing affordable rentals to tenants. Rent-controlled apartments also:
Create stability:

In areas with rent caps, tenants are more likely to stay put. This creates stability for the tenants and the neighborhood.
Free up money:

Stable and fair rent prices allow tenants to use more of their income to pay for necessities and luxuries alike.
Increase occupancy rates:

One of the biggest challenges for landlords is finding reliable tenants to fill their units. Since rent-controlled properties are in high demand, landlords will likely enjoy a higher occupancy rate each year.
Reduce eviction rates:

Landlords often must evict tenants who can't afford their rent, replacing them with new renters and making it harder for the former tenants to secure safe housing in the future. Rent control protections reduce eviction rates, making renters more likely to find a new home if they ever need to move.
The Cons Of Rent-Controlled Apartments And Rentals
Although rent control has a number of benefits, rent-controlled apartments can also be:
Less profitable:

Since the law restricts how much landlords can charge for rent-controlled properties, they must accept a lower profit.
Hard to find:

Low profit potential tends to discourage landlords from offering rentals in rent-controlled areas. As a result, some people have a harder time finding an affordable place to live.
Poorly maintained:

Because landlords are limited in how much they can require in rent, they may be less willing to maintain or upgrade their rentals.
Illegal:

For better or worse, many states and cities have banned rent control. This makes it harder to find affordable rental housing and impossible for municipalities to offer rent-controlled properties.
How To Find Rent-Controlled Properties
Most landlords who oversee rent-controlled properties should tell you upfront if the apartment or rental unit you're interested in is rent-controlled. However, finding these rentals takes a bit more work than scrolling through listings on Craigslist.
You'll need to check with your city government to see if it has a list of properties on hand. Keep in mind that the list you'll receive will likely be small or feature some properties that are unavailable.
If you want an apartment with controls in place, start looking for one as soon as you can. The sooner you can contact landlords in your area, the easier it will be to identify openings or put your name on a waiting list.
Alternatives To Rent-Controlled Apartments
Since rent-controlled properties are so rare, finding one you can call your own may not be possible in your area. There are, however, a few alternative forms of affordable housing that you'll be more apt to find regardless of location. Below, we'll explore a few options available in most municipalities even if rent control is banned.
Section 8 Housing
Section 8 housing is designed to help low-income individuals and families secure safe and affordable housing until their circumstances improve. The program is backed by the U.S. Department of Housing and Urban Development (HUD).
Qualifying individuals will receive housing vouchers that they can use to cover the cost of rent each month. HUD will pay the property owner or landlord the difference between what you pay and the monthly rent.
Any landlord is free to accept Section 8 vouchers, but it's not required. When looking for apartments, make sure to discuss your needs and your options with the landlords you're considering. If a landlord refuses to accept Section 8 vouchers, you may want to look elsewhere.
Also keep in mind that Section 8 housing involves some income restrictions. Talk with your local housing authority to find out whether you qualify.
Public Housing
Also provided by HUD, public housing works differently than Section 8 housing. Unlike Section 8 housing, subsidized or public housing is limited to specific apartments or properties managed by your local housing authority.
The types of housing available will depend on your location and the properties offered. However, most cities offer everything from apartments and townhomes to standalone homes suitable for larger families.
To qualify for one of these rentals, you'll have to prove that your income falls within the acceptable range for your area. If you make more money than the maximum amount specified by the housing authority, you won't qualify for a lease.
Getting A Roommate
If the cost of rent is too high for you to afford on your own, getting a roommate can help ease the financial burden you face each month. With a roommate, you can split the cost of rent, thereby lowering how much you pay.
Buying A Home
As surprising as it might be, buying a home may end up saving you money each month. While you'll have to make a monthly mortgage payment just like you'd pay monthly rent, the amount you'll spend on a mortgage payment could possibly be less than you'll pay in rent.
Plus, unlike with renting, you'll build equity with each mortgage payment. As your home equity increases, you'll be in an overall better place financially and have more financial flexibility. For example, you'll be able to keep more of the money from the sale of your home if you ever decide to relocate.
If you're looking to buy a house, it's best to take the time to get familiar with different types of mortgages so you can choose the best fit for your needs and your financial situation.
Take the first step toward buying a house.
Get approved to see what you qualify for.
FAQs About Rent Control
Here are a few frequently asked questions about rent control to help you deepen your understanding of this legal provision.
How does rent control work?
Rent control works by setting a cap on how much landlords can charge in rent for different property types. It also puts a limit on how much landlords can increase rent each year.
How will I know if I'm living in a rent-controlled apartment?
Usually, landlords will tell you when you sign the rental agreement if the property you're leasing is rent-controlled. However, if you're not sure, you can always check with your local housing authority. They will be able to tell if your current rental is rent-controlled, and they can provide you with a list of suitable apartments in your area.
How can I find a rent-controlled apartment if I'm not already in one?
Contact your local housing authority for assistance. They'll help you identify rent-controlled apartments and rentals in your area and may be able to help you explore different affordable housing options.
Are there alternatives to rent control that can help me keep my payments low?
Since rent-controlled properties aren't available everywhere, it's a good idea to consider alternatives. Section 8 housing, public housing, getting a roommate and buying a house are all ways to potentially keep your monthly payments more affordable.
Will I always save money if I stop renting and buy a house?
It depends on the price of your house and the terms of your loan. The more money you spend on your home, the larger your monthly mortgage payment will likely be. If you're looking to save money, choose a home and a mortgage loan that will give you a monthly payment that's less than you're paying in rent.
The Bottom Line
While finding a rent-controlled unit can be a great way to save on your monthly expenses, it's an imperfect solution. Rent-controlled housing is hard to come by even in some cities where the program has been around for decades.
With this in mind, looking for alternative types of affordable housing or buying a home may be a better option. When you purchase a home, you'll never again have to worry about unexpected rent increases.
If you're thinking about buying a house so you can stop renting once and for all, start the approval process with Rocket Mortgage®. You can also give us a call at (833) 326-6018.
Related Resources
Viewing 1 - 3 of 3