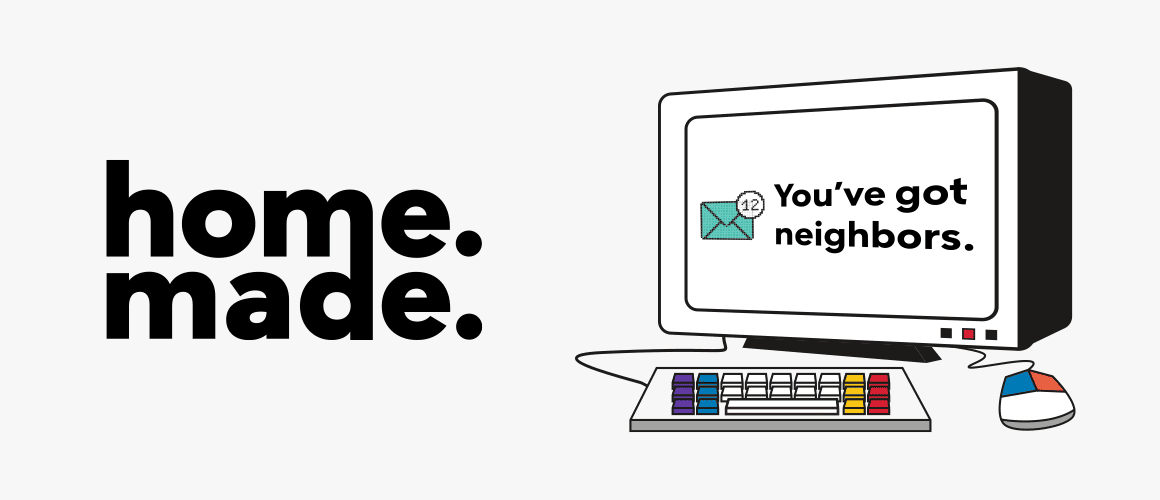 Why Won't You Be My Neighbor?
June 27, 2023
Share:
Great news! As a "Home. Made." listener, you're eligible to score an exclusive $2,000 credit toward buying a home.
Use it to lower your interest rate or put toward closing costs. Call (866) 374-7050 or click the button below to apply today.
When Michael and Valerie Wood-Lewis first moved to their home in Burlington, Vermont, they were eager to get to know their neighbors and start building connections within their community.
So eager, in fact, that they baked cookies for the neighbors and delivered them on real plates – not paper plates. The hope was that, when the neighbors returned the plates, they'd have another conversation. Another chance for connection.
But the plates never came back. Michael did find one of them, later on. At a yard sale, in the 25-cent pile.
It was going to take a lot more than a plate of cookies to befriend their neighbors.
"What took me a while to figure out was, it's not that the neighbors were unfriendly or uncaring," Michael explains in this episode. "They were just busy and there wasn't a stay-at-home parent in most homes anymore. Commutes were longer. People were just on the go, go, go."
It was 2000 – years before the social media craze would take over. But Michael had an idea.
"Maybe we can use this newfangled thing called the internet to help neighbors connect and build community," he remembers thinking.
So Michael and Valerie created a listserv for their neighborhood where people could ask questions, get recommendations or post notices about things like yard sales or lost dogs. They called it the Front Porch Forum.
Front Porch Forum founders Michael and Valerie Wood-Lewis
The creation of Front Porch Forum has led to lasting change in communities throughout the state of Vermont. Even in the age of Facebook and Nextdoor, Front Porch Forum is still going strong; according to their 2020 report, for every 1,000 households in Vermont, Front Porch Forum has 750 members.
An example of the type of post you'll find on the site today. Front Porch Forum took on increased significance for Vermonters during the COVID-19 pandemic, as they searched for ways to stay connected with their neighbors while staying apart.
In this episode, hear the inspiring story of how Front Porch Forum transformed the Wood-Lewises, their neighborhood and neighborhoods throughout the state.
We'll also hear from Kathleen Cagney, a professor of sociology at the University of Chicago, who explains health risks of not knowing your neighbors, along with the behavioral science of why community is so important to us. Tech/sci-fi journalist Andrew Liptak provides us with some context on the rise of social networking in the early 2000s. And meet Lauren Curry and Julia Andrews, who founded the food bank Westford Food Shelf – and found a lasting friendship – thanks to one message on the forum.
Learn More
Our Host
Learn more about the host of Home. Made., award winning journalist Stephanie Foo on our host page.
New To Podcasting?
Not sure how to listen to Home. Made. on a podcast player? No problem. Check out our page on how to listen to Home. Made. to learn how to find every episode the moment it goes live.
Apple Podcasts and the Apple logo are trademarks of Apple Inc., registered in the U.S. and other countries.
Spotify and the Spotify logo are registered trademarks of Spotify AB.
Google Podcasts and the Google Podcasts logo are trademarks of Google LLC.
Episode Transcript
STEPHANIE FOO: In 1999, Michael and Valerie Wood-Lewis moved from Washington, D.C. to Burlington, Vermont. Away from the bustle of a big city to a smaller, cozier town.
MICHAEL WOOD-LEWIS: We were eager to put down roots in a community that would mesh with our values and be really supportive of our kids, and we of the community.
STEPHANIE FOO: That community was the Five Sisters neighborhood. Near Lake Champlain and downtown Burlington. Close to many parks, schools, the library, and a church. Full of people with similar interests in the great outdoors. Perfect for starting a family. But Michael and Valerie quickly discovered that the community wasn't quite as welcoming as they'd hoped.
MICHAEL WOOD-LEWIS: We tried in conventional ways, chatting people up and whatnot. But it just … We weren't really getting very far.
STEPHANIE FOO: So Michael thought back to his childhood for inspiration. His mother would always bake cookies for the new neighbors. Take them over and welcome them to the area. So Valerie suggested they do the same.
MICHAEL WOOD-LEWIS: She had them on paper plates and I said, "Change them out for real plates, that way the neighbors will want to bring back and then we'll have a chance for two conversations." And of course, secretly I was hoping that they might bring back cookies of their own.
STEPHANIE FOO: Valerie baked the cookies and took them over to a few houses.
MICHAEL WOOD-LEWIS: But in the end, we never saw the plates again. She had one round of lovely, brief conversations and then that was it.
MICHAEL WOOD-LEWIS: I lied a minute ago. We did actually get one plate back. At a yard sale. One of the neighbors had it out in the 25-cent pile. So I just quietly bought it back.
STEPHANIE FOO: This is Home. Made., an original podcast from Rocket Mortgage® about the meaning of homes and what we can learn about ourselves in them. And I'm Stephanie Foo. In this episode, the extraordinary lengths one family went to in order to belong to their neighborhood.
STEPHANIE FOO: Short a few plates and 25 cents, Michael and Valerie kept thinking up ways to connect with their neighbors. Most people would've given up, but if they were going to raise kids here, Michael was determined to give them the kind of upbringing he had. He grew up in Fort Wayne, Indiana in the 60s, in a close-knit community.
MICHAEL WOOD-LEWIS: We knew all of our neighbors. I was close friends with a few, moderately friendly with some others. And what I found as I became an adult, I was living in places where I didn't have any of that. It's not that I wanted to be best friends with my neighbors. I just wanted to be able to say hello by a first name. And have them know my first name. And to be able to say, "Hey, I'm going to be out of town next week. Could you keep an eye on the place?" Or, "Oh, I noticed you're on crutches. Can I help, make a run to the store for you?"
STEPHANIE FOO: But that was not what he was getting in Burlington. One day, several months after moving in, they were returning home from a hike in the nearby woods when they spotted a bunch of neighbors packing up tables.
MICHAEL WOOD-LEWIS: And I just kind of, my jaw dropped and I went over and talked to one of the folks. I said, "What's going on?" And he said, "Oh, this is the annual block party for the neighborhood." And I was so disappointed, because that's exactly the kind of thing we were looking for. And I said, "Well, how does a person get to know about that?" He said, "Oh..." Kind of laughed. He said, "Oh, you've got to live here for 10 years before you're on the grapevine." Ugh. I wasn't laughing. I just thought, "Come on."
STEPHANIE FOO: 10 years is a long time to get to know your neighbors. At this point, Michael and Valerie were out of ideas. And it was starting to feel pretty lonely. Of course it was. Because community is a fundamental and universal need.
KATE CAGNEY: I grew up in a rural community and I saw a lot of social exchange and I saw farmers exchanging implements and exchanging children to do the work they needed to get the harvest in.
STEPHANIE FOO: Kate Cagney is a professor of sociology at The University of Chicago. She studies something called neighborhood social capital and its impact on the health of individuals.
KATE CAGNEY: There's a lot of work in evolutionary psychology and in social psychology, which suggests yes, that people found safety in groups.
STEPHANIE FOO: Kate says that in prehistoric times, belonging to a larger group was critical to staying alive. And we are still hardwired for that instinct. Because if there's another human nearby, your chance of getting eaten by a saber-toothed tiger goes way down. In order to feel this sense of comfort, we don't even need to be particularly close with someone else. Just their presence makes us feel better.
KATE CAGNEY: When you see other people on the street, when they are engaged in routine activities on foot, people even having a conversation on a train, we have a biological reaction that's protective. I have a colleague who suggested that "I don't need my neighbor to come over and talk with me about my relationship status or other kinds of issues, but I do need my neighbor to call the fire department if he or she sees flames coming out of my garage."
STEPHANIE FOO: Who knew that just talking about the weather could have a real impact on how safe we feel? But even those simple interactions are happening a lot less now. Researchers have found that only about 20% of Americans hang out with their next-door neighbors. A third of Americans say they've never interacted with their neighbors, don't even know their names. This lack of connection can have some serious effects.
KATE CAGNEY: There's certainly a range of physical health outcomes that are related to social isolation.
STEPHANIE FOO: Kate's research has found that neighborhood interactions can lower rates of asthma and boost overall health.
KATE CAGNEY: You could say it's a dynamic or feedback process where somebody might feel less engaged in society, which means they don't go outside, so they don't get exercise, so then they feel even worse. Residents are more likely to get asthma if they're cooped up inside. But if they're able to go outside in an urban space, again, that's protective.
STEPHANIE FOO: Turns out neighbors might be good for you. But when Michael and Valerie had their son, Ben, they realized that interacting with their neighbors wasn't optional anymore. They needed them. Because Ben was born with severe cerebral palsy. When they got the diagnosis, Michael immediately thought of his childhood neighborhood. There had been a kid with cerebral palsy on that block, too.
MICHAEL WOOD-LEWIS: And I remember how, in many ways, the neighborhood rallied around that family. And I looked at our current situation and I said, "This is no longer kind of an academic or emotional need to connect with neighbors. It takes a community to raise a child. It really does when a child has intensive special needs. We're gonna need support over time. We're going to need a neighborhood that's looking out for us, and allows us to contribute in maybe unconventional ways."
STEPHANIE FOO: Michael is an engineer. So when none of his efforts to connect with neighbors worked, he decided to apply his engineering background to the problem. He started by studying his neighbors' activity.
MICHAEL WOOD-LEWIS: It what took me a while to figure out was, it's not that the neighbors were unfriendly or uncaring. They were just busy and there wasn't a stay at home parent in most homes anymore. Commutes were longer. People were just on the go, go, go.
STEPHANIE FOO: In Burlington, like in many small towns, more people were working farther away from home. Children went to schools outside of their immediate neighborhoods. So it wasn't that their neighbors were anti-social. It's just, most of their social interactions happened farther away from home.
MICHAEL WOOD-LEWIS: I thought, "Well, maybe there's a way to shortcut that."
STEPHANIE FOO: Michael came up with a digital solution to his analog problem.
MICHAEL WOOD-LEWIS: "Maybe we can use this newfangled thing called the internet to help neighbors connect and build community."
STEPHANIE FOO: It was the year 2000. The internet actually was newfangled back then. So he created an email listserv for his neighborhood. And he invited all his neighbors to join the listserv by printing up 500 flyers and putting them at people's front doors. The flyers invited people who lived in the Five Sisters Neighborhood to send in their yard sale notices, or lost dog alerts, or even questions about local ordinances. Those items would be compiled by Michael then sent out in a daily email blast. He called it the Front Porch Forum. At the time, this was a really high-tech idea.
MICHAEL WOOD-LEWIS: And I thought, "Let's see what happens."
STEPHANIE FOO: People bit. Within days of circulating flyers, people were sending posts to Michael for the listserv.
MICHAEL WOOD-LEWIS: People were finding lost pets. They were buying and selling household items. They were giving things away. They were seeking advice and recommendations and getting that in return.
STEPHANIE FOO: It was like they'd been waiting for an easy tool to interact with their neighbors and seized the opportunity.
LAUREN CURRY: To me the most, I guess, consequential post that I ever put up was one where we had kind of a hard experience in our family.
STEPHANIE FOO: This is Lauren Curry. She lives close to Michael and Valerie over in Westford. Several years ago, over Thanksgiving, she discovered that her brother was struggling with a lack of food at home and serious mental health issues. It wasn't the best family holiday.
LAUREN CURRY: I didn't know how to help. I didn't know how to fix it. I knew that our community had had a food shelf once upon a time and we didn't have one anymore. So I kind of sat down at my keyboard one night and I banged out a message on the forum and just said, "I know that we don't have a food shelf. What do people think about this?"
STEPHANIE FOO: On the other side of Westford, Julia Andrews read the post.
JULIA ANDREWS: And so I had never met Lauren, but something about her message really inspired me.
STEPHANIE FOO: Julia and Lauren never would have met because they live in opposite corners of Westford and drive on totally different roads. But Julia responded to Lauren's post.
JULIA ANDREWS: And after some back and forth, we met at a local diner and hit it off and started planning that day pretty much. I think we opened the food pantry about 9 or 10 months later.
STEPHANIE FOO: Together, they opened the Westford Food Shelf and started helping less fortunate members of the community. But they also became very close friends. When Lauren had to have emergency surgery for a heart murmur, Julia took on her shifts at the food shelf and she started helping out Lauren's husband at home.
LAUREN CURRY: The funny part of the story is that in my mind the week that I got home from the hospital I ate this amazing lasagna that Julia made and I had thanked her a million times for this and I told other people about it and all of this stuff. It was like some number of years later, she finally said, "Listen. I didn't make that damn lasagna. I have no idea who made it."
STEPHANIE FOO: There were thousands of real-life interactions like these on the forum, poignant ones, funny ones. It grew larger and larger, with more and more people connecting with neighbors they'd never known. Before long, residents of neighboring areas were asking to join the Five Sisters listserv. At first, Michael declined the requests. But demand grew, so he started rolling out Front Porch Forum to other neighborhoods. Each community got their own daily email. And then, in 2006, they added a website and message boards. At this point, Front Porch Forum became a for-profit business. Michael couldn't monitor all of the new forums by himself. So he hired staff and sold ad space. But the mission stayed the same. Build community. Eventually, 70% of all households in Vermont were signed up to the site. Over 150,000 people.
MICHAEL WOOD-LEWIS: If there's an online Front Porch Forum that has 1,000 members and one person posts and three people respond, those three or four people have a good experience. But it's the other 996 people who just witness that. That changes habits, changes perceptions. That tells people, "I live in a place where people look out for each other, where people care where good things happen." People were expressing gratitude for all this on the forum and to me on the sidewalk.
STEPHANIE FOO: Yes, it was nice that Michael was helping all of Vermont. But of course, the original purpose of the forum was to help Michael and Valerie make friends. And that was working too.
MICHAEL WOOD-LEWIS: One of the key personal benefits of Front Porch Forum was we clothed our kids through it. We put it out there, saying, "Anyone have a used stroller? All of this stuff if you bought it new could bankrupt you, especially with four kids. And I just heard there was a free stroller around the corner sitting out on the curb for the first taker. We need one. Let's run over and see if it's still available and chat with people when we get there.
STEPHANIE FOO: Here's Valerie remembering those early days.
VALERIE WOOD-LEWIS: I remember working with our neighbor on doing a tool swap. So whether it's a bread machine or a post hole digger, something that you don't need to go out and buy yourself, if you're just going to use it once or twice or intensely for a week and then put it in the closet or whatever. So that was really fun.
VALERIE WOOD-LEWIS: I've had help, for example, converting our family movies into digital, and so people were able to help me with expertise and equipment and sharing their stories. And of course the beauty is that every single interaction is then a new friendship or a new connection, someone that I'd seen across the way walking their dog, but never knew their name.
MICHAEL WOOD-LEWIS: Every one of those transactions, if you want to call it that, ended up giving birth to conversations with neighbors that then blossomed into relationships.
STEPHANIE FOO: Four years after starting the forum, Valerie was due to deliver their third child on Halloween. Valerie and Michael needed to focus on the birth, but Ben, who was in a wheelchair, and his toddler sister both wanted to celebrate the holiday. So neighbors swooped in, dressed up Ben and his sister, took them trick-or-treating with their kids and kept them for a sleepover. They kept providing childcare as the family adjusted to the new baby. Not only was it a support, it also helped to integrate Ben into the community. And so his disability never wound up getting in the way of his popularity. Everyone knew him. He was a neighborhood cool kid. But in 2006, something popped up that threatened Front Porch Forum for the first time. A new website called Facebook.
ANDREW LIPTAK: And once Facebook broke out of colleges as a college-specific thing, at that point you have a big shift in the type of community.
STEPHANIE FOO: Andrew Liptak is a freelance tech writer. You can find him on Facebook.
ANDREW LIPTAK: And I think that the reason you see a lot of people like that sign up and go on there is because of what those platforms offer, which is a community.
STEPHANIE FOO: And you can also find him on Front Porch Forum, because one: he lives in Barre, Vermont. And two: for a bunch of reasons, Front Porch Forum has somehow survived the onslaught of modern social media, not just Facebook, but Twitter, Instagram, and even a glossy neighborhood imitation site called Nextdoor. And it does that without any flashy graphics or chat features. It's still a low res message board from the early 2000s. And not only has it survived, it's continued to grow. It's even expanded to some neighborhoods in New York and Massachusetts. Andrew says it's the extreme specificity of the forum that makes it work so well.
ANDREW LIPTAK: This is designed to only connect people within your own town or the surrounding towns. I can't see what my mom and dad are posting over in their forum over in Moretown because I'm not connected to it.
STEPHANIE FOO: The site also forbids anonymity. You have to list your first and last name, your email and your street, but not your house address.
ANDREW LIPTAK: So you're not talking to jazz guy 29 or I love puppies 40. These are real people in real locations, in real spaces.
STEPHANIE FOO: So trolling is less likely to happen. And even if things get a little heated, Front Porch Forum moderates every single post. Andrew Liptak says the delivery system also helps keep tempers cool.
ANDREW LIPTAK: You get an email in your inbox once a day and usually at the end of the day. And I think that is really where it helps because now you can remove some of the anger, some of the heated elements from it. The fact that you can't jump in and yell at somebody when you see something you don't like, I think helps. It slows the pace of down you can think a little bit more deeply about an issue and type in a response that is probably a little bit different.
STEPHANIE FOO: The other great thing about it is that it often forces people to meet up in person. Studies have found that even with all of the digital communication we have, neighbors are twice as likely to meet in person than over text or social media. But Michael wants that in-person socializing to also happen with neighbors you might not exactly like.
MICHAEL WOOD-LEWIS: You find yourself giving away your bicycle to somebody who you disagree with, and you find yourself volunteering with 10 other neighbors on a local project and you have all sorts of ideological differences, political differences among yourselves. But there you are, working on this project together. That's the beauty of encouraging more connection among neighbors
STEPHANIE FOO: Front Porch Forum has no filter bubbles. You can't unfollow or block anyone. You are exposed to a spectrum of views and opinions and you have to navigate any differences respectfully. That lack of filter bubbles expanded many people's social circles in ways they didn't expect.
STEPHANIE FOO: But Front Porch Forum doesn't just solve little problems. Sometimes, it solves bigger problems, too. For example, the middle school there served several neighborhoods in the Burlington area. It hadn't been upgraded in a long time, and it wasn't wheelchair accessible. Which bothered Michael, obviously, because that would keep Ben from attending it. He was getting older, and Michael kept bugging them to make the necessary changes. The school kept telling him that they'd fix the problem soon, but never did. So Michael posted the issue on Front Porch Forum, across the relevant neighborhoods. And everyone else chimed in. Within 2 weeks, one of the city councilors asked for a meeting with Michael. He said:
MICHAEL WOOD-LEWIS: "Whatever you're doing, please stop. I'm being approached at the grocery store. I'm being called at my day job. Every person in my district is telling me this has to be our top priority." And suddenly, the project vaulted to the top of the list. The next year, he entered sixth grade in his neighborhood school.
STEPHANIE FOO: The upgrades didn't just benefit Ben.
MICHAEL WOOD-LEWIS: And people who couldn't vote there before were now able to vote. Grandparents and parents who couldn't attend student-teacher conferences could. A teacher who was going to get basically shown the door because she was losing her ability to walk stairs due to a degenerative disease was able to keep her job. And that was a profound example of using Front Porch Forum as a way to reach people and make a case, and get people to become active participants in their community for a good outcome.
STEPHANIE FOO: Over 20 years ago, Michael and Valerie Wood-Lewis dreamed of starting a family in a supportive neighborhood. When the neighborhood didn't respond to them, they created something that brought everyone closer together. They made their neighbors better neighbors.
MICHAEL WOOD-LEWIS: I was kind of raised with the idea that you should be self-sufficient and rugged and independent. Now, I have a different perspective. The postings that end up being the most valuable on our service are the postings that express vulnerability. I found that connection with other people is incredibly valuable and nurturing and helps make a life worth living. The best way to make those connections or to make a home in a community is to put yourself out there, to be vulnerable, to ask for help when you need it, to pitch in when you can.
MICHAEL WOOD-LEWIS: And that's translated to my personal life as well. I'm much more willing than I was when I first started this work to ask a favor of a neighbor. I'm 10 times more willing to pitch in when somebody asks me.
STEPHANIE FOO: And the pandemic has certainly been a very vulnerable time. The forum saw an 83% increase in sign-ups from the year before. It helped families who were struggling financially find food and necessary items. Some people posted that they were struggling emotionally and felt the overwhelming love flow in from their neighbors. And Michael says this is true for any challenge. They've found that communities that have Front Porch Forum in place for a year are better prepared to deal with setbacks.
MICHAEL WOOD-LEWIS: When disaster comes in some form or another – and 2020 has certainly been a year of disasters – the community already knows each other, already has a habit of communicating, already knows how to come together and do projects. And that makes communities more resilient and better able to handle these hard, hard times.
STEPHANIE FOO: Some people shared ideas for jokes and craft projects. Others created massive chains where people just shared things they were grateful for, to paint a picture of a world that still has beauty in it. Sometimes it's only when we're forced to be alone that we realize how much we need community.
STEPHANIE FOO: You've been listening to Home. Made. by Rocket Mortgage. You can reach us at rocketmortgage.com/homemade. My name is Stephanie Foo. Thanks for listening.
ANNOUNCER: Equal housing lender licensed in all 50 states. NMLSconsumeraccess.org #3030
END
Related Resources
Viewing 1 - 3 of 3