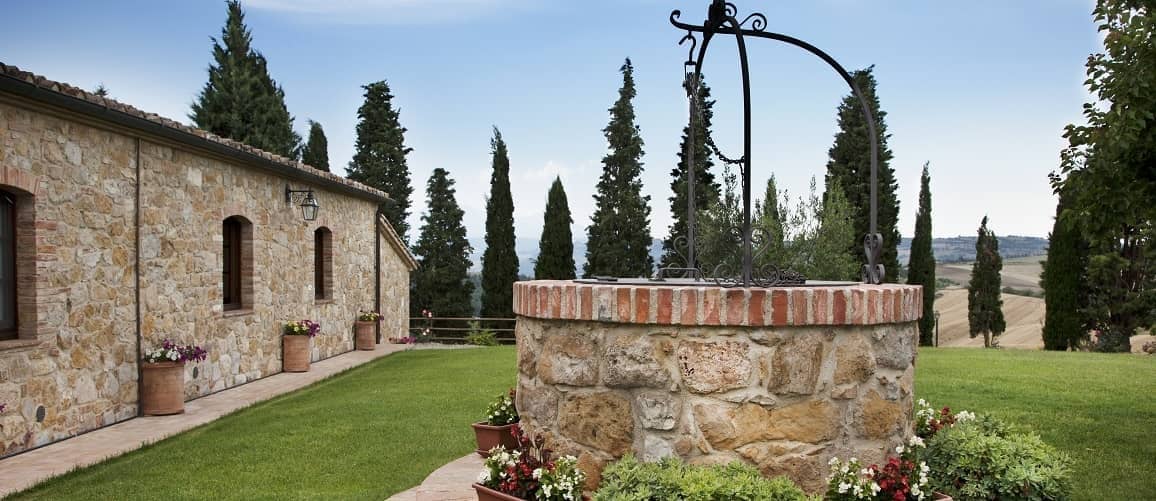 Buying A House With Well Water: How Well Water Works And The Pros And Cons
Andrew Dehan5-minute read
August 19, 2023
Share:
Picture a beautiful, countryside home with a rustic, cobblestone well. On the well is a wooden crank where you can lower a bucket to gather fresh, cold, clear spring water. Or maybe, instead of a cobblestone well with a bucket, you picture a red, wrought iron pump with a handle.
While this isn't what modern wells look like, they're images many people think of, shown to us in movies and portrayed in stories. Houses with well water are often further out from cities and towns, tucked away on country roads.
Read this guide to learn all you need to know about buying a house with well water.
What Is Well Water?
Well water is a common system used in rural homes and waterfront properties. It's water found deep in the ground, beneath layers of rock and soil that act as a natural filter for contaminates. Because of this, the water tends to have a higher mineral content than municipal water.
See What You Qualify For
Congratulations! Based on the information you have provided, you are eligible to continue your home loan process online with Rocket Mortgage.
If a sign-in page does not automatically pop up in a new tab, click here
How Does Well Water Work?
Well water travels from beneath the ground – as far down as 1,000 feet – and is drawn upward by a well water pump through a casing. Water then comes through a pipe between the casing and a pressure tank, able to enter your home for use.
Other parts of the system can include a water softener, which removes some of the water's minerality, making it easier on appliances and on your skin.
Maintaining A House With Well Water
Because well water is a little different from city water, you need to be aware of steps you have to take to maintain the water. With city or tap water, the local water authority would oversee a lot of these steps, but since you have your own well, you'll need to do a little bit to ensure your water is right.
Test Your Well Water Annually
There are a variety of things to test your well water for, depending on your location and any problems in the area. At a minimum, your well should be tested every spring for harmful bacteria, dissolved solids and nitrates. It should also have its pH level monitored.
You can buy testing kits to analyze water quality yourself. Be sure the kit tests for bacteria, nitrates and fertilizer. Also, get kits that can test for contaminants like copper, lead and pesticides. These kits typically cost $20 – $30.
It always helps to contact your state or local health departments to learn if there are any problems with well water in the area. They can alert you of things these kits won't pick up, like parasites. If you suspect there's a bigger problem, you may have to submit a sample to a lab for testing, which can range between $50 – $500.
Get Your System Inspected Each Year
Wells need to be inspected annually for cleanliness, mechanical issues and contaminants. To schedule an inspection, you can locate a certified contractor through the contractor listings provided by the National Groundwater Association's Wellowner.org. Another option is to talk with your neighbors about who they use to inspect their wells.
Observe Your Water Softener
A water softener is a piece of filtration equipment that takes water with high calcium and magnesium content (often referred to as "hard" water) and strips it down. Hard water can cause buildup on pipes and in sinks and is rough on your skin.
If you notice hard water stains, you may need to recharge your water softener with fresh sodium.
Prevent Hard Water Stains
Even with a water softener, you can get hard water stains. These stains occur because, after the water evaporates, the high mineral content remains. The best way to prevent these stains is to clean them as soon as they appear.
After showering or bathing, squeegee your tub so the water doesn't evaporate and leave behind a stain. If you see a stain, one of the best ways to remove it is with vinegar. Spritz a mixture of 50/50 distilled water and vinegar on the stain, let it rest for 10 – 15 minutes, then rinse with distilled water and buff dry.
Pay Attention To Your Drinking Water
If you notice your drinking water smelling, tasting or looking differently, you should schedule an inspection. A lot of times small changes aren't harmful to your health but could lead to plumbing problems down the road.
Signs like your water turning and staying orangish-brown could mean there's iron in your water, which can cause buildup that clogs your pipes. Likewise, persistent odors of rotten eggs mean there's elevated levels of hydrogen sulfide gas produced by bacteria. This gas can be a breeding ground for other bacteria and may produce more stains and buildup.
Pros And Cons Of A House With Well Water
Those who are considering buying a house with well water should know there are positives and negatives to this type of system. Let's weigh the pros and cons of having a house with well water.
Pros
There's no water bill if your water comes from a private well.
Well water can taste fresher and have more nutrients and minerals.
Well water is usually unaffected by

natural disasters

.
Well water means you're not dependent on the grid if there's a massive water problem.
Cons
A well pump is dependent on electricity and won't work without power. You may want a backup hand pump.
Well water can become contaminated from chemicals, sewage and even dead animals in the water source.
You are solely responsible for maintaining the quality of your well water.
Once you've carefully considered all of the relevant information, you can determine if buying a house with well water makes sense for you. If you decide you're ready to move forward with making an offer, be sure you've started the mortgage approval process so that you're ready to lock in your interest rate as soon as possible.
Protect yourself from rising rates for 90 days.
Lock in today's rate with RateShield®.1
FAQs About Houses With Well Water
Here are a couple common questions about homes with well water not answered elsewhere in the article:
Is it true there's no water pressure in a house with well water?
While it's true that homes with well water often have lower water pressure, they don't have zero water pressure unless there's a problem. How much water pressure they have depends on your pressure tank and well pump.
What causes sudden low water pressure in a house with well water?
A sudden drop in pressure can mean either equipment needs maintenance, or there's a clog in your pipes.
There are a few things you can do to increase your water pressure if you notice it dropping:
Check and adjust the water pressure on your pressure tank. If you suspect there's an issue with the tank, you may need to call a plumber.
Have your pipes inspected and cleaned by a plumber who specializes in well systems. Low pressure can be the result of minerals and sediment buildup. If you don't have a water softener, one will help prevent this buildup.
Consider installing a constant pressure system onto your water line.
The Bottom Line: Thinking Of Moving To A House With Well Water?
Don't let a home with well water be a downside to you buying a property. With proper attention, maintenance and inspection, well water can be cheaper and cleaner than city water. Just know what to look out for and what steps to take to make sure your well water keeps running.
Found a house you absolutely love? Apply for a mortgage today with Rocket Mortgage®.
Take the first step toward buying a house.
Get approved to see what you qualify for.
Related Resources
Viewing 1 - 3 of 3