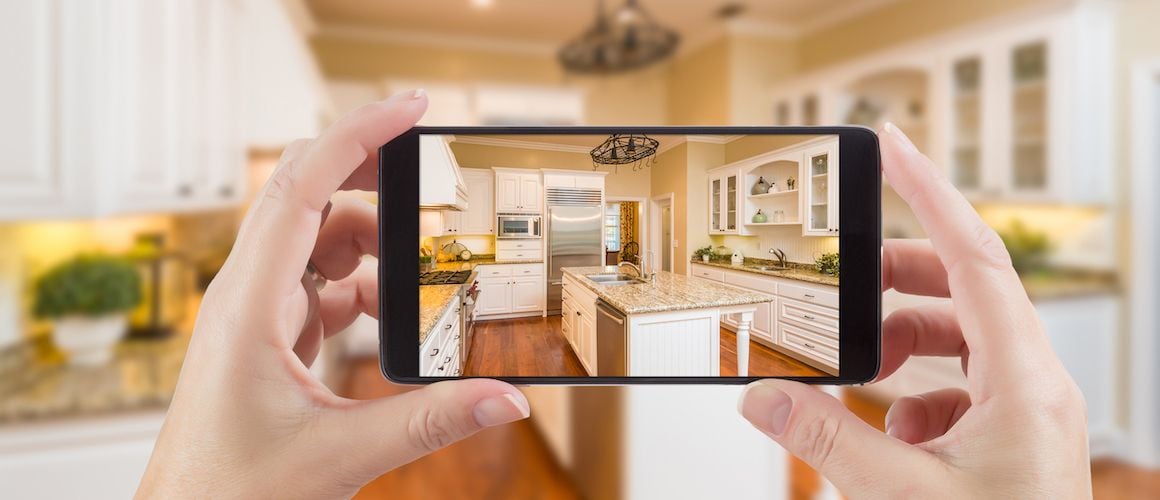 The Evolution Of Showing Homes During COVID-19
Dominic LoBianco5-minute read
September 20, 2021
Share:
While COVID-19 has left many industries ravaged, the housing market in the United States remains relatively robust. While sales volume numbers are down compared to last year, home prices remain steady. This can be attributed to the weight of the pandemic on health and financial infrastructures. Federal and state governments are taking unprecedented measures to stop the spread of the virus, and as a result, industries must shift practices.
In many countries, lockdowns, curfews, and self-isolation policies have been put in place and are slowly starting to be lifted in certain areas. But for the most part, only services categorized as essential have been allowed to continue without stoppage, such as security and emergency services or the transportation of food.
Fortunately, in some states, real estate services have been categorized as essential. Therefore, agents have been allowed to list properties, and even show them by appointment only (to abide by social distancing regulations). However, despite being allowed to carry on with their business, REALTORS® are still facing many COVID-19-related challenges. The market has been largely disrupted.
"We are taking precautions to make sure our buyers and sellers feel comfortable," says Lisa Alexander, president of Del-Co Realty and regional vice president of the SC Association of REALTORS®. "Our sellers are providing resources (gloves, hand sanitizer, and paper towels) to help alleviate concern."
Nonetheless, real estate agents and prospective home buyers are still devising ways to showcase a property to potential customers. Buying a house is one of the major purchases of a lifetime. Therefore, it's vital to scrutinize a house before buying it. In the current situation, the only option customers are left with is virtual home tours of the properties being listed.
Market Temperature
Agent Contingencies
As REALTORS ® seek out new ways to increase reach to prospective buyers, the evolution of the open house has taken form on social media. With photo/video platforms like Instagram Stories/Live, Periscope, and Facebook Live, agents can host virtual showings to their entire social network to yield new leads.
"Even before COVID-19, social media was a major factor in the way we brought listings to buyers," says Ryan Tombul, Nashville REALTOR ®, J.D . "Social media doubles as an avenue for free marketing that allows agents to supplement exposure for listings within their own personal network and beyond."
Virtual tours, open forums to field questions, and instant feedback all allow agents to portray a similar feel to an open house or appointment walkthrough, but without any of the included risk. The instant access to the photos/videos allows buyers to save homes of specific interest and make comparisons to other prospects in the area. This also allows agents to show early looks at new developments.
Buyer Behavior
Despite what many might consider the worst time to buy a house, COVID-19 poses some advantages to individuals looking to purchase right now. Some may want to relocate to lesser crowded areas, move away from hotspots of the pandemic or even move closer to family.
Some property owners are, however, somewhat reluctant in listing their houses due to fear of a smaller pool of potential customers. With most people limiting the number of visitors to homes due to fear of infection, live in-house viewing may be almost impossible to come by. A survey by the National Association of REALTORS® indicated that COVID-19 concerns had decreased home buyer interest by nearly 50%.
The Boom Of Virtual Showings
Agent Contingencies
As the rest of the world rapidly shifts into the digital realm, it was only a matter of time that the real estate sector also took the plunge. The shift has, however, been majorly influenced by the ongoing situation.
Thanks to the comprehensive visualization of houses, virtual home tours have increased the rate at which brokers sell a property. Several forms of virtual tours can be implemented in digital house marketing strategies. These are:
Virtual reality experiences

3D floor plans

3D walkthroughs or 360 virtual tours
"I think in today's digital era, it's much easier to connect with clients," says Alexander. "We used to keep our virtual tours for our luxury homes, but we've found it adds to the home buying experience for our clients.
"We feel as though this will become the new normal."
For agencies or individual brokers looking to create a comprehensive display of property, the 360 virtual tours have proven to be the most cost-effective option. Equipped with a free 3D virtual tour and a 360-degree camera, real estate agents can create a virtual tour for their potential customers at an average cost of $300.
Buyer Behavior
By engaging in virtual home tours/walkthroughs, prospective buyers save a fortune in time and money. Instead of spending an entire morning driving from property to property to tour units, home buyers can now explore potential new spaces from the comfort of their living room in a fraction of the time.
In the NAR® survey of home buyers, shoppers tended to look at 10 houses before pulling the trigger. And while that might take several weeks or months in the traditional model of buying, it can be accomplished in a matter of a few days with virtual walkthroughs.
Advantages Accrued From Virtual Tours
With almost everyone stuck at home, virtual tours have become the new norm in the real estate business. To make ends meet, nearly all real estate agents rely on the commission they get after closing in on a house deal. This has, however, proven difficult during COVID-19. Redfin recently conducted a survey that showed that virtual tours constituted nearly a third of the home tour requests they received in the last 3 weeks. This is a boom compared to the 2% recorded before the start of the pandemic. Below are some benefits agents are seeking for both buyers and sellers from the adoption of virtual house showings:
Conscious Of Social Distancing Practices
Perhaps the single biggest reason for the adoption of virtual technology. Limits physical contact as much as possible.
Time And Cost Efficient
Buyer

: The combination of travel restrictions and general economic distress make virtual showings the logical and responsible contingency. All of the savings come from gas, time spent getting ready, time spent traveling from location to location, and other miscellaneous social outing costs.

Agent:

Staging a home costs anywhere from $1,600 – $2,400, depending on the size of your house. However, with virtual showings, you only have to incur that cost a single time. You can preserve and redistribute your media as often as you need and continue to get impressions until you contract a buyer.
Simple And Convenient
There are no technical skills needed to create virtual tours as all can be done through simple software and a camera. Virtual tours offer much convenience as the images are only recorded when the house is in pristine condition, eradicating the need to call in cleaning agencies each time.
Despite the many benefits, real estate agents are also faced with some drawbacks when contemplating the adoption of virtual tours. To create better quality tours, REALTORS® have to put some practice in the skill of creating virtual tours.
The virtual tours only focus on the property being listed. This can be a huge turn-off for customers generally interested in the neighborhood. They work best for midsized projects, and are difficult to properly scale on big office buildings and luxury homes.
Conclusion
The real estate market peaks typically during spring. Still, the industry has taken a hit through nonessential designations in some regions and effects of self-isolation and social distance regulations across the board.
Sectors of the market have been forced to take a direction toward coping with COVID-19 by adopting digital systems and the incorporation of health safety procedures. Common practices such as shaking hands and open house showings have been replaced by social distancing and online correspondence. Such practices could be here to stay in the long term as well.