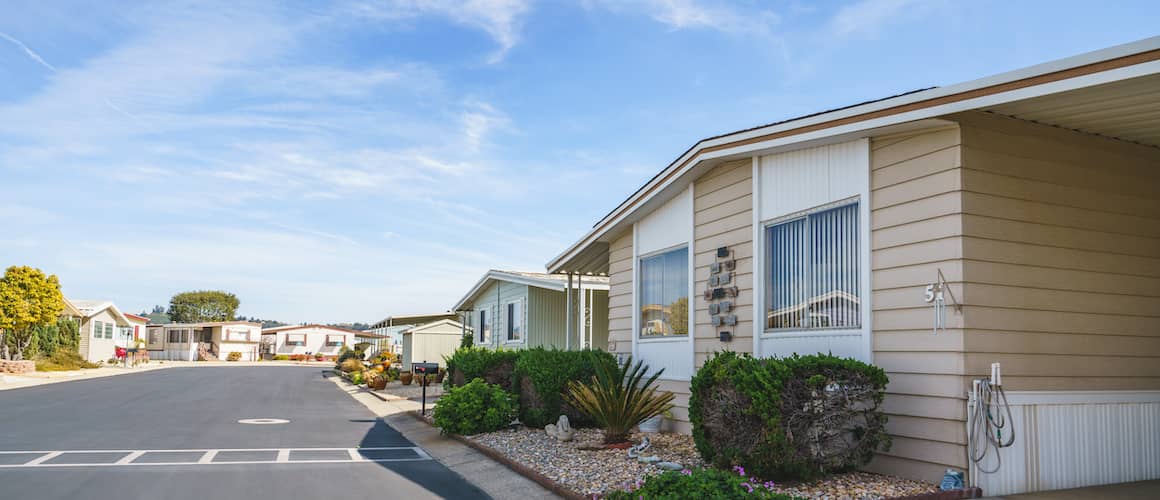 A Modern Approach To Manufactured Home Insurance From CoverTree
Kevin Graham7-minute read
August 21, 2023
Share:
Manufactured homes have a lot going for them. Because they're built in a factory and there's a lot more control over conditions and cost overruns, manufactured homes represent some of the most affordable housing you can buy. Moreover, modern manufactured homes are built to strict federal standards.
One thing that hasn't always been easy is finding manufactured home insurance. Insurance on manufactured homes is often limited to at best a couple of options that might not meet your needs. Our friends at CoverTree have committed themselves to creating an affordable and customizable offering built for the digital age.
What Is CoverTree?
CoverTree is an insurance company specializing in covering manufactured homes. They offer many customizable coverage options, but what sets them apart is a fully digital, tech-based approach to insurance. You can get a quote, purchase a policy and have it bound (put into effect) all online. You can also speak to one of their insurance agents.
CoverTree's Head of Growth Dillon Kirby sums up the company's value proposition.
"Insurance can be daunting and overwhelming, especially in the manufactured housing space where options and flexibility have historically been limited," he says. "At CoverTree, we're dedicated to making insurance for manufactured homes easy, affordable and the process of obtaining it seamless."
A more modern approach to insurance enables them to offer insurance policies that meet the needs of individual clients rather than a one-size-fits-all approach. They've also rethought underwriting. As an example, they use drone photography. This shows more recent evidence of your home's condition and any de-risking work you've done.
These underwriting procedures combined with automation mean a more affordable insurance policy for your manufactured home. Additionally, because their analysis is based on the condition of the home rather than the age, they have coverage options available for mobile homes built prior to 1976.
CoverTree offers manufactured home insurance in many major markets including the following:
Arizona
Texas
Michigan
Tennessee
Alabama
Kansas
Across most of the country, CoverTree or one of its partners will likely be able to find an insurance solution that works for you. This includes states like Florida where it's typically hard to find coverage in certain areas.
See What You Qualify For
Congratulations! Based on the information you have provided, you are eligible to continue your home loan process online with Rocket Mortgage.
If a sign-in page does not automatically pop up in a new tab, click here
What Types Of Homes Are Covered?
Specializing in many different types of factory-built homes, CoverTree covers all of the following:
Manufactured homes: There are coverage options regardless of age, so mobile homes built prior to the current standards put in place by the Department of Housing and Urban Development (HUD) aren't left out. CoverTree insures single-, double- and triple-wide homes. These are fully constructed in the factory and may or may not be attached to a permanent foundation.
Modular homes: Modular homes have their component parts constructed in a factory before being transported in sections to the site, put together and attached to a permanent foundation.
Tiny home: Tiny homes don't really have a set definition other than that they are tiny. They can be built on a trailer to be mobile or attached to a foundation.
Park model home: These homes are built for campgrounds, RV parks and resorts. These are 399 square feet or less and have a similar title to an RV or travel trailer. However, they can be set up with power, water and sewer connections. The Recreational Vehicle Industry Association sets construction standards.
Stationary travel trailer: This is a trailer that has been placed on one site and tied down there on a semipermanent basis.
Accessory dwelling unit (ADU): If you've built separate living quarters on your property for aging parents or perhaps renters, that's an accessory dwelling unit and it's covered.
What Should You Consider In Finding The Right Manufactured Home Insurance Coverage?
When determining the right insurance coverage for your situation, there are several factors you need to consider. We'll break them down into typical policy offerings and then get into more specialized coverage considerations.
Basic Insurance Policy Issues
Whether you're referring to manufactured homes or standard stick-built houses, there are three general categories of coverage you can often get:
Dwelling coverage: If you're financing your manufactured home with a mortgage, your lender is likely to have requirements around dwelling coverage. Dwelling coverage protects you in the event that you have to file a claim for property damage or vandalism. The limits you choose are likely to depend on lender requirements, your risk tolerance and budget. However, you can typically insure for up to the full replacement cost of your home.
Personal property: Also referred to as contents coverage, this is protection for the things you own inside your home. An easy way to think of this is that you would make a dwelling coverage claim if a tree went through your roof. Personal property coverage kicks in if someone steals or damages your flat-screen TV or jewelry.
Liability coverage: If someone is injured or suffers property damage for which you're held legally responsible, personal liability coverage protects you from having to come out of your own pocket for settlements and other legal costs as well as medical bills or lost wages, for example.
Beyond the different types of basic coverage, there are several major attributes that you need to be aware of in selecting insurance coverage:
Limits: We touched on this a bit above, but it's necessary to know the maximum that your insurance will pay out in the event of a covered claim. In certain instances, insurance companies may have separate limits for categories of covered claims in addition to the overall limits associated with your policy.
Coverage details: When picking an insurance policy, you should be aware of the broad categories of covered events as well as what exclusions may apply. You may be able to plan for the exclusions with additional hazard coverage. For example, if your policy doesn't cover earthquake damage by default, you may be able to get it as an add-on.
Premiums: Insurance premiums are the ongoing cost of maintaining coverage. While these are often paid annually, the cost of coverage may be split into monthly payments if you have an escrow account on your mortgage.
Deductibles: The deductible is the portion of the cost you would bear in the event that you make an insurance claim. Premiums and deductibles are typically correlated. You often have some choice in the monthly premium you pay. Paying a lower monthly premium means a higher deductible before your insurance coverage kicks in. Higher premiums will lead to lower deductibles.
In addition to standard homeowners insurance, you can also get renters insurance as well as policies designed for landlords.
Coverage Add-Ons
We've covered the basics, but there are some coverage options that may or may not fall outside the scope of your main policy. Here are some other areas to think about:
Other structures: Do you have a fence or shed that you want to be covered in the event of damage? You can get coverage for the other structures on your property.
Earthquake: If you're in an area of the country near the fault line for one of the tectonic plates it may be in your interest to get special coverage for earthquake damage.
Water backup: If issues like a failed sump pump, clogged gutter or bad drain cause a water backup, you would be covered with this add-on. It's important to note that this wouldn't cover floods. This is typically something you would get either through a separate private insurer or the National Flood Insurance Program.
Trip coverage: The homes we've talked about today may be moved over the course of their useful life. This covers any damage that might happen during the move.
Golf cart: If you happen to live in a mobile home park, you know that these can be sprawling communities unto themselves. A golf cart can make it easy to quickly hop over and visit your neighbor, but it's also something that can be very expensive to replace.
Additional living expenses: If you have a claim that makes it impossible to live in your home while repairs are being completed, you'll want to make sure your coverage pays for additional living expenses like hotel stays.
Medical payments to others: If someone gets injured on your property or as a result of something you do even away from home, you can be held personally liable. This medical payment coverage may be a key part of your personal liability insurance.
Identity fraud: Identity fraud coverage is made to cover the cost associated with having your identity stolen. This includes legal fees, credit reports, applications to reapply for loans and even income replacement for work you missed associated with dealing with the identity theft.
Equipment breakdown: This coverage pays for damage to devices resulting from mechanical or electrical failure. The category can be pretty broad, but examples include everything from HVAC systems to your riding lawnmower.
Incidental farming: While this isn't intended to replace your income if you're a full-time farmer, it does cover your hobbyist raspberry patch. This would protect your investment.
It's also important to note that in addition to wholly new coverage categories like those mentioned above, you can also purchase riders – a type of coverage extension that increases the limits – if you have areas of special concern. For example, you might get a rider to protect the value of expensive items like jewelry or certain high-value electronics and appliances.
How Much Does Manufactured Home Insurance Cost?
Speaking generally, insurance for manufactured and other prefabricated homes tends to be cheaper than traditional stick-built home insurance because the home can be repaired and (if necessary) rebuilt at a much lower cost than that of a traditional home.
CoverTree has plans for homeowners and landlords starting as low as $25 per month. Renters can get insurance for as little as $12 monthly. Of course, the cost and level of coverage necessary for you will depend on a variety of factors such as the value of your home, where you live and the home's condition. Coverage add-ons also play a role.
The Bottom Line
Manufactured and other prefabricated homes have traditionally had fewer homeowners insurance options than traditional homes. CoverTree aims to change the game by offering a highly customizable insurance offering backed by modernized underwriting practices to support an affordable option with an entirely online purchase process.
When purchasing an insurance policy, it's important to consider your individual needs, the coverage that's required and your budget. In addition to the different features that can be added to your policy, make sure you understand the relationship between premiums and deductibles as well as your overall coverage limits.
Are you looking for insurance for your manufactured home or are you evaluating the cost of your current coverage? Get a quote online with CoverTree. You can also give the team a call at (877) 417-8733.
Calculate how much house you can afford.
Use our quick and easy Home Affordability Calculator.
Related Resources
Viewing 1 - 3 of 3