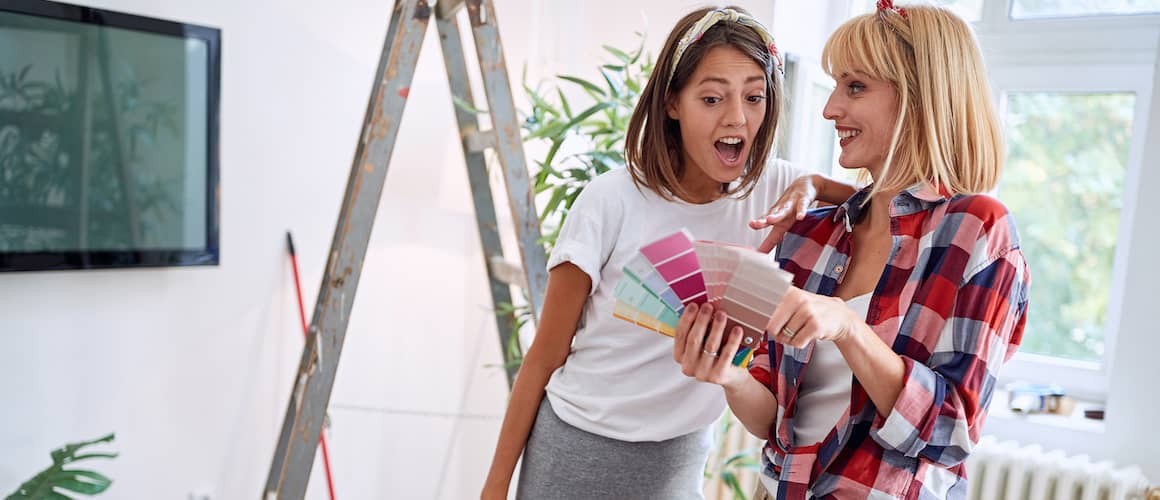 What Is A Co-Borrower? A Beginner's Guide
Kevin Graham4-minute read
January 11, 2023
Share:
Buying a home is a goal of many people – maybe even you. And maybe you even have quite a bit set aside for a down payment. However, maybe you need someone else's income or credit history to bolster your own and help you get into a home that suits your needs. Let's discuss having a co-borrower on a mortgage.
Co-Borrower Meaning
A co-borrower is a person who applies for and shares liability of a loan with another borrower. Under these circumstances, both borrowers are responsible for repayment.
Generally, they also share title in the home or other asset that the loan is for. However, this doesn't have to be the case and the loan and the title are separate. But if you're not on the title, you're assuming the obligation that comes with a mortgage without getting the use of the house.
Typically, there are three situations in which people use co-borrowers:
Buying a house together with a partner or other family member or close friend

You need someone else's income to qualify to buy the house you need or want

You have less-than-perfect credit
See What You Qualify For
Congratulations! Based on the information you have provided, you are eligible to continue your home loan process online with Rocket Mortgage.
If a sign-in page does not automatically pop up in a new tab, click here
How Can I Qualify?
When you have a co-borrower, it's important to know that you're essentially combining forces with someone to make your qualification chances stronger. Often, there is no financial problem and people just want to be on the loan together. This happens if you're getting married to someone or you invest in a property with a partner in which you both have equal ownership.
The other situation in which co-borrowers or co-signers are common is when someone has a shaky credit history. We'll get into the specifics in the next section, but depending on the type of mortgage you're getting, having a co-borrower may or may not help with a low credit score. However, having access to their income for qualification purposes can help with your debt-to-income ratio (DTI).
For lenders, DTI is a key metric of how much you can afford. It compares your gross monthly income to your monthly debt payments including minimum credit card payments, auto loans, personal loans, student loans and your mortgage.
As an example, if you make $60,000 a year and you have minimum credit card payments of $200, a $400 car payment, a $300 a month student loan and $1,200 mortgage, your DTI is 42% ($2,100/$5,000 = 0.42). To qualify for the most possible mortgage options, you generally want to have a DTI no higher than 43%.
How Does The Co-Borrower Process Work?
When you apply for a mortgage with a co-borrower, the application process is pretty much the same as if you were to apply alone. Lenders examine income, credit score and history and any assets you may have for a down payment or reserves. The only difference is that there is more than one person applying.
In addition to having a down payment and income to cover the monthly payment, one of the biggest issues for clients is to make sure they qualify based on their credit score.
When you qualify as an individual, the credit score that gets taken is the median between the three credit bureaus – Equifax®, Experian™ and TransUnion®. When you qualify together, it's the lowest median credit score of all co-borrowers on the loan that counts for most loans including those backed by Freddie Mac, the FHA and VA.
With Fannie Mae, this is where things could get a little more interesting if you have a co-borrower. Instead of taking the lowest median credit score, Fannie Mae takes the average of the median credit scores of the borrowers. Depending on your situation, for qualification purposes your qualifying score could be higher and help you qualify for a conventional loan more easily.
DTI is something that having a co-borrower definitely helps with because if you get on the loan application with someone with good income and low debt, their income and history can help you qualify for more.
Co-Borrower Vs. Co-Signer: What's The Difference?
People often think there's a distinction between a co-borrower vs. co-signer. However, there really isn't a difference between a co-signer and a co-borrower. Whatever you call it, you're both responsible for the loan. It's not as if there's one primary borrower. Whether you're on the title is a separate matter entirely and completely something to be decided between yourselves.
Pros And Cons Of Using A Co-Borrower
Being in a co-borrowing situation has its advantages and disadvantages. Let's run through them.
Pros
You may qualify for different loan options.

Particularly because Fannie Mae takes the average of the median credit scores, in certain cases, having a co-borrower may enable you to qualify for a conventional loan, which can be more advantageous in many cases than other options.
You may be able to qualify for a higher loan amount.

Because having a co-borrower can add more income to the application, this often lowers your DTI, which, in addition to your down payment, is one of the biggest determinants of how much you can afford.
Cons
It can damage a co-borrower's credit score if payments are missed.

Going into your co-borrowing situation, you should make sure that you feel confident that both of you can afford your share of the payment. You also need to be aware that if one person on the loan experiences a loss of income, the other person is on the hook.
You're in it for the long haul.

Co-borrowers are tied to payments, so if a divorce or other separation occurs, payments are still split evenly. This is often dealt with in divorce agreements by having a clause giving the person who gets the house a certain amount of time to refinance.
The Bottom Line
When you apply with a co-borrower, you're looking to do so because you can qualify for better loan terms by applying together. With one notable exception in Fannie Mae, applying with a co-borrower doesn't help you much if you have a really low credit score. But combining incomes can help lower DTI, which is an important factor when it comes to preapproval amounts.
It's also important to note that a co-borrower and a co-signer are the same thing. In either case, everyone has equal responsibility for the loan.
If you're wondering if you're on the right track, see if you're ready to buy a house. You can apply online or give us a call at (833) 326-6018.
Get approved to buy a home.
Rocket Mortgage® lets you get to house hunting sooner.
Related Resources
Viewing 1 - 3 of 3