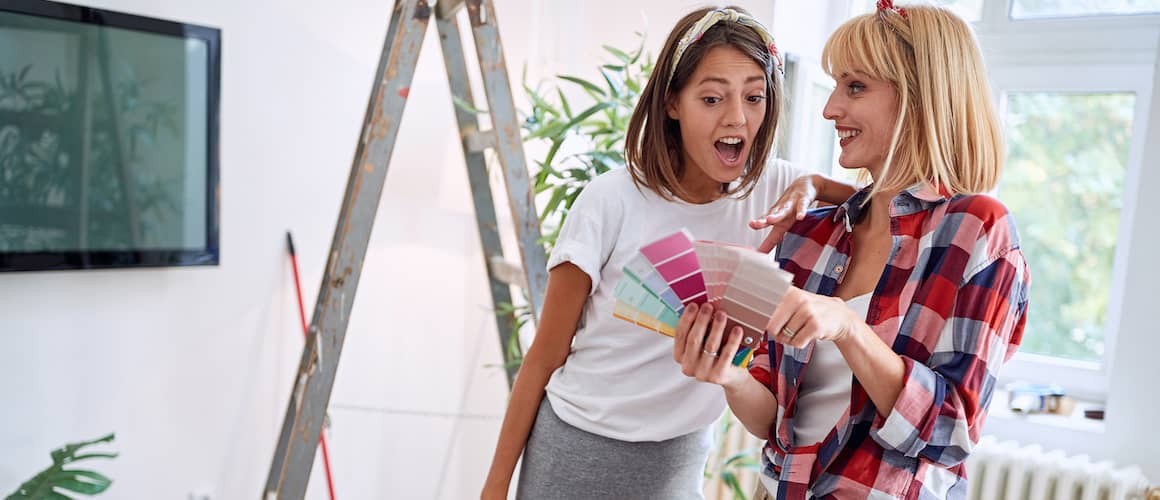 What Is A Co-Borrower? A Beginner's Guide
Kevin Graham4-minute read
October 30, 2023
Share:
Buying a home is a common goal for many people, but for some, a lower credit score or high debt-to-income ratio (DTI) may make the near-universal goal feel out of reach. If you have someone you can co-borrow with, their credit and income may help you qualify for a mortgage and achieve your dream of owning a home.
Let's discuss the advantages and disadvantages of using a co-borrower to qualify for a mortgage and purchase a home together.
Co-Borrower Meaning
A co-borrower is someone who applies for a loan with you and shares joint responsibility for repaying the loan. Both borrowers on the application are responsible for repayment.
Generally, co-borrowers share the title of the home. But this isn't always the case since the loan and the title are separate. Be aware that if you're a co-borrower and your name isn't on the title, you'll still be responsible for paying off the mortgage – but won't have the right to use the house.
See What You Qualify For
Congratulations! Based on the information you have provided, you are eligible to continue your home loan process online with Rocket Mortgage.
If a sign-in page does not automatically pop up in a new tab, click here
How Can I Qualify?
When you have a co-borrower, you essentially combine forces with someone to strengthen your chances of qualifying for a mortgage. However, using a co-borrower doesn't always mean a credit or financial issue requires fixing. Some people just want to be on a loan together. Co-borrowing is a typical course of action if you're getting married or want to invest in a property with a partner and share equal ownership.
However, prospective home buyers commonly use co-borrowers (or co-signers) when their credit history is shaky. We'll get into the specifics in the next section, but depending on the type of mortgage you want, a co-borrower's credit score may or may not help boost the credit score the lender uses for the application. However, including their income for qualification purposes can help improve your debt-to-income ratio (DTI).
For lenders, DTI is a key metric of how much home you can afford. It compares your gross monthly income to your monthly debt payments, such as minimum credit card payments, auto loans, personal loans, student loans and your mortgage.
For example, if you make $60,000 a year and make minimum credit card payments of $200, a $400 car payment, a $300 student loan payment and include a $1,200 mortgage, your DTI is 42% ($2,100 / $5,000 = 0.42). To qualify for favorable mortgage options, you generally want a DTI no higher than 43%.
How Does The Co-Borrower Process Work?
When you apply for a mortgage with a co-borrower, the application process is pretty similar to applying alone. Lenders assess borrowers' income, credit scores and credit history and review any assets they have for a down payment or cash reserves. The only difference in this scenario is that two people are applying for the same loan.
In addition to saving for a down payment and earning enough income to make their monthly mortgage payment, borrowers must also make sure they qualify for a mortgage based on their credit score.
When you qualify for a mortgage as an individual, the median credit score between the three major credit bureaus – Equifax®, Experian™ and TransUnion® – is used by your lender. When you qualify with a co-borrower, the lender will use the lowest median credit score of all co-borrowers on the loan. Lenders typically use the lowest median credit score for most mortgages, including loans backed by Freddie Mac, the Federal Housing Administration (FHA) and the Department of Veterans Affairs (VA).
But having a co-borrower can make things a little more interesting with Fannie Mae. Instead of using the lowest median credit score of all co-borrowers, Fannie Mae requires lenders to use the average of the median credit scores of both borrowers. Your qualifying score may be higher if you recruit a co-borrower with a good credit score, which can boost your chances of approval for a conventional loan.
Having a co-borrower can definitely help with DTI. If you apply for a mortgage with someone with good income and low debt, their income and credit report can help you qualify for a lower mortgage interest rate and better loan terms.
Co-Borrower Vs. Co-Signer: What's The Difference?
The main difference between a co-signer and a co-borrower is that a co-signer has no ownership of the property. They won't move into the home or use it the same way the primary borrower can. However, the primary borrower and co-signer are both responsible for the loan. If the primary borrower can't repay the loan, the co-signer will be on the hook to cover any missed payments or repay the loan.
Pros And Cons Of Using A Co-Borrower
Being in a co-borrowing situation has advantages and disadvantages. Let's run through them.
Pros
You may qualify for better loan options.

Because Fannie Mae takes the average of the median credit scores, a co-borrower may help you qualify for a conventional loan with favorable terms.

You may qualify for a higher loan amount.

Because a co-borrower adds more income to your mortgage application, this often lowers your DTI, which can increase how much home you can afford.
Cons
Missed payments can damage a co-borrower's credit score. You should feel

confident that you and your co-borrower can afford your respective share of the monthly mortgage If you or your co-borrower experiences a loss of income, the other borrower will be responsible for covering the entire monthly mortgage payment.

You're in it for the long haul.

Since you and your co-borrower typically own the title to the home and share responsibility for the mortgage repayment, a split may create legal issues. Take your time to determine whether you want to share this responsibility with your co-borrower for the loan haul.
The Bottom Line
When you apply for a mortgage with a co-borrower, you can qualify for better loan terms, and the both of you typically share the title of the home. If your lender is following Fannie Mae's guidelines, applying with a co-borrower can be helpful if your credit score is low. Combining your incomes can help lower DTI, an important factor lenders evaluate to help determine the amount you can borrow.
Take the next step on your home buying journey and apply for a mortgage today.
Get approved to buy a home.
Rocket Mortgage® lets you get to house hunting sooner.
Related Resources
Viewing 1 - 3 of 3