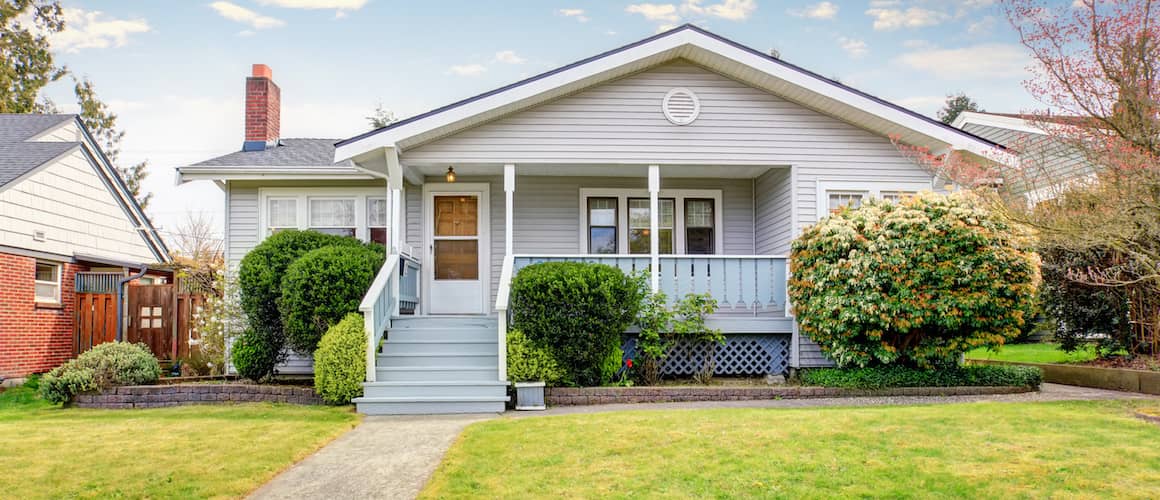 Buying A Flipped House: What You Need To Know
Hanna Kielar5-minute read
February 26, 2023
Share:
You've probably come across at least one of the many home makeover shows where real estate experts turn older homes into gorgeous, modern dwellings that make viewers absolutely drool. These shows make house flipping look easy and exciting, and the results are often jaw-dropping.
You might be wondering if there are any of these hidden gems, called "flipped houses," that meet your search criteria in your area. And if you meet the flipped house of your dreams, should you buy it? In order to answer this question, you need to know what to look for before you decide.
Get approved to buy a home.
And see how much down payment assistance you may need.
What Does Flipping Houses Mean?
House flipping is when a real estate investor buys a house with the intention to increase the value through updates and repairs before selling the home for a higher price. The results can be pretty impressive, but that doesn't mean you should pack up everything and make an offer.
Should You Buy A Flipped House?
Let's take a look at possible advantages and risks that come along with buying a flipped house that you should be aware of before calling your real estate agent.
Advantages Of Flipping Houses
One of the most obvious advantages of flipped houses is that they are newly renovated, which means you're more likely to have a modern, up-to-date home in terms of both style and appliances. Remember, even if they have a passion for design or working on fixer-uppers, real estate investors are flipping houses to make money. This means flipped houses are often competitively priced and located in an area with a good real estate market – they want these homes to sell quickly, and to be worth their investment.
Another advantage is that flipped houses are usually move-in ready. This could mean that once you move in, you won't have to worry about upgrading appliances, repainting the walls, or fixing electrical and plumbing issues. The investor has already done this all for you, and who doesn't love a shortened to-do list?
Buying a flipped house also means that the home is ready for immediate occupancy. Oftentimes sellers cannot financially swing moving into a new home before their current house sells, but since investors often don't live in the homes they're trying to flip, there is no delay in terms of waiting for the previous occupant to vacate the home.
Whether you're looking to quickly relocate for a new job offer or you're searching for a home with updated appliances and modern renovations, considering a flipped house might be for you.
Risks Of Flipping Houses
There are risks to buying a flipped house as well. Just like making any large purchase, one must do their due diligence before taking the plunge.
While the house might look all shiny and brand-new on the outside, it's important to make sure the quality of the renovations meets the standards set by the city you live in. Many house flippers are good at what they do, but it's also possible that an investor is simply covering up old issues with cosmetic fixes.
Another potential issue is compliance. There are rules and regulations around how structures can be built, and that includes additions to existing buildings. Yes, you might be getting all-new electrical and high-end appliances, but did the developer file the correct permits for the additional bathroom? If not, it's very possible you could be visited by a housing inspector who's more than willing to point out these things.
As legal owners of the new home, you'll be responsible for bringing your home up to code, adding on thousands, maybe even hundreds of thousands, of dollars to the cost of your new home.
With so much money, time and effort at stake, these hidden issues can be difficult for the average person to spot. Let's take a look at a few ways you can sharpen your awareness around what to look for when identifying a flipped house.
Make an offer that will get accepted.
Get a Verified Approval from Rocket Mortgage®.
How To Identify A Flipped House
At first glance, identifying a flipped house might seem tricky – but if you know what to look for, you can spot the tell-tale signs. First, you'll want to check the property history. You can find transaction records through your county assessor's office, but websites like Zillow and Trulia often have a property's recent sale history easily available. Did the current seller buy the house within the last year? If so, there is a good chance that house has been flipped.
Another thing you can do before inspecting the home is to look into the seller. Is it a corporation or LLC? Are there multiple properties under the seller's name? If so, the house is probably flipped.
Once you're at the property, note that there are certain areas that are more likely to be renovated than others: bathrooms and kitchens. Look for fresh fixtures and tiles and updated appliances in these areas. You may also be able to find additional information by chatting with neighbors.
See What You Qualify For
Congratulations! Based on the information you have provided, you are eligible to continue your home loan process online with Rocket Mortgage.
If a sign-in page does not automatically pop up in a new tab, click here
What To Look Out For When Viewing Flipped Homes
1. Be Skeptical
The old adages don't judge a book by its cover and beauty is only skin deep work for real estate as well! Look at the details, and don't get fooled by flashy upgrades or trendy designs. If the house seems too good to be true, it probably is. Be wary of words like custom and luxury. They are often misused, and the definition changes depending on to whom you're speaking.
2. Make A Viewing Checklist
There are a few tips and tricks for spotting shoddy workmanship on a flipped house. Make a checklist to take with you on your viewing so you don't miss anything! Pay special attention to areas where shady house flippers cut corners, like windows and doors. Ask what type of windows were put in. Were they the cheapest option?
Check to make sure the doors and door knobs are sturdy and relatively heavy. These are some of the most common areas where people skimp on the hardware to save a few extra bucks. Check all the features, asking for the water heater to be turned on and make sure the faucets work!
3. Verify The Contractor
It's important to make sure the home seller used a licensed and reputable contractor when renovating the house. If not, you could end up with a house that's not up to code, and that could cause problems ranging anywhere from having to pay for repairs yourself to accidents caused by dangerous handiwork.
A seller who has been taken advantage of by a dishonest or unskilled contractor will pass the consequences of that mistake on to the next homeowner, which could be you.
4. Review Permits
To avoid legal trouble after purchase, verify that the house has the proper documentation. If work has been done without the proper permits, that's probably because it's not up to code. Reviewing the permits could also let you know if there are any outstanding fees on the property. To get started, visit the city's website where the property is located. If these records are not kept online, try calling the building or development department to see if there is someone who can point you in the right direction.
5. Work With A Home Inspector
It's always important to find a third-party home inspector to examine elements such as the HVAC system, drywall, electrical wiring and plumbing. These inspectors will be able to easily spot signs of shortcuts and other issues that the average person might not notice. Follow steps to verify the house's structural integrity.
The Bottom Line: Do Your Research Before Purchasing A Flipped House
With careful consideration and due diligence, buyers can totally take advantage of a flipped house's benefits while avoiding the risks. It's all about being informed and finding the right property for you. To get started with the home buying process and get ready to make an offer on your dream house, start your mortgage application.
Related Resources
Viewing 1 - 3 of 3