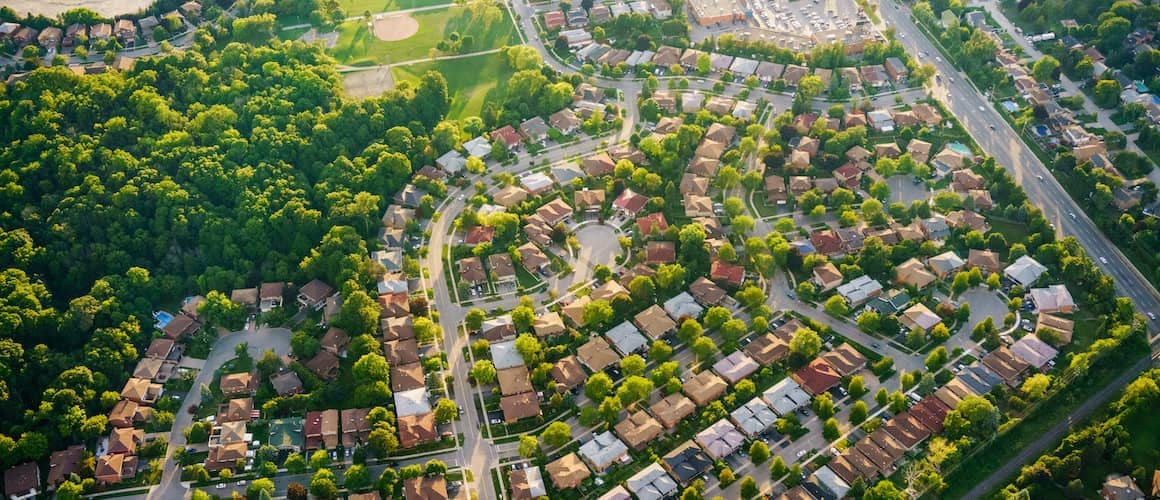 2023 Housing Market Forecasts From The Experts
Kevin Graham7-minute read
June 07, 2023
Share:
Even at the best of times, it's hard to predict the housing market and where it's headed. In the past year, historically high levels of inflation have forced the Federal Reserve to raise the benchmark for the federal funds rate rapidly, leading to higher mortgage rates. At the same time, low inventory has kept prices high.
Rapid changes in conditions make it hard for people to predict what's coming next. Nowhere is this better illustrated than in the expert forecasts we'll take a look at in this post. The crystal ball seems cloudy at best. We'll take a look at three housing market predictions and what it all means for you.
Get approved to buy a home.
Rocket Mortgage® lets you get to house hunting sooner.
2023 Housing Market Forecasts
In compiling this roundup, we looked at three major sources of data and forecasts on the housing market: the Mortgage Bankers Association (MBA) as well as the government-sponsored enterprises, and major backers of conventional loans, Fannie Mae and Freddie Mac.
We decided to focus on three specific pieces of data that have a major impact on movement within the housing market. These are housing starts, home prices and mortgage rates. Each section will have a brief overview of why it's important, where we ended up in 2022 and what the experts think we can expect in 2023.
Housing Inventory
In addition to interest rates, the other major predictor of home affordability is housing inventory. Inventory is the supply side of the supply and demand equation. For the last couple of years, demand for homes has greatly outpaced supply in many areas of the country. A lot of this was exacerbated by the pandemic.
Two things supercharged demand in the housing market in 2020: historically low mortgage rates and people realizing that their homes no longer fit their lifestyles now that they were spending a lot more time in them. This created an incredibly hot market all the way through 2021.
Low mortgage rates contributed to higher home prices, which helped significantly push up overall inflation levels to the point where the Federal Reserve began in 2021 to both raise the benchmark for the federal funds rate and start selling off mortgage bonds.
Without the Fed as the prominent buyer of financial instruments underlying mortgages, rates had to go up to attract other investors. But as we'll see in a minute, it's not like prices stopped rising right away.
Many people who refinanced over the last couple years don't want to move out of their homes if it means taking a higher rate on a new mortgage. In the latest numbers from the National Association of REALTORS® (NAR), at the end of October, the supply of existing homes on the market is just 3.3 months given the current pace of sales.
Supply is better if you look at new construction, but most people end up buying an existing home because it's generally cheaper for the same space than buying a home that's brand-new. Builders have been focusing on the higher end of the market, knowing that first-time home buyers are struggling with interest rates. Data shows most new homes cost more than $300,000.
While it would be nice to get an idea of the number of existing homes hitting the market next year, no one usually hazards a guess at that. This may be because it's so dependent on where mortgage rates go. If they fall, more homes may hit the market because people will be able to sell their home and get a new one. If rates remain elevated, there will probably be less inventory.
The problem is there's some pretty wild variation in where the experts see mortgage rates going. But we'll get there in a minute. In the absence of predictions on existing home inventory levels, we're left with housing starts. Housing starts measure the number of home builds on which ground is broken each year.
The one piece of data that Freddie Mac doesn't try to forecast is housing starts, so instead of starting with them, we'll provide some additional context. The most recently released available census data is from October, when the seasonally adjusted annual rate of starts was 1.425 million, 8.8% lower than the same time a year ago. Battling higher interest rates, homebuilders expect that number to be down even further next year, according to HousingWire.
Fannie Mae puts the housing starts number at 1.137 million, 26.4% below their final forecast for 2022. Meanwhile, the MBA sees housing starts coming in at 1.472 million, falling 6.06%.
Home Prices
Home prices have a huge impact on affordability. Unfortunately, because demand has been so high and supply so low in the crucial existing home sales market, prices have been pretty high this year. According to NAR's latest available data on prices of existing homes, the median price is $379,100.
New home sales data from Census.gov shows that the median price of a new home is $493,000. They also report the average which comes to $544,000.
We'll start with the MBA, because they report their data a little differently. They break out new and existing home sales and define prices for each. Fannie Mae and Freddie Mac don't do this. The MBA data shows the median price of an existing home in 2023 is expected to be $372,600. For a new home, they project the median as $438,400.
To gain an apples-to-apples comparison with the other two projections we'll go over, we weighted new and existing home sales by the projected proportion of total 2023 home sales predicted by the MBA. Without getting into it deeply enough to make your eyes glaze over, the vast majority of sales every year come from the existing home market.
Once the weights are applied and a comparison to projected data for the end of this year is done, the prediction for 2023 is that overall home prices fall 2.3% based on the MBA forecast. Fannie Mae has prices down 1.5% in their models. Freddie Mac predicts a 0.2% decline.
Mortgage Rates
This is where things really start to take a turn for the absolutely bonkers because there's widespread disagreement in terms of where it's anticipated that mortgage rates will be in 2023. But before we get there, let's take a look at where we've been.
The most prominent metric that everyone who's just trying to get an idea of the direction of mortgage rates looks to first is the Freddie Mac Primary Mortgage Market Survey. As of this writing, the average rate on a 30-year fixed came in at 6.33%. Freddie Mac is now basing this data on all the applications they get in. Of course, rates have risen quickly with the Fed trying to get a handle on inflation, up from 3.1% a year ago.
When they gaze in their crystal ball, the folks at Freddie Mac see mortgage rates averaging roughly 6.4% in 2023. It should be noted that this forecast was put out in October before the recent dips in rates.
Meanwhile, Fannie Mae sees rates averaging 6.8% over 2023. That forecast data was finalized in November. Finally, the MBA sees rates averaging 5.2% next year in projections also released in November. As mentioned, there are some pretty crazy swings here and not a ton of consensus.
The difference of a single percentage point with a big enough loan amount can mean tens of thousands of dollars one way or the other in costs. Don't ever let anyone convince you with any certainty that they can predict what's going to happen in the financial markets. The only thing anyone can hope for is a best guess, no matter how much data you look at.
Need extra cash for home improvement?
Use your home equity for a cash-out refinance.
What Does This Mean For Those Getting A Mortgage?
Whether you're in the market for a refinance or looking to buy a home of your own for the first time or the 12th, you might be better served by not paying attention to what anyone says and basing your decision on your goals and your financial situation.
Fannie Mae, Freddie Mac, the MBA and the National Association of Home Builders all employ at least one – and probably a staff of economists – whose job it is to track the housing market and make predictions about what's going to happen next so that membership stays informed and organizational decisions can be made.
However, as the mortgage rates section above shows, there is wide disagreement over what's going to happen.
If you read press about the mortgage business, you'd find that while rates were expected to rise when these predictions were being made at the end of 2021, no one saw rates going up quite as fast as they did because they underestimated inflation and/or the Federal Reserve's desire to get it under control.
Because no one knows what's going to happen, it's best to make decisions based on what makes sense for you both housing wise and financially. If you're ready to make a move, do so. If now isn't a good time, you can always wait a little longer. Anything could happen that might swing rates and home prices one way or another, so focus on what you can control.
Paying debt down or off and raising your credit score can enable you to qualify for more money or better terms no matter what your goal is. You can control that. If you have special psychic abilities that allow you to predict the direction of the market, would you mind sharing the lottery numbers with us? We assume you've hit the jackpot once already.
See What You Qualify For
Congratulations! Based on the information you have provided, you are eligible to continue your home loan process online with Rocket Mortgage.
If a sign-in page does not automatically pop up in a new tab, click here
The Bottom Line
If you're in the market for a home or looking to refinance, it's natural to want to know where things might be headed so you can prepare for the market. There's even some agreement around what's going to happen with housing inventory and home prices, but no one seems to agree on what's going to happen with rates in the next year.
Whether you should buy a home or refinance your mortgage, as always, comes down to your individual situation. You shouldn't waste time trying to guess which way the wind is blowing. It's better to focus on your goals and financial situation. The more qualified you are, the better your terms will be.
If you feel ready to move forward, you can apply online. You should also feel free to speak with one of our Home Loan Experts at (833) 326-6018.
Get approved to buy a home.
Rocket Mortgage® lets you get to house hunting sooner.
Related Resources
Viewing 1 - 3 of 3