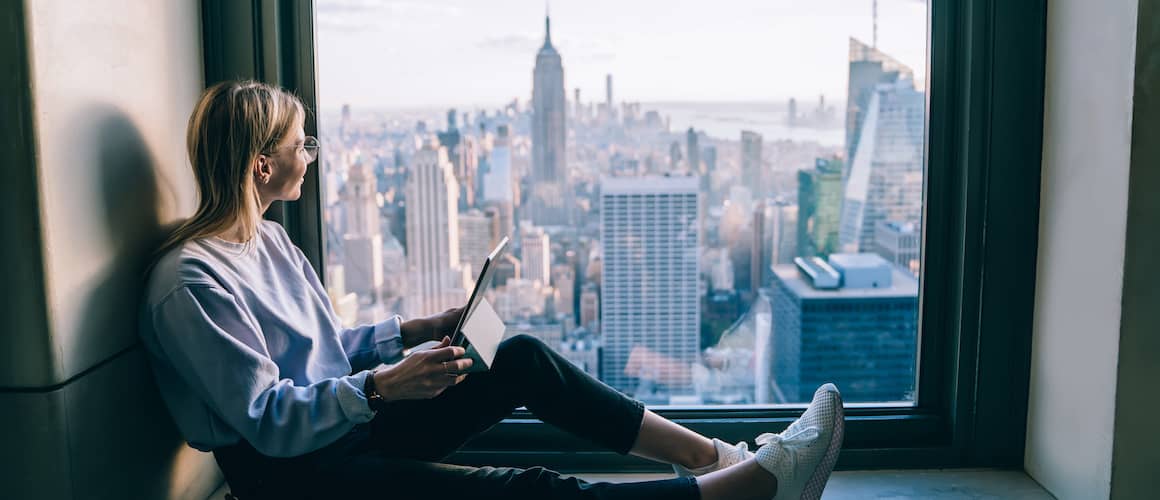 Real Estate Investing: What Is It And How Do You Get Started?
Jamie Johnson10-minute read
July 31, 2023
Share:
Real estate investing is a profitable industry, even in a market with rising interest rates. And thanks to advancements in the industry and technology, you can invest in real estate without ever owning physical property.
Real estate investments are a great way to diversify your portfolio and create a passive stream of income. But the industry is complex, so it's a good idea to understand the market before diving in.
What Is Real Estate Investing?
Real estate investing is a popular option for investors due to its potential for profit and the opportunity to create passive income. Choosing the right property and assets gives an investor the chance to generate cash flow and an income that can grow over time.
Real estate investors will enjoy a diversified portfolio and can take advantage of certain tax breaks. For example, you can deduct your mortgage interest and any necessary repairs you make to the property on your tax returns.
In general, there are two types of real estate investing you'll encounter — active and passive investments. The main difference between the two lies in whether you directly own or manage the property.
Active real estate investing is a hands-on role where you'll purchase and manage the property directly. This looks like buying a house with the goal of renting it out seasonally as a vacation home.
In comparison, passive real estate investing doesn't require as much ongoing effort. Crowdfunding, real estate investment trusts (REITs) and real estate funds are all ways to invest in real estate without acting as a landlord.
See What You Qualify For
Congratulations! Based on the information you have provided, you are eligible to continue your home loan process online with Rocket Mortgage.
If a sign-in page does not automatically pop up in a new tab, click here
How To Get Started In Real Estate Investing
If you're new to real estate investing, it can be an intimidating industry to break into. It's a good idea to take stock of where you are and find a strategy that's suited to your current level of knowledge and skills. Here are seven ways you can get started with real estate investing.
1. Make Sure You Understand The Basics Of Real Estate Investing
As an investor, you need to build up your knowledge of how real estate works before diving in. You don't have to receive a degree in real estate investing, but you should understand the basics of how the industry works.
You should have a foundation that includes real estate basics like profitability, cash flow and financing. Learning the vocabulary and key concepts will then help you when you approach bigger topics like how to make money in real estate and building a real estate portfolio.
One option is to take an educational course offered by a real estate trade group like the Institute of Real Estate Management or the National Apartment Association. Both groups offer webinars, courses and even certifications you can receive.
2. Determine Your Risk Tolerance
Every investment is different and comes with its own unique risks. As an investor, you'll have to determine your level of risk tolerance so you can decide which investments you're willing to take on.
Your risk tolerance will largely depend on your personal and financial situation. For example, if you have a family to support, a mortgage and a lot of monthly expenses, you may want to choose less-volatile investments.
If you don't know how to navigate the risk of investing, consider ways to take strategic risks. You may have to reevaluate your investment goals or revise your strategy.
However, one of the best ways to mitigate risk is by building a diversified portfolio. Trading in various assets with different risk levels will protect you if one happens to fail. In addition, building a strong portfolio lays the foundation for understanding your unique overall approach to real estate investment and portfolios of property.
3. Choose A Market
Your goals and financial situation will determine where you should focus your efforts. But there's one factor that every real estate investor will need to choose, and that's the location you want to invest in. The location plays a huge role in determining what's a good investment real estate market.
Certain areas are highly sought after on the hot real estate markets, making them competitive but promising. They're typically fast-growing locales with opportunities and entertainment available. So, you may need to research what the best places to invest in looks like to you.
To find a good location, you'll start by figuring out how much money you're able to invest and looking for properties that fit within your budget. You'll also want to look at the local economy and job market in that area to determine whether it's growing. It's also important to consider the population growth and what the renter population is like.
4. Decide How Involved You Want To Be
Next, you need to decide how hands-on you want to be with your investments. Owning rental properties usually requires more work than investing in other types of real estate.
It also comes with significant costs, like paying for property taxes and routine maintenance. And you only make money on a rental property if you have a paying tenant. You'll need to figure out the vacancy costs as well.
If you're looking for a more hands-off approach with fewer expenses, you'll probably want to look into more passive forms of real estate investing. For example, a REIT is a more passive form of real estate investing.
5. Start Searching For Properties
It's important to assess the investment risk of your current real estate portfolio. Examine the market's volatility at the time you want to begin investing. Learning when to take action based on the movement of the market is crucial for any investor.
You also need to research any investment properties you're considering investing in. If the property is in poor condition or located in an undesirable area, it becomes less valuable. You can identify the profitability and volatility of an individual property through analytic software and reporting services.
6. Figure Out Financing
Once you find the right investment property, you need to work out the financing. Financing an investment property is more challenging than buying a primary residence.
You may be able to qualify for a traditional mortgage through a bank or credit union. However, these mortgages are riskier for lenders, so you'll need to have a strong financial history and a good credit score to qualify.
You can also look into Freddie Mac's Investment Property program which helps borrowers find financing for investment properties and is available for one-to-four-unit properties.
When looking for financing, you may have to seek out opportunities specifically geared towards your needs. Here are some other options you can consider:
Real estate crowdfunding: Crowdfunding involves asking the public to help fund the venture. You'll ask other investors to help you fund your real estate investment and share the risk with them.

Holding multiple mortgages: You may be able to take out more than one mortgage to help finance your real estate investments. However, this can be a risky strategy and some banks aren't willing to let you hold multiple mortgages at once.

Loans for flipping houses: You may be able to obtain a loan from a private lender to specifically fund house-flipping ventures. A hard money loan, home equity loans or cash-out refinance may be a better way to fund house flipping ventures than a traditional mortgage.

Opportunity zones:

Opportunity zones involve investing in a disadvantaged community, which provides tax benefits under the Tax Cuts and Jobs Act of 2017. This is a good option for anyone looking to improve economically disadvantaged areas.
7. Monitor Your Performance
Once you begin investing in real estate, it's important to monitor your performance and evaluate your gains and losses. There are a number of different ratios and calculations you can use to help you understand your progress.
Some work better for certain properties, like residential versus commercial, so it's important to do your homework before using one. Examples of metrics you may need include net operating income (NOI), internal rate of return (IRR) and operating expense ratio (OER).
Get approved to buy an investment property.
Rocket Mortgage® lets you get started, sooner.
The Most Popular Types Of Real Estate Investments
You have a lot of options to choose from when it comes to investing in real estate. Some of these options involve buying and fixing up a physical property, while others use a more indirect approach.
Each real estate investing strategy is designed for different types of investors, so it's important to do your research first. Here are the most popular types of real estate investment strategies.
Real Estate Investment Trusts
REITs are companies that make a profit on real estate. They may own and even operate income-producing properties, from residential buildings to hospitals.
REITs are a more liquid type of investment when compared to other real estate opportunities. There are also different types for an investor to choose from, such as mortgage REITs and residential REITs.
Rental Properties
Rental properties are physical properties that you purchase with the intent to earn an income by renting them out to tenants. You can invest in a rental property on your own or purchase a property with other investors.
Rental properties can be financially rewarding and come with numerous tax benefits. For example, you'll be able to deduct any expenses, depreciation and necessary improvements on your tax returns. You can also deduct your mortgage insurance and any wear-and-tear on the property.
There are many different ways for an investor to make a profit off of real property. Some of the most popular methods include flipping houses, rental properties, Airbnb investing, micro-flipping and build-to-rent homes.
Commercial Real Estate
Investing in commercial real estate, like offices, hotels or retail stores, can be a lucrative form of real estate investing. Commercial real estate investments took a hit during the pandemic, but the market continues to recover.
Commercial real estate typically comes with longer leasing terms which means you'll have a more consistent stream of cash flow. And you'll deal with less competition from other investors due to the perceived difficulty over getting started.
Crowdfunded Real Estate Investment Platforms
Crowdfunded real estate investment platforms are becoming an increasingly popular real estate investing strategy. When you set up a crowdfunding campaign, you ask the public to contribute money to fund a new venture.
On real estate crowdfunding platforms, investors are invited to contribute capital to back current or prospective real estate investments. You can find opportunities in residential and commercial real estate and the startup costs tend to be low.
Plus, real estate crowdfunding gives you access to investment opportunities you might not find otherwise. These types of investments are riskier than REITs, but the potential rewards are higher.
Mortgage Bonds
Mortgage bonds are created when lenders pool mortgages to sell them off to real estate investors. Assets secure these bonds, primarily in the form of real estate, though they may include other real assets as well.
Since there are properties backing the bond, your investment is protected. For example, if you default on your mortgage, the investor that owns your mortgage can sell the real estate as collateral. This ensures the bondholder that the principal gets paid and they won't lose money on their investment.
Mortgage-Backed Securities (MBS)
Mortgage-backed securities (MBS) are an excellent way to diversify your portfolio. Like REITs, an MBS comprises multiple mortgages that the loan issuers bundled together and then sold to traders on the bond market. It's an indirect way to invest in the mortgage business since the investor does not need to buy or sell the loans directly.
Tax Lien Investing
Tax lien investing works indirectly. Traders purchase tax lien certificates, which the local government creates when the owner of the property fails to pay their property taxes.
Buyers then purchase these certificates through an auction. The original owner can pay the tax lien investor back, but the investor can claim it if the home goes into foreclosure.
Should You Invest In Real Estate?
Real estate investing can be a lucrative endeavor, but it does come with its share of risks. Deciding whether to invest in real estate is a personal choice you'll have to make based on your current financial situation, goals, risk tolerance and market conditions.
Here are some things you should consider before investing in real estate:
Potential returns:

Real estate comes with the potential for long-term appreciation, rental income and cash flow. Historically, real estate has been a solid investment option leading to regular income and potential capital gains.

Diversification:

If your investment portfolio largely consists of traditional stocks and bonds, investing in real estate is a good way to diversify and reduce your overall risk. Real estate investments don't always correlate with other asset classes, so its performance doesn't always align with the stock market.

Expenses:

Real estate investments often require significant capital and ongoing expenses for property maintenance and property management costs. If you're looking for ways to reduce costs, you may want to consider investing in a REIT.

Low liquidity:

Real estate is less liquid than other investments since it takes time to sell a property and convert it to cash. Again, you can consider REITs if you want a more liquid real estate investment strategy.

Market conditions:

You'll want to consider market performance before investing in real estate. Things like supply and demand, population growth, job opportunities and infrastructure development all impact property values and rental demand. It's important to do market research so you can make an informed decision about your investments.

Time commitment:

You also need to consider how much time you're willing to devote to this endeavor. Taking care of a property and managing tenants can take a lot of time so you want to make sure you're prepared for this commitment. If you're looking for passive real estate investments, you can consider REITs or crowdfunding platforms.

Financing:

You should also consider whether you're able to access the financing you need and how much it's going to cost you. For example, the interest rate you receive on a loan will affect the profitability of your investment.
If you're not sure whether investing in real estate is the right choice for you, you might consult with a financial advisor or real estate professional. These individuals can provide valuable insights and help you make the best decision for your situation.
The Bottom Line
Becoming a real estate investor may feel far-fetched, but all it really takes is some research and a strong investment strategy. You can review your position and goals with a financial professional beforehand to get a second opinion on whether it's the right move.
Because investing begins with a plan before it starts with money, consider your next step toward buying an investment property. If you're interested in taking out a traditional mortgage, you can apply for a mortgage with Rocket Mortgage®.
Is a traditional investment strategy a better option for you?
Apply for a mortgage online with Rocket Mortgage®.
Related Resources
Viewing 1 - 3 of 3