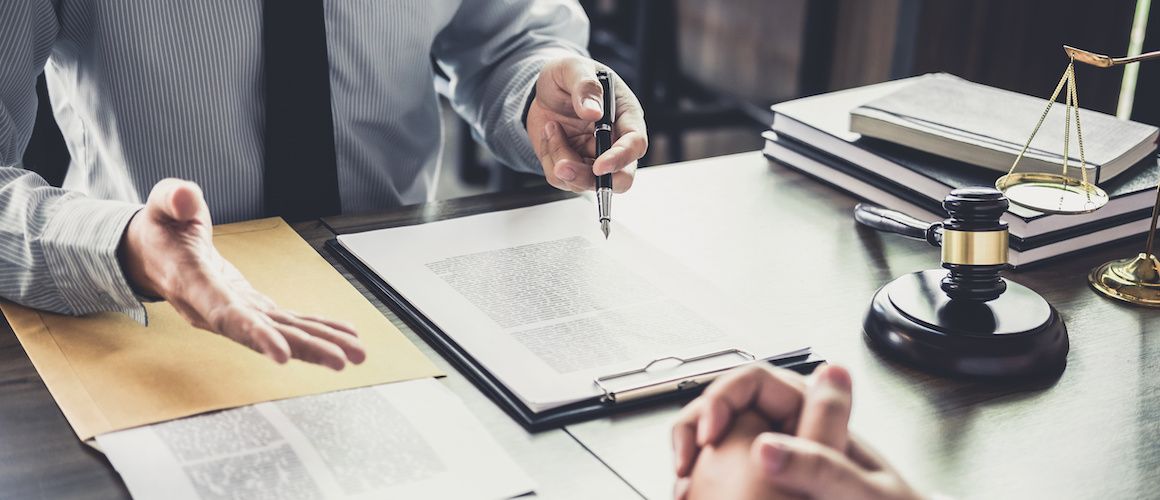 Real Estate Attorney: What They Do And If You Need One
Hanna Kielar6-minute read
April 14, 2023
Share:
Buying a home isn't just a simple purchase; it's also a legal transfer of property from one entity to another. Because the legal side of this transaction can be so complex, sometimes it makes sense (or is even required) for home buyers or sellers to enlist an attorney who can look out for their best interests.
While you'll likely already be dealing with myriad costs as you work to close on your house, and probably aren't keen to add another, having a lawyer on your side can be an expense that ends up paying for itself.
What Is A Real Estate Attorney?
A real estate attorney, also known as a real estate lawyer, is someone who is licensed to practice real estate law, meaning they have the knowledge and experience to advise parties involved in a real estate transaction, such as a home sale or short sale.
See What You Qualify For
Congratulations! Based on the information you have provided, you are eligible to continue your home loan process online with Rocket Mortgage.
If a sign-in page does not automatically pop up in a new tab, click here
What Does A Real Estate Attorney Do?
Real estate attorneys know how to, and are legally authorized to, prepare and review documents and contracts related to the sale and purchase of a home. In some cases, a real estate attorney is also the person who'll be in charge of your closing.
In a home purchase transaction, both the buyer and seller can hire an attorney to represent their interests during the process. Or, in the case where an attorney is overseeing a closing where the home is being purchased with a mortgage loan, the attorney may actually represent the mortgage lender or title company.
Get approved to see what you can afford.
Rocket Mortgage® lets you do it all online.
When Do I Need A Real Estate Attorney?
Depending on your locality, state laws and the exact nature of the transaction, you may need to enlist the services of a real estate attorney (and have the cost included in your closing costs).
If you end up needing an attorney, whether you've decided you want one or your state or lender requires it, there are a few different points during the home buying process where they can come in and provide assistance. This can include drafting and finalizing purchase contracts, writing amendments to a standard contract utilized by your real estate agent, completing a title search or conducting the closing.
Here are a few reasons you might need or want an attorney to be part of your home buying team.
State Or Lender Requirement
Every state has slightly different laws regarding real estate transactions, and some states consider certain actions that are part of the process to be "practicing law." These regulations are often meant to prevent real estate agents from acting in a legal capacity that they aren't trained or licensed for.
For example, in many areas only a licensed attorney can put together legal documents related to the sale of a home, because they consider that to be within the realm of the practice of law. (However, in some areas, real estate agents now use standardized form contracts for home purchases that non-lawyers can legally fill out on their own.)
Certain states may also consider performing a home closing to be a practice of law, and as such, an attorney may be required to be present during closing. If you're getting a mortgage with Rocket Mortgage®, we require you to have an attorney conduct your closing if the subject property is located in any of the following states:
Connecticut

Delaware

Georgia

Massachusetts

New York

North Carolina

South Carolina

West Virginia
Contractual Issues With The Purchase
If your home purchase involves any out-of-the-ordinary elements that could lead to legal issues down the line or complicate your purchase contract, a good real estate attorney can make sure that all your contracts take into account the complexity of your situation as well as help you out if contractual issues arise during the process.
Peace of Mind
If you just have a feeling that something could go wrong, you're not too sure on all the legal considerations when buying a home or you want to be sure all your bases are covered, having a real estate lawyer on your side can be very beneficial. With a good legal professional comes the confidence that even if the transaction does go awry, you have someone who is looking out for your best interests and who can help you work through a tricky situation.
How Much Does A Real Estate Attorney Cost?
How much you'll spend paying your real estate attorney (or attorneys) will depend on what services they've provided for you and who is responsible for that particular closing cost. If your mortgage lender requires an attorney to be present at closing, whether the buyer or seller covers the cost of the closing attorney will depend on how your real estate contract has been negotiated.
If you want your own attorney in addition to the one required by your lender, you'll also pay for any services they provide you. Real estate attorney charges will vary, but here are some basic ranges to give you an idea of what you'll spend:
Fixed hourly rate: A real estate attorney who charges an hourly rate may charge $150 – $350 per hour, but this can vary a lot depending on how experienced the attorney is and what area you're in.

Fixed rates for specific services:

They may also charge a flat fee for the particular services they provide. For example, a real estate attorney might charge $500 – $1,500 to conduct a home closing. Their fees may also depend on the sale price of the property in question.
How Can I Find A Real Estate Attorney Near Me?
Since buying a home is such a large, important purchase, you want to make sure that the professionals you work with know what they're talking about and are good at what they do. If you aren't sure where to look to find a reputable real estate attorney, here are some places to start:
Ask for recommendations from friends and family:

If someone in your social circle recently purchased or sold a home and had an attorney, you might consider asking them who they used and what their experience was like.

Utilize your state's bar association directory: Your state bar association's website can help you locate lawyers in your area who practice real estate law. Use the American Bar Association's directory to help you find your state's website.

Use an online legal review site:

There are many online review websites that will give you information on attorneys in your area, including their specialties, fee structures and any reviews left by former clients.
Real Estate Attorney FAQs
Still not sure what hiring an attorney for real estate can do for you? Here are a few frequently asked questions to consider.
Who does a real estate attorney represent?
When a person is ready to buy or sell real property, a real estate attorney can represent the buyer or the seller but not both. Representing both is not allowed because it could lead to a conflict of interest. In instances where the law requires it, a real estate attorney may also represent the lender and/or title company as a closing agent.
A real estate attorney should advocate for their client, but it's impossible to give them the best deal if they represent both because their interests are different. However, the buyer and seller are allowed to hire separate attorneys from the same law firm.
What does a real estate attorney do for the buyer and seller?
Hiring a real estate attorney is critical in ensuring that the legal transfer of property goes smoothly. Whether you're the buyer or seller will determine an attorney's primary objectives and purpose.
For a buyer, a real estate attorney will ensure that the offer made is valid, whereas a real estate attorney for a seller will help negotiate the terms of the sale. They protect the rights of the buyer or the seller by examining and evaluating the documents, explaining the terms of the mortgage and providing legal advice if necessary.
The Bottom Line
Though buying a home can be kind of confusing and intimidating, it's important to educate yourself about the various aspects of the process. If you're not sure what the legal implications of your home purchase are, having a real estate lawyer in your corner can help.
Ready to start on your mortgage? Get approved now! You can also give one of our Home Loan Experts a call at (833) 326-6018.
Get approved to buy a home.
Rocket Mortgage® lets you get to house hunting sooner.
Related Resources
Viewing 1 - 3 of 3