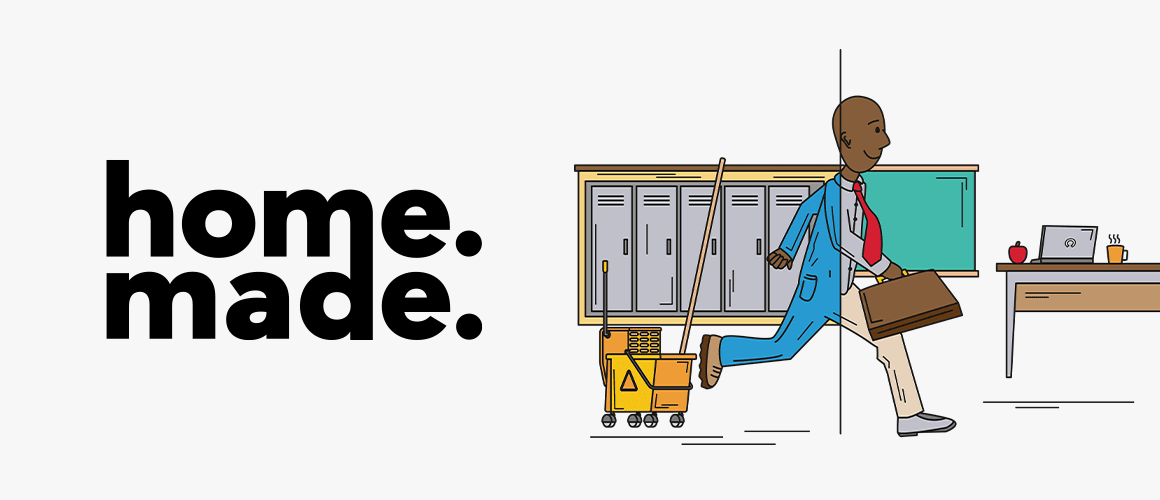 The Principal
May 10, 2023
Share:
When Michael Atkins's daughter was born, he had to scramble to find a job. He wanted to be a teacher's aide, so he started applying to schools. But Michael didn't have the experience for the positions he wanted. Instead, he was offered a job as a part-time custodian.
Nineteen-year-old Michael didn't want to be a janitor, but he had made a vow to his baby daughter.
"Part of that vow was to be a strong presence in her life, and she would not grow up fatherless, whether that meant being there for her emotionally, being there for her physically," Michael says in this episode. "I would be something for her that I never had."
So he swallowed his pride and took the custodian job. And that's where he met Daniel.
Daniel was, according to his teachers, "dangerous." But Michael didn't see it that way. He helped Daniel, listened to him and gave him advice on how to navigate the things he struggled with. His performance started improving. Michael, it turned out, had a knack for helping kids like Daniel.
"I knew there were other Daniels that needed me," Michael says.
Eventually, Michael scored the job he wanted: teacher's assistant. He worked with kids who were struggling with reading and writing. But he didn't stop there: he went to college and got certified to teach. In 2006, he started with the second grade.
To Michael, it was important to be there for his students in any way he could. Parents called him for advice and had him over for dinner. He attended football games and recitals.
"I would go knock on doors and get students out of bed and bring them to school," he says.
Michael went back to school and earned a master's in both linguistic diverse education and leadership, which allowed him to take on his next challenge: principal at the elementary school in the neighborhood where he grew up.
Michael posing outside of Stedman Elementary, where he's the principal.
Michael finally had a chance to serve the youth in his community in a way he'd only ever dreamed of. Michael gave everything to his students – he worked late and slept with his phone so he'd always be available to his school and his students. But that lack of boundaries also meant that he was neglecting the vow he'd made to his firstborn daughter and his two younger daughters. His wife, Lauren, was tired of taking on all the work at home on her own.
"I feel like a single mom," she told him.
Michael and his wife, Lauren.
Michael was being forced to choose between his commitment to his students and the vow he made to his own kids.
To hear how Michael learned to balance these two worlds, listen to "The Principal" now.
Learn More
Our Host
Learn more about the host of Home. Made., award winning journalist Stephanie Foo on our host page.
New To Podcasting?
Not sure how to listen to Home. Made. on a podcast player? No problem. Check out our page on how to listen to Home. Made. to learn how to find every episode the moment it goes live.
Apple Podcasts and the Apple logo are trademarks of Apple Inc., registered in the U.S. and other countries.
Spotify and the Spotify logo are registered trademarks of Spotify AB.
Google Podcasts and the Google Podcasts logo are trademarks of Google LLC.
Episode Transcript
STEPHANIE FOO: Michael Atkins needed a job, fast. He was 19, just graduated high school, and wasn't sure what he wanted to do with his life. And his girlfriend had just given birth. Michael was suddenly a dad.
MICHAEL ATKINS: I was paralyzed by this fact that..I don't know how to be a father. I didn't have a father myself.
STEPHANIE FOO: Still, Michael made a vow to his baby daughter. That she would grow up in a safe and loving home with two parents. Not just a single mom, like he had.
MICHAEL ATKINS: Part of that vow was to be a strong presence in her life and she would not grow up fatherless..whether that meant being there for her emotionally, being there for her physically. I would be something for her that I never had.
STEPHANIE FOO: One day, he saw a posting for a teacher's aide at a school in Park Hill, Denver. He thought, this was the perfect job. He could support his family, and give back to the kids in his community, too. But the principal told Michael he was too young, he didn't have the training. So he went to another school. A secretary there told MIchael she had a job for him. He got excited. And then she said "we need a part time custodian."
MICHAEL ATKINS: I walked away angry from that moment…and I had no desire, initially, to take that position at all.
STEPHANIE FOO: But his older brother, Skeeter, reminded him that he had to step up and take care of his daughter, now. This was about more than just his pride. So he went back the next day and applied. And he made a second vow. To keep finding a way to help out the kids in his neighborhood. The ones who were growing up like he had; with a lack of guidance. What he didn't know was that one day, he would have to choose between that vow and the one he had made to his family.
STEPHANIE FOO: This is Home. Made. An original podcast by Rocket Mortgage about the meaning of homes, and what we can learn about ourselves in them. I'm Stephanie Foo.
STEPHANIE FOO: School wasn't always Michael's strong suit. When he was a kid, he was bussed into a mostly-white school district, where he felt like his teachers didn't get him. He remembers a teacher whispering "here come the bus kids" when he arrived at school. Teachers also corrected his speech. They didn't like the way he grew up talking in Park Hill. Even the Black teachers told him to stop.
MICHAEL ATKINS: I distinctly remember, um, you know, telling one of my teachers, what's up? And it's, no, it's hello, Mr. King here, right? And not me meaning any disrespect or harm, right? It's just the way that we connect in the community where I was from. I didn't feel seen. I didn't feel loved. And I really pushed back on this idea of me just falling into spaces of compliance. I got into a lot of trouble in middle school. I got into a lot of fights, and failing grades by the time I was in seventh and eighth grade.
Related Resources
Viewing 1 - 3 of 3