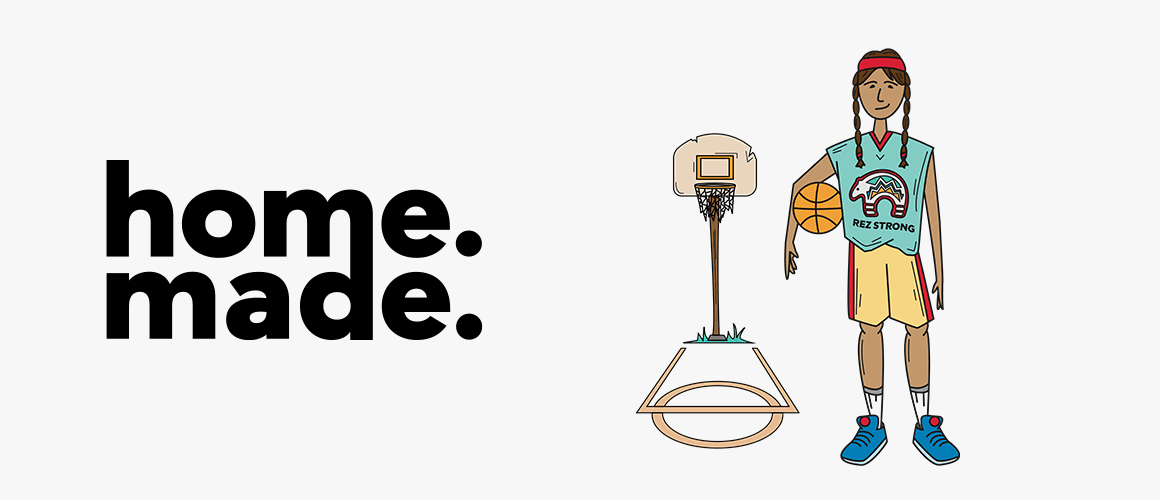 Rez Ball
May 03, 2023
Share:
On the Navajo Nation, basketball is a big deal. So when Quiana Dishface had the opportunity to join her elementary school's league, she scrounged together the $50 she needed for the jersey and enrollment fee.
"Once I picked up a basketball and once I realized that it's something that I want to do, it felt like my new safe zone, my new place, my new home," Quiana says in this episode.
The type of basketball Quiana played isn't the traditional style that many of us are familiar with. This version of the game is called rez ball.
"Rez ball is run-and-gun, flashy basketball. You have to be sneaky, you have to be fast," Quiana says.
Quiana Dishface at basketball practice.
Quiana, it turned out, was really good at rez ball, and quickly became a role model in her community. Everyone would come to games to cheer on her and her team. But as she got older, she realized that if she wanted to continue to pursue basketball and play in college, she'd need to take her talents off the reservation – which meant going to a high school 40 miles away.
Adapting to her new school wasn't easy. Quiana faced racism on and off the court. Kids treated her differently and wouldn't sit near her or talk to her. When her coaches subbed her in for a white teammate, the teammate's parents complained.
"Her parents were furious, they were like, 'How come you're subbing in a girl of color for my daughter?'" Quiana recalls.
Her coach defended her, saying that Quiana was one of the best players there, and that she wasn't going to teach the girls on the team to be prejudiced toward somebody because of the color of their skin. But even with her coach's support, it was still hard.
At this school, they didn't play rez ball. Quiana had to adapt to a new style of play, one that was slower than what she was used to. She found the slower pace frustrating, boring. And she continued to struggle with the racist attitudes of her classmates and their parents.
But things started to change after Quiana's coach called on her to tap into her rez ball skills to help their team win a game. They were near the end of the game and the team was down by just one point.
So her coach said, "Give the ball to Q."
Thanks to her skills on the court and her magnanimity off the court, Quiana started to notice the attitudes shifting at school and in the community. To hear her full story, listen to "Rez Ball" now.
Quiana Dishface in her Rams uniform, the team she plays for at her college.
Learn More
Our Host
Learn more about the host of Home. Made., award winning journalist Stephanie Foo on our host page.
New To Podcasting?
Not sure how to listen to Home. Made. on a podcast player? No problem. Check out our page on how to listen to Home. Made. to learn how to find every episode the moment it goes live.
Apple Podcasts and the Apple logo are trademarks of Apple Inc., registered in the U.S. and other countries.
Spotify and the Spotify logo are registered trademarks of Spotify AB.
Google Podcasts and the Google Podcasts logo are trademarks of Google LLC.
Episode Transcript
STEPHANIE FOO: A few years ago, in Monroe, Utah, the San Juan Broncos, a high school basketball team, came to town to play the South Sevier Rams. In Utah, basketball is hugely popular. Even high school girls basketball, so the stands were full. The Broncos trailed by one, late in the game. The gym was rocking so coach called a timeout. She pointed at a sweaty, panting Quiana Dishface and said, "Give the ball to Q. And Q, play like you do back home." Quiana was confused. Back home was the nearby Navajo Nation where they play a very different style of basketball. A style her coach had actually forced her to unlearn to fit in. Quiana already stood out like a sore thumb on her team. She had arrived at San Juan High just a few months before, and from her very first game, she felt like she didn't belong. It started when her coach subbed her in for a white teammate.
QUIANA DISHFACE: Her parents were furious, they were like, "How come you're subbing in a girl of color for my daughter?"
STEPHANIE FOO: What? They said that?
QUIANA DISHFACE: Yeah.
STEPHANIE FOO: Quiana's parents had warned her this might happen.
QUIANA DISHFACE: I didn't really get it until I went to school off the reservation.
STEPHANIE FOO: And now coach wanted her to stand out again by playing something called rez ball. An intense kind of basketball you usually only see on the reservation. Quiana took a breath, caught the inbound ball, and dribbled fast up the court.
STEPHANIE FOO: This is Home. Made., an original podcast by Rocket Mortgage® about the meaning of homes, and what we can learn about ourselves in them. I'm Stephanie Foo.
STEPHANIE FOO: The Navajo Nation is the largest Native American territory in the U.S. It extends across parts of Arizona, New Mexico and Utah, and is home to 318 reservations. Quiana Dishface grew up in Montezuma Creek in the southeastern corner of Utah near the Arizona border. A town of just 800 people. Right near the San Juan river.
QUIANA DISHFACE: You see sage brush, you see tumbleweeds, you might even see a coyote, an eagle. We're the guests there. The animals are there and that's their home, and we're just welcomed in it.
Related Resources
Viewing 1 - 3 of 3