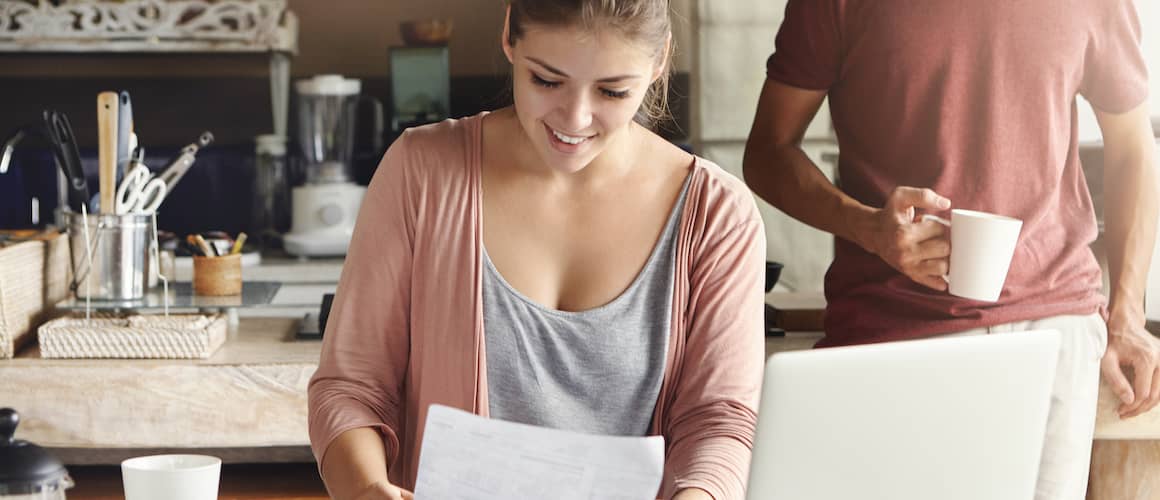 Should I Pay Off Debt Or Save For A House?
Lauren Nowacki6-minute read
April 20, 2023
Share:
When it comes to financial goals, it can be hard to prioritize when you have more than one. Such is the case when it comes to wanting to pay off debt and also save for a down payment on a home.
While it's possible to do both at once, it may be more advantageous to prioritize one over the other. Of course, this depends on your own situation, the type of debt you have and what trends in the target housing market are indicating.
Struggling to decide if it's better to pay off debt or start saving for a down payment? While only you can make the best decision for your situation, this article will help you understand the what to consider when evaluating your options.
Paying Off Debt Vs. Saving For A House: What To Consider
When deciding if you should pay off debt or save for a house, there's clearly a lot to consider. Here are some key factors to consider to make sure you're making an educated decision to best reach your personal and financial goals.
Interest Rates
Interest rate for any debt owed is crucial to consider because the higher the interest rate, the more money you'll pay on your debt. To find the rates on your debts and to see how much you're paying on interest alone, review your term agreements and statements or talk with your lender. The average rates for some of the most common debts are below. However, it's important to remember that interest rates may vary per borrower, lender and loan type.
Car loans: 5% – 6%



Student loans: 4% – 6%



Credit cards: close to 16%



Personal loans:

9% – 10%
If you have high-interest debt, you may want to consider paying that down before saving. Any interest, but especially high interest, prolongs your ability to pay down your debt and wastes money you could be saving. That's because the money you pay on interest doesn't help pay down your debt, it goes to the lender instead.
Buying a house with student loan debt or other lower-interest debts can be a reasonable decision. However, high-interest debt can be limiting when it comes to how much home you can afford.
Your Credit Score
Consider the amount of debt you have relative to the amount of credit you have available. This is called credit utilization, and too much of it can negatively impact your credit score. Your credit utilization makes up 30% of your credit score. To keep your utilization from negatively impacting your score, it's recommended you keep it below 30%. If your debt is causing you to have a low credit score, you may want to focus on paying down your debt to help increase your credit score.
You don't want to apply for a purchase loan with a low credit score, or refinance with bad credit. Most loans will have a minimum credit score requirement. If your score is below that number, you will not qualify for the loan. Even if you do have a score that's over the requirement, but still low, you may have tougher loan terms and higher rates because you're a riskier borrower than someone with a high credit score.
If you have a low credit score due to your debt, you may want to prioritize paying down your debt before saving for a home.
See What You Qualify For
Congratulations! Based on the information you have provided, you are eligible to continue your home loan process online with Rocket Mortgage.
If a sign-in page does not automatically pop up in a new tab, click here
Your Debt-To-Income Ratio
Your debt-to-income ratio (DTI) is also a factor in determining your mortgage eligibility. It's the percentage of your gross monthly income that must be used to pay your debt. Your lender wants to make sure you'll be able to afford your monthly mortgage payment. If your DTI is too high, you may not be able to make the payment.
That's why lenders have a max DTI of up to 50%. If your DTI is higher than that, you won't qualify for the loan. If it's under the maximum, but close to it, you may be viewed as a riskier borrower. If you have a high DTI or feel that your bills are hard to manage already, you may want to prioritize paying down your debt.
Trends In Housing Prices
Whether you decide to pay off debt or save for a home first could depend on timing. When deciding on your purchase timeline, pay attention to what's going on in the economy, the real estate industry and the local market. How are these numbers driving trends and predictions?
If mortgage rates are low, it could be a good time to purchase a home with lower rates. However, lower rates may prompt a seller's market, which may cause home prices and competition to increase. When it's a buyer's market, home prices may be lower and you could get more bang for your buck.
If trends are telling you to purchase right away, you may want to save up for a home. If you're going to hold off for a while and are worried about rates, you may want to work on paying off debts as things like credit score and DTI could influence your mortgage rate and terms.
Suggest looking deeply into these numbers to see what is driving trends and mention that it may be a good idea to connect with a real estate agent who's an expert in your area.
Whether You Want To Pay PMI
If you get a conventional loan and put down less than 20% of the home's value, you'll be required to have private mortgage insurance (PMI), which will be added to your monthly payment. If you get a Federal Housing Administration (FHA) loan, you'll be required to pay mortgage insurance no matter what you put down. However, if you put down 10% or more, it will stay on the loan for 11 years. If you put down less, it will stay on for the life of the loan.
If you want to save for a down payment to avoid mortgage insurance, that could be one reason to choose saving for a home. However, do keep in mind that you can remove the insurance by eventually refinancing to different terms or refinancing into a different loan.
Whether You Have An Emergency Fund
Most financial experts recommend maintaining an emergency fund, whether you're paying off debt or saving for a house. An emergency fund is money that's easily accessed and saved for unexpected, emergency expenses. It can help prevent you from going into further debt while you pay yours off and will prevent you from dipping into your savings.
When it comes to financial goals, many professionals recommend building an emergency fund first, if you don't have one already. Some say you should start with $1,000 and others recommend 3 – 6 months' worth of necessary expenses, like rent, utilities, food, and water. However, the best option is one you're comfortable with. One way to determine this is by looking at your insurance deductibles. You'll want to save at least enough money to cover those.
Keep in mind that you'll want to keep an emergency fund at all times, even after you reach your other financial goals. With maintenance, repairs and other costs that come with owning a house, you'll want to keep one after purchasing the home, too.
When To Prioritize Paying Off Debt
For some, it may make more sense to pay off debt before saving for a down payment, especially considering the ways in which having debt can impact your mortgage application You may want to prioritize paying off debt if you:
Have a significant amount of consumer debt


Are paying high interest rates on your debt


Are struggling financially because of your debt


Have a low credit score or high DTI ratio
When To Prioritize Saving For A Down Payment
If you're hoping to buy a house sooner than later, you may be considering doing so before all of your debts are paid off. This could be the right decision for you if you:
Are concerned about trends in the housing market and want to lock in a lower interest rate before they rise


Have room in your budget to take on mortgage payments


Already have an emergency fund established


Have a good credit score and low DTI ratio


Want to put down 20% or more to avoid PMI
The Bottom Line
While we've given you a list of things to consider and made recommendations, it's ultimately your call. Everyone's situation is different and every person has different comfort levels when it comes to their finances.
When it comes to big financial decisions, it's a good idea to take your time. If you feel like you're ready to begin the process of buying a home, start your mortgage application online.
Get approved to buy a home.
And see how much down payment assistance you may need.
Related Resources
Viewing 1 - 3 of 3