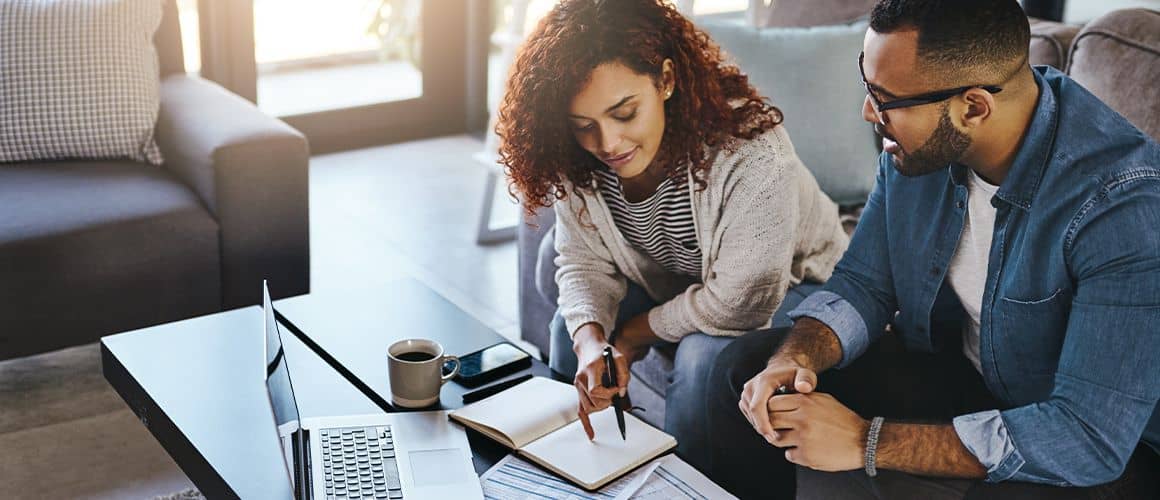 What Are Mortgage Bonds And How Do They Work?
Jamie Johnson5-minute read
February 18, 2023
Share:
It may surprise you to learn that the homebuying process is not over after you close on a mortgage. There's nothing left for you to do, but in all likelihood, your lender will immediately sell that mortgage in a pool of other mortgages.
This is what's known as a mortgage bond, and it's a type of mortgage-backed security (MBS). Mortgage bonds protect lenders and make it possible for borrowers to invest in real estate at an affordable price point. This article will explain what a mortgage bond is and how it affects the real estate market.
Key Takeaways:
A mortgage bond is a type of bond backed by mortgages, such as real estate.
Mortgage bonds provide liquidity to lenders, while borrowers can borrow larger amounts of money at a lower cost.
Mortgage bonds are safer than corporate bonds, but usually have a lower rate of return.
Mortgage Bond Definition
Lenders sell a mortgage bond to real estate investors, who receive interest payments on mortgage loans until they are paid off. An investor has a claim on the assets put up as collateral, such as a house, and can repossess them in the event of a default.
Since a group of assets secures mortgage-backed bonds, this offers some protection to the bondholder. If a borrower defaults on their mortgage, the bondholder can sell the collateral to ensure the principal gets paid.
See What You Qualify For
Congratulations! Based on the information you have provided, you are eligible to continue your home loan process online with Rocket Mortgage.
If a sign-in page does not automatically pop up in a new tab, click here
How Do Mortgage Bonds Work?
Before diving into different types of mortgage bonds and their benefits, it's important to understand how they work.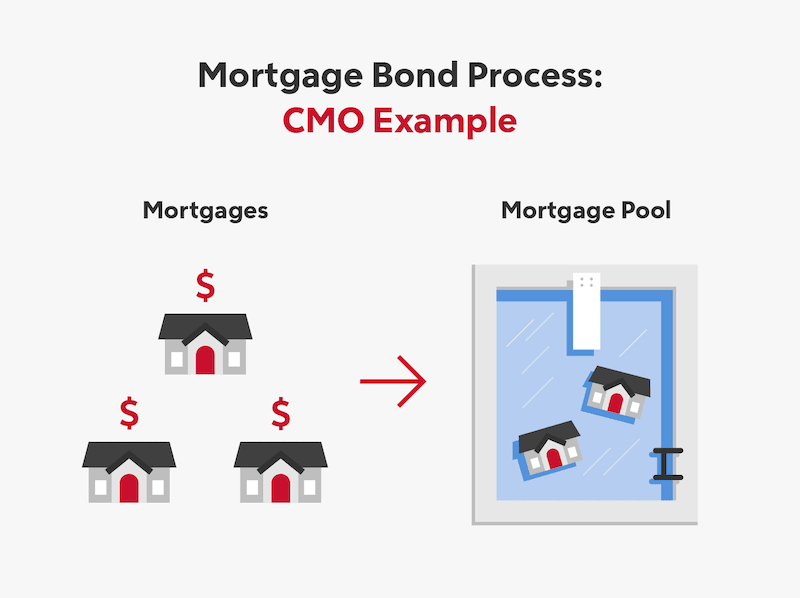 After a lender provides a mortgage loan to a borrower, the lender will then bundle the mortgage along with other mortgages and sell the grouping to federal government agencies, government-sponsored enterprises or investment banks. The enterprise or bank will purchase the bundle, group them with more mortgage loans into a "mortgage pool" and sell them to investors as mortgage bonds.
Investors can earn a profit on mortgage bonds in two ways:
Appreciation: As with any investment security, a mortgage bond's value can fluctuate. If you sell your mortgage bond when the value has appreciated, you'll earn additional revenue.
Regular interest payments: When a borrower makes monthly mortgage payments, the issuer will pay out a chunk of the interest to shareholders.
Mortgage bonds are low-risk investments, but usually have a lower return rate than riskier investment options.
How Do Bonds Affect Mortgage Rates?
If you take out a mortgage through a bank, the bank will not typically retain ownership of that mortgage. Instead, the bank will securitize a group of mortgages into a financial product called a mortgage-backed security (MBS).
These assets are then sold to a government-sponsored enterprise (GSE), an investment bank or a government agency which then sells them to investors. The MBS investors will earn interest payments, but they also take on a very slight risk of default.
Mortgages and the bond market have an inverse relationship with each other, so if bonds are expensive, that means mortgage rates will be low. When bonds are inexpensive, mortgage rates will be high.
Government-Sponsored Enterprises
A government-sponsored enterprise is a government-created financial services corporation designed to improve credit flow to certain parts of the economy. GSEs don't lend money directly, but instead facilitate and make borrowing easier for individuals.
Fannie Mae and Freddie Mac are probably the best-known examples of a GSE. These organizations help the real estate market operate with more efficiency and transparency.
In particular, they ensure that both MBS investors and homeowners can safely invest in real estate. Since MBSs are backed by GSEs or the U.S. government, they are a more secure, low-risk investment.
Advantages And Disadvantages Of Mortgage Bonds
Like any investment, it's important to be aware of both the advantages and disadvantages. Below are a few to familiarize yourself with before investing in mortgage bonds.
Advantages:
Protection for shareholders: If a homeowner defaults on payments, shareholders have a guarantee for payment and interest from the bond issuer.
Available to poor credit holders: Those with poorer credit can obtain larger capital amounts at low borrowing costs.
Safe investment choice: Mortgage bonds are a safer investment than stocks.
Disadvantages:
Risk of loss: There's a risk of losing money on an MBS if interest rates are lower than long-term inflation.
Yields are lower: Yields are lower than corporate bond yields.
Why Invest In The Mortgage Bond Market?
Investors choose to purchase mortgage bonds because they're looking for reliable and safe income. Most investors consider bonds a safe investment because of the real property security and option to sell the foreclosed property to pay off the debt.
Most investors favor MBSs over treasury bonds as the safer investment. That's because mortgage bonds are secured by real property and the U.S. government. This makes them a good option for more conservative investors.
A mortgage bond can also be a good source of reliable income. When a homeowner takes out a mortgage, they're not only expected to make payments on the home loan, but they also make interest payments. These recurring payments can create a stable source of income for investors.
Mortgage Bonds And Fixed-Coupon Bonds
| | |
| --- | --- |
| Mortgage Bonds | Fixed-Coupon Bonds |
| Monthly coupon | Semi-yearly coupon |
| Coupon is interest and principal | Coupon is interest |
| Coupon amount fluctuates | Coupon amount remains the same |
| Accrue principal gradually every month | Accrue principal when bond matures |
| Average life | Short maturity date |
There are a few ways mortgage bonds, such as pass-through securities, differ from standard fixed-income bonds, like corporate bonds. The chart above compares a few of the main differences between the two.
Take the first step toward the right mortgage.
Apply online for expert recommendations with real interest rates and payments.
Mortgage Bonds FAQ
Here are some commonly asked questions about mortgage bonds and how they function.
Do Mortgage Bonds Still Exist?
Yes, mortgage bonds are purchased and sold extensively in financial markets. Mortgage bonds provide a stable stream of income, and can be a great addition to your investment portfolio.
What's The Difference Between A Mortgage Bond And Mortgage Loan?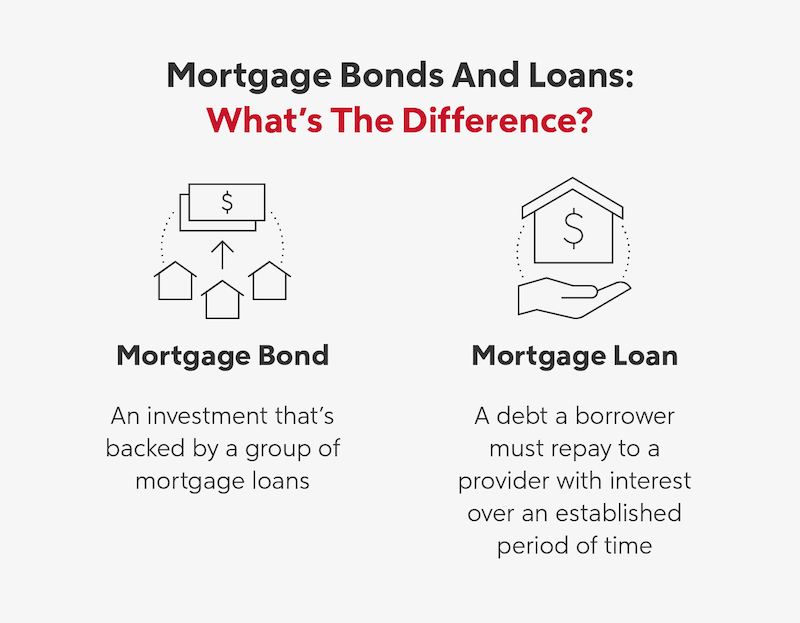 A mortgage bond is an investment traded by the lender to another party. The investment is backed by a grouping of mortgages.
A mortgage loan is a secured contract made between a lender and a borrower on a property. The borrower must repay the borrowed amount of money plus interest over a period of time.
The Bottom Line
Once you close on your mortgage, it may be bought and sold multiple times over the life of the loan. Mortgage bonds are a safe and reliable investment for conservative investors and allow lenders to make mortgages more widely accessible to consumers.
If you're interested in buying a home in the next year, it may benefit you to learn more about how the home buying process works. Or if you're ready to get started, you can apply for a mortgage today with Rocket Mortgage®.
Get approved to buy a home.
Rocket Mortgage® lets you get to house hunting sooner.
Related Resources
Viewing 1 - 3 of 3