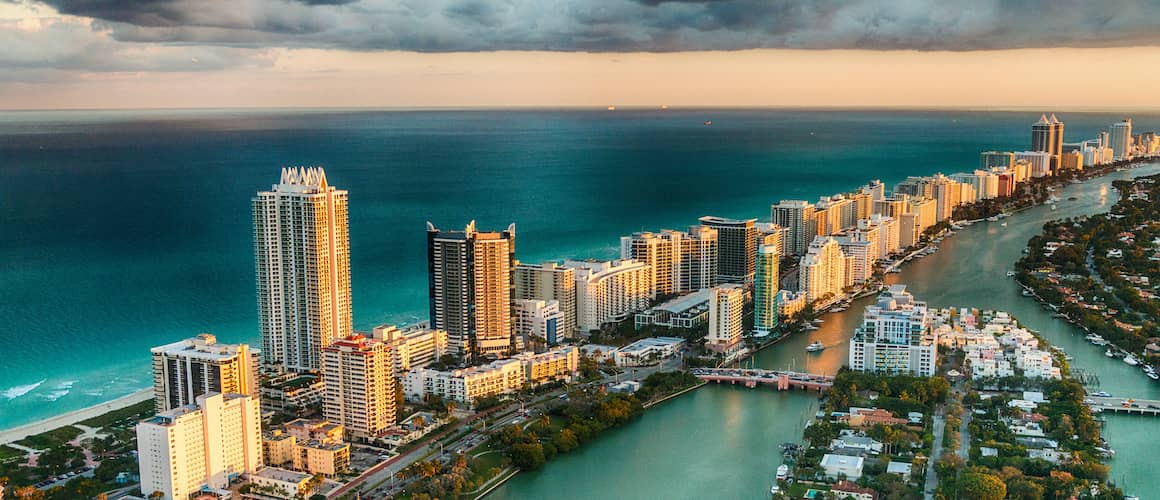 8 Best States To Retire In
Ashley Kilroy5-minute read
February 27, 2023
Share:
Almost two-thirds of non-retired U.S. adults either feel that their retirement plan is not on track or they're unsure of their retirement plan, according to the Federal Reserve. Considering the moving parts of retirement – where to live, having sufficient income, and maintaining good health, to name a few – uncertainty about retirement is no surprise.
However, creating a retirement plan is fundamental to a comfortable retirement. Understanding the best states to retire is a significant piece of the puzzle. Read on to get a better idea of where you'd like to retire based on your envisioned standard of living, the surrounding community, outdoor opportunities, and more.
Take the first step toward buying a house.
Get approved to see what you qualify for.
Factors That Make The Best States For Retirement
Numerous elements will influence where you decide to live in retirement. Everyone's situation is unique, so some factors might rank higher for you. While there is no single clear choice for every retiree, consider the following when contemplating where the best state to retire in is for you:
Cost of living: The money needed for essentials like housing, utilities, and food will depend on your location. As a result, the cost of living is likely the number one factor driving your decision.
Cost of living can be a tradeoff depending on your priorities. For example, you'll pay more if you want to live in a major city like Miami or Atlanta. You might have to give up expensive vacations or other luxuries. However, in exchange, you'll live in some of the world's most vibrant, dynamic areas.
Health care: A recent study from Fidelity Investments revealed that on average, couples age 65 will spend an average of $315,000 on health care during retirement. While Medicare provides health coverage for retired Americans, it does not pay all health expenses, including various medications and medical devices.
Taxes: Property taxes vary by region and impact the affordability of your home. Generally, states with low property taxes, such as Colorado and Delaware, are attractive for retired couples and individuals. To dive into the details, look at property taxes by state.
Affordability: The best states to retire in make life financially manageable for seniors with fixed incomes. The cost of everything from a gallon of milk to owning a condo will determine where you can afford to live in a specific city or state. For more, here are the cheapest states to buy a house.
Quality of life: Your ability to afford the essentials plus luxuries like entertainment and travel affect your quality of life. In other words, an excellent state for retirement is one in which you can afford a comfortable home, a visit to the dentist, and regular nights out. Therefore, the place you call home as a retiree will influence your well-being.
Weather: You've put in decades of hard work to retire, and if you don't want to spend another second shoveling snow, you shouldn't have to! How much time you are outdoors and what you do will depend on your region's climate. If you want to while away the hours on the beach or hiking in the mountains, you might eliminate some states from the running that are otherwise desirable in terms of affordability.
Culture: You'll likely have more free time in retirement. Many cities function as cultural centers where you can experience the country's best museums, music, sporting events, and art.
Best States For Retirees
When considering the factors listed above, here are the best states for retirees. While each has its strengths and weaknesses, they serve the needs of individuals and couples in retirement.
1. Florida
The poster child for states to retire in, Florida offers beautiful weather, zero income tax, and numerous outdoor offerings for relaxation and entertainment. It also has an affordable cost of living with one drawback – higher-than-average health care costs.
2. Virginia
Virginia offers variety to retirees. So, whether you want to spend your time on beachfronts or in the mountains, you can do so in an affordable manner in a state that also provides historical sites, metropolitan areas, and country locales.
3. Alaska
Minimal taxes and dividend payments from the Alaska Permanent Fund balance out the higher cost of living in the country's northernmost state. Outdoor adventurers can experience the tundra in Lake Clark National Park and Preserve and the rainforest climate of Kodiak Island.
4. Colorado
Low property taxes and unparalleled outdoor opportunities make Colorado an excellent place to retire. In addition, the state offers affordable health care and is among the most pet-friendly places in America.
5. Delaware
If Southern heat isn't for you, this New England state might fit better. Low taxes, easy access to nearby metropolitan centers like New York City, and a multitude of state parks can provide the perfect combination of excitement and affordability.
6. New Hampshire
Another Northeastern option, New Hampshire offers excellent health care and no state income or sales taxes. Combined with Atlantic coastal attractions and resorts dotting the White Mountains, you get a phenomenal quality of life while experiencing all four seasons.
7. Ohio
Retirees prioritizing affordability might want to land in Ohio. With reduced taxes for all state residents and zero state income tax for veterans, the state offers some of the best city living for those with modest incomes. Plus, it features the Toledo Zoo, an attraction over 100 years old with 10,000 animals to experience. Just make sure you can make your peace with the changing seasons, as frigid winters balance out the hot summers.
8. Hawaii
Unsurprisingly, the Aloha State rounds out the list, with ideal tropical weather and high quality of life. Snorkeling, hiking, and fishing opportunities are abundant in Hawaii. However, the cost of living compared to other states might strain some retirees' budgets.
Ready for a change?
Find top-rated movers and compare multiple quotes on HomeAdvisor.
Buying A House For Retirement
In many ways, getting a senior mortgage is to the same as getting a mortgage earlier in life. You'll submit your financial information to your lender for preapproval, decide your housing budget, create a list of needs and wants, and go house-hunting in the location that appeals to you.
However, you'll also likely have additional dynamics to consider. For example, you could sell your home and use the proceeds to pay for a smaller home, reducing or eliminating mortgage payments. Conversely, if you need financing, you'll likely have to formulate an income level from various streams, such as your 401(k) distributions and Social Security, to afford your monthly payment. If your monthly cash flow is sufficient, lenders view retirement income as a viable financial resource for housing.
A 15- or 30-year mortgage isn't out of the question for retirees. As with mortgages earlier in life, careful planning and the ability to afford your payments are crucial. It's recommended to prioritize according to your present and future needs. For example, amenities like accessible bathrooms and ramps (instead of stairs) are significant factors when buying a retirement home.
See What You Qualify For
Congratulations! Based on the information you have provided, you are eligible to continue your home loan process online with Rocket Mortgage.
If a sign-in page does not automatically pop up in a new tab, click here
What Is The Best State For You To Retire In?
The best state to retire in depends on the factors you find most important. You'll likely have to balance the cost of living, quality of life, and opportunities for hobbies and entertainment. It's vital to know your financial capabilities so you move to a state you can afford.
As you contemplate your options, you can research the best real estate markets and pros and cons of 55+ communities. You may want to avoid retiring in states like California and New York because of higher taxes and cost of living. Typically, states with heavy income tax and high housing costs can be challenging for retirees to afford.
The Bottom Line
Your golden years can be one of the most rewarding, exciting, and relaxing times of your life. Living in a state that features affordability and pleasant weather can make all the difference for your quality of life. That said, financial and life circumstances might drive you to prioritize some needs over others, such as the cost of living, taxes, or medical expenses.
If you have decided which state you'd like to live in, housing is the next critical step. For help, start the mortgage approval process today.
Take the first step toward buying a house.
Get approved to see what you qualify for.
Related Resources
Viewing 1 - 3 of 3