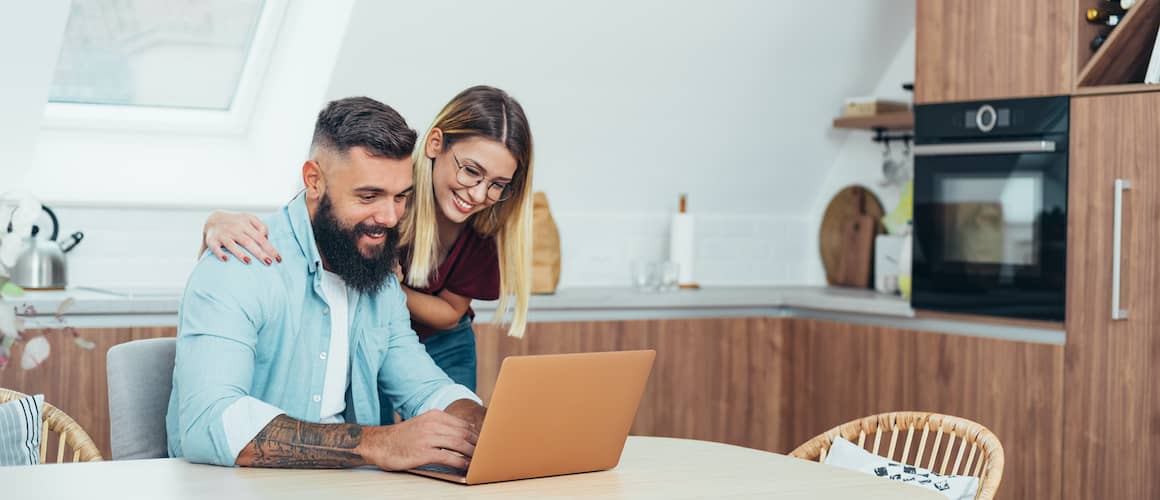 Have You Seen These Mortgage Rates?
Kevin Graham4-minute read
March 29, 2023
Share:
You could be forgiven if you don't spend every day tracking the movement of mortgage rates. There's a lot going on, and you don't always think about your mortgage. However, it's our job to make you aware of opportunities. And the opportunity exists right now to get a rate under 3% with minimal costs. Whether you're looking to buy or refi, that's an awesome rate.
We'll discuss what you should know and how you can take advantage of this unique time in the market. But before we get there, let's put this in context by sharing a little perspective on where we've been.
Mortgage Rates Have Pushed Down Since March
The old adage goes that April showers bring May flowers. The other thing that April apparently brought with it was lower mortgage rates. To give you an idea of the extent of the drop, I've captured a bit of our mortgage rates graph to show the movement since the end of March.
For further context, this is about where rates were at the end of last July when refinancing to take advantage of lower rates captured the public's imagination, according to the Freddie Mac Primary Mortgage Market Survey.
How Can You Take Advantage?
There are several things that can impact the rate you receive as a consumer. Traditional factors include your median credit score and the size of your down payment or equity amount, but one of the big factors that's directly within your control during a mortgage transaction is mortgage points, also referred to as mortgage discount points.
Mortgage points offer you the opportunity to prepay interest in exchange for a lower interest rate. One mortgage point is equal to 1% of the loan amount, so on a $250,000 loan amount, 2 points would be $5,000 at closing. Right now, a smart investment could even get you under 3% on a 30-year fixed mortgage.1
However, the big advantage here is how much you're saving over the life of the loan. Let's show how this works with some quick math.
When Do Points Make Sense?
In order to determine whether points make sense for you, speak with a Home Loan Expert about what the difference will be in your monthly payment for various point levels. From there, you can do some math. Let's say you paid for 2 points on that $250,000 mortgage and you were able to save $50 a month. Here's the equation:
Cost of points
_________________
Monthly savings
This equation gives you the number of months you have to keep that mortgage in order to break even on the points. In this case, it's 100 months, which is a little over 8 years.
If you plan to move or you think your financial situation might change and make you refinance or that you'll move before your breakeven point, you might choose a rate with fewer points. If not, you're saving money every month after that.
It's also important to note that mortgage interest is generally tax-deductible, and this includes mortgage points. IRS guidelines lay out whether points are fully deductible in the year you pay for them or whether they must be spread over the life of the loan. If you have questions, consult a tax advisor.
See What You Qualify For
Congratulations! Based on the information you have provided, you are eligible to continue your home loan process online with Rocket Mortgage.
If a sign-in page does not automatically pop up in a new tab, click here
Home Values Are Up
No matter where you look, home values are way up on the national basis. The median price of an existing home is up 23.6% on the year in the most recent release. According to the Case-Shiller House Price Index, values are up 14.9% for the 12 months ending in April, while a separate index from the Federal Housing Finance Agency shows that values have risen 15.7% over the same period.
The bottom line? You may have more equity in your home than you think. And with more equity comes a couple of side effects for those who might be interested in refinancing.
If you're looking to just lower your rate or change your term, more equity means less risk for a lender, which can lead to a lower rate. If you're looking to take cash out, more equity can mean greater flexibility to do what you need, whether that's remodeling or accomplishing a financial goal.
Equity can be particularly important when taking cash out because to do a cash-out refinance loan outside of those from the VA, you need to leave at least 20% equity in your home. The more existing equity you have going into the refinance, the better you'll be able to accomplish your goals.
Whether you're looking to buy a home or refinance to lower your rate, do home improvements or maybe consolidate debt, when you can get a rate below 3%, it's a great time to do so. Apply online or give us a call at (833) 326-6018.
1 Refinance: The payment on a $250,000 30-year fixed-rate loan at 2.99%, the annual percentage rate (APR) is 3.209% and 70% loan-to-value ratio (LTV) is $1,052.66 for the cost of 1.75 points due at closing. One point is equal to 1% of your loan amount. Payment does not include taxes and insurance premiums. The actual payment amount will be greater. Rates shown valid on publication date of July 09, 2021. Some state and county maximum loan amount restrictions may apply.
Consolidate debt with a cash-out refinance.
Your home equity could help you save money.
Related Resources
Viewing 1 - 3 of 3