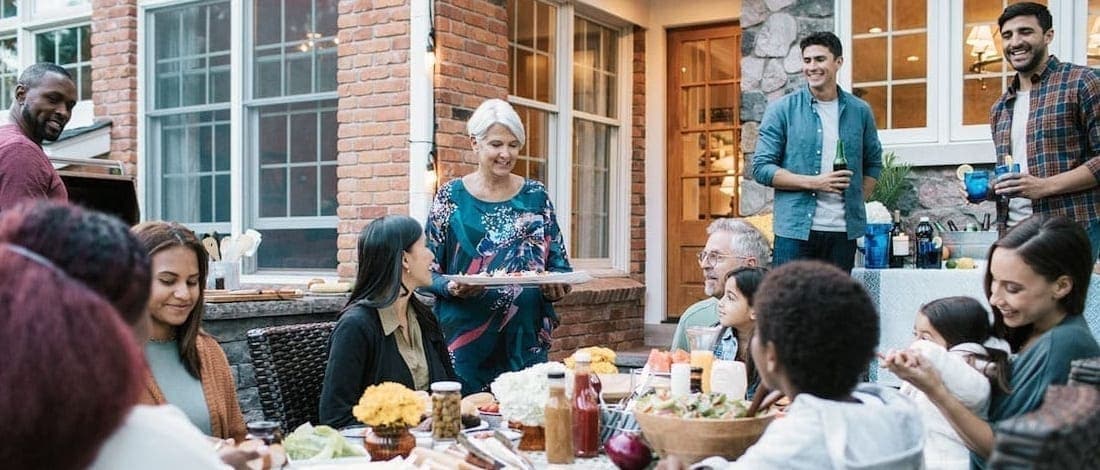 How To Be A Good Neighbor
Victoria Araj7-minute read
March 29, 2023
Share:
Whether you just purchased a new home or have lived somewhere long-term, learning how to be a good neighbor can be equally as impactful on you as it can on your neighborhood. Your goal as a community is to be civilized with one another and create a place of unity.
The overall quality of a neighborhood is reported as a top factor when choosing a community for homeowners and prospective buyers.
Exemplifying the qualities of a good neighbor and practicing good neighbor etiquette will only positively impact others who live next to you. Here are some ways you can practice being a good neighbor, as well as celebrate those who bring peace to your community.
1. Practice Good Neighbor Etiquette
Whether you have recently moved into the neighborhood or have lived there for an extended period, creating and maintaining relationships with your neighbors can be beneficial. Your neighborhood can be a reliable support system and should be a happy community. Using neighbor etiquette means treating your neighbors how you would like to be treated.
It doesn't take much to practice good neighbor etiquette. A friendly wave or a brief check-in with your neighbor while getting the mail are easy steps.
Tip: Inviting your neighbors over for drinks after work or asking them if they need extra help with errands are simple ways to practice good neighbor etiquette.
See What You Qualify For
Congratulations! Based on the information you have provided, you are eligible to continue your home loan process online with Rocket Mortgage.
If a sign-in page does not automatically pop up in a new tab, click here
2. Recognize Noise Levels
Be mindful of noise levels during certain hours of the day, whether it's late at night or before sunrise. Keep your noise levels down during the early morning hours and after dinnertime. If you're throwing an evening party at your home, it's courteous to let your neighbors know in case it runs late into the night.
Tip: If you have speakers in your house, close your windows and keep the sound at a minimum volume.
3. Maintain Curb Appeal
Keeping the exterior of your home clean not only sets a great example for your neighbors to follow but also adds home value when potential buyers are looking to move into your neighborhood.
Tip: Keep up curb appeal by collecting any loose trash and leaves from your front yard. Maintain the paint on the front of your home and plant flowers in flower beds or pots during the warmer months.
4. Help Keep The Neighborhood Clean
An easy way to be a good neighbor is to help clean up the community whenever you can. This also helps when potential buyers are looking into moving to the neighborhood. Shovel snow off the sidewalks, remove fall leaves off yards or collect unwanted litter.
Tip: Turn cleanup into a friendly competition with a monthly community cleanup scavenger hunt to help keep the neighborhood tidy and welcoming. Collect voluntary donations from everyone in the neighborhood and give the prize money to the home that collects the most trash.
How to run a community clean-up:
Print out the scavenger hunt printables. They list trash items you'll most likely see on the streets and curbs.
Hand them out to each house in the neighborhood block. Let your neighbors know when the cleanup will take place. Choose a weekend so more people are available.
Mark your house number on the sheet to track cleanup progress.
As trash is collected, check off which items are found directly on the sheet. The first person or family to collect all the trash items listed receives the prize.
5. Be Responsible For Your Furry Friends
If you have a pet in your home, you should be especially mindful of others, not only for their safety but for your pet's safety. If your pet is outside in the backyard, keep your gates locked to avoid your furry friend escaping.
If you like taking your pet for walks, remember to keep them on a leash in case there are any young children around. It's important to make sure others feel comfortable around your pet, especially those who aren't pet owners themselves.
Tip: If you have dogs that bark, give your neighbors a heads up and start working with your pet to improve their habit.
6. Discuss Issues Tactfully
It's best to avoid partaking in neighborhood drama, especially if it's between multiple neighbors. It's better not to add fuel to the fire and be in a neutral position to avoid making the problem larger than it needs to be. If the issue is unavoidable, you can set a meeting at your home to discuss the matters at hand.
Tip: If necessary, offer advice on how to best approach a situation as a neutral third party to the issue.
What Is A Good Neighbor?
A good neighbor encompasses many qualities, but you want to be respectful, friendly and open to making genuine friendships with those that live in your neighborhood.
To answer simply, you should aim to be someone you'd want to live next to in your neighborhood.
It doesn't take a lot to become a good neighbor, and practice always makes perfect. Keep in mind that everyone in your neighborhood has different lifestyles, so nothing will be perfect. It's the way you take action and interact with your neighbors that counts.
Qualities Of A Good Neighbor
As you learn more about what you can do to be a good neighbor, here are some of the best qualities to have:
Respectfulness
Being respectful of others is a crucial quality to have when it comes to living in a neighborhood. Be respectful of your neighbors' privacy and home. Unless you have built a deep friendship with your neighbors, it's best to be respectful of others' privacy in their homes.
Friendliness
Acts of care and friendliness to others show that you respect those who live around you. Simply waving hello to neighbors outside or having a quick conversation with them when checking the mail is a polite first step to be a good neighbor.
Trustworthiness
Trustworthiness is another quality of a good neighbor, as your neighbors can lean on you in times of need and vice versa. You should be reliable and trustworthy in all situations. If they ask you to check in on pets if they're out of town, for example, they should be able to trust you to do so and make sure their home is locked up once you're done.
4 Ways To Celebrate And Thank Your Neighbors
The goal of having a good neighborhood is to live in peace and safety, and it takes everyone to actively be good neighbors to one another. Remember to celebrate and thank your neighbors for what they contribute to your neighborhood.
Host A Neighborhood Block Party
Warm summer days call for some celebration, so why not organize a neighborhood block party? Everyone can bring fun games to play outside for families to enjoy, as well as plenty of food to go around. You can even nominate someone as the block party DJ to liven up the mood.
Create Welcome Baskets For New Neighbors
Welcome new neighbors into the neighborhood with a sweet welcome basket at their door. You can include flower arrangements, drinks and household items in the basket. Include a welcome letter that details your favorite spots to eat out in the area, as well as your contact information for emergencies.
Celebrate With A Holiday Meal
Make the holidays an excuse to spread some appreciation to your neighbors. Organize small monthly potluck parties for your neighbors to partake in. You can also do a monthly dinner swap, where you switch meals with other neighbors if many of you like to try different cuisines every once in a while.
Create Family Goodie Bags
Just like the welcome baskets, making individual goodie bags for any new children who have just moved in is a great way to welcome families into the neighborhood. Gather items like sidewalk chalk, candy and bubble wands to put into a small bag and drop at their door for them to enjoy.
Make sure the gift is appropriate for young children, and avoid food items that children could be allergic to, such as peanuts. You can also contact the parents beforehand to ask them if they're comfortable with the gift.
How To Maintain A Positive Neighborhood
Knowing your neighbors and forming genuine relationships can help to maintain a positive neighborhood. A great way to be a good neighbor is by supporting others and being proud of your neighborhood.
Provide a space for communication: Using an online tool is a resourceful way to allow for open communication in your neighborhood. This can be an online group page, email thread or even a monthly newsletter that can be customized by your neighbors to inform everyone of important information or upcoming neighborhood celebrations.
Welcome new neighbors: You may know how it feels to be the new arrivals of the cul-de-sac. Be the first to warmly welcome them to the neighborhood and introduce them to other neighbors as they settle into their new home.
Help out others in need: Everyone needs a helping hand at some point. If you see someone struggling to shovel snow, or know someone who needs extra assistance with yard work, it's always nice to offer them your help.
Report criminal activity: If you live in a neighborhood with families, it's important to be aware of any suspicious occurrences in your area. Be watchful of any strange activity, and if you see something out of the ordinary it's better to report it with others' safety in mind.
The easiest way to practice being a good neighbor is to be kind to others and treat them with the same respect and courteousness you would want to receive. Your good neighbor behavior starts when you purchase a home. The more practice, the better.
Related Resources
Viewing 1 - 3 of 3