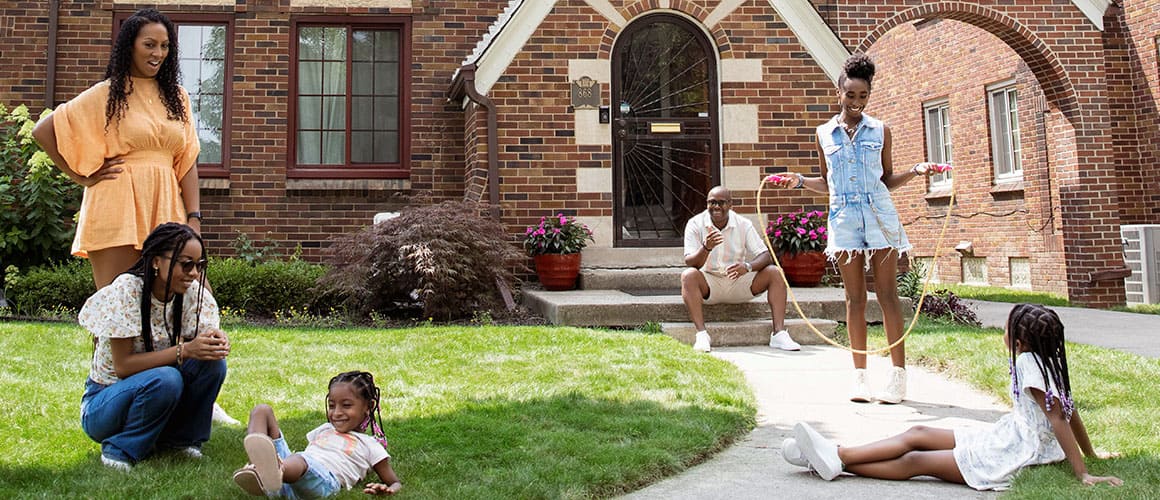 Announcing The Detroit Home Loan+ Program
Andrew Dehan3-minute read
February 27, 2023
Share:
Rocket Mortgage® is proud of our city, Detroit, and its residents. It's our home base, as well as home to over 670,000 residents. We're invested in the future of Detroit which means we want more Detroiters to own a part of it by becoming homeowners.
We understand that owning a home is a positive for you and your family. But we also know that it's a positive for the community and the city you live in. That's why we're starting the Detroit Home Loan+ program.1
The Detroit Home Loan+ is part of us being good neighbors. We want to help our community members invest in themselves. Whether applying online or working with the company's skilled team members, home buyers can now leverage the program to achieve the dream of homeownership in Motown.
Let's break down what the Detroit Home Loan+ is.
See What You Qualify For
Congratulations! Based on the information you have provided, you are eligible to continue your home loan process online with Rocket Mortgage.
If a sign-in page does not automatically pop up in a new tab, click here
What Is The Detroit Home Loan+?
The Detroit Home Loan+ program was created to support home buyers who are looking to purchase in the city of Detroit.
Homeownership education is supported by the Detroit Housing Network, a non-profit organization whose mission is to create healthy neighborhoods and advance racial equity in our communities by increasing housing stability and affordable homeownership for Detroit residents. Further support comes from MoCaFi, an online band who gives direct access to banking and credit building tools, as well as financing coaching.
The Detroit Home Loan+ is a $2,500 lender credit going to those buying their primary home in Detroit. Closing costs are a big expense for any home buyer. This $2,500 lender credit can be applied to reduce the expense of closing costs, making homeownership more achievable for Detroiters.
Here are the main requirements to receive the credit:
Detroit street addresses only (Hamtramck and Highland Park are excluded)
Owner-occupied purchases only
No property type restrictions
Available for FHA, VA, and conventional loans. Not available for jumbo loans.
All loan terms accepted (15-, 20-, 30-year, etc.)
Detroit Home Loan+
Looking at homes in Detroit? You may qualify for a $2,500 credit for closing.1
Why Homeownership In Detroit?
We owe a lot to the city of Detroit. It's been the home of Rocket Mortgage for over a decade. It's where many of us work and live. That's why we're making it our goal to make homeownership easier in the city.
Less than 47% of Detroit's residents are homeowners, which is well below the national average. We want to grow that percentage to positively impact our community. We know there are many hurdles to owning a home in Detroit, so we're committed to helping Detroiters achieve the dream of becoming homeowners.
Owning a home helps families build legacies. We want the residents of Detroit to dream of their future and their family's future. By owning the home you live in, you're more than a resident – you're an owner, and you have a direct stake in the future of your community.
Our commitment to the city is a commitment to its people. As our city grows, we're taking steps to change the systems that historically have prevented residents from building equity. The Detroit Home Loan+ is part of the first step in growing ownership for Detroiters.
1Client will receive a closing cost credit in the amount of $2,500 on their Closing Disclosure. Offer is valid on purchase transactions only for properties purchased in the city of Detroit, Michigan. Offer is valid on primary residence only. Offer is not available on Charles Schwab loans, jumbo loans, team member loans or portfolio loans. Offer is nontransferable. Offer cannot be applied retroactively or to loans already in process. Offer may not be redeemed for cash, and no change will be given if the discount amount exceeds costs otherwise due. Rocket Mortgage reserves the right to cancel this offer at any time. Offer may not be used with other discounts, promotions or special pricing. Acceptance of this offer constitutes the acceptance of these terms and conditions, which are subject to change at the sole discretion of Rocket Mortgage. This is not a commitment to lend. Additional restrictions/conditions may apply.
Make the D home!
Buying a home in Detroit? You could qualify for a $2,500 closing credit.1