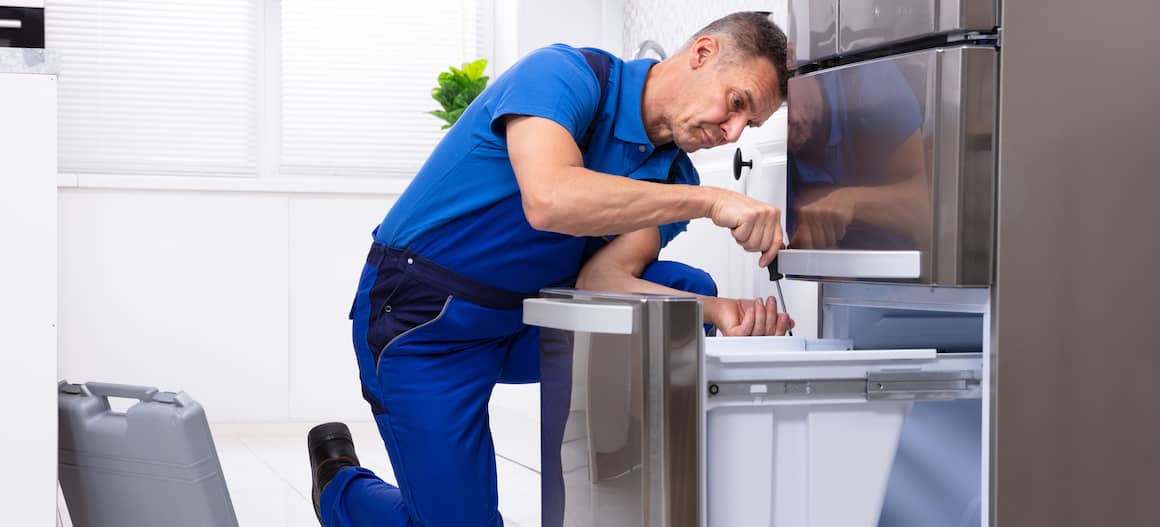 2023 American Home Shield Reviews And Overview
Lauren Nowacki8-minute read
May 01, 2023
Share:
Disclosure: This post contains affiliate links, which means we receive a commission if you click a link and purchase something that we have recommended. Please check out our disclosure policy for more details.
Home warranties cover major appliances and systems in your home, but their most important job is protecting your finances. When a system or appliance malfunctions or needs replacement, homeowners insurance may not cover it, leaving you with the full bill. A home warranty can provide some financial relief by covering part or all of the costs to fix the problem.
When it comes to choosing among the best home warranty companies it's important to work with a trusted experienced company. One such company is American Home Shield, a home warranty business that's been helping homeowners for 50 years.
Read on to learn more about the company, the plans it offers and why we like this company. But don't just take our word for it. We're also sharing American Home Shield reviews from other reliable sources.
American Home Shield Overview
American Home Shield (AHS) is the company that started it all – founding the home warranty industry back in 1971. One of the leaders in the industry, AHS has paid more than $2 billion in claims in the last 5 years alone. The company's home warranty coverage includes three main plans as well as several add-ons to help tailor your coverage to your home's specific needs.
Plans
AHS plans are tiered, with more appliances and systems covered as you move up. Prices increase as well. Keep in mind, you can also select different add-on plans or stand-alone coverage. Here's what each plan offers.
ShieldSilverTM
ShieldSilver is the lowest-priced plan and covers 14 major home systems, including:
Heating and cooling systems
Electrical systems and accessories
Plumbing systems and accessories
This plan does not cover any appliances.
ShieldGoldTM
One step up, the ShieldGold plan covers all the systems in ShieldSilver as well as nine home appliances. These additional appliances include:
Kitchen appliances
Laundry appliances
ShieldPlatinumTM
The most comprehensive and expensive home warranty plan of the three, ShieldPremium covers everything in ShieldGold as well as:
Roof leak repairs
Unlimited A/C refrigerant
Code violations and permits
This plan also comes with a free HVAC tune-up.
Electronics Protection Plan
With the electronics plan, you can protect several home electronics including TVs, computers, printers, Smart Home products, video game consoles and more. The plan offers coverage for mechanical and electrical failure from normal wear and tear, power surges and poor workmanship or materials. It also provides tech support when needed. If you're an AHS member, you can add this plan to your other plans. Currently, this plan is not available in California.
Add-On Options
Some homes come with a little something extra – or sometimes, homeowners want a little more coverage. That's why AHS also provides add-on options. Along with an electronics protection plan, homeowners can choose any of the following add-on coverage.
Heating, pumping and filtration systems for pools and spas
Roof leak repairs (if you do not have the ShieldPlatinum plan)
Guest units under 750 square feet
Septic pumps
Well pumps
Coverage
It can feel overwhelming trying to compare what each plan offers. To make it easier, we've included a helpful side-by-side comparison.
Get approved to buy a home.
Rocket Mortgage® lets you get to house hunting sooner.
| | | | |
| --- | --- | --- | --- |
| System/Appliance | ShieldSilver | ShieldGold | ShieldPlatinum |
| Air Conditioner | ✓ | ✓ | ✓ |
| Heating Unit | ✓ | ✓ | ✓ |
| Ductwork | ✓ | ✓ | ✓ |
| Built-in Exhaust, Vent & Attic Fan | ✓ | ✓ | ✓ |
| Main Breaker & Fuse Panel Box | ✓ | ✓ | ✓ |
| Doorbells | ✓ | ✓ | ✓ |
| Interior Electrical Lines | ✓ | ✓ | ✓ |
| Ceiling Fans | ✓ | ✓ | ✓ |
| Garage Door Openers | ✓ | ✓ | ✓ |
| Interior Plumbing Lines | ✓ | ✓ | ✓ |
| Toilets | ✓ | ✓ | ✓ |
| Faucets & Valves | ✓ | ✓ | ✓ |
| Whirlpool Tub Motor & Components | ✓ | ✓ | ✓ |
| Water Heaters | ✓ | ✓ | ✓ |
| Fridges | | ✓ | ✓ |
| Ranges & Cooktops | | ✓ | ✓ |
| Ovens | | ✓ | ✓ |
| Dishwashers | | ✓ | ✓ |
| Built-In Microwaves | | ✓ | ✓ |
| Garbage Disposals | | ✓ | ✓ |
| Instant Hot/Cold Water Dispensers | | ✓ | ✓ |
| Washers | | ✓ | ✓ |
| Dryers | | ✓ | ✓ |
| Roof Leak Repair | | | ✓ |
| Code Violations & Permits | | | ✓ |
Whatever plan you choose, know that AHS will cover the appliance or system regardless of its age. Of course, there are exclusions and coverage limits. To learn more about how each appliance or system is covered, you can a sample contract and home warranty coverage explanation for each one on the compare plans page of the AHS website. Simply click on the icon next to the name of the appliance or system and more details will pop up.
Cost
The three main plans cost $35 – $75 per month, which falls in line with average home warranty costs
| | |
| --- | --- |
| AHW Home Warranty Plan | Cost |
| ShieldSilver | $35 - $50 per month |
| ShieldGold | $45 - $60 per month |
| ShieldPlatinum | $60 - $75 per month |
| Electronics Protection Plan (addition to plans) | $14 - $20 per month |
| Service Call Fee (required with all plans) | $75 - $125 per service request |

It's important to keep in mind that pricing will depend on your location, your home warranty plan and any add-ons you choose.
The pricing will also depend on the trade service call fee you choose. This is the amount you pay for each service request. The more you pay for a service request, the less you pay for your plan each month. For example, if you choose to pay a $75 service fee, your ShieldSilver plan would cost $50 per month. If you choose to pay a $100 service fee, your ShieldSilver plan would cost $40 per month. And with a $125 service fee, you'd pay $35 per month for the same plan.
Top American Home Shield Reviews
Wondering what others think about American Home Shield? Read a few reviews to gain more insight on the advantages of working with AHS and what clients have experienced from the home warranty company.
Better Business Bureau (BBB)
AHS has a B rating on Better Business Bureau (BBB) and is an accredited business on the reviews site. While the company does have a number of complaints on the site, each one has been answered or resolved. The site also features positive reviews of the company, including one from John B. who said, "The AHS customer service representative did an outstanding, professional and efficient job. AHS's affiliation with [our contractor] is to be acknowledged and applauded. Their Team did a great job from start to finish – on time, knowledgeable, friendly and professional – and experts at their job. I highly recommend them."
Consumer Affairs
Of the close-to 20,0000 reviews of AHS on Consumer Affairs, the majority are 5-star and 4-star reviews. The reviews site lists AHS's 30-day workmanship guarantee, customizable plans and flexible payment options as the advantages of working with the company. Clients seem to also like the network of over 16,000 licensed contractors that work with AHS.
In August 2021, reviewer and AHS client Richard of Las Vegas, wrote, "The people that American Home Shield has sent out to my home have been professional, and they've taken care of the problem usually pretty quickly. The warranty always worked out for us with the things that we've had go bad. It has been worth it for us."
U.S. News & World Report
U.S. News & World Report gave AHS an overall rating of 3.9 out of 5 stars and ranked it #3 on its list of Best Home Warranties of 2021. Among the features U.S. News liked about AHS were its flexible plans, add-on coverage and coverage for more uncommon issues, like improper installation, mismatched systems and age.
This Old House
This Old House named AHS the best overall home warranty company for 2021. Mentioning AHS's years of experience in the industry and calling it "one of the most trusted home warranties on the market," This Old House highlighted the "generous coverage caps" and "efficient claims process" as reasons for ranking AHS so high on its list.
See What You Qualify For
Congratulations! Based on the information you have provided, you are eligible to continue your home loan process online with Rocket Mortgage.
If a sign-in page does not automatically pop up in a new tab, click here
Why We Like American Home Shield
With a variety of coverage options, the ability to lower your monthly payment and a claim to fame within the industry – it is one of the founding companies, after all – there's much to like about AHS.
Extensive Coverage Options
The three plans offered by the home warranty company give you the option to only protect systems or cover both systems and appliances. The plans cover 14 major systems, including plumbing, electrical and heating and cooling systems, and nine home appliances, including kitchen and laundry equipment. Homeowners who want more can add an electronics plan or pick and choose add-on coverage for such home features as pools, guest units, septic and well.
Payment Flexibility
Homeowners can choose from three different service fees which, in turn, can adjust your monthly payment. The higher the service fee you choose, the lower your monthly payment. This helps you have more of a say in what you pay.
Strong Reputation
AHS is one of the founding companies in the home warranty industry – and founded the industry itself. With 50 years in the business and a network of over 16,000 contractors, it's also one of the largest home warranty companies in the industry.
Fewer Requirements
The company has fewer requirements needed to provide service. There's no home inspection required, no need to provide maintenance records and its plans cover undetectable pre-existing conditions. Best of all, AHS will cover systems and appliances regardless of their age.
American Home Shield FAQs
It's important to have all your questions answered before choosing the right home warranty company for your needs. Here are a few of the most asked questions to help.
Is American Home Shield Available Nationwide?
AHS is available in 49 states. It is not available in Alaska.
Does American Home Shield Have Any Coverage Limits?
Like many home warranty companies, AHS does have coverage limits. Of those items that are covered, some may have components that are not covered by the warranty. For example, HVAC units are covered for most features, except outside or underground piping, well pumps and fuel storage tanks. And, while plumbing systems are covered, the home features that use plumbing, including showers, bathtubs, sinks and toilets, are not covered.
There are certain services, systems and appliances that AHS won't cover at all. These include:
Routine maintenance services
Chimneys and flues
Stand-alone freezers
Electronic home management systems
Solar energy systems
Malfunctions due to abuse or neglect, natural hazards, fire, freezing, electrical failure or water damage
To get a better idea of AHS limitations and exclusions, it may be a good idea to read through the company's sample contract.
How Do I File A Service Claim With American Home Shield?
To file a claim and request service, AHS requires you notify the company as soon as the issue is discovered. You can contact AHS 24/7 online or by phone. Within 48 hours of your service request, AHS will contact a contractor. The contractor will then contact you to schedule an appointment. Once the initial appointment is complete, AHS will determine if the system or appliance is covered and charge you your service fee as specified under your plan. If AHS determines the repair isn't covered by the warranty, you can request a second opinion from a different contractor but must make this request within 7 days of learning the service isn't covered.
Can I Use My Own Contractor For Repairs?
Typically, AHS will assign you a contractor to get someone to reach out to you as soon as possible. However, AHS may allow you to choose your own contractor as long as they meet AHS requirements. Such requirements include that the contractor must be licensed, qualified and insured, and also carry automobile liability coverage.
If you choose your own contractor, you need to follow AHS protocols for doing so. This includes having the contractor provide a diagnosis and itemized bid to AHS before any work begins. You'll also need to pay the contractor fees upfront, then submit an invoice to AHS for reimbursement. Keep in mind that AHS will not reimburse you for any work done prior to or without authorization.
The Bottom Line
A home warranty steps in when homeowners insurance won't cover certain appliances and systems. It's important to remember that, while they may cover all or part of the costs for repair and replacement, home warranties have some limits and exclusions. What's covered by AHS and how much you'll pay will depend on the plan you choose, the service fee you select and where you live.
There are several home warranty companies out there. The best one will be a reputable company with years of experience in the industry. It'll offer the right plan for you, that can be custom fitted to your home's needs. To find the best one, it's important to do your own research and compare other top home warranty companies to find what makes the most sense for your home and your lifestyle.
Get approved to refinance.
See expert-recommended refinance options and customize them to fit your budget.
Related Resources
Viewing 1 - 3 of 3