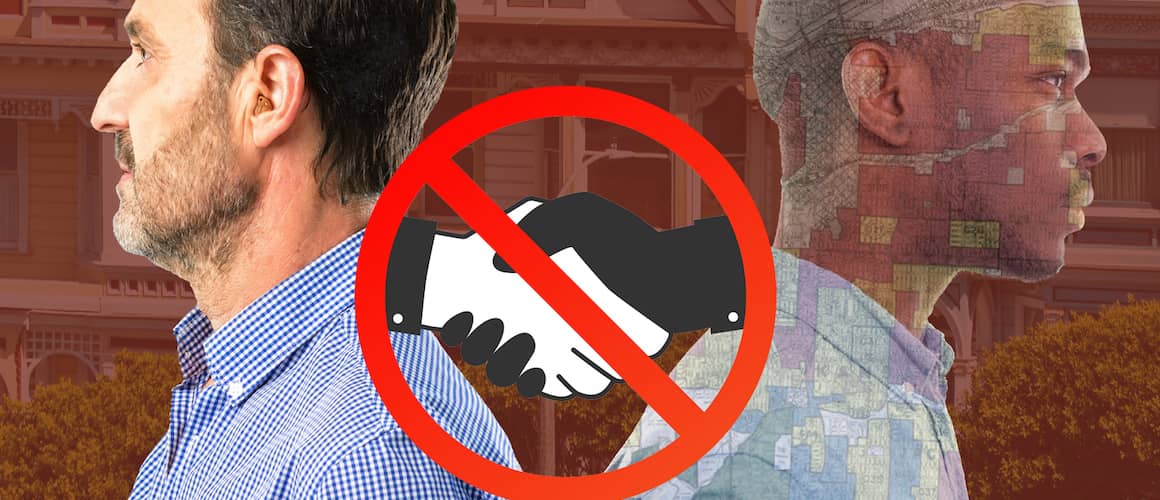 #RealEstateReset: Stacey Tisdale Shares How The Government Used Real Estate To Separate Blacks And Whites, Along With Her Personal Story Of Racial Isolation
Stacey Tisdale6-minute read
February 22, 2023
Share:
A history of racism, systemic segregation and the housing gap
By Stacey Tisdale
Award-winning on air financial journalist and author, Stacey Tisdale was the first woman and first African-American to report from the New York Stock Exchange in her role as a reporter/anchor for Emmy award winning Wall Street Journal Television. During her 20-year career, Stacey has reported for CBS, CNN, PBS, the Today Show, and The Oprah Winfrey Show. As founder and CEO of multi-media content provider, Mind Money Media Inc., Stacey uses her personal finance and media platforms to educate her audiences about all aspects of our complex relationship with money, as well as the ways in which socioeconomics, gender, race, age, orientation, and culture, play out in our financial experiences and careers.
This article is part of the #RealEstateReset series. Black homeownership in the U.S. is at a 50-year low. It's time for a #RealEstateReset – a national initiative consisting of a series of one-hour newsmagazine styled shows, blogs, and social media campaigns, through the Wealth Wednesday's platform, co-hosted by financial expert, Stacey Tisdale, and iHeartMedia Breakfast Club co-host, Angela Yee. The series provides history, insights, and resources from experts, celebrities, and thought leaders aimed at helping people prepare for homeownership no matter where they are in the post-Covid-19 economy.
If I had to name the defining experience of my life, excluding motherhood, it is, without question, growing up in racial isolation. When I was young, my parents, like many, worked hard to give me the very best, including the opportunity to follow my dream of becoming a figure skater. I actually left home at the age of 11 to live and train with some of the best skating coaches in the United States. This also meant that I was usually the only Black person in the school, the dorm, the community and, in two instances, the entire city.
Transcending Bias
The white people in many of the places I lived had never seen a Black person before. All they had were their stereotypes and uninformed perceptions. The moment they saw me and realized I would be part of their children's lives, however, they had to confront their own attitudes about race, and I had to adapt to the pressures of being "the only" and feeling as though I had to live in a constant state of caution.
Somehow though, over time, relationships emerged. Having to live and interact with each other every day ultimately brought us to the reality that we had more in common as human beings than the differences we assumed we had because of our races, beliefs and values.
See What You Qualify For
Congratulations! Based on the information you have provided, you are eligible to continue your home loan process online with Rocket Mortgage.
If a sign-in page does not automatically pop up in a new tab, click here
Contact
There is a great deal of research that shows contact between groups lessens biases and improves diversity outcomes. A sociologist once told me it takes eight encounters with a member of a particular group for an individual's bias to subside.
Case in point: During World War II, the Army was still segregated and only white members served in combat roles. General Eisenhower asked for Black volunteers for combat duty, as casualties were mounting up.
When troops were surveyed about their racial attitudes after this desegregation, white soldiers whose companies had been joined by Black platoons showed dramatically lower racial animosity and a greater willingness to work alongside Black soldiers than those whose companies remained segregated.
Human beings are designed to bond and connect at their core. Scientists know this and, instinctively, we all know this.
Unfortunately, federal housing policies sowed the seeds of deep separation in the housing market and set a course which prevented Black and white people from getting to know each other, let alone connect.
"That enormous difference is almost entirely attributable to unconstitutional federal housing policy practiced in the mid-20th century. It's a federal creation, an unconstitutional federal creation," says Richard Rothstein, historian and author of "The Color of Law: A Forgotten History of How Our Government Segregated America."
Rothstein says federal housing policies set us on a path to the racial inequality that pervades American society today, still robbing Black and white Americans of the opportunity to integrate with one another.
"How can we ever develop a common national identity that's essential for preserving this democracy if so many African-Americans and whites live so far from each other?" he asks. "They have no ability to empathize with each other, no ability to identify with each other's life experiences."
Divide And Conquer
Segregation became official federal housing policy during the Great Depression. With unemployment over 30% and masses of Americans homeless and broke, the government built public housing for the first time. Black and white public housing were intentionally built in entirely separate communities. In some cases, this actually created segregation where it had not existed before.
At the same time, two new federal agencies created programs to rescue homeowners facing foreclosure and promote new single-family housing by insuring mortgages. Through the National Housing Act, a 20% down payment and $40 a month could get you into a nice home, paving the way for millions to start building generational wealth through homeownership.
It was a great deal, as long as you were white.
"The federal government did not insure or refinance all mortgages," says Lance Freeman, professor of Urban Architecture and Planning at Columbia University.
"They created maps, and rated neighborhoods, grades 'A' through 'D,' 'D' being the most risky. The presence of even just a single Black person in the neighborhood or a block would be taken as a signal that, 'oh, that neighborhood is going to decline.' And those were often color-coded with red on maps, which is where the term 'redlining' came from," he adds.
Shut Out Of Suburbia
While urban redlined neighborhoods were left to crumble, the government began a massive program to suburbanize the white working-class population, building sprawling developments for returning World War II veterans and their families, like Levittown in Long Island, New York – one of seven large suburban housing developments created by William J. Levitt's Levitt & Sons after World War II for returning veterans and their families.
"The only way that Levitt could get this money, and this was true of developers all over the country, was by going to the Federal Housing Administration or the Veterans Administration submitting their plans for the development. The plans had to include a commitment never to sell a home to an African-American," says Rothstein. "The FHA even required Levitt, and many of his other developers, to place a clause in the deed of every home prohibiting resale to African-Americans or rental to African-Americans on this basis. The entire country was suburbanized for whites only."
Even when restrictions on resale to Blacks were struck down in 1948 and the GI bill guaranteed all war veterans a low-cost mortgage, African-Americans were frequently turned down or turned away no matter what their income or credit history was.
Fair Housing?
By the time Lyndon Johnson signed the Fair Housing Act in 1968, decades of legal segregation had disadvantaged Black families and communities so much that generations later, the impacts are not only still reverberating, they've metastasized.
"Those white families gained equity appreciation in the value of their homes' wealth. They used that appreciation, that equity, to send their children to college. They used it to finance their own retirements. They used it to take care of temporary emergencies, or unemployment," says Rothstein. "In addition, they use it to bequeath wealth to their children and grandchildren who then had money for down payments for their own homes. African-Americans were prohibited from participating in this wealth generating exercise."
Researchers at Duke University have gone so far as to call the housing gap, which has stemmed from systemic racism, the primary cause of the wealth gap between Black and white Americans. They also state that true equality won't be achieved until African-Americans can participate equally and fairly in the real estate market.
Experts say there is a high psychological toll as well.
"All human beings psychologically have a need for home. That sense of home," says Dr. Tracey Laszloffy, a psychologist at The Center for Relationship Healing. "For African-Americans, what's critical to understand is that this sense of home takes on heightened significance by virtue of their experiences with being subjected to systematic devaluation and discrimination, because with home ownership comes power, security, control, valuation, and a sense of achievement, of independence," she added.
Waking Up
The gap between Black and white homeownership is at its highest level in 50 years, with segregation and separation still abounding.
Blacks have never recovered from the racist housing policies that were put in place by the government.
Still, knowledge and truth change perceptions. The outsized health and economic challenges Black people in the United States face due to COVID-19 scratched the surface, opening up a Pandora's box of sorts, revealing what systemic racism looks like in real time.
The murder of George Floyd made us look even further into our humanity, and people around the globe stand united in protest as they find themselves in that space of contact, where human beings bond, that is beyond the biases of our thinking minds … A space where real transformation can occur.
"I think that you're sitting in a moment in history right now," says John Hope Bryant, chairman and CEO of Operation Hope and CEO of Promises Homes, one of the largest minority-led owners of single-family properties in the United States. "So what are we going to do with this moment? Because this is a once-in-a-three-generation reset on wealth in America. Let's go get it."
Go to Rocketmortgage.com/learn to join our #RealEstateReset community.