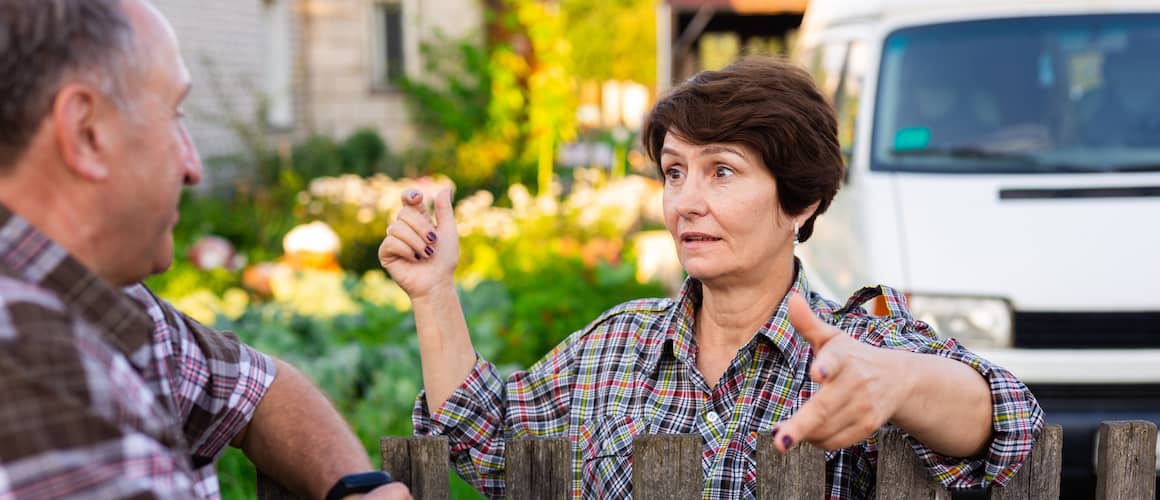 Homeowners Are Guilty Of The Habits They Say Make Annoying Neighbors
Katie Ziraldo5-minute read
February 24, 2023
Share:
51.9% of homeowners listed loud noise as the most annoying neighbor habit
Millennial homeowners find their neighbors 11.5% more annoying than Gen X and baby boomers
63.9% of homeowners even admitted to doing the same habits they find most annoying
When buying a house, the location, size, style and cost are all important factors to consider. But there's one other factor that can dramatically affect a person's experience in their own home – the neighbors.
For some, this component of homeownership can be particularly challenging to deal with. After all, one can choose their friends and maybe even their family, but they rarely get the chance to select their neighbors.
In a new survey by Rocket Mortgage® of 1,095 homeowners between the ages of 26 – 76, 78.7% of homeowners said they have experienced at least one annoying habit from their neighbors – but 48.7% of these homeowners also claimed their neighbors have been helpful despite possessing what they consider to be annoying traits.
In fact, only a small portion (19.8%) of homeowners indicated annoyance as the primary reaction to their neighbors, with 50.9% saying they find their neighbors helpful and 29.3% saying they find them neither helpful nor annoying.
So, on the scale of bad neighbor or worst enemy to good neighbor or best friend, how do homeowners really perceive the people living nearest to them?
See What You Qualify For
Congratulations! Based on the information you have provided, you are eligible to continue your home loan process online with Rocket Mortgage.
If a sign-in page does not automatically pop up in a new tab, click here
52% Of Homeowners Say You're An Annoying Neighbor If...
Wondering what exactly makes for an annoying neighbor? The answer to this question may depend on each individual homeowner's age, location and desire for social interaction. But 51.9% of homeowners agreed that being a noisy neighbor or being loud (aka loud music and loud parties) is the most annoying habit a neighbor can possess. Behind noise complaints, harassment, dogs barking, a lack of privacy and a messy yard made up the rest of the top 5 most annoying habits.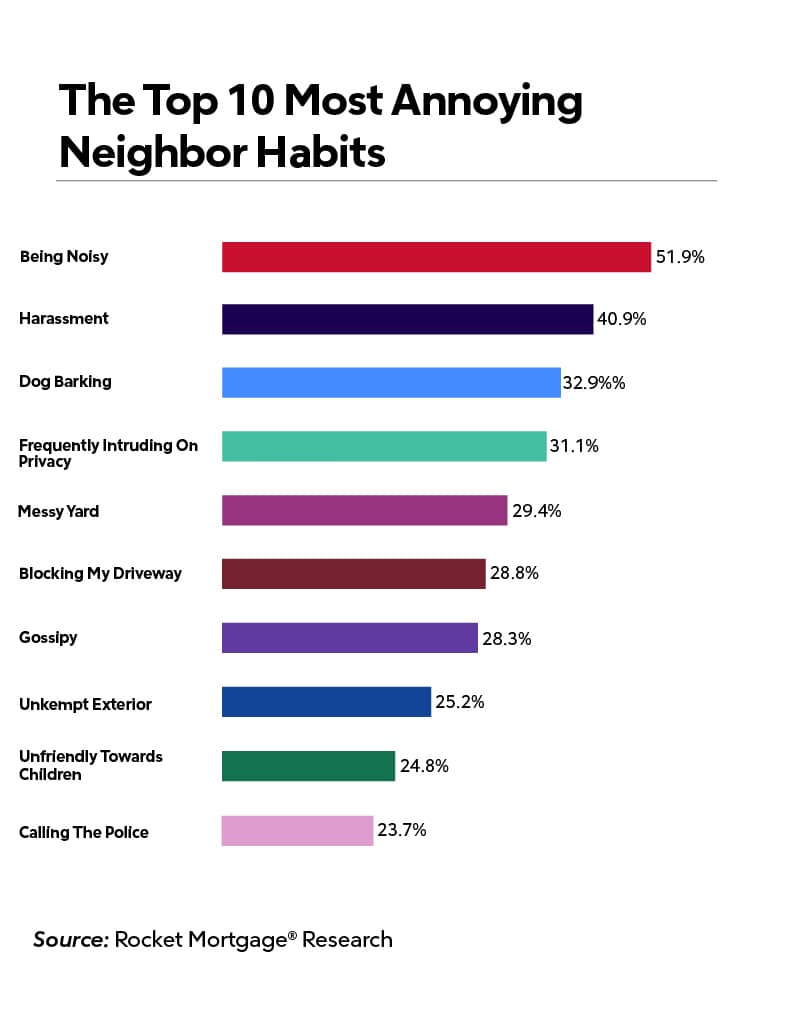 But despite these being the most annoying habits in theory, many homeowners said they haven't actually experienced them firsthand. The specific habits homeowners have encountered seemingly depend most on where they live, with numbers indicating that urbanites experience 38.4% more parking related annoyances than those in suburban or rural environments.
When it comes to their personal encounters, 46% of homeowners said they experience a neighbor's dog barking, 29% deal with general loud noise and 28.3% have opinionated neighbors. Between 24.7% - 27.7% of homeowners have also experienced messy yards, gossipy neighbors and neighbors who have people over all the time.
However, following their own definition, many of these homeowners revealed that they may actually be the annoying neighbor themselves. 63.9% of homeowners admitted to having done one or some of the habits they find most annoying in their neighbors, with 30.3% admitting to having had dogs barking, 20.1% admitting to loud home construction projects and between 14.3% - 17.9% admitting to having messy yards, unkempt exteriors and political signs in their yard.
Urbanites Want More Interaction With Their Neighbors Than Those Residing In Rural Or Suburban Areas
So, with many committing the same acts they deem annoying, what do homeowners really want from their neighbors?
While 56.7% of homeowners stated that they want a neighbor that talks and engages with them on a semi-regular basis, only 18.6% said they want a neighbor who tries to be their best friend. Simply put, most homeowners want some level of interaction with those around them – but finding the sweet spot between friends and strangers can prove to be a precarious balance. And to add yet another layer, 40.5% of homeowners said they prefer a neighbor that minds their own business entirely.
Still, it would seem that for the most part, homeowners get what they give when it comes to their neighbors. Of those who said they desire some interaction with their neighbors, 87.1% ended up getting some interaction. Of those who indicated they want a lot of interaction, 85.2% ended up getting a lot of interaction. Perhaps because it is the most difficult to achieve, 40.1% of homeowners who said they desire no interaction with their neighbors still ended up getting some.
But where we see these trends begin to shift is between rural, suburban and urban environments. Of those in urban areas, 54.3% of homeowners said they prefer a neighbor that tries to be their best friend. In suburban areas, 48.4% said they prefer a neighbor that talks and engages with them on a semi-regular basis. And in rural areas, 35.2% prefer a neighbor that keeps to themselves.
Of homeowners who live in urban areas, 33.9% want a lot of interaction with their neighbors, compared to only 7.6% of suburbanites and 5.3% of those residing in rural areas.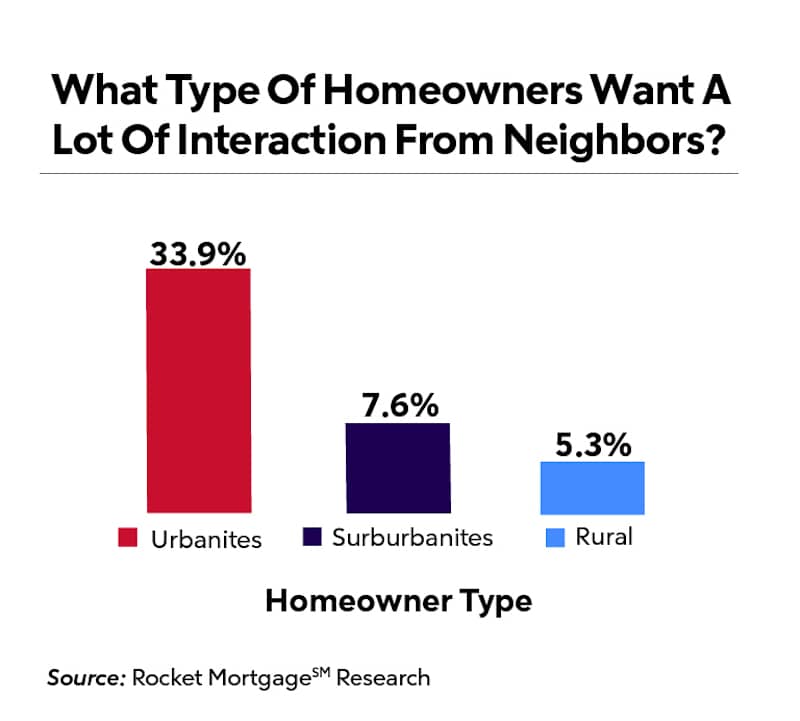 This is a dramatic 26-point increase from suburban residents and a 29-point increase from rural residents, but it makes sense considering the inherent lifestyle differences between these types of communities. If a homeowner is choosing to purchase a property that places several acres of land between them and their closest neighbor, they probably aren't dreaming of having long, heartfelt conversations anytime they take the trash to the curb.
But for homeowners in urban areas, the desire to interact may have to do with more than just physical proximity. According to a recent study by We Forum, overcrowded environments increased loneliness in people across the world by 38%. This could be why urbanites long for more neighborly interactions, though the lack of green space in urban environments was also cited as a major contributing factor to the phenomenon.
Baby Boomers Don't Want You To Get Off Their Lawn, Just To Take Care Of Your Own
Generational differences also seem to play a role in neighbor interactions and perceptions. Overall, millennials find their neighbors to be 11.5% more annoying than baby boomers, but this may be due to a differing desire for interaction between the generations. Baby boomers indicated they prefer a neighbor that talks and engages with them on a semi-regular basis far more (64.9%) than Gen X and millennial homeowners.
But when comparing the level of interaction they end up with, 25.8% of millennials said they have a lot of interaction with their neighbors – significantly more than Gen X (13.3%) and baby boomers (5.9%). They've also experienced the most annoying parking habits (45.9%), while baby boomers have experienced more dog (29.4%) and yard (29.3%) related habits and Gen X has experienced the most drama-related habits (41.1%), including things like harassment, gossipy and opinionated neighbors.
When it comes to the habits that bother them the most, the majority of millennials (64.8%) agreed that house sitting requests are the most annoying habit a neighbor can possess. For Gen X, 43.9% of homeowners listed opinionated neighbors as the most annoying habit, while 45.6% of baby boomers complained about unkempt exteriors like their neighbor's front yard and landscaping.
So, while baby boomers may not actually expect their neighbors to get off their lawn, they would certainly appreciate it if they clean up their own. One homeowner shared their personal experience with a baby boomer, explaining "The lady to one side of us has too much time on her hands and likes to nitpick every little thing that she thinks seems annoying. I can get behind some reasonable requests, but no joke, within the first 6 months of us moving next door, she 'adamantly suggested' (more than once) that we re-sod our lawn simply because she didn't like looking at the bits of clover in it."
Of course, it's important to note that these preferences and opinions vary even within each generation. While 46.7% of millennials agreed that a neighbor who minds their own business is preferred, another 35.2% indicated they want a neighbor who tries to be their best friend.
So, with such varied expectations, how are modern homeowners supposed to navigate new neighbors and neighbor relationships? Setting boundaries, whether that be a physical or metaphorical fence, may be right for some, while others may think welcoming neighbors is as easy as pie – delivered to their front door.
Methodology
To understand how homeowners perceive and interact with their neighbors, Rocket Mortgage surveyed 1,095 homeowners between the ages of 26 – 76 who currently own a home. Generational quotas were utilized to ensure millennials, Gen X and baby boomers were equally represented. Participants who do not live in a single-family home or indicated that they don't have neighbors were screened out. This survey was conducted in July 2022.