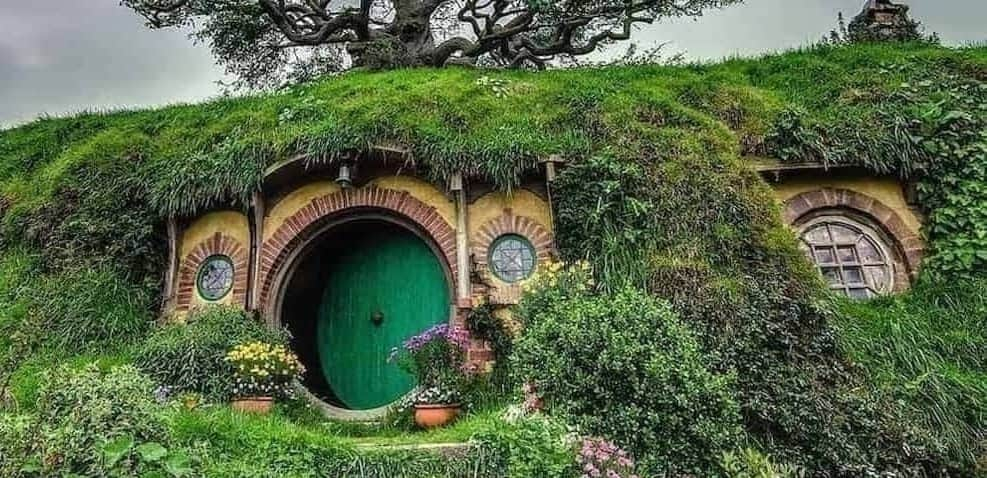 10 Fictional Houses And Their Nonfictional Mortgage Costs
Andrew Dehan9-minute read
February 24, 2023
Share:
Fictional houses play important roles in many beloved stories, putting roofs over the heads of our favorite characters. In some cases, these roofs are more tree stumps or grassy knolls than they are shingles or timber, but these houses from movies, TV and literature provide shelter and often end up becoming unique characters of their own.Even if some fictional houses are completely infeasible for real-world construction, you still may wonder about SpongeBob's mortgage payments, Shrek's upkeep on his swamp or whether the Thornberrys should've bought a house instead of a ComVee. Lucky for you, we've crunched the numbers to find out what 10 memorable fictional homes would cost their owners using our mortgage calculator. We analyzed historical data from the year the story took place to figure out if our favorite characters could really afford their unique dwellings.Read on for a list of 10 fictional homes and their not-so-fictional mortgage costs.
1. The Burrow, "Harry Potter"
The Weasley family's famous Burrow dwelling is a quaint, countryside refuge that features six bedrooms along with a barn, a chicken coop and a large garden. Visitors often remark at the welcoming, relaxed atmosphere of the charming five-floor cottage, though it was in need of a few repairs.
The first "Harry Potter" book is set in 1991, and the Weasleys live in a fictional version of Otterton, a real town in Devon, England. Magical whimsy aside, their cottage is approximately 1,500 square feet and would likely cost around $300,000 at the time. A 30-year mortgage at 1991 rates of around 10.4% would stick the Weasley family with a mortgage payment of $2,150.
Location: Otter St. Catchpole, Devon, England
Estimated Home Value: $300,000 (1991)
Estimated Mortgage Payment: $2,150
Character's Estimated Salary: $110,000
Verdict: The Weasleys could afford the Burrow.
Mr. Weasley's job as a department head for the Ministry of Magic likely earned him a pretty good salary, though he and his wife had considerable expenses raising seven children. Though their budget was tight, it's likely that they could afford the Burrow.
See What You Qualify For
Congratulations! Based on the information you have provided, you are eligible to continue your home loan process online with Rocket Mortgage.
If a sign-in page does not automatically pop up in a new tab, click here
2. Bag End, "The Hobbit"
"It was a Hobbit-hole, and that means comfort." J.R.R. Tolkien's description of Bilbo Baggins' hillside hideaway paints a charming picture of a small-town English cottage. Filled with unique design touches like circular doors and barrel ceilings, Bag End has everything that would attract viewers to a listing. Just duck before you enter the door.
The books' events take place thousands of years ago and our historical data doesn't quite reach that far. Instead, we estimated the value of Bilbo's approximately 4,500-square-foot home at the time the book was written in 1937. Shire was roughly based on Worcestershire and Oxfordshire, England, where Tolkien grew up. Historical pricing indicates that Bilbo's mortgage payments, on a 30-year note at 2%, would be around $237.
Location: The Shire, Middle-earth
Estimated Home Value: $80,000 (1937)
Estimated Mortgage Payment: $237
Character's Estimated Salary: Unknown
Verdict: Bilbo likely could afford his hobbit-hole.
Bilbo inherited both his home and his money, and there's not much mention of his employment history in the book (although Gandalf does hire him to be a burglar at one point). We estimate that with his holdings, Bilbo had more than enough to pay his mortgage, though he probably owned the house outright.
Calculate how much house you can afford.
Use our quick and easy Home Affordability Calculator.
3. Smart House, "Smart House"
The Cooper family won their home in a smart house giveaway, and the artificial intelligence and automations would be enough to win over any tech-savvy buyer today, as long as they could put up with PAT (Personal Applied Technology), the home's mischievous personality.
In Hyattsville, Maryland, the average home price in 1999 was around $185,000. The cutting-edge smart tech in the Coopers' home would have cost a lot of money at the time, bringing the home's total value up to $500,000 or more. With a 7.44% interest rate, a mortgage on this property would cost $2,780 per month.
Location: Hyattsville, Maryland
Estimated Home Value: $500,000 (1999)
Estimated Mortgage Payment: $2,780
Character's Estimated Salary: $40,000
Verdict: The Cooper family could not afford the Smart House.
Though a job is never mentioned, Nick Cooper is a widowed father of three covering the entire family's expenses. We estimated his salary at around the national average in 1999. Even though they won a giveaway, the Coopers likely had to pay taxes on the value of their home, as well as future property taxes.
4. SpongeBob's Pineapple, "SpongeBob SquarePants"
SpongeBob's famous pineapple drifted down to its resting spot after falling off a cargo ship in the Pacific Ocean. Bikini Bottom's most famous resident since converted the fruit into a three-story home with numerous upgrades like a home office for writing essays and a fully stocked library.
Though it stands only at about 2 square feet, this pineapple has a prime location on Conch Street and many convertible amenities. For a one-bedroom, two-bathroom home in the Marshall Islands, you might pay around $80,000 – though it'll probably be larger than a pineapple. This makes SpongeBob's mortgage payment about $345 at 5%.
Location: Bikini Bottom, Bikini Atoll, Republic of Marshall Islands
Estimated Home Value: $80,000 (2001)
Estimated Mortgage Payment: $345
Character's Estimated Salary: $0.10
Verdict: SpongeBob could not afford his pineapple.
Details on SpongeBob's salary vary, with some estimates coming in around 10 cents per year, while others note he pays Mr. Krabs $100 per hour for the privilege to work for the Krusty Krab. Sadly for our favorite sponge, neither salary is stable enough to buy a house.
5. BoJack's House, "BoJack Horseman"
BoJack's modern retreat in the Hollywoo Hills (renamed after he stole the 'D' from the Hollywood sign) has a sprawling, private hillside lot with a swimming pool and a canyon view through floor-to-ceiling windows.
At three bedrooms and around two bathrooms, BoJack's bachelor pad clocks in somewhere around 5,000 square feet. When the show aired in 2014, a similar house in the Hollywood Dell neighborhood could be expected to list for around $6 million, making BoJack's mortgage around $23,400 per month at 4.17%.
Location: Hollywoo, Los Angeles, CA
Estimated Home Value: $6 million (2014)
Estimated Mortgage Payment: $23,400
Character's Estimated Salary: $1 million – $2 million
Verdict: BoJack could afford his hillside retreat.
With a hit TV show under his belt, BoJack's royalty payments from "Horsin' Around" could likely pay for his jumbo loan and then some. As for the other extravagant expenses in his life, we're not so sure, but he's got the house covered.
6. The Swamp, "Shrek"
Shrek's cozy two-room cottage has a covetable level of privacy and even features its own garden. The bathroom is in the outhouse out back, but the enchanting curb appeal more than makes up for the inconveniences.
"Shrek" takes place around the 16th century when an approximately 350-square-foot dwelling like the cottage could be expected to cost around $3,000. With a 30-year mortgage at 16th century rates of around 5.6%, we estimate that Shrek would face a monthly mortgage payment of $17.
Location: The Forest of Illusion
Estimated Home Value: $3,000 (1500s)
Estimated Mortgage Payment: $17
Shrek's Estimated Salary: $0
Verdict: Shrek could not afford his swamp cottage.
While it's likely that Shrek wouldn't have the funds to pay his mortgage, he set out to rescue Princess Fiona in exchange for the deed to his property. To stay on top of future mortgage payments, Shrek could use seasonal income earned from harvesting and selling local produce.
7. Arnold's Room, "Hey Arnold!"
Arnold's bedroom is the stuff real estate dreams are made of, with a high-tech setup and a sprawling glass roof letting in ample daylight. The room rests atop the Sunset Arms Boarding House, a historic home dating back to the 18th century that features at least 14 bedrooms, including Arnold's.
For a penthouse one-bedroom studio apartment in Brooklyn, where Arnold's hometown draws inspiration from, you were likely to pay around $150,000 in 1996 when the show premiered. This would make the mortgage payment around $865 at 7.81%.
Location: Hillwood, WA
Estimated Home Value: $150,000 (1996)
Estimated Mortgage Payment: $865
Character's Estimated Salary: $10,000
Verdict: Grandpa Phil couldn't afford a mortgage for Arnold's room.
Arnold's grandfather runs the boarding house and his income is dependent on the boarders paying their rent, but we've estimated the cost of Arnold's room alone, since Arnold wouldn't pay for it himself. While it's not likely that Grandpa Phil could have afforded Arnold's room if he'd had a mortgage, his father won the boarding house outright in a card game in the 1890s, so Phil does not have a mortgage.
8. The Loft, "New Girl"
When Jess first moves into her new loft apartment with Nick, Winston and Schmidt, it's immediately clear that something's up. How are a teacher, a bartender, a former Latvian basketball player and a marketing professional able to afford a massive Arts District loft with giant corner windows, an open kitchen and four bedrooms?
Though the quartet rents their apartment, it's possible to estimate the mortgage payment. The apartment is approximately 2,600 square feet, and with just one bathroom, wouldn't fetch as much as comparably sized lofts, even if it does have an amazing home layout. In 2014, estimating an asking price of $1 million, the mortgage payment would be around $3,900 at 4.17%.
Location: Arts District, Los Angeles, CA
Estimated Home Value: $1 million (2014)
Estimated Mortgage Payment: $3,900
Character's Estimated Salary (combined): $250,000
Verdict: The quartet could afford their loft apartment.
With their combined salaries, it's entirely possible that the four were able to afford their Arts District loft. One or two of the characters may have needed to cover a bigger portion of the mortgage because of Nick's financial irresponsibility and Jess's teacher salary, but considering how the four get along, we think it would work out.
9. The ComVee, "The Wild Thornberrys"
The Thornberry family was working remotely long before it was popular. Their ComVee, or Communications Vehicle, served as home base for the family as they trekked around the world filming documentary footage. The van is decked out with lots of technology, as well as a comfortable living space for the family of six.
Though the family wouldn't have a mortgage on their vehicle per se, they would still have to make regular payments. A vehicle of this size and spec cost at least $300,000 when the show premiered in 1998, sticking the Thornberrys with monthly payments around $2,380.
Location: Mobile vehicle
Estimated Home Value: $300,000 (1998)
Estimated Mortgage Payment: $2,380
Character's Estimated Salary: $125,000
Verdict: The Thornberrys could afford their ComVee.
Nigel and Lady Marianne Thornberry are renowned wildlife documentary filmmakers. Nigel even turned down a professorship at Oxford in order to pursue his dream and his own show. Documentary filmmaking is expensive work, but the Thornberrys likely rake in enough to cover the cost of their ComVee and their travels.
10. Seawind Model Home, "Arrested Development"
The Bluth family business isn't unfamiliar with operating in the red, but the business got by on cutting costs in many areas of operations. Their Sudden Valley development was no different, especially the model home that Michael and his clan took up residence in.
Erroneous appliance hookups, chipped molding and even a sinkhole opening up in their living room can't convince the Bluths to move out. Their three-bedroom, three-bathroom 3,000-square-foot Newport Beach home would likely have cost around $858,000 in 2003 when the show aired.
Location: Sudden Valley, Newport Beach, CA
Estimated Home Value: $858,000 (2003)
Estimated Mortgage Payment: $4,000
Character's Estimated Salary: $750,000
Verdict: The Bluths could afford their Sudden Valley home.
Using Michael and G.O.B.'s roles with their father's real estate company for comparison, we estimate the Bluth kids' salaries at a combined $750,000. That would more than cover the $4,000 mortgage payment based on 2003 mortgage rates of 5.83%.
Methodology:
We assumed a standard 20% down payment to calculate all mortgage payments above. We used several sources to gather information that helped estimate whether these beloved characters would actually be able to afford their fantastical homes:
Historical property and material costs based on location
Interest rates at the time the associated story took place
Salaries of the home-owning characters
While not all of our favorite characters could realistically afford their mortgage payments, fantasy is a key element in these fictional stories. We're happy to report, however, that 60% of the fictional houses we analyzed were affordable for their owners.
In real life, mortgage approval is tied to measurable criteria and not subject to whimsical estimations, though it can be fun to look to your favorite fictional characters for inspiration.
Sources:
HP Lexicon | RightMove | Magical Menagerie | St. Louis Fed | Mortgage Strategy | Reddit | Forbes | Economics Help | CNBC | The Ringer | YouTube | UC Davis | U Wyoming | Bank of England | Bloomberg | I Am Not a Stalker | The OC Register | Mortgage Reports