Your partner on the path to a new home.
Mortgages are complicated. We make that our problem, not yours. Here's how we guide you through the process as simply as possible.
Tell Us About Your Situation

We start by finding out a little about you and your home buying goals so we can give you the best solution.

We Review Your Credit

If you want sellers to take you real seriously, you need real numbers. Your credit score is a key factor in getting an approval.

Find Out How Much You Can Afford

You tell us about your income, monthly bills and what you have saved to buy a home. We'll calculate your maximum home price.

Make An Offer

You can easily customize your approval letter so that if you make an offer that's less than what you're approved for, sellers won't know.

Close With Confidence

We'll get you to the most exciting part of buying a home as fast as possible with no surprises.
Loan scenario simulated. Sequence shortened. Conditions apply. Payment stated does not include taxes and insurance premiums. The actual payment amount will be higher.
Our numbers speak for themselves.
4.8/5
star rating by our clients on the App Store®2
As of January 2021
24 hour
access to your loan online and on the Rocket Mortgage app
More than 90%
of our clients would recommend us3
Knowledge is power.
Use our resource center to learn more about purchasing a home, like how much home you can afford, when it's a good time to buy and other smart mortgage moves.
Expert advice at your fingertips.
Our Home Loan Experts are available 7 days a week to answer all your mortgage questions.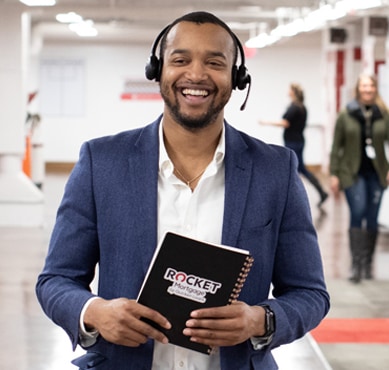 Meet Brandon
Home loan expert
"My mission is to help first-time home buyers get into a home they love and can afford."
Your mortgage approval starts here.
A Verified Approval is based on an underwriter's comprehensive analysis of your credit, income, employment status, assets and debt. Does not apply to loans submitted through a mortgage broker. Conditions may apply.
Rocket Homes disclosures and licensing page: https://www.rockethomes.com/license-numbers