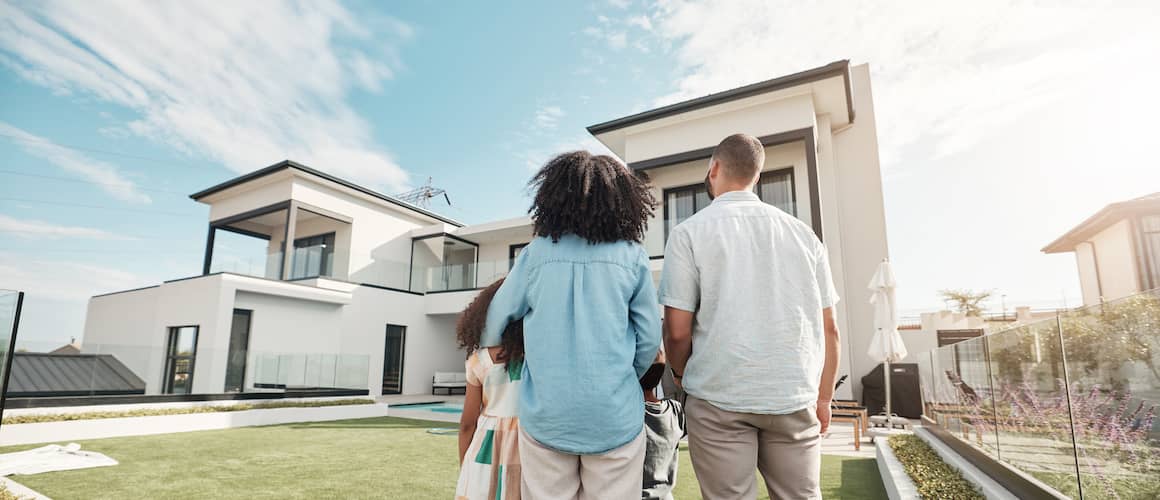 How Big Of A House Do You Need? Tips For Calculating Your Ideal Home Size
Michelle Banaszak6-minute read
April 10, 2023
Share:
If you're thinking of buying a new home, one of the first questions you may have is, "How big of a house do I need?" It can be difficult to estimate how much space you'll need, especially if you're moving from an apartment or shared living space. We're here to help you understand what to consider when calculating how much house you need and some advantages and disadvantages of different size homes.
How Big Of A House Do You Need?
When determining how big of a house your family needs, there are several factors to consider, including the size of your family, any potential life changes and any special rooms or other house features you need. However, the general rule of thumb to determine the best size house for your family is to multiply the number of people by 600 square feet.
See What You Qualify For
Congratulations! Based on the information you have provided, you are eligible to continue your home loan process online with Rocket Mortgage.
If a sign-in page does not automatically pop up in a new tab, click here
Factors To Consider When Calculating How Much House You Need
There are many factors to consider when buying a house, including determining what size house to purchase. Remember, buying a house is a major commitment, so you want to make sure you're choosing the right home for you and your needs. You're probably not going to want to hear this, but you'll need to do some math.
The Number Of People In Your Home
You want to make sure each person living in the home has enough space to be happy and healthy. If you're a family of four, multiply 4 x 600. That would mean you should look for homes around 2,400 square feet. If it's just you and a partner or roommate, you'd multiply 2 x 600, and look for a home around 1,200 square feet.
Room Sizes On Average
Another thing you may want to consider when buying a home is overall room size averages. You may have a specific idea in your head that you'd like a large kitchen or a primary bathroom attached to the primary bedroom. These numbers can vary widely depending on many factors, including home size and homeowner preferences, but we've narrowed down the average size of each room, according to a 2019 study by the National Association of Home Builders.
| | |
| --- | --- |
| Room Type | Average Square Footage |
| Primary Bedroom | 312 sq. ft. |
| Primary Bathroom | 164 sq. ft. |
| Kitchen | 326 sq. ft. |
| Dining Room | 170 sq. ft. |
| Living Room | 173 sq. ft. |
| Family Room | 295 sq. ft. |
Additional Factors That Impact What Size Home You Should Buy
In addition to person per square footage, there are some other factors to consider when deciding what size home you should buy. This comes down to more than just how much space you need for your family, furniture and storage. Take a look at some of the examples below.
Your Financial Situation
Your family's financial situation should play a significant role in this decision. You should be sure you can afford the monthly mortgage payment, utilities and any unrelated bills/expenses to avoid becoming house poor. That means you're spending too much of your total monthly income on homeownership expenses such as monthly mortgage payments, property taxes, maintenance, utilities and insurance. It's best to stick to the 28% rule. The 28% rule is a general guideline that says you should try to spend no more than 28% of your monthly gross income on housing expenses. Use our quick and easy Home Affordability Calculator to calculate how much house you can afford.
Calculate how much house you can afford.
Use our quick and easy Home Affordability Calculator.
Specific Needs Or Desires
Think about any special rooms or spaces you may need or desire in your home before deciding how big of a house to buy. We gave you the averages of room sizes, but those may be completely different for you and your family. Here are a few things to consider:
Do you want an eat-in kitchen, a formal dining room or both?
Do you want a great room, living room, den or a combination of these rooms?
Do you want an open or closed concept floor plan?
Do you want any special spaces, such as a home office, mud room or game room?
Do you want any extra rooms for children or guests?
Do you want any specific accessibility or layout?
Potential Life Changes
Think about any potential life changes you or your family may encounter when considering what size home to buy. Do you plan to stay in the house for a long time? Are you thinking of adding new members to your family? Is there someone in your family who may need to move in with you in the future?
Planting roots or moving eventually: How long are you planning to live in the house? If the answer is a long time or even forever, you'll want to accommodate a wide variety of possibilities when choosing a home – and going bigger might be warranted. But if you're not sure whether you're going to stay for a long time or will need more space, consider buying a starter home vs. a forever home.
Adding new family members: If you have children or plan on starting a family in the near future, you'll likely be looking at the quality of the schools and how family-friendly the area is. If you think children are further off in your future or not at all, you might not need the extra space or specific location right now.
Changing needs of family members: Is there a possibility someone in your family or friend circle might stay with you for prolonged visits or permanently? If so, consider the layout of the home and how you might create a private space for your guests. As you and your family get older, you may need to think about accessibility over square footage.
How Do You Know If You Need A Different Size Home?
As you live in your current home, you may be trying to decide if you want to upsize or downsize. Sometimes there's no right or wrong answer to changing the size of your home, it's about your plans and vision. To make a choice, you'll need to ask yourself a few more questions. How much of your space do you use now? Do you have specific plans for how you would use more or less space?
When Upsizing May Be A Good Idea
Upsizing may be a good idea if:
Your family is growing.
You can comfortably afford to upsize.
You frequently host family and friends.
You feel cramped.
You feel like decluttering doesn't give you more space.
When Downsizing May Be A Good Idea
Downsizing may be a good idea if:
Your monthly housing costs have risen above 30% of your income.
You feel overwhelmed with cleaning and maintenance.
You're not using your whole house or property.
You want a lifestyle change.
Your kids are moving out of the home.
Changes In Home Size Trends
The average home size in the United States has gone from 1,660 square feet in 1973 to 2,687 square feet in 2015 and, most recently, down to 2,273 square feet in 2021. At the same time, tiny homes and minimalist living have been popular for the past few years. Either way, it all comes back to how much space you and your family personally need and want.
Large Vs. Small Homes: Advantages And Drawbacks
Every home is going to have advantages and disadvantages. Now is the time to decide what things are most important to you and what you may be able to compromise. Here are a few advantages and drawbacks of large homes and small homes to make it a little easier for you to decide.
Large Homes
Advantages
More space for you, your family and any company you may have
Resale value is usually higher
Extra amenities, such as walk-in closets and en suite bathrooms
Drawbacks
More expensive to maintain
More expensive to heat or cool
You'll probably pay more upfront, depending on the house
They tend to be further from urban centers
They may have a bigger economic impact on the planet
Small Homes
Advantages
Tend to be less expensive and easier to maintain
May be closer to main cities
Can be easier clean
May have a cozier and more unique feel
Drawbacks
You may end up outgrowing the house and needing something bigger
Storage space can be an issue
May be further from the area you want to live
Friends and family may not all be able to visit at once
The Bottom Line
Hopefully you feel a bit more prepared to decide how big of a house you may need. Remember to think about what you can afford, the number of people in your home, what life changes may occur in the future and the advantages and drawbacks of buying a large vs. small home. Once you've determined the right size home, start the mortgage approval process today.
Related Resources
Viewing 1 - 3 of 3