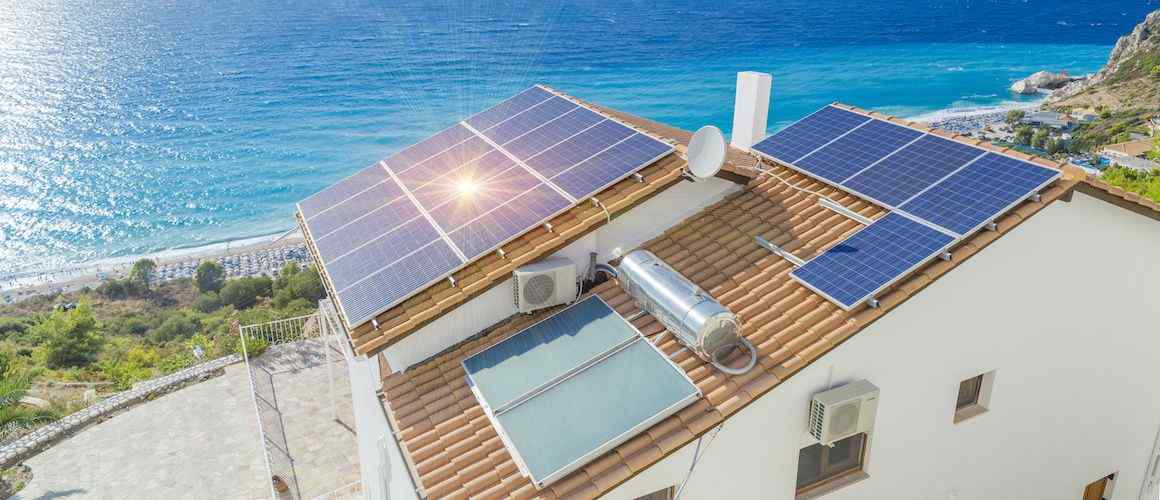 How Buying A House With Solar Panels Can Affect Getting A Mortgage
Emma Tomsich9-minute read
October 15, 2021
Share:
Disclosure: This post contains affiliate links, which means we receive a commission if you click a link and purchase something that we have recommended. Please check out our disclosure policy for more details.
Putting solar panels on your house can be a great way to save on your energy bill. Some homeowners even generate enough electricity to sell some of it back to the power company. However, you should know that the high cost of solar panels can cause problems if you're trying to get a mortgage. Let's take a look at how solar panel installation could impact your home's financing.
The Cost Of Installation
Solar panels can save you money on energy bills, but they can be quite expensive to install. Many energy companies offer substantial subsidies, but the cost can still be quite high.
Many people who purchase solar panels do so with the help of a loan, and others choose to lease their systems to save on the cost of installation. The main difference between these types of solar acquisitions is ownership. When you purchase solar panels, you have full ownership over the system, but when you lease solar panels or sign a power purchase agreement (PPA), a third party owns the solar equipment.
Both options are great choices for someone interested in a solar panel system, so make sure to choose whichever is best for your own personal situation. For example, you might consider purchasing solar panel equipment if you want to increase the market value of your home or take advantage of the system's financial benefits rather than only having it for its environmental benefits. You might also be eligible for energy efficient tax deductions. On the other hand, leasing a solar panel system might be your best option if you are only interested in the system's environmental benefits for renewable energy. You might also not want full maintenance responsibility of the equipment, or you may be ineligible for investment tax credits or don't want to wait until the following year to receive the financial benefits of tax credits.
Implications for Your Mortgage
When buying a house, one of the most important things you should be aware of is how to get a mortgage. Solar panels can affect your mortgage qualification process. Let's take a look why this might be the case.
Liens
If you're not buying your solar panels with cash, the manufacturer may place a lien or Uniform Commercial Code filing on your property to make sure you keep paying for them.
Unfortunately, when you go to refinance or sell the property, it's generally trouble to have any kind of lien on your home. Many solar panel manufacturers will be able to remove the lien and uninstall the system entirely in the case of a sale. If you're refinancing, you may be able to have them temporarily remove the lien. In any case, you should find out the manufacturer's policy before having solar panels installed.
Additionally, your solar panel lease contract can't have any provisions that interfere with the mortgage, including clauses that hinder the sale of the property. Your mortgage lender may also require that the manufacturer pay for any property damage related to the installation, malfunction or removal of the solar panels in the case of a lease.
PACE Loans
One type of loan that's popular for financing solar panels in certain areas of the country is a property-assessed clean energy (PACE) loan. These loans are financed by local and state governments to facilitate energy-efficient upgrades, including solar panels. When you get a PACE loan, a lien is placed on your property until the loan is paid off.
Unfortunately, many lenders, including Rocket Mortgage®, don't allow you to get a mortgage with an existing PACE loan because PACE loans are structured to take precedence over the mortgage.
Other Considerations
If you're financing your solar panels, any payments have to be included in your debt-to-income ratio (DTI). These payments are accounted for like any other bill, so you should keep in mind that a big loan with big payments can lower the size of the mortgage you can qualify for.
Solar panels also can't be the only source of electricity on the property. All the major mortgage investors, including Fannie Mae, Freddie Mac, the FHA and the VA, require the property to have an alternate source of electricity. This is because the property won't be considered livable if your solar panels fail and there's no electricity.
One other item to note is that if you're looking for a home with solar panels, you need to make sure that you actually get the panels with the sale. Many lease agreements allow owners to remove the panels and install them at a new property.
Buying A House With Solar Panels
Now, if you do obtain ownership of solar panels through a sale, it's important you're aware of what this might mean for you.
Buying A House With Fully Owned Solar Panels
If you're specifically looking for a home with solar panels, buying a home with a fully owned system would be your ideal plan. That's because the previous owner purchased the panels up front, so they are entirely owned by the seller. So, instead of coming with any complications or strings attached, they just come with a higher price on the house.
Buying A House With Solar Panels In A Lease Or PPA
As previously mentioned, leasing a solar panel system means the homeowner sends monthly payments to the company that installed the solar equipment. If the house you're interested in is leasing a solar panel system, it's important that you find out more information about the lease terms and you understand the lease contract and deal. Feel free to ask about what monthly fees come with the system, and find out whether payments are escalating or not. If you're satisfied with the lease terms, and your personal financial situation can handle a solar system lease, the solar company can easily transfer your name to the lease after you pass the credit check. But if you're set on a house and not comfortable with the current lease, it's possible that you might be able to negotiate with the previous owner to see if they will compensate you or pay off the remainder of the lease.
Buying A House With Solar Panels Financed Through A Solar Loan
Unlike a lease, if a homeowner installs solar equipment with a solar loan, the loan will always be their liability, even if the property is sold. So, if you're looking to buy a home with solar panels financed through a solar loan, you don't need to worry about making additional monthly payments. Instead, the asking price for the home might be higher to factor in the cost of the solar equipment.
Buying A House With PACE-Financed Solar Panels
PACE financing is attached to the property, and not the person who took out the loan since payments are made through property taxes. Therefore, the solar equipment payments become your responsibility when you purchase a home that has PACE financing. If you're thinking about taking on PACE financing payments with the purchase of a new home, you should review the financing terms before you make a purchase.
Are Solar Panels Worth the Trouble?
Let's get to the bottom line and help you decide whether solar panels are really right for you. In order to figure that out, you have to consider installation costs, average energy savings and sales price.
According to the National Renewable Energy Laboratory, the average cost of a solar installation is about $3.09 per watt for a 5.2-kilowatt setup. If you do the math, that comes out to $16,068 in installation costs. The cost could be quite a bit lower if your state or local energy company offers incentives for installation.
If you're worried about the maintenance costs that come with having solar equipment, you shouldn't fear. If you purchased or are making loan payments to the system, you own it, which means you're fully responsible for maintaining it. But luckily, solar equipment is known for its durability and has warranties, so you won't have to worry too much about maintenance. Leasing solar equipment has even less maintenance on your part because the company that owns the system is responsible for maintaining it. However, there are many apps you can use to track the performance and maintenance of your solar panel systems.
The good news is that adding solar panels could likely boost your home value. According to a government-sponsored study from the Lawrence Berkeley National Laboratory, the average sales boost from the average solar panel installation is about $15,000. That means that your solar panels would more or less pay for themselves upon the sale of your home.
But how much could a solar energy system really save you on a monthly basis? That will vary depending on your location. The PVWatts® Calculator is a project of the National Renewable Energy Laboratory. You can put in your location and the specs of the solar panel system you're considering to find out how much you could save based on local retail energy prices.
If you find that a solar panel system won't work for your finances, there are alternatives for you. For instance, you could buy into a community solar project. If you invest in a project controlled by the utility company, you could get your electricity at lower rates without having to deal with the financing problems. Or if solar panels aren't for you, there may be other improvements you can make to achieve a similar effect.
Have you installed solar panels on your home? How has it worked out for you? Let us know in the comments.