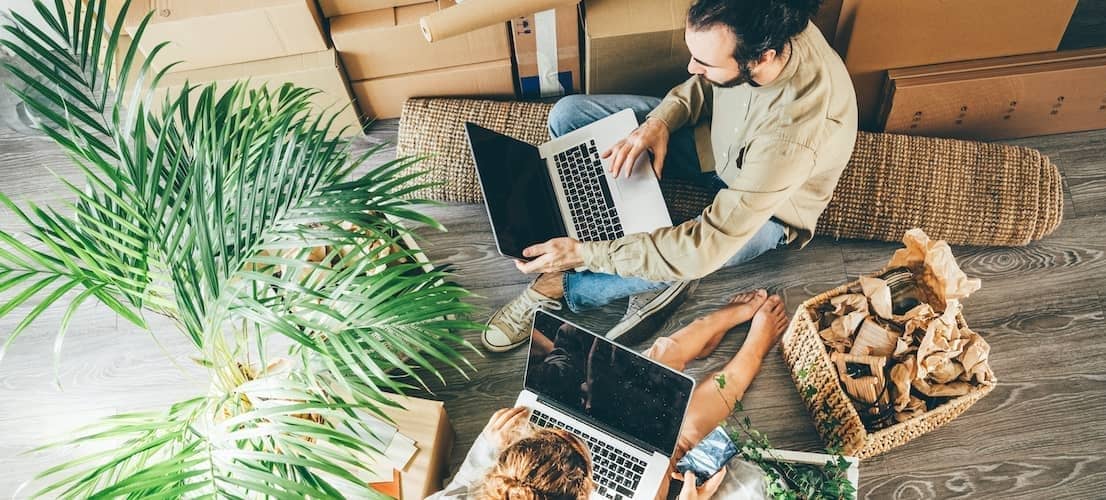 Top Ten Costs Of Buying A Home As A First-Time Homeowner
Sidney Richardson7-minute read
July 13, 2021
Share:
Buying a house, especially as a first-time home buyer, can be full of costs you might not expect. Beyond your mortgage, insurance and usual closing costs, there are some additional things in store that you may want to budget for to avoid any surprises.
Don't wait for the total cost of buying a home sneak up on you – let's take a look at 10 common costs you may want to account for in your budget.
1. Certified Home Inspection
Since it isn't a mandatory procedure – and is also often confused with a home appraisal – many homeowners don't consider the potential cost of a home inspection. A home inspection is a thorough examination of a home with the aim of finding any issues. It differs from a home appraisal, which is done mainly to determine the value of a property, not find potential problems.
A home inspection is usually done after your offer on a home has been accepted. The inspector should check out every inch of the home from top to bottom, and if the inspector finds any big or notable issues with the home, you can usually use the home inspection contingency to back out of the sale. This is one of the best ways to protect yourself from purchasing a home with unforeseen issues or 'invisible' damage.
A home inspection isn't mandatory, but it can be a very useful precautionary measure to save you money in the long run. Depending on where you live, a home inspection can cost anywhere from $200 – $600+.
2. Appraisal Fee
Before finalizing a loan agreement, you'll have to go through an appraisal. An appraisal is similar to a home inspection, which we mentioned above, but has a few key differences. Rather than seeking potential problems, an appraisal's goal is to decide the fair market value of a home. An appraiser will take a look at the main features of a home and note any notable visible defects but won't search for specific problems like a home inspector would.
Similar to a home inspection, though, you can get a home appraisal contingency. Like the inspection contingency, this allows you to back out of a sale if the home is appraised under an agreed-upon purchase price.
Your mortgage lender may help schedule an appraisal for you, but the appraisal itself is done by a third-party, and you as the borrower will have to pay for the service. That cost is usually anywhere between $300 – $600.
Find out what you can afford.
Use Rocket Mortgage® to see your maximum home price and get an online approval decision.
3. Earnest Money
Earnest money, also known as a 'good faith deposit,' is an amount of money put down on a house before closing to show a seller that you're serious about buying the house. Earnest money deposits aren't mandatory but might be requested by your seller because it protects them if you back out of a deal as the buyer.
Earnest money deposits are typically around 1% – 3% of the sale price and are held in an escrow account until closing or until the deal falls through.
Earnest money is not the same as a down payment, which is a large initial payment toward a home you're purchasing. If you make a good faith deposit and do go through with purchasing a home, your earnest money will usually be added to your down payment.
4. Setting Up An Escrow Account
An escrow account is an account which holds typically large sums of money until a certain condition is met during the sale process – and sometimes after the sale process. Escrow accounts typically hold earnest money until the deal goes through and additional funds as well for buyer tax and insurance purposes.
Escrow protects buyers and sellers during the home buying process by helping buyers make more manageable payments and helping sellers assure bills are paid. The fee for escrow services is typically around 1% – 2% of a home's sale price in addition to any funds that will be held in it.
5. Closing Costs
When saving for closing on your home, remember that the down payment isn't the only charge you can expect to pay at the negotiation table. Closing costs usually cost about 3% – 6% of the purchase price of a house.
'Closing costs' refer to a number of additional charges you can expect to pay for when closing on your loan. Some closing costs can be negotiated to be paid by the seller, though in most cases the buyer will pay the majority of these fees. Here are a few fees that might be included in your closing costs (though be aware there are potentially more not listed here):
Application fee (up to $500, typically nonrefundable)
Attorney fees (vary by state, but usually around $500 – $1500)
Courier fees (Around $30)
Credit reporting fee (Typically around $25)
Discount points (One 'point' usually costs around 1% of the loan price)
HOA transfer fees, if home is part of an HOA community (price varies by HOA)
Loan origination fee (Around 1% of loan value)
Title insurance (0.5% – 1% of the purchase price)
6. Getting The Right Insurance
When purchasing a home, it's very likely that you'll be paying for some kind of insurance, whether it's homeowners insurance or private mortgage insurance (PMI).
Since you'll almost certainly be paying for some type of insurance, let's take a look at some of the costs you can expect for that.
Mortgage Insurance
PMI is a type of insurance paid by borrowers of conventional loans that made a down payment smaller than 20%. PMI must be paid by conventional borrowers until they reach 20% equity and typically costs around 0.5% – 1% of your loan amount each year. This type of insurance protects your lender if you are unable to pay back your loan.
If you don't have a conventional loan, other loan types also usually charge borrowers for some sort of insurance intended to protect the lender if you default on the loan. If you have an FHA loan, for example, you'll pay the FHA mortgage insurance premium (MIP) instead.
You usually pay for MIP for the entire life of the loan. If you put at least 10% down at the time of your purchase, you'll pay MIP for 11 years. If you put down less than that, however, you'll pay MIP for the entire term length. MIP consists of two parts, an upfront payment and then an annual fee. Both of these costs will vary based on the size of your loan, but you can expect the upfront payment to be about 1.75% of the total value of your loan.
Homeowners Insurance
Unlike mortgage insurance, homeowners insurance is a cost you might pay to protect yourself as well as your lender. Homeowner's insurance usually covers damage to your home caused by unforeseen circumstances like fires or storms (this subsection is sometimes called hazard insurance) but may also cover liability costs, which might occur if someone is injured on your property and sues you for it.
Homeowners insurance costs will vary greatly depending on where you live, your credit score and the deductibles you might select. Keep in mind that your home's location might have an especially large impact on the cost of homeowners insurance – particularly if you live somewhere prone to fires or flood damage. Many lenders will allow you to divide your annual homeowners insurance cost into monthly payments via an escrow account.
7. Taxes, Taxes And More Taxes
When owning a home, you can expect to pay a handful of new taxes. Depending on your location, there might be many different types of taxes that you'll be expected to pay. Here are a few to expect:
Property Taxes
Property taxes are fees you'll pay to your local authority based on the assessed value of your home. Your mortgage lender will likely roll your property tax payments into your monthly mortgage payments to make the payment more manageable for you. If you own your home and don't pay on a mortgage, you'll instead get tax bills from your local authority throughout the year.
If you're looking into buying a home and are curious about property taxes, you can contact a county assessor's office to inquire about the local mill rate, which is what homeowners in the neighborhood pay per thousand dollars in home value.
Property taxes might go toward a number of different purposes, including state taxes, school taxes and local taxes, which are based on the mill rate we discussed earlier. You'll likely have to pay most of these costs even if the taxes don't entirely benefit you; for example, you'll have to pay local school taxes whether you have school-attending children or not.
8. Home Maintenance And Repairs
Home maintenance and repairs can be a surprisingly costly part of buying a home. Repairs and renovations can't really be avoided, especially if you happen to be buying an older home that may be worse for wear. While this isn't exactly a cost you can easily budget for, since what happens to fall into disrepair can be unpredictable, it's safe to expect to spend around 1% (or more) of your home's purchase price on maintenance each year.
When planning for the costs of owning your home, consider the factors that could require repair soon: roof issues, air conditioning problems, plumbing, pest problems, lawn care, interior or exterior renovations, etc.
9. Moving Costs Will Cost You
When adding up all the costs of buying a new home, you might forget that the process of actually moving there will likely cost you money as well. In 2020, the average cost of moving long-distance was $4,300, and the cost of a local move was around $2,300.
If you have a lot to move and will be working with a moving company, you might be looking at a fee of a few thousand dollars, potentially up to $12,000+ if the company will be packing and moving you over a large distance. That is on the extremely high end of things, however. If you have friends or family to help you move, costs might be lower – though you may still have to look at the costs of renting something like a moving truck to transport your belongings.
10. To Utilities And Beyond
When you move into a new home, you'll have to pay for all the utilities yourself. The cost of these utilities will vary based on where you live among other factors, but according to Move.org, homeowners should expect to budget around $400 a month for utility costs. A few utilities you can expect to pay for are:
Electricity
Water
Sewer
Gas
Cable And Internet
The Bottom Line: Be Prepared For The Total Costs Of Owning A Home
Buying a house is full of many costs you may not expect, so it's a good idea to research some of the costs you might have to pay before committing to a home. When doing your research, it's a good idea to make a home buying checklist to make sure you're in a good financial position to buy a house.
If you think you're ready to make the leap on a home, get started today with Rocket Mortgage®.
Get approved to buy a home.
Rocket Mortgage® lets you get to house hunting sooner.