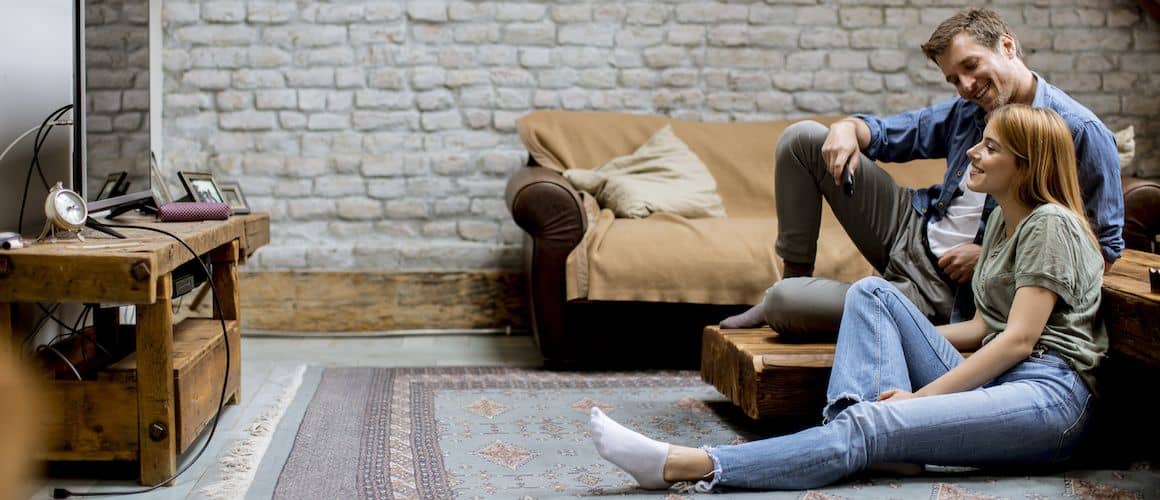 Should I Move Or Add An Addition?
Anna Baluch8-minute read
August 21, 2020
Share:
After you've lived in your home for some time, you may realize it doesn't have everything you need or want. Maybe it's missing a playroom or first-floor laundry. Or perhaps it's too small for your growing family. Whatever your situation, you may be asking yourself "Should I remodel or move?" Before you answer this question, it's important to consider the factors we'll discuss below.
Take the first step toward the right mortgage.
Apply online for expert recommendations with real interest rates and payments.
Home Renovation Versus Buying A New Home
If you're unsatisfied with your current home, you have two options: You can renovate it to meet your preferences or buy a new home that checks off all your boxes. Let's take a closer look at the costs of both options.
Costs Of Selling
In order to buy a new home, you'll want to sell yours. Unfortunately, there are a number of costs involved in selling your home, including:
Agent Commissions
You may want to hire a real estate agent to prepare your home for sale, set a fair asking price, design a marketing strategy, host open houses, and negotiate with buyers. While an agent can take the hassle out of the home selling process, they will come with a hefty price tag. Although commission for real estate agents varies, most require an average of 5% of the sale price.
Moving Costs
Moving from your current home to a new one can cost you some serious cash. The type and amount of belongings you'll be moving, the distance of your move, the time of year, and whether or not you hire professionals will determine how much you'll have to pay.
Keep in mind that the average cost for a local move for two movers under 100 miles is $80 – $100 per hour. A long distance move of more than 100 miles, on the other hand, costs between $2,000 – $5,000 per move.
Performing Minor Repairs
Chances are your home will need some minor repairs before you put it in the market. Minor repairs can get it off the market sooner and potentially lead to more money in your pocket. You may want to paint, replace a missing fence board, fix a leaky toilet, or refinish hardwood floors. If you're unsure of what repairs you need to make, opt for a presale inspection to find out. Depending on the repairs your home requires, you may spend anywhere from a few hundred to a few thousand dollars.
Costs of Buying a New Home
When you find a home you like, you'll need to pay for more than just the home itself. You may be on the hook for closing costs which range from 3% – 6% of your mortgage. In addition, you'll have to come up with a down payment of anywhere from 3.5% – 20% if you take out a mortgage that requires one. There also other miscellaneous costs involved including home appraisal costs, title company costs, and title insurance costs.
Upsizing Your Home
If you believe your current home is too small and move into a larger home, you can expect to pay more for your mortgage, property taxes, homeowners insurance, utilities and more. This is particularly true if you move to a nicer neighborhood or area with a higher cost of living. So it's a good idea to run the numbers and make sure you can comfortably afford to move to a larger home.
Costs Of Remodeling
Costs of remodeling your home can add up very quickly, especially if you don't plan ahead. Let's take a closer look at what all this might entail.
Permits
Although every local municipality is different, yours will probably require a permit for remodeling projects such as window installation, plumbing work, structural changes, fencing installation, and electrical work. While a permit for a new fence may cost around $60, a permit for a deck may go all the way up to $500. It really depends on the specifics of your project and where you live.
Architectural Planning
If you have a larger, more complex remodel, it's wise to hire an architect who can plan it out for you. An architect can provide you with technical drawings, advise you on finishes and fixtures, recommend contractors, and manage the project. If you go the architect route, you'll likely have to pay them 8 – 15% of the total cost of your project.
Cost of Materials and Labor
Ideally, you'd be able to remodel on your own and only pay for materials. But if you don't have the skill, time, or desire to do so, you'll have to contract it out. While labor rates are typically $20 – $150 per hour or more, material cost varies widely. Of course, you'll spend more on higher-end materials than those of lower quality.
Financing Costs
If you have the cash to remodel your home, great! If in the event you don't, you'll likely need to finance your project. You may be able to cash-out refinance for home improvements if you have equity in your home. Other options include a home equity loan, home equity line of credit (HELOC), or a personal loan. Depending on the financing solution you choose, you may have to pay closing costs and interest.
Building An Addition To Your Home
A home addition may make sense if you love the location and don't want to move. Here's a look at the pros of cons of building one.
Pros
No Need to Change Your Lifestyle:

If you move, you may have a longer commute to work and your kids may have to change schools. With a home addition, you can continue with your current lifestyle.

Complete Customization:

You can customize the addition to meet your exact needs. You'll have the freedom to choose your materials and fixtures and bring your dream family room, garage, or master suite to life.

More Living Space:

If you're feeling cramped in your home, a home addition can give you the additional living space you need to live comfortably. More living space also means increasing your home's value.

Save Money:

Building an addition can be more affordable than moving to a new home because you'll be able to easily customize your project to meet your budget.
Cons
Living Through A Major Project:

You may find it a hassle to live through a major project like a home addition. This is particularly true if you have kids or pets.

Unpredictable Costs:

While you can budget for an addition, unexpected costs are bound to pop up at some point. So you may end up spending more than you originally planned.

Lengthy Permitting Process:

You'll have to get a permit to add on to your home. Depending on where you live, this may be a long process in which you'll have to share detailed plans and wait for approval.
Buying A New Home
If you're not set on your current neighborhood and don't mind moving, buying a new house may be a wise choice. The pros and cons of this option include:
Pros
New Environment:

Buying a new home can give you the chance to build a life in a new environment. If you're in need of a fresh start, it may be a good option.

Larger Space:

If you don't think a home addition can fulfill your need for a larger home, a new home may be able to.

New Floor Plan:

A floor plan can truly make or break a home. If your current floor plan doesn't work well for your family, a new home with a better floor plan may be just what the doctor ordered.
Cons
More Expensive:

In most cases, buying a new home will cost you more than remodeling or building an addition on your current one.

Lifestyle Changes:

Unless yo

u're lucky enough to find the perfect home in the neighborhood you already live in, you may have to change your lifestyle via a longer commute, new schools, etc.

Leaving Behind Memories:

If you've lived in your current home for a while, you may not want to leave the place where you've celebrated many milestones and created happy countless happy memories.
Take the first step toward the right mortgage.
Apply online for expert recommendations with real interest rates and payments.
Is It Cheaper To Renovate Or Buy A New Home?
Generally speaking, it's cheaper to renovate your home than buy a new home. This is mainly because you have more control of the costs of a renovation than the costs of a new home. You can select less-expensive materials and save on labor by doing some or all of your project on your own.
When you buy a new home, however, you don't have much control of the purchase price, closing costs, real estate commissions and property taxes. So you can easily spend more than you initially intended.
When To Remodel Your Home
If you love the location of your home and have an emotional attachment to your community but it feels small or outdated, it may be time to remodel it. Remodeling your home may also be a good idea if you're facing safety hazards such as a leaky roof or foundation damage.
What Renovations Are Worth Doing?
Not all home renovations are created equal. There are certain ones that will increase your home value and improve your overall quality of life more than others. These include kitchen remodels, basement remodels, bathroom remodels, and window replacements. Try to prioritize these renovations over less important ones like adding a pool or fancy closet.
Building Up Versus Building Out With Home Additions
You'll have two options when adding on to your home: build up or build out. Let's dive deep into the specifics of both.
Extending Your Home By Building Out
If you have enough room, you may want to build out into your yard instead of up through a new foundation or slab.
Pros
Additional Square Footage:

You'll enjoy more square footage if you build out than up.

Won't Affect Existing Home:

When you build out, you can continue to live in your home as usual because it won't be affected by the construction.

Zoning Laws Won't Matter:

A higher home must adhere to certain zoning laws. You won't have to worry about this if you don't add on to the height of your home.
Cons
Loss Of Yard Space:

If you love the size of your backyard, you'll have to settle for a smaller one because building out leads to lost yard space.

Expensive:

You can expect to dish out a great deal of cash if your project requires a foundation.

Property Line Limits:

Your property line limits will put restrictions on how large your addition can be.
Adding Another Level To Your Home
If you don't have enough floor space, building up to a second or third story can help you meet your goals.
Pros
Won't Miss Out On Yard Space:

When you add another level to your home, you'll be able to keep the yard you always had.

No Need to Tear Out A Pool:

If you have a pool that you love and use, you won't have to get rid of it if you build up.

No Property Restrictions:

You won't be limited by property lines and can plan your project without considering them.
Cons
Zoning Restrictions:

Zoning restrictions can limit how high your home will be.

Staircases Reduce Square Footage:

If you build up, you'll likely need a staircase which may take away from the overall square footage of your home.

Interference With Daily Life:

Since building up comes with a lot of construction noise and clutter, you may have to find a new place to live until your project has come to an end.
Consider All Your Options
Your home is likely one of your largest assets. So it's important that it meets your unique lifestyle needs. If it doesn't, think about all the options at your disposal and carefully weigh the pros and cons of each.
You may find that moving and following our home buying checklist is the best choice for you or your family. Or you may realize that working with what you have and remodeling or adding an addition is the better option. Remember that there's no right or wrong answer. It depends on what you're looking for and what's most important to you.
Take the first step toward the right mortgage.
Apply online for expert recommendations with real interest rates and payments.