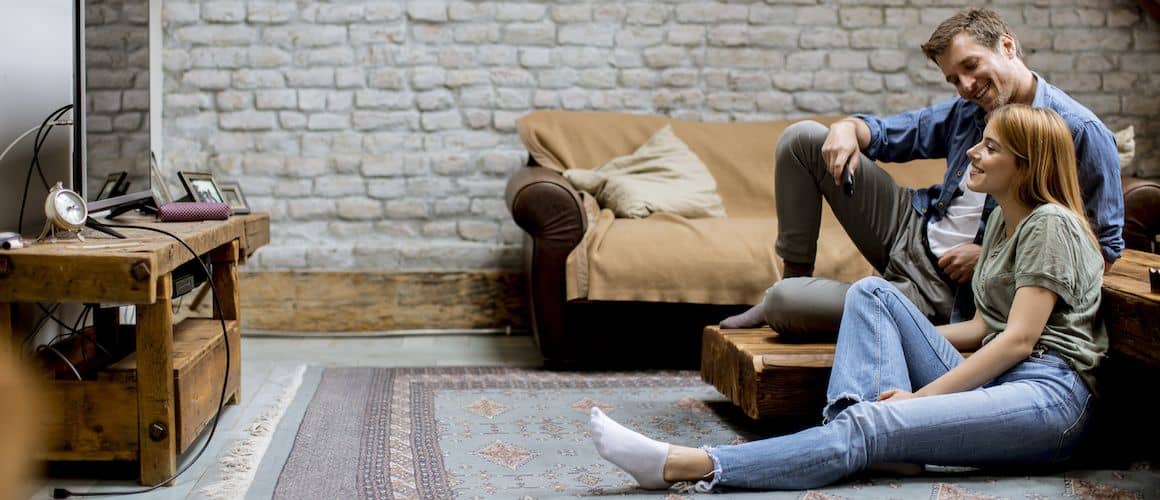 Should I Remodel Or Move?
Miranda Crace8-minute read
November 29, 2022
Share:
Disclosure: This post contains affiliate links, which means we receive a commission if you click a link and purchase something that we have recommended. Please check out our disclosure policy for more details.
After you've lived in your home for some time, you may realize it doesn't have everything you need or want. Maybe it's missing a playroom or first-floor laundry. Or perhaps it's too small for your growing family.
If you're unsatisfied with your current home, you have two options: you can renovate it to meet your preferences or buy a new home that checks off all your boxes. The decision has two components: financial and emotional. We'll take you through the factors to consider when it comes to finances first, then help you unpack the emotional aspect of the decision.
How Much Does It Cost To Move?
First, let's take a look at the costs associated with moving to a new home that suits your wants and needs. This option comes with several costs beyond the price of a higher mortgage.
Costs Of Selling
In order to buy a new home, you'll want to sell yours. Unfortunately, it generally costs around 15% of a home's sale price to sell it. There are a number of potential costs involved in selling your home, including:
Real estate agent commissions: Approximately 5% – 6% of the sale price.
Minor repairs and home preparations: $500 – $5,000+.
Major repairs: $20,000 – $50,000+ (Many people do not need to factor in major repairs, but some older homes do require significant work, such as rewiring to meet housing/safety codes, before a sale).
Title insurance: Typically, 0.5% – 1% of the sale price.
What About The Capital Gains Tax?
If your home has appreciated in value from your original purchase price, you may be responsible for an additional fee called a capital gains tax.
Many people can get an exemption from paying the capital gains tax, as long as the increase in property value is not greater than $250,000. So that's one thing you may not need to worry about.
Costs Of Buying
Buying a new home comes with expenses, including the following:
Remodeling, furnishing, and buying appliances: $8,000 or more on average.
Closing costs: 3% – 6% of the loan amount.
Holding two overlapping mortgages: $0 – $3,000, depending on how long the overlap lasts.
Costs Of The Move Itself
Whether local or cross country, a move comes with a price tag. You can expect to pay:
$2,000 – $8,000+ for a cross-country move.
Typically $25 – $50 hourly per mover for a local move with paid professional movers.
The Costs Of Moving To A Larger, More Valuable House
If you are upsizing, your new house will likely cost you more. You should consider whether the following new expenses will apply to you:
Higher property taxes: 0.28% – 2.49% of property value, depending on location.
Higher utility usage: Variable. This will depend on the age of your home and the amount of green remodeling that has potentially taken place.
Higher cost of living neighborhood: Variable. It is possible that your budget won't increase by a cent. However, things like groceries and even gas may be more expensive in your new neighborhood.
The Costs Of A More Expensive Mortgage
You may be able to get a new house that meets your new needs for the same price as your previous home, either because you've moved to a lower cost of living area, found a steal, or just needed something different but of equivalent value.
However, you may be looking at a significantly more expensive home, which doesn't just mean a bigger down payment; a higher price tag can come with costs in the form of higher interest payments as well.
You should also weigh the fact that you will be pouring hundreds of thousands of dollars into a new property. Although this is not necessarily money "spent" in the way interest payments and taxes are, as this outlay can function as an investment (and is often a very sound one), it can still result in a loss in net worth if property values plummet.
You should consider the following when you are weighing how much a new home will cost:
Higher interest payments.
A greater percentage of your net worth is tied to real estate.
However, if you can afford to pay more up front, you can offset this potential difference with a shorter mortgage term and/or buying mortgage points. You may also be able to get a better interest rate than the one you had for your previous home.
Moving: The Big Picture
Let's say you have a house that you sell for $200,000. Assuming average costs, you would expect to spend about $30,000 to repair and sell your house and about $15,000 to close on a new house, move in, and furnish it to your taste. That's a little under $45,000 of nonnegotiable expenses all told.
That's without considering the cost of moving to an area with a higher cost of living and of taking out a newer, more expensive mortgage.
All of these expenses should be considered, but they still may be well worth it. The same goes for remodeling. It certainly can be pricey, but the quality-of-life improvement has the potential to be enormous.
Lock in today's rates before they go up.
Defend against rising rates with RateShield®.1
How Much Does It Cost To Remodel?
According to September 2022 data from Home Advisor, in the U.S. the average home renovation costs $47,922. The typical range is $17,915 – $78,103.
You'll want to carefully price out the following, getting multiple quotes and bids, and doing careful research on the costs of remodeling such as:
Permits: $50 – $1,800. Although every local municipality is different, yours will probably require a permit for home renovation projects such as window installation, plumbing work, structural changes, fencing installation, and electrical work.
Architectural planning: $2,000 – $8,500+. If you have a larger, more complex remodel, it's wise to hire an architect who can plan it out for you.
Labor: $20 – $150 per hour. If you don't have the skill, time, or desire to DIY your remodel, you'll have to contract it out.
Materials: Material costs can vary so widely that we can't put a price on this.
Tip: Experts suggest that you add 20% onto your initial budget to account for unforeseen problems and costs when planning on home improvements.
Costs For Popular Remodeling Projects:
The following statistics come from September 2022 data collected by Home Advisor:
Cost to remodel a kitchen: $5,000 – $65,000+.
Cost to remodel a bathroom: $4,190 – $55,800.
Cost to remodel a basement: $12,300 – $33,300+.
Cost to build a home addition: $22,500 – $80,100 on average but can reach $150,000.
The Costs Of Financing A Remodel Through Loans
You may be able to cash-out refinance for home improvements if you have equity in your home. Other options include a home equity loan, a home equity line of credit (HELOC) or a personal loan.
However, these methods will come with similar costs to purchasing a new home, including:
Closing costs: 2% – 6% of the mortgage.
Interest rates: 5.6% – 6.5% of the loan (get in touch with a mortgage expert for current HELOC, cash-out refinance, and home equity loan interest rates to be sure)!
The Costs Of Making Your House Larger And More Valuable
If you are upsizing via a remodel, your remodeled house will cost you more in many of the same ways as if you had moved. You can expect the following new expenses:
Higher property taxes: 0.28% – 2.49% of your property value, depending on location. An assessor will likely learn of your changes and alter your property value for tax purposes.
Higher utility usage: Variable. This will depend on the age of your home and the amount of green remodeling that you include in your remodel.
Need cash to fund your renovation project?
Apply for a cash-out refinance with Rocket Mortgage®.
Remodel Or Move: What To Consider
It's time for a look at the pros and cons of remodeling compared to moving from an emotional perspective.
Pros Of Remodeling
No need to change your lifestyle: If you move, you may have a longer commute to work and your kids may have to change school districts. With a home addition, you can continue with your current lifestyle.
Complete customization: You can customize the addition to meet your exact needs. You'll have the freedom to choose your materials and fixtures and bring your dream family room, garage, or primary suite to life.
Cons Of Remodeling
Living through a major project: You may find it a hassle to live through a major project like a home addition. This is particularly true if you have kids or pets as it can heavily disrupt your daily routine.
No guarantee of increased home value: It's important to carefully consider what types of remodeling projects will actually increase your home value as some trends aren't guaranteed value adds. Keep in mind that the value of many homes is also capped.
Pros Of Moving
New environment: Buying a new home can give you the chance to build a life in a new environment. If you're in need of a fresh start, it may be a good option.
Larger space: If you don't think a home addition can fulfill your need for a larger home, a new home may be able to give you the space you need.
New floor plan: A floor plan can truly make or break a home. If your current floor plan doesn't work well for your family, a new home with a better floor plan might make it worth your while to move.
Cons Of Moving
Lifestyle changes: Unless you're lucky enough to find the perfect home in the neighborhood you already live in, you may have to change your lifestyle via a longer commute, new school district, etc. You'll need to take all of those into consideration when deciding where to live.
Leaving behind memories: If you've lived in your current home for a while, you may not want to leave the place where you've celebrated many milestones and created countless happy memories. It's normal to end up feeling an emotional attachment to your home.
The Bottom Line: Whether You Remodel Or Move Is Up To You And Your Specific Needs
Your home is likely one of your largest assets. So, it's important that it meets your unique lifestyle needs. If it doesn't, think about all the options at your disposal and carefully weigh the pros and cons of each.
You may find that moving and following our home buying checklist is the best choice for you or your family. Or you may realize that working with what you have and remodeling or adding an addition is the better option. Remember that there's no right or wrong answer. It depends on what you're looking for and what's most important to you.
Start by getting approved to buy a home.
No matter if you choose to buy or sell first.
Related Resources
Viewing 1 - 3 of 3