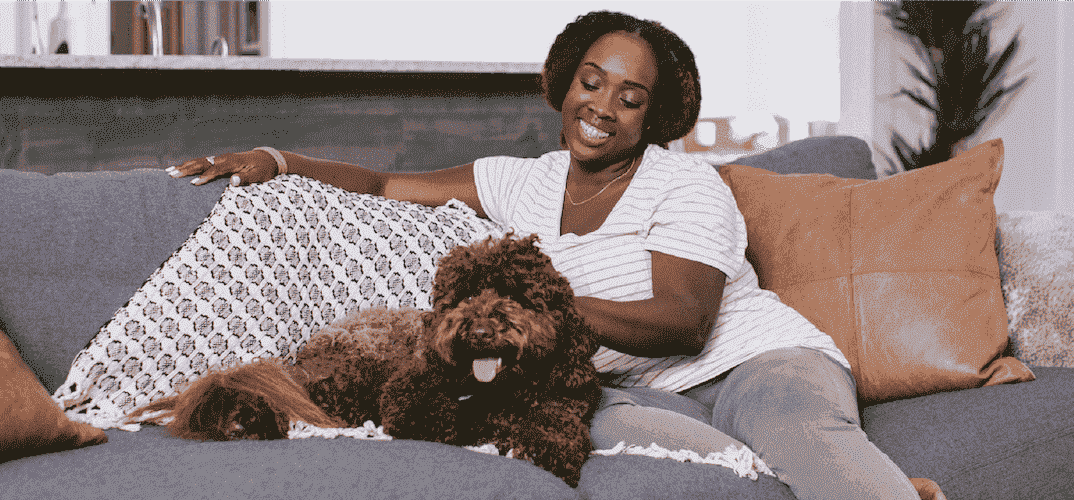 How To Create A Pet-Friendly House That Your Four-Legged Pal Will Love
Andrew Dehan7-minute read
May 13, 2022
Share:
Pets help make your house a home. According to American Veterinary Medical Foundation (AVMF)1, about 80.5% of dog and cat owners consider their pets to be family members. Among all of the home improvement projects that people have tackled in 2020, pet home modifications are trending. In fact, searches for cat towers increased 117.8% and dog ramp searches increased 156.4% at the beginning of the pandemic.2
We put together some guidelines to help you create a pet-friendly house as well as some tips for nonconventional pet improvements, but first let's take a look at how far Americas are willing to go to please their four-legged family members.
About 4 In 10 Americans Would Spend Money On Home Modifications For Their Pets
We asked Americans if they'd be willing to spend money on house modifications for their pet and, if so, how much they'd be willing to spend. About 38.4% of respondents reported that they'd put money down for the modifications. The U.S. pet industry expenditures were $95.7 billion in 2019 and are estimated to hit $99 billion in 20203.
Of Those Who'd Spend, 17% Would Spend $1,000+
Knowing that, it wasn't too surprising that 16.7% of positive respondents (6% of total respondents), are willing to spend $1,000+ on modifications for their pet. Of that total 38.4% who would spend money on pet home modifications, here's how much they would spend.
When looking at reported binary gender, we saw that women were more likely to cash out for their pets.
Get approved to refinance.
See expert-recommended refinance options and customize them to fit your budget.
8 Tips To Make Your Home Pet Friendly
You don't have to do much to get your pet to love you – for the most part, they just want your devotion and care. But there are some real reasons to consider modifications aside from spoiling your pet. For instance, if you have a senior dog or cat, they may need some additional help getting around. Also pets with disabilities may need special modifications to live more independently in your space.
Please speak with your veterinarian before making changes that could impact your pet's day-to-day life, just to make sure it's the best choice for them. Below you'll see tips to make the most of your pet upgrade budget – we also have DIY tips if you'd prefer to go that route.
1. Put Safety First
When renovating or redecorating your home, you should make sure that the space is safe, not just aesthetically pleasing. Make sure furniture or features are properly anchored to the wall and that any electrical wiring is safely tucked away. These are a lot of the same measures that you'd implement to keep children safe, so if you're baby-proofed, you're probably good to go.
Remember, though, that pets (especially cats) have a special talent for getting into places you never thought possible and dogs somehow always manage to find food that could make them ill. Take extra precautions with your pet in mind. Make sure that you:
Patch up any potential escape routes
Add necessary locks for prying paws
Keep dangerous items out of reach
2. Give Them A Space Of Their Own
Provide your pets with a place that's only for them where they can retreat and relax. If you have unused space under your staircase, it could make for a great dog lair. If you'd rather keep their space outside, try creating a dog house replica of your own or something else that matches their personality.
3. Build Ramps For Accessibility
Dogs want to be around us all the time, but sometimes they have difficulty getting to us. Buy or build ramps for your dog so they can safely get on top of couches, beds or anywhere else you might want to snuggle. Some dogs might also struggle with stairs depending on their size and age, so an exterior dog ramp can be a huge help for pets with limited mobility.
4. Create A Hide-Away Bowl Area
If you're short on space or love a clutter-free look, try creating a hide-away bowl station under a kitchen cabinet or wherever it's most convenient. This could house their food and water and any other treats you may want to throw in. It's a home modification that likely wouldn't detract any value but would be a really fun feature and conversation piece for a pet lover.
5. Set Up A Cam To Stay Connected
Ever wonder what pets do when you're not home? You won't have to wonder anymore if you install a pet cam. Many of them come with a treat-release function and a voice intercom so that your pet can hear you when you're not there – which is especially helpful for pets dealing with separation anxiety.
6. Construct A Grooming Station
Grooming time can be messy depending on your pet's temperament. If your pet seems to always find a patch of mud to roll in (and track all over your house), creating a cleaning station in a mudroom, laundry area or on your back porch could be a great investment.
Include a walk-in bathing area and add an extendable showerhead to make bath time a breeze. You could also include all the tools you'll need to groom your pets, like nail clippers and dental care items. Not only will this help keep grime out of the rest of your house, but your pets will also learn to associate those activities with that space and hopefully be more trained and receptive to grooming time.
7. Build A Bespoke Feature
Pets each have their own individual personalities and activities they love. Add something to your home that helps stimulate their senses and encourages their playful side. One of the best examples are the cat climbing walls that people have been installing in their homes. They can be made to blend in with other art or decals on your wall and are something your cat would love.
It's proof of how these custom features can look great as well as provide an important function. Maybe your dog likes to hang out during family movie night and would love a comfy piece of furniture to lounge in. If your dog is crate-trained, there are pieces that double as a nice-looking table and a spacious crate. The possibilities are endless.
8. Get Pet-Friendly House Plants
Plants are often overlooked when thinking about optimizing your home for a pet. Cats love cat grass and lemongrass. Add a little grazing pad for them in your home especially if they are strictly indoor.
Bringing in elements of nature helps them tap into their instincts (just like playing with them so they can "hunt" their toys). Of course, cats love catnip but this should be used more sparingly so they don't get overstimulated.
Plants cats love:
Lemongrass
Catnip
Cat grass
Chamomile
Peppermint
For the most part, dogs aren't as interested in plants but some dog-friendly plants you can include in your home are dill, thyme, snapdragons, rosemary and marigolds.
Toxic Plants To Avoid
You should always check with your vet before introducing plants into your pet's space as some varieties of plants are poisonous while others are harmless. Here are some common plants and flowers to avoid if you have cats or dogs4:
Tulips
Lilies (toxic to cats)
Azalea
Chrysanthemum
Peace Lily
Oleander
If you do end up keeping a plant that's not compatible with your pet, make sure it's out of the reach of curious snouts – try a hanging basket.
Save all of these tips along with visual inspiration by clicking the button below:
Why Are Pets So Important?
So why put in all of this sweat equity into your home just for your pet? Our pets do wonders for our mental and physical health. A Rover study reported that 92% of respondents said their dog made a positive impact on their mental health5. Unsurprisingly, people's interest in owning a pet has skyrocketed this year. When looking at early to mid-March, searches for "dogs for adoption" went up 104.1% and "kittens for adoption" and "puppies for adoption" both went up 163.2%6.
The benefits of being a pet owner aren't just based on anecdotal evidence, there's evidence that pets really are like family and help produce similar effects to that of a family support system. They can help lower stress, anxiety and depression as well as decrease your risk of cardiovascular disease.7
Pets, dogs in particular, can also help catalyze social experiences, which is great for people with social anxiety or developmental differences. Playing with a dog has the same relaxing effects of reading a book through the reduction of cortisol while also spiking oxytocin levels. In short, pets can provide tremendous health benefits.
Though you love your pet and want them to have the best, it's also worth considering how custom features could affect your home's marketability. If you aren't planning on staying in your home long-term, make sure what you add is either easily removable or adds value to your property.
If there are financial barriers to making the necessary renovations, consider refinancing for home improvements. With the right plan you could come out with a lower mortgage rate and a higher property value – and the home you (and your pet) have always deserved.
Get approved to refinance.
See expert-recommended refinance options and customize them to fit your budget.
Related Resources
Viewing 1 - 3 of 3