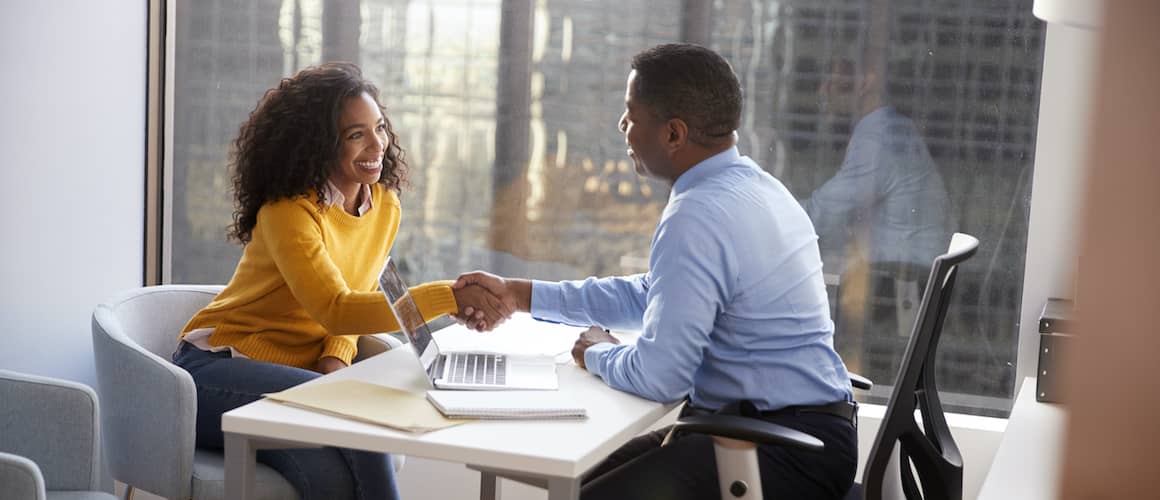 Listing Agents: What They Are And How They Differ From Buyer's Agents
Rachel Burris5-minute read
February 08, 2023
Share:
Real estate transactions are often complex and stressful. If you're selling your home and don't know much about the real estate market, you may find yourself at a considerable disadvantage. Luckily, you don't have to go through the process alone. Working with a listing agent can save you time, likely increase your profit and minimize your stress. Find out what listing agents are and how they can help you.
What Is A Listing Agent?
A listing agent is a licensed real estate agent who represents the seller in a transaction. Listing agents are responsible for helping sellers navigate each step of the sales process. To begin, listing agents run comparative market analyses to price properties and create online listings and sales materials to market them.
After properties have been listed, they hold open houses and guide prospective home buyers around during showings and walk-throughs. They communicate with buyer's agents and evaluate and negotiate offers to ensure their clients are getting the best price and terms.
Listing Agent Vs. Selling Agent
Although there are many articles on the internet that state that selling agents represent home buyers in real estate transactions, that is not actually the case. In reality, listing agent, selling agent and seller's agent are all synonymous terms that refer to a real estate agent who is currently working on behalf of a seller.
Listing Agent Vs. Buyer's Agent
A buyer's agent, also known as a purchasing agent, is responsible for finding their clients listings that match their price range and preferences. Typically, a buyer's agent will send their buyers online listings, notify them about open houses, schedule showings and help them evaluate prospective homes.
When the buyers have identified a home they're interested in, a buyer's agent will help them come up with a fair offer and negotiate with the listing agent. Once an offer has been accepted, the agent will help arrange for the home inspection and appraisal and ensure that the home buyers have everything they need before closing.
Listing Agents And Dual Agency
Dual agency occurs when one agent represents both the seller and the buyer in a single real estate transaction. In order for listing agents (or buyer's agents) to act as a dual agent, they must inform both the seller and buyer then obtain written consent from both parties.
While dual agency may sound convenient, it can be a questionable practice. Real estate agents have a fiduciary responsibility to represent their clients' best interests, and dual agency makes that responsibility problematic (but definitely not impossible).
One real estate agent may find it difficult to provide undivided loyalty to both the seller and buyer within a single transaction. That's why dual agency is often frowned upon and even illegal in some states, like Florida, Colorado, Vermont and Texas.
Tested. Trusted. Top-rated.
Visit Rocket HomesSM to get a proven real estate agent that's handpicked just for you.
Do You Need A Listing Agent To Sell Your Home?
While you don't have to work with an agent to sell your house, it's extremely beneficial, especially if you don't have real estate experience. Having a professional help you ready your home for a sale will eliminate the stress involved and ensure that you avoid pitfalls that can arise due to lack of expertise.
However, if you are sure you don't want to work with a listing agent, you can always choose to list your home "for sale by owner" (FSBO). Although FSBO sellers don't have access to their local Multiple Listing Service (MLS) – where most real estate agents find properties to send buyers – they can choose to advertise their home on free online listing services, like ForSaleByOwner.com.
Homeowners who choose to sell their homes without the help of a real estate agent usually decide to do so because they don't want to pay the commission.
Even if you choose not to work with an agent, it's likely that the person who buys your home will. That means you'll still have to pay some commission.
Benefits Of Working With A Listing Agent
Many sellers incorrectly assume that all listing agents do is throw a for sale sign up on the lawn and hold open houses. However, there is a lot more involved in selling a home than most people realize, and sellers can gain a lot from working with an agent. Let's take a look at some of the most significant benefits of working with a listing agent.
Listing Agents Price Homes Competitively
If you want your home to sell quickly for the highest price possible, you must make sure it's priced competitively. If your house is underpriced, it will limit your profits. If it's overpriced, it will most likely linger on the market and make home buyers dubious of its value.
Agents are well-versed in current market conditions and can use that knowledge to find comps and determine the fair market value of homes. By running a comparative market analysis, they can figure out how much your home is worth based on how much similar houses have recently sold for in your area.
Listing Agents Have Access To The MLS
As briefly mentioned earlier, the Multiple Listing Service, or MLS, is an online database where real estate agents both list homes for sale and search for listings for buyers with whom they're working. If your home is listed on the MLS, it will get more exposure. The more buyers who see it, the more likely you'll sell it faster and for a higher sale price.
As mentioned in the section above, only real estate agents can list properties on the MLS. Therefore, if you want as many potential buyers as possible to see your home, you should work with a listing agent.
Homes Listed By Real Estate Agents Sell For More
According to the National Association of REALTORS®' 2022 Profile of Home Buyers and Sellers, the median purchase price of homes sold by real estate agents was $345,000, while the median price of FSBO homes sold was $225,000. Therefore, by using a real estate agent, sellers tend to make an average $120,000 more on the sale than FSBO sellers. After accounting for agents' commissions, the average seller with an agent still makes more than what FSBO sellers typically make.
Real Estate Agents Negotiate Offers Intelligently
Having a wealth of experience with real estate transactions, agents are seasoned negotiators. They know that the terms of an offer can be just as important as the price, especially when contingencies are involved. Agents expertly evaluate terms and determine what to negotiate, and how to counteroffer in order to score their sellers the most favorable deal.
How To Choose The Best Listing Agent?
Although years of experience in the industry and extensive market knowledge tend to make an agent valuable to a seller, their personality and schedule are also important. You want an agent who you can connect with and is available when you need them.
With that in mind, it's important to interview potential real estate agents to ensure that they're both skilled and a good fit for you. Here are some questions to ask to determine their qualifications:
How long have you been working in the real estate industry?

How many clients are you currently working with?

How experienced are you selling homes in my price range?

How knowledgeable are you about my neighborhood and local market?

What strategies do you use to market homes?

Why should I choose to work with you?

Can you provide me with references?
The Bottom Line
Working with a real estate agent can help ensure that your real estate transaction goes as smoothly as possible. A good listing agent will make sure that your home is priced competitively, marketed thoroughly, shown frequently and sold for the best price.
Once you've sold your home with help from a listing agent, you'll be ready to purchase your next home. Get a head start by starting the mortgage approval process today. You can also give one of our Home Loan Experts a call at (833) 326-6018.
Get approved to buy a home.
Rocket Mortgage® lets you get to house hunting sooner.
Related Resources
Viewing 1 - 3 of 3