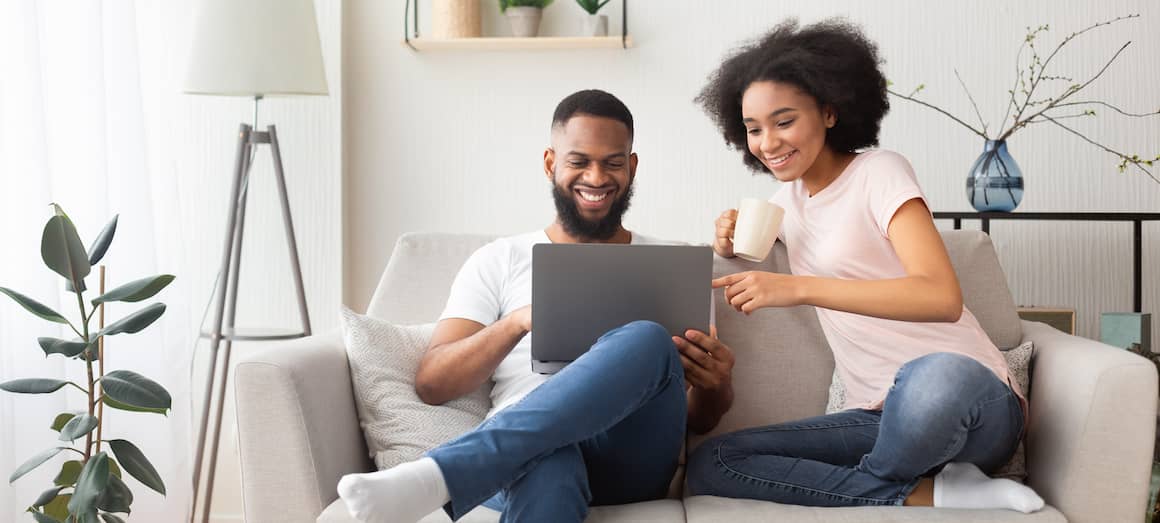 iBuyers: Pros, Cons, And Everything Else You Need To know
Sidney Richardson4-minute read
February 27, 2022
Share:
Selling your house can sometimes be a handful. If you've ever wished there was a way to just skip the process of staging, appraisal, making repairs and reviewing offers, you're in luck – an iBuyer can help you do just that.
If that sounds convenient and exciting, you're definitely not alone in thinking that. While iBuyers can streamline the selling process and get your money to you right away, there are a few drawbacks you should be aware of. Read on for our guide to selling to an iBuyer and whether it's the right choice for you.
What Qualifies As An iBuyer?
iBuyers are companies or groups that use technology to buy your home with the intention of reselling it. These companies aim to make the selling process as simple as possible for their clients and typically make them offers in cash. When selling to an iBuyer, there's no need to stage your home or worry about marketing it, the iBuyer will take care of that themselves after paying you for the home.
A few examples of popular iBuyers are Opendoor, Zillow Offers and Redfin. Typically, you submit your home to these sites online and they make you a cash offer within a few days. After your sale is complete, an iBuyer will take care of listing your home professionally and reselling.
Why Do People Use iBuyers?
People use iBuyers because they make the sale process not only simpler, but much faster. Since iBuyers typically pay sellers in cash, it cuts out the complications of the mortgage process. With that step out of the picture, it's possible to get through the entire home selling process in a little over a week if everything goes off without a hitch. The traditional sale process can take anywhere from weeks to months, in comparison.
If a homeowner needs to sell their home quickly due to a move, new job or any other reason, selling to an iBuyer might be a convenient option.
Get approved to buy a home.
Rocket Mortgage® lets you get to house hunting sooner.
What Kind Of Homes Are iBuyers Looking For?
iBuyers are looking for properties that will be easy to sell, so they typically will not accept fixer-uppers. Unlike house flippers, who want to purchase distressed homes in order to repair them and sell for a profit, iBuyers don't usually make large scale repairs. Since they aren't making repairs, they need to buy homes that are in fairly good shape already. That said, they are also not looking for expensive homes in perfect condition.
iBuyers want to purchase homes that are nice and need few repairs but that can also be purchased with cash under market value, and owners of upgraded or more pricey homes may not be always be willing to accept a cash payment.
Automatic Valuation Models (AMVs): How They Work In iBuying
iBuyers use a lot of data and technology in their process, from algorithms to help find homes they could potentially buy to automatic valuation models (AMVs) to help decide how much to pay for them.
An AMV is a method of using a large pool of data to determine the value of a home. An AMV uses very advanced analytics to examine what the strengths of a property are and what other properties might share those strengths and what those homes were worth at market value. With this data, iBuyers can settle on a fair asking price for your home, which may be either slightly below or above market value.
By using AMVs, iBuyers are essentially digitizing the traditional process of using real estate comparables, or "comps," to decide the price of a home. Real estate agents and experienced house flippers have been known to find homes similar to the one they are selling in nearby neighborhoods to help decide on a sale price for the property.
AMVs essentially do the same thing in order to develop an accurate price, except much faster and with many more data points to compare and consider.
How Do iBuyers Profit?
Since iBuyers don't make any attempt to flip homes for profit, how do they make money? The answer is different, depending on the iBuyer. Typically, iBuyers purchase your home with cash in order to spend less than market value on it. This means when your home is resold by the iBuyer, they make the difference between the market value or sale price and what they paid you in cash for the home.
Other iBuyers may charge a fee for using their services. This fee can be up to almost 10% of the home's sale price and may also include some additional costs related to closing.
What Are The Pros And Cons Of Using An iBuyer?
Pros
It's usually much faster than selling a home traditionally.
You don't have to find a real estate agent or REALTOR®.
There's no hassle – you don't have to make repairs, worry about staging your home, etc.
You get the certainty of a cash offer. You'll get your money right away and don't have to worry about the deal falling through.
Cons
You won't make as much money as you would selling your home traditionally. MarketWatch found that a home that could net a customer $269,994 through a conventional real estate agent was worth $237,225 to one iBuyer and $246,296 with another.
There may be pricey fees to pay, including convenience fees and some closing costs.
If your home happens to need minor repairs, the iBuyer may deduct those costs from your sale price.
Sometimes, a real estate agent or REALTOR® can use their expertise to find a deal that will work better for you and your circumstances without the costs associated with using an iBuyer.
The Bottom Line
Working with an iBuyer can be a great opportunity for homeowners looking to sell a home quickly or avoid the stress and work of a traditional sale process. While convenient, however, selling your home this way is not for everyone.
If you're thinking of selling your home in the near future, getting organized right away for a new mortgage is a crucial first step. For help with selling your current home or buying your next one, talk to one of our Home Loan Experts today.
Get approved to refinance.
See expert-recommended refinance options and customize them to fit your budget.
Related Resources
Viewing 1 - 3 of 3