How To Sell A House By Owner
Jamie Johnson9-minute read
November 21, 2022
Share:
A home is a significant investment, so when it's time to sell, you want to see the biggest returns possible. There are many different ways to accomplish this, but some homeowners choose to sell their home without the help of a REALTOR®.
In 2022, 7% of sellers chose to sell their house themselves and list their home for sale by owner (FSBO).1 This option could save you thousands of dollars, but it's not ideal for everyone. This article will explain how to sell a house by owner, and the pros and cons of this decision.
How To Sell A House By Owner: 6 Important Steps To Follow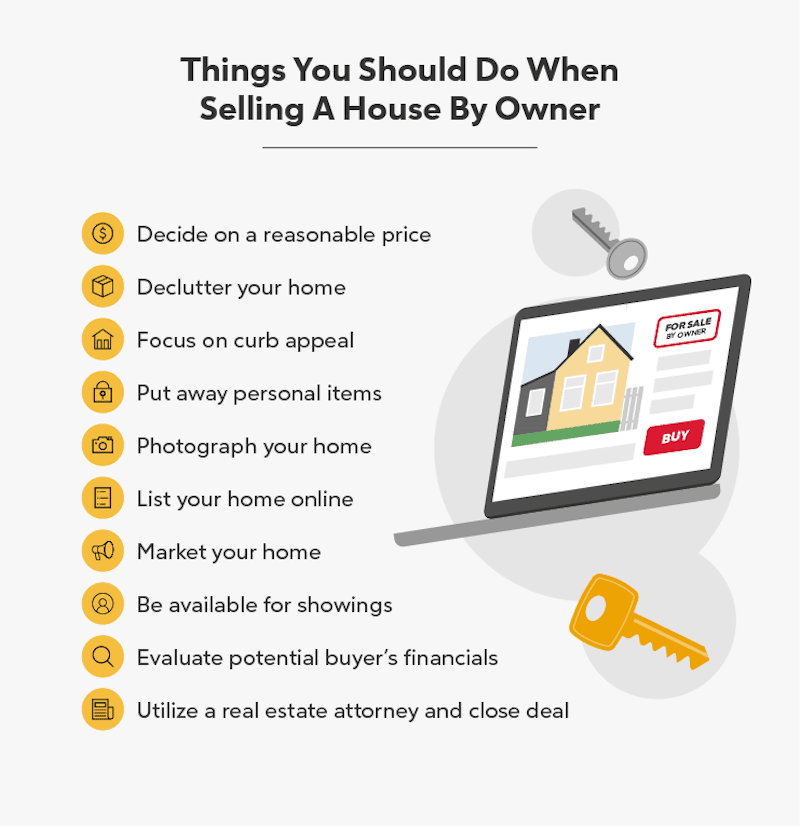 1. Decide On A Reasonable Price
Before you can sell your home, you need to decide on a reasonable listing price. This process may sound straightforward, but there's quite a bit of research that goes into listing a home.
The biggest danger is that you'll overprice your home and turn many buyers off. You need to find a price that potential buyers will feel is reasonable, or they'll likely rule out your home without even going to see it.
The best way to come up with a fair listing price is by having your home professionally appraised. The appraisal will determine the estimated market value of your home. An appraiser does this by looking at several different criteria:
Inspecting the interior and exterior of the home
Researching county and municipal records and other MLS listings
Reviewing recent sales of comparable homes in the area
However, it's important to keep in mind that damages to the home or other issues can affect the listing price. For instance, if you have an older home that needs to be painted or will need a new roof in a couple of years, your listing price should be lower.
Tested. Trusted. Top-rated.
Visit Rocket HomesSM to get a proven real estate agent that's handpicked just for you.
2. Make Your Home Market-Ready
Before you start scheduling open houses or even showings, you need to clean up the home and make sure it's appealing to potential buyers. Here are some tips to make your home stand out:
Declutter the entire house: It will be easier to keep your home clean and orderly if you declutter and get rid of everything you don't need. You can donate any items that you want to get rid of.
Utilize natural light: Borrowers appreciate homes with a lot of natural light, so you should utilize this as much as possible. Open all of the curtains and blinds and replace any light bulbs that stopped working. This will help the home look bright and airy.
Focus on curb appeal: Even if the inside of your home is nice, it will be a harder sale if the home has poor curb appeal. Spend some time cleaning up the landscaping, adding fresh mulch, and planting some flowers.
Put away personal items: When potential buyers visit the home, they need to be able to visualize themselves living there. To make this easier for them, store any personal items like family photos or keepsakes.
Pay for professional photographs: Most potential buyers will research your home online and on social media before going to see it, so it's important to have professional photos taken. A professional photographer will present your home in the best light, which will help draw in more buyers.
3. Market Your Home
When selling your home yourself, you have to get creative when it comes to marketing. After you have professional photographs taken of your home, use them to advertise on social media sites. You can also rely on word of mouth to spread the word about your listing, as well as printed flyers.
Even adding a "For Sale By Owner" sign to your front yard can help bring in potential buyers. It's recommended to list your home on your local multiple listing service (MLS) for a flat fee. This fee will vary depending on your location, but it's another great way to get your property in front of potential buyers.
4. Be Available
Some buyers may be hesitant to look at FSBO homes because they could be concerned about your inexperience. That's why it's essential to show up as a professional and do the same things a real estate agent would do.
For instance, you should plan to be on call until the sale is finalized. You'll need to answer phone calls about the home in the evenings and on the weekends because that's when buyers are usually looking.
You'll also need to answer any questions buyers may have and be willing to receive feedback about the house. Don't take negative feedback personally – look at it as an opportunity to improve the value of your home.
5. Confirm Potential Buyer's Financials
When you receive an offer, you'll need to verify the buyer can afford your home. You should require all potential buyers to provide a mortgage pre-approval letter or proof of funds, depending on whether they're financing or paying cash.
6. Consult A Real Estate Attorney
Selling a house without a real estate agent can be difficult, so it's a good idea to seek out guidance from a real estate attorney. Hiring a real estate attorney will cost you several thousand dollars, but this guidance can be invaluable.
The Pros And Cons Of Selling A House By Owner
If you're considering selling your home without the help of a real estate agent, there are some advantages and disadvantages that come with that decision. Here are some of the pros and cons of selling a house by owner.
The pros
Save Money On Commission Fees
The biggest reason many people choose FSBO is to save money. Since a REALTOR® isn't involved in the process, you'll get to keep all of the profits after closing on the house. Saving 5% – 6% on the sale of your home can be significant depending on the price.
More Control Over The Selling Process
As an independent seller, you'll have full control over the showings, listing price and any other aspect of selling the home. If you have some real estate knowledge and feel like you can do a better job selling the home on your own, this may be the right option for you.
Personal Conversations With Potential Buyers
When selling your home yourself, you're able to have more personal interactions with potential buyers. You can get to know the buyers who you're passing along your beloved home to them. This may not be possible if you work with a real estate agent.
The cons
Lack Of Expertise
Qualified real estate agents have years of experience under their belt, and your knowledge may be insufficient in comparison. As a result, you may make costly mistakes that a real estate agent wouldn't make.
For instance, if you list your home too high, you could lose out on potential sales. And if you forget to disclose certain things about the home, you could open yourself up to future litigation. Depending on your level of experience, you may have trouble navigating this process on your own.
Time-Consuming
You may end up saving money on the home sale, but you'll pay for that money with your time. Selling a home is a time-consuming process, and you'll be doing all of it on your own.
Essentially, you'll be acting as your real estate agent. You'll be responsible for analyzing recent home sales, listing your home, staging the home, fielding offers, negotiating with buyers and much more – and you have to do all this work before even closing on the property. It's possible to take all of this on by yourself, but it can be stressful and hard to manage.
Could Sell For Less Money
According to the National Association of REALTORS® (NAR), only 7% of home sales were FSBO.1 And this data shows that FSBO homes usually sell for less money than other homes.
On average, FSBO homes sold for $260,000, which is below the median sale price of $318,000 for agent-assisted home sales.
Selling A House By Owner Mistakes To Avoid
On your journey of selling your home yourself, here are a few mistakes to watch out for.
Pricing incorrectly: If you overprice your home, you may turn off too many potential buyers. If you underprice your home, you may lose out on possible investment earnings.
Not paying the buyer's agent commission: Even without a REALTOR®, you'll most likely need to pay the buyer's agent commission. Choosing not to pay can turn away potential buyers, as their real estate agents will not be interested in showing your home without the financial incentive.
Not listing on the MLS: Not listing your home on your local MLS can make it tougher to find potential buyers to view your home. It may cause the selling process to continue longer than you might've hoped for if you choose to not utilize all available resources.
Start by getting approved to buy a home.
No matter if you choose to buy or sell first.
Selling A House By Owner FAQ
Below are more commonly asked questions about selling a home without a REALTOR®.
What Does "For Sale By Owner" Mean?
For sale by owner (FSBO) means the homeowner is selling without the assistance of a real estate agent. Sellers often choose this route to avoid paying real estate commissions, which are typically between 5% – 6% of the home's sale price.
For example, if you're selling a $250,000 home, you could save as much as $15,000 in REALTOR® commissions. While the idea may sound appealing, selling your home on your own can be a tricky process unless you're educated in real estate and selling property.
You'll be responsible for all of the tasks that an agent would normally take care of, including:
Researching property values in the neighborhood
Determining a fair listing price for the home
Staging the home
Listing the home on the multiple listing service (MLS)
Scheduling the showings and open houses
Negotiating the terms of the sale
Preparing any necessary legal documents
What Do You Do First When You Want To Sell Your House?
Here are a couple of things you should do before putting your house on the market.
Address your finances: If you're still paying off a mortgage, you'll need to contact your loan provider to discuss your mortgage balance. This will indicate how much equity you have when you sell your home. It'll also help when determining your home improvement budget and/or deciding on how much you can afford for your next home.
List out your nonnegotiables: Write down your deal-breakers and must-haves for potential offers. Decide on your minimum buyer offer, time frame to move, etc.
Decide on your time to sell: You'll need to research your local market to determine the best time to sell. A buyer's versus a seller's market can affect when buyers are most likely looking for homes and how fast homes are selling.
Decide on how you want to sell your property: The next step is to determine if you want to sell your house by owner or hire a real estate agent. Evaluate the pros and cons above when making your decision.
What Are Alternatives To FSBO?
There are other smart options to choose from if you don't want to go the FSBO route when selling your home.
Request A Cash Offer
If you want to avoid some of the hassles of selling your home yourself, you can choose to sell your home "as is" and prioritize all-cash offers. This will eliminate looking into a potential buyer's financing.
However, it's not guaranteed that you'll receive an all-cash offer, so it may take patience and determination from your side to find the right buyer.
Trade In Your Home
Also known as a "buy and sell," a trade-in program allows a homeowner to essentially trade their home with another entity, such as a real estate agency or home builder. By doing so, the homeowner can buy a new home while selling their old property.
Utilize A Real Estate Agent
If you want to avoid selling your home yourself altogether, you can use a real estate agent. With an experienced real estate agent, you're more likely to sell your home quicker and at a better price than without one. Plus, agents have resources and connections that you most likely won't have access to if you choose not to use an agent.
The Bottom Line
Working with a real estate agent is the best way to go for most sellers. That's because most people simply don't have the time or resources needed to sell a house on their own.
Even if you believe you're the exception to that rule, it will still likely be more work than you expect. If you decide to work with a real estate agent, look for someone with years of experience who is familiar with your neighborhood.
But if you're considering selling a house without a REALTOR®, do some research first. Consider hiring a real estate attorney and using an appraiser to determine the listing value. And take some time to learn how to get your house ready to sell.
Sources:
1NAR
Take the first step toward buying a house.
Get approved to see what you qualify for.
Related Resources
Viewing 1 - 3 of 3