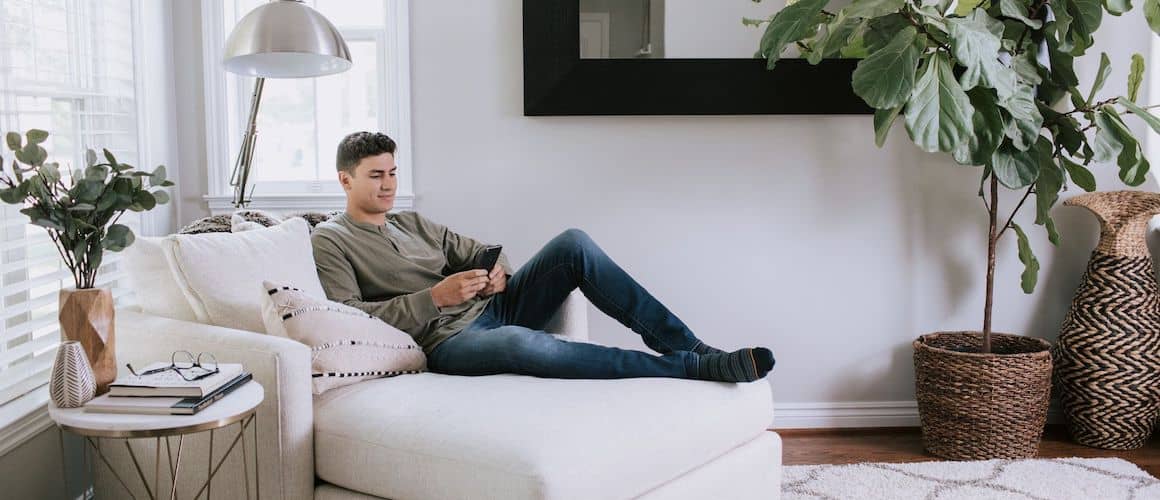 How Your Home Can Affect Your Well-Being: 15+ Tips From Interior Design And Psychology Experts
Victoria Araj11-minute read
February 19, 2023
Share:
Home is where your heart is, where you should feel most comfortable and where you gather with family – but in our current reality, home is where everything is and where we spend the majority of our time. Now that regular life as we know it has come to a halt, many people have started working from home, causing a collision between our personal and professional productivity.
Many individuals and families have struggled to adapt these past few months. Stress and anxiety are on the rise across demographics, especially for older populations1, those on the front line of the COVID-19 pandemic2 and those facing financial hardship3. We wanted to evaluate how we can improve our environments to foster better well-being, both mentally and physically. To do so, we've included expert insights and actionable tips that you can use to improve your environment.
Factors That Affect Your Total Health
The factors that affect your total health consist of physical, emotional, social, occupational, intellectual and spiritual aspects of your life, according to the National Wellness Institute4. Many of these factors may seem obvious on the surface but it's not always clear how to fulfill them.
A study by the National Research Council (U.S.) and the Institute of Medicine (U.S.)5 found that Americans' life expectancy and health are quite poor compared to similar high-income countries. This may leave you asking why.
Various studies, like one from the National Bureau of Economic Research6, have shown that Americans work far more hours than those from comparable countries, which may be detrimental to work-life-balance. Arguably, an imbalance here can have a negative domino effect across wellness factors.
There are innumerable ways that health is impacted in our current climate – there are also many solutions to combat these challenges and improve your overall well-being.
See What You Qualify For
Congratulations! Based on the information you have provided, you are eligible to continue your home loan process online with Rocket Mortgage.
If a sign-in page does not automatically pop up in a new tab, click here
How To Optimize Your Space In A Work-From-Home Environment: Interior Design Psychology
If you're doing everything at home nowadays, doesn't it make sense to invest in your environment? Home improvements are on the rise and people are tackling their to-do's to create a better space. You don't have to make huge changes to see a difference, but if there are home improvements you're dying to take on, there are alternative ways to fund them, like with refinancing or special loans.
Below you'll see some suggestions from experts – give them a try and see if you notice a difference in your productivity or your ability to unwind.
1. Declutter And Organize Your Home
Vicente Wolf7, a design expert, takes an elevated approach called his "simplicity principle," which states that nothing goes into an environment that doesn't promote soulful well-being.
Cleaning and organizing your space has a huge impact on your wellness. Justin Baksh, LMHC, MCAP8 reminds us that "messy bed, messy head" has real validity. He explains that "we are reflective of our environments." This means that, if our mental and emotional states are not ideal, you can usually see that reflected in our immediate environment.
Let's clarify this though: There's a difference between messy and organized and just messy and disheveled. Sometimes the best thing is a break from cleaning. Here's a perfect example: You've worked three double shifts in a row, kids are kids and needing your time, and your spouse is angry because you missed your anniversary. Well, you're probably stressed to say the least, probably anxious, and you may even have a touch of depression. The last thing you really want to do is clean up and make everything fresh and tidy.
2. Create A Separate Working Space
Creating a separate workspace is one of the most beneficial things you can do for yourself while you're working from home. This doesn't just apply to working, but also schooling and other tasks that might feel like work – such as breaking down your expenses or paying bills.
Jared Heathman, MD, psychiatrist9, recommends a separate workspace because "when your work is complete, you want to be able to leave that room behind and enjoy the rest of the day relaxing or spending quality time with family. Too many people are finding it hard to step away from an ongoing project when their work station is so close by." Also, for productivity, you want to be able to isolate yourself from distractions.
If you don't have a home office and can't build one, room dividers or a hutch to hide your workstation can be temporary solutions.
3. Let In Bright, Natural Light
Now is the time to build those beautiful bay windows or install the skylight you've always wanted – bright, natural light is great for your productivity. Light affects your circadian rhythm and plays a huge role in your melatonin production.
During daytime hours, bright lights help to suppress melatonin production and increase energy. Improved lighting can also help spark motivation. As bedtime approaches, curtains and rooms with fewer windows can help stimulate melatonin to help wind us down9. Yes, that also means light-emitting electronics like phones and tablets should be put away.
4. Surround Yourself With Greenery
There's a reason why millennials are self-proclaimed "plant parents" – plants are affordable decor, have a great return on investment and they're easier to care for than a child. You should seriously consider adopting some new green friends to fill your space as they boast physical benefits like improved air quality, and mental benefits as well.
Rachel Dubrow, LCSW10, suggests that you "have greenery (fake or real) in your home. It helps remind us of things that are living and thriving. It also helps connect us to nature, which helps with overall mood." Home organization specialist Marty Basher11 pointed out that tall, lush plants can also serve as great space separators.
5. Face Your Desk Toward A Nice View
If you don't have any views you'd deem worthy, load up on extra greenery, hang beautiful, nature-inspired art or try renovating or landscaping your yard for a more pleasant view. Feng shui expert Maureen K. Calamia12 explains the importance of your view.
"When working from home, many people use an 'unused space' or squeeze themselves into a corner, facing a wall," she says. "When we work from home, especially now during quarantine time, we should rethink where we spend our time during the day because it has a huge impact on managing stress and our feeling of well-being.
"Medical patients recuperate from surgery better with views of nature versus a brick wall. So why do we often place ourselves with no better view? I recommend that many of my clients reposition their desk by placing their desk perpendicular to a window wall," she continues. "If that's not possible, I suggest they create a 'mobile' office. This means allowing themselves the flexibility to move to different places in their home that bring joy. These places should have access to nature views, such as a kitchen counter, porch or patio, or living room space."
6. Emulate Aspects Of Nature
If getting a great view of nature is out of the question, then try bringing nature to you. You can achieve this through sight, smell and sound. In addition to bringing in fragrant foliage, you could also use a diffuser or candle and play a nature-themed soundtrack to transport your senses.
Biophilic designs emulate the form, color and other aspects of things found in nature. Try decorating with natural wood grain, organic shapes and even more literal features, like waterfalls.
7. Find Your Ideal Playlist Or White Noise
Music is therapeutic and recommended to help overcome a variety of issues13. In addition to music, white noise is also recommended by Dr. Carla Marie Manly, clinical psychologist, to help block outside noise and help you achieve a calming retreat.
You can also use music to help you feel pumped up for a workout or to hyperfocus on a task you're trying to complete. There are a variety of existing playlists available for every type of mood or you could curate your own.
8. Pay Attention To Air Quality And Temperature
Jillian Prichard Cooke14 recommends that you look into ways to improve your air quality. "To help reduce the amount of toxins in your space and improve the quality of your living and working environment, consider adding an air purification system," she says. "Air purification is available for every budget and need, whether it's a HEPA filter or whole system upgrade. Be sure to check with an HVAC specialist to find the system that best fits your circumstances."
If you're looking for something easier to implement, consider humidifiers/dehumidifiers and plants. NASA studied plants15 and their air purification abilities and produced a list of the most effective ones – yet another reason to include plants in your space!
9. Treat Yourself To The Bells And Whistles
It's OK to splurge on creating your ideal home environment if it will truly improve your day-to-day life. Not only can it be an investment in your home but also an investment in your home value. Smaller changes can also make a big impact – things like getting a standing desk, comfier chair, new entertainment system or quality decor and bedding.
Give Extra Attention To Your Relationships
Relationships are just as important to your well-being as your physical home environment – if not more. Dr. Manly16 explains that "dysfunctional relationships can make even the most beautiful home feel toxic." See some tips from mental health and relationship experts to help you maintain a harmonious household.
1. Accept That Not Everything Will Go To Plan
During challenging times, you have to accept that not everything will go right and let go of unrealistic expectations. Holding onto such high expectations isn't healthy or helpful. Know that it's OK to allow yourself those moments to feel frustrated, sad or angry. This also means knowing that others need to be given slack as well, so try to be more patient and give people the benefit of the doubt.
2. Compromise Is Key: Be Open To Trying Something New
Try to be more open to others' ideas and feelings, because you'd want them to do the same for you, right? Justin Baksh, LMHC, MCAP8, advises that, "while you need to set boundaries and enforce them, remember that you cannot always have it your way. You need to be aware of other's viewpoints, feelings, and overall experiences. Sometimes, you may need to be flexible in order to support those around you."
3. Promote House-Wide Communication
No one can read minds so there needs to be a lot of communication when you're in close quarters. It's important to give others their space, but you know your family better than anyone and some people need some encouragement to speak up. Lead by example through open communication.
There are also nonverbal and environmental cues that promote communication. Nonverbal cues include open body language, like uncrossed arms and facial clues, like smiling. When communicating through video chat or the phone, it's important to over communicate since we lose many nonverbal cues in those settings17.
When looking at your environment, Dr. Heathman9 explains that an open floor plan is worth considering: "Most people associate open floor plans with being better for parties to improve mingling, but it also promotes family communication by directing members to the same large rooms," he says. "Older children and teenagers gravitate toward wanting more alone time, but this shouldn't come at the expense of family communications." Encourage your family to spend time together, as well as apart.
4. Work On Fighting Fairly
It's easy to see that tensions are high across the board. Now is definitely not the time to take cheap shots, but the time to try and be more understanding. Take a breath and think if there are external issues influencing your mood before letting your anger get the best of you.
Rachel Dubrow, LCSW10, says, "At-home relationships can be great when things are going well and incredibly stressful when they aren't. If you're finding yourself getting into small or large arguments, learn how to communicate more effectively so that the arguments get less heated and have a resolution."
5. Take Care Of Yourself And You'll Be A Better Partner
Part of being a healthy half of a relationship is making sure that you're in a good headspace. Make sure you give yourself time to reset your mind and practice self-reflection. Hypnotherapist Joel Thielke18 recommends that you "pick a place where you can practice gratitude every day ... You want to make sure it's a place where you feel happy, relaxed and safe. Think good lighting, colors that you love, zero clutter and if you live with someone, explain to them that you need 10 minutes of alone time in this space. They'll understand."
6. Tips Specifically For Parents And Guardians
It's no secret that parents (and kids) are feeling the struggle of being cooped up at home. Parents Anonymous19 provided some great tips to help parents survive lockdown and its various impacts. Here are a few key points to remember:
Adults need to check in with their own feelings first. This pandemic is like nothing we've experienced before, and we need to take care of ourselves first before we can nurture and teach children of all ages.
Parents and teachers need to tune in to each child and create a loving and nurturing environment in these uncertain times. Many children are experiencing a lot of fear because of the pandemic, which can turn into various forms of anxiety and sadness.
Emphasizing resiliency is crucial to our mental health. If remote learning is enforced come fall, parents and teachers must embrace this wholeheartedly in order to keep children engaged and connected with one another. This may be much different than being in a classroom, but children are resilient and will bounce back.
Support all children to express their feelings so you can provide love and support in return and create a feeling of security. Kids of all ages are impacted by fear and loss of human interaction. Older children may be hesitant to share with their parents or an older sibling and may need extra encouragement.
Focus on positive life experiences and recognize each child's unique temperament – this will enhance the mental and social well-being of everyone in your family and/or class. Continue to connect safely with friends, family, colleagues and neighbors.
Whether you're hoping to improve your current home or are planning to buy a house to make your own, try out some of these expert modification tips to ensure you have the best possible environment. As you curate a beautiful home, don't forget that your relationships need attention and care, too. If you invest in both, they will pay you back in spades, especially right now.
Take the first step toward the right mortgage.
Apply online for expert recommendations with real interest rates and payments.
Related Resources
Viewing 1 - 3 of 3