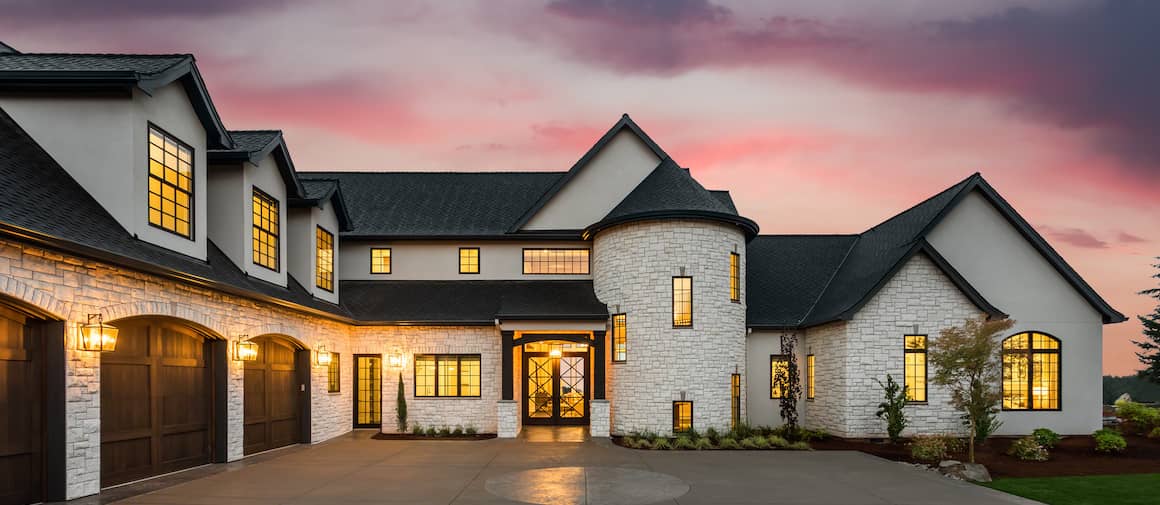 House Styles: A Guide To The 19 Most Popular Types Of Houses
Erica Gellerman5-minute read
September 18, 2020
Share:
When you're shopping for a house, it's easy to tell your real estate agent how many bedrooms and bathrooms you need. But the style of the home you're looking for? That can get difficult if you're not familiar with different architectural styles. While Tudor, Craftsman and cottage are household names, many of us can't identify each house style, even if we're not actively in the market to buy a house.
19 Most Popular House Styles
There are countless house styles with different variations. While this list isn't exhaustive, it's composed of the most popular and commonly found house styles across the U.S.
American Colonial
Colonial architecture originated in the 1600s and is easily identifiable by its symmetry and formal style. They are generally at least two stories tall, built in a rectangular shape, and have evenly spaced shutters and windows. You'll often find the main living spaces on the first floor with bedrooms on the upper floors.
Cape Cod
Most commonly found in the Northeastern part of the U.S., Cape Cod homes were originally inspired by the thatched cottages in Britain. This home style was originally created by the early settlers in the 1600s.
As for style, you'll notice that a Cape Cod home has a steep roof, windows flanking the door, dormer windows and shingles.
Ranch
A ranch style home is a one-story home with a low roofline. These homes rose to popularity in the 1950s and 60s and feature an open layout, usually with an attached garage and L-shaped floor plan.
Ranch homes are known for their simplicity and while they are most often found in the Western part of the U.S., their style was adapted to suit regional differences throughout the U.S.
Get approved to buy a home.
Rocket Mortgage® lets you get to house hunting sooner.
Tudor
Tudor revival, or just Tudor as commonly referred to in the U.S., is a style of home that uses characteristics of buildings from the Tudor period (1485 – 1603). Tudor revival styles became popular in the 19th century and are known for their steeply pitched roofs, gables and decorative half-timbering.
Victorian
Victorian homes are usually large and somewhat imposing homes, with at least two stories. Unlike American Colonial homes, Victorian homes are usually not symmetrical. They have steep roofs, dominant front facing gables and patterned shingles. You can find many Victorian homes brightly painted to embellish the decorative detailing on the home.

French Provincial
Transport yourself to the French countryside with a French Provincial style home. After WWI these homes became popular – American soldiers admired the style of home during the war. The homes are modeled after French country estates with steeply pitched roofs, tall windows and brick exteriors.

Craftsman
The arts and crafts movement paved the way for Craftsman style homes. The homes were created to emphasize simplicity and natural materials. In this style you'll find wide front porches, exposed beams and built in features.

Cottage
Cottage homes were inspired by houses in the English countryside. They generally have steep roofs, cross gables, arched doors, casement windows and stone or stucco siding.

Dutch Colonial
Dutch colonial style was aptly named because it was brought to the U.S. starting in the 1600s by settlers from the Netherlands. They have a distinctive double-pitch roof style, resembling a barn. Originally made of stone and brick, these homes also made famous the Dutch door – a door that splits in the middle so you can open either the top or the bottom independently.
Get approved to buy a home.
Rocket Mortgage® lets you get to house hunting sooner.

Log Home
Abraham Lincoln may have famously been born in a log cabin, but log cabins have been a popular home choice for many other reasons. Using logs laid horizontally, they were traditionally built without nails and were small, unassuming homes. Now they're used in a wide range of homes, from cabins to luxury homes.

Contemporary
When you think of a modern style home, you're likely thinking of a contemporary home. The term contemporary home originally meant architect-designed homes built from 1950 – 1970, but now that term is used more broadly. Think geometric homes with simple lines, open floor plans and lots of glass.

Gothic Revival
Gothic Revival was part of the mid-19th century romantic movement in architecture when people wanted homes which were inspired by medieval design. Gothic Revival homes can be identified by their pointed arches, delicate wooden trim, and complex, irregular shapes. Gothic Revival homes are most often found in rural settings.

Spanish Colonial Revival
Spanish Colonial Revival arose in the early 20th century, primarily in California and Florida. These homes are identified by their terracotta shingles, low pitched or flat roofs and smooth stucco walls.

Federal Colonial
When the U.S. declared independence from Britain, a new style home was introduced: Federal Colonial, named after the Federalist party. These homes have more decorative architectural style than other Colonials. They're most often brick, have additions on either side of the basic box shape, and an ornamental front facade.

Farmhouse
The term farmhouse doesn't necessarily describe a style of home, rather the function and location. Located in rural areas, farmhouses were built out of necessity to house agricultural workers. People in the market for a farmhouse style home are usually going to find large functional porches as well as formal and informal spaces.

Bungalow
Bungalow homes were built to mimic the thatched huts of farmers (the word "bangla" is the Indian word for a small, thatched roof hut). Bungalow homes are generally smaller in size, either single story or have a second story with a sloping roof, dormer windows and wide verandas.

Italianate
In the 1830s Italianate style homes were brought to the U.S. Initially designed to look like Italy's rambling farmhouses, the design changed significantly in the U.S. The homes have gently sloping roofs with deep overhanging eaves, brackets or corbels, and a brick, stone or stucco exterior.

Prairie
Prairie style homes did not begin in the prairie. They were developed around the turn of the 20th century by young architects, including Frank Lloyd Wright. Key features include open floor plans, overhanging eaves, and rows of small windows. Prairie homes are designed to be married to the ground or blend in with the prairie landscape.

Beach
Head to the coast and you'll find beach style homes – raised homes that make living by the shoreline suitable. Beachside homes have been popular along the costs in the U.S. since the 1700s. Aside from being raised up, you'll also notice that they have wide porches and wide eaves.

Greek Revival
Greek Revival architecture was a movement of the late 18th and early 19th centuries. Inspired by the classical Greek temple, this style is recognizable by white paint, have cornices, gables and symmetrical proportions.
The Bottom Line On House Style
Whether you're set on one style of home or just want to know your options when house hunting, knowing the major styles can help you describe what you're looking for. If you're in the market for a new home, learn more about buying a home in our Learning Center.
Take the first step toward the right mortgage.
Apply online for expert recommendations with real interest rates and payments.